Watch This NRA TV Interview On 2nd Amendment And Veterans Rights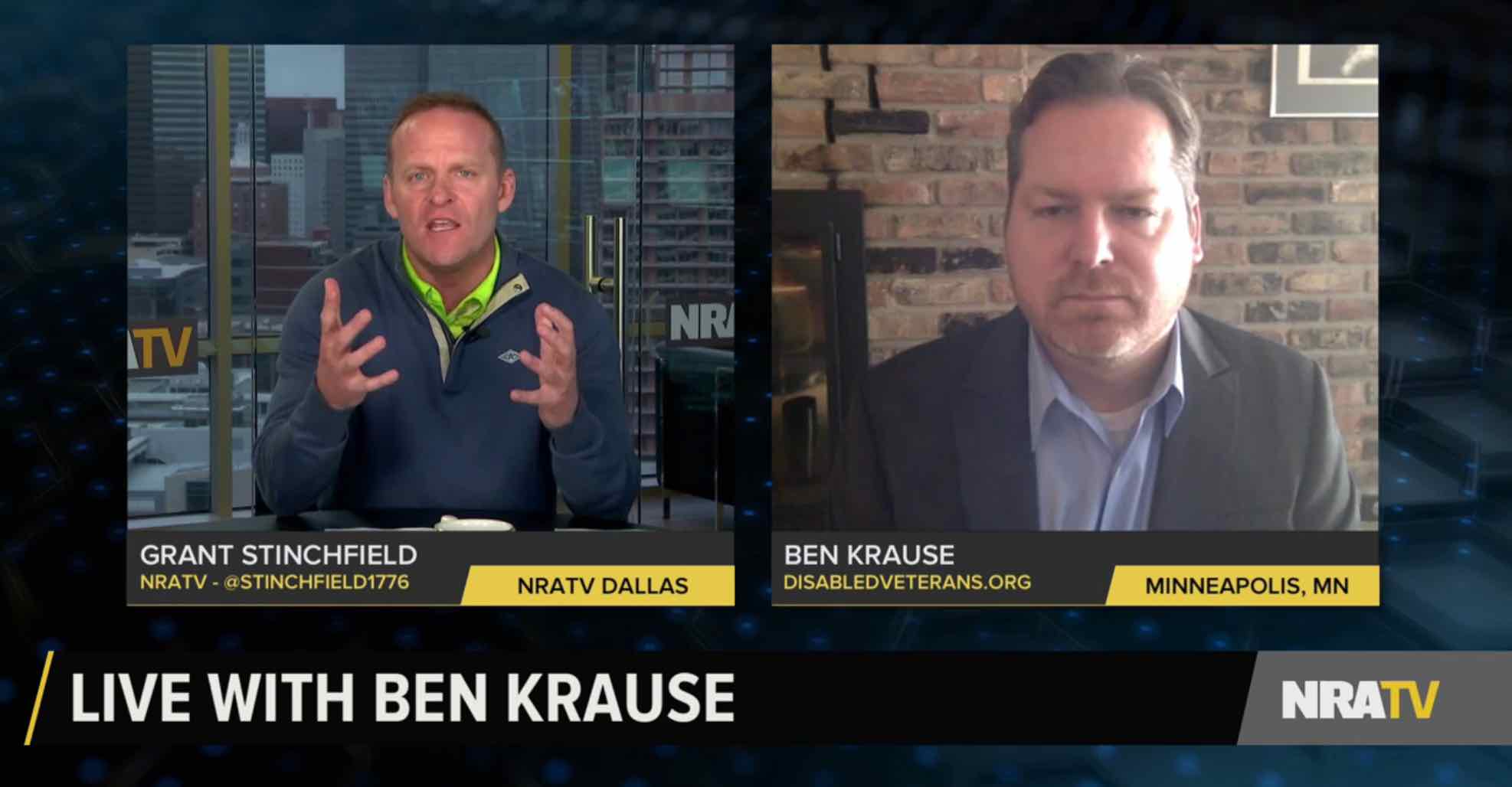 Friday, NRA TV highlighted the Veterans 2nd Amendment Protection Act in its interview with DisabledVeterans.org founder Benjamin Krause (me).
Last week, I was interviewed on NRA TV about veterans rights and the 2nd Amendment pertaining to a new bill just passed by the House of Representatives. The bill is aimed at forcing the federal government to provide veterans with the same rights as nonveterans.
The current state of administrative law within VA allows the agency to adjudicate whether a veteran is competent to handle their finances. If the veteran is not competent, VA will appoint a fiduciary and the veteran loses all control of their VA benefits.
Contrary to distortions primarily from liberal media sources, the bill is not intended to give mentally incompetent people the right to own guns. That is not what this is about.
The bill is all about protecting the fundamental right of veterans to own a firearm unless a judge in court determines that the respective veteran is mentally incompetent.
That is the law as it relates to nonveterans.
Nonveterans get a competency hearing in front of a judge. Veterans, the same individuals who fought to protect such rights, are not presently afforded that same protection.
This bill is simply about protecting the rights of veterans using the same due process protections afforded to those who did not serve.
No one wants mentally incompetent people to own firearms, but all Americans deserve a right to be heard in court before being stripped of a fundamental right.
This bill seeks to do just that despite what is being asserted by NPR and other media outlets.
Make sense?
Background On 'No Buy' List, Financial Incompetence Issue With VA Fiduciary
In 1998, President Clinton's FBI signed a memorandum of understanding (MOU) with VA that required VA to send the FBI the names of any veterans not competent to manage their finances for inclusion in a no buy list for firearms. Other agencies were required to do the same.
Since then, law disproportionately affected veterans. Of the 175,000 Americans affected by the reporting requirement, over 99% are veterans.
The screwy part of the legal framework at play here is that the law is really focused on individuals who, due to a mental defect, are a danger to themselves or others, or are unable to contract or manage their own affairs. This kind of determination impairs an individual's right to property and to a right to buy a firearm.
Here is the screwy part.
It is important to note that nonveterans must be tried before a judge to reach a conclusion that the person, due to mental defect, should not own a firearm. That judge will need to decide whether the nonveteran is a risk to himself or others, or if the nonveteran is incapable of entering into a contract or to manage their own affairs.
Boiled down, the big difference is that nonveterans get a trial with a judge and likely a lawyer.
VA merely focuses on whether the veteran can manage their VA benefits without limitation. The latter qualification, "without limitation," is quite important because it lowers the bar rather than raises the bar for a determination of incompetence when compared to the nonveteran equivalent.
Further, this determination only removes control of the veteran's VA benefits but not their other finances. For example, a veteran who inherits money will have full control over that money or assets. The VA fiduciary will still maintain full control over their finances.
VA Incompetence Determination Is Different
So, when VA makes the limited determination solely for the purpose of managing VA benefits, it is not the same as the same determination for a nonveteran.
Not only is the purpose of the VA fiduciary scheme different, but the veteran is not afforded a competency trial in front of a judge. Instead, VA adjudicators handle the decisionmaking meaning a nonlawyer decides the fate of the veteran related to not only control over their money but also the fundamental right to own a firearm.
This begs the question, why do veterans get fewer rights or less protection of their rights than nonveterans who never served?
Last week, fourteen generals came out against the bill with a chicken little cry for help. They claim veterans will commit suicides more if VA is forced to provide veterans with the same rights as nonveterans. The generals fail to cite any research or source, only apparent hyperbole.
RELATED: Ex-Generals Capitalize On Veteran Suicide Epidemic To Oppose Gun Rights
It is a fact that 20 veterans commit suicide every day. Approximately six of these veterans receive benefits from VA. There exists no study or evidence that more veterans would commit suicide if the law changes.
However, even if such evidence did exist, could that same evidence be sufficient to justify denying the fundamental right of gun ownership without a competency hearing before a judge?
No. Veterans deserve a right to a hearing just like other Americans they fought to protect.
The Dirty Secret
The other dirty secret of this unconstitutional scheme is that VA is totally and completely unable to consistently adjudicate disability claims with any level of accuracy.
Of the claims overturned by the US Court of Appeals for Veterans Claims, an astonishing 70% or more are vacated because VA took a substantially unjustifiable position. This means VA completely screwed the pooch in over 70% of the remanded cases.
How can any agency that gets disability adjudications, the basis for any fiduciary claim, grossly wrong with such frequency be trusted to correctly and fairly adjudicate a veteran's fundamental right?
Adding insult to injury, veterans erroneously pushed into the program by mistake are then unable to hire an attorney to represent them against the agency because the VA fiduciary then controls all the money.
This seems like a very effective, anti-veteran catch-22 the agency has created, no?
There is no question some veterans should not own firearms due to a mental defect. No one would argue otherwise. But do even these veterans no deserve their day in court?
After all, these same veterans were severely injured as a result of protecting the rights of all other Americans.
Compounding matters, VA was just cited by OIG for again failing in its ability to merely set up suicide prevention call centers called the Veterans Crisis Line.
How can an agency unable to figure out call centers be trusted to successfully and accurately adjudicate matters related to any fundamental right?
What To Do About Fundamental Rights
It is time America has a grown up conversation about how it treats veterans. Why do we have fewer rights than nonveterans?
Did anyone tell us that when we enlisted, we also signed away numerous rights for life?
We have no real choice in who provides us with health care.
We have no right to hire a lawyer to help with our benefits until after VA builds its case against us – this is an infringement of the right to contract.
We also have no reasonable protection against deprivation of property or a right to keep and bear arms.
All veterans fought to protect the constitutional rights of all Americans. Little did we know we were sacrificing our own rights for life.
Source: https://www.nratv.com/series/stinchfield/video/stinchfield-ben-krause-protecting-the-rights-of-veterans/episode/stinchfield-season-1-episode-54