Top 23 Veteran Readiness And Employment Frequently Asked Questions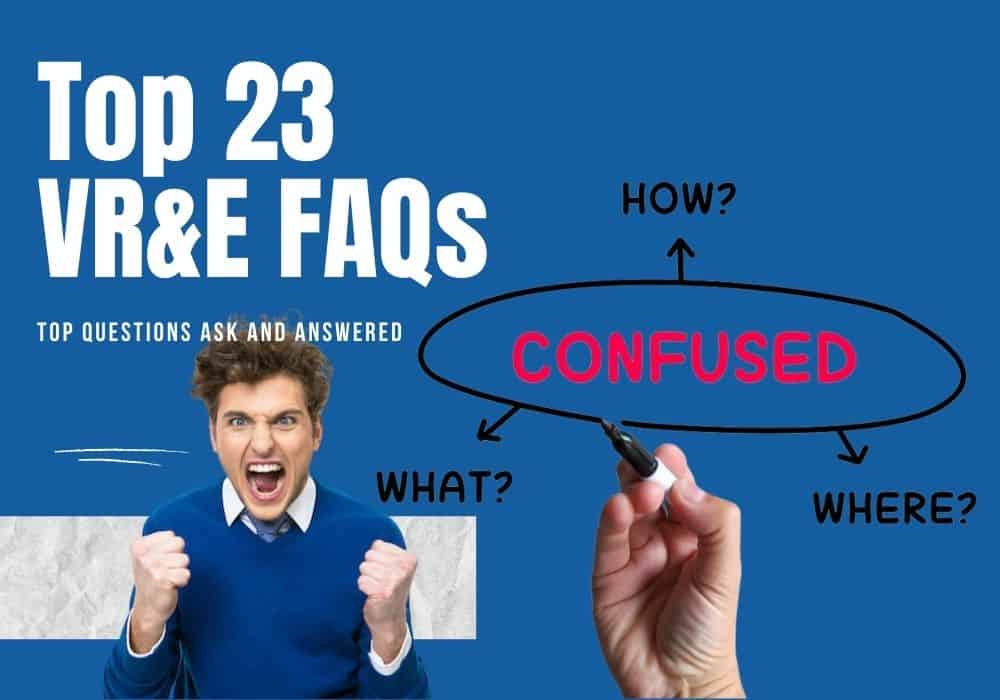 Applying for benefits can be a confusing mess. We put together this top list of 23 Veteran Readiness and Employment frequently asked questions to cut through that mess.
The Chapter 31 Veteran Readiness and Employment program provides qualified veterans and servicemembers with a new career or independent living start through training, self-employment, and other supportive services.
Subscribe to our weekly newsletter and stay up to date.
Approvable program costs have a wide range of variance depending on the location of the veteran, educational institution type, and other variables.
The following frequently asked question list is enhanced from the basic list of questions provided by the agency. I have added clarifying information to help veterans understand vague language and information deficiencies in the agency's version of the same document.
We will start off this list of questions with some resources to help you on your journey.
1. Is there a Facebook group or other resources for veterans seeking VR&E benefits?
Yes, we have the largest social media group for veterans seeking VR&E benefits founded in 2009. It has around 37,000 members and is a great place to bounce ideas off other veterans to help understand the program better if you run into roadblocks.
I frequently see veterans ask others about their experiences getting medical school approved with a load of veteran group members responding.
SEE: Our Facebook group Disabled Veterans – Chapter 31 Voc Rehab
Are there resources to help me fight for my VR&E benefits?
There are a lot of resources to help veterans learn and fight for their VR&E benefits. This free FAQ is one example. There is the free mini course called the Lies They Tell that helps veterans gear up for their first meeting.
We also have the VR&E group resource page.
We created a course with electronic workbook called the Voc Rehab Survival Guide. Proceeds from the course help fund this operation and hire editors and writers to educate veterans.
Those veterans needing legal assistance following a denial may want a strategy meeting with my Veteran Rights law practice, which is a separate company called Krause Law, PLLC. This firm provides legal assistance to veterans who are denied benefits including VR&E.
RELATED: Key VA Voc Rehab Definitions You Need To Know
2. What is the Veteran Readiness and Employment (VR&E) program?
The VR&E program is a system of benefits authorized under Title 38, US Code, Chapter 31. It looks like 38 USC § 3100 should you search for it.
First, you need to know the program goes by many names.
The program has been known by many names over the years. It was recently branded to the ambiguous Veteran Readiness and Employment from Vocational Rehabilitation and Employment. It is also called VA Voc Rehab, Voc Rehab, VocRehab (one word), and Chapter 31.
Before the previous name change, it was called Vocational Rehabilitation and Counseling.
The program provides vocational rehabilitation services to disabled veterans and servicemembers if they have an employment handicap. The VR&E program helps qualified individuals prepare for, obtain, and maintain employment in a suitable occupation.
Much of the program's literature incorrectly lists its objective as merely helping veterans gain and maintain "a job," but that is a simplistic explanation that sells veterans short of what the program can really do.
Usually, the program will help veterans deemed entitled to benefits with some form of academic training in a college setting or some form of vocational training. The agency's literature fails to explain this to veterans relying on their literature as a source of information.
Congress established the purposes of VR&E within 38 USC § 3100 as:
The purposes of this chapter are to provide for all services and assistance necessary to enable veterans with service-connected disabilities to achieve maximum independence in daily living and, to the maximum extent feasible, to become employable and to obtain and maintain suitable employment.
Many veterans feel disregarded and abused by VR&E personnel. It is normal. It is not about you, although sometimes it is. Some Veteran Readiness Counselors (VRCs) do not like veterans.
Other VRCs do not like approving veterans for more benefits than they received. Still others do not like to conduct comprehensive assessments in a complete and thorough way resulting in improper denials.
3. Will I quality for VR&E benefits? My rating is [insert whatever rating percentage].
We see this question a lot with a variety of ratings.
It is impossible to provide an answer without a crystal ball based only on the information in the question – the disability rating. The answer is usually the same regardless of the percentage.
"It depends."
The individual service-connected ratings that comprise the combined disability rating are only one part of the equation. A person can have a 100 percent disability rating, but be employed in a suitable occupation, and therefore not qualified for VR&E benefits.
The reason? Usually, this person will be found to have overcome the effects of their vocational impairment.
Meanwhile, another veteran with a 40 percent rating but employed in an occupation that is not suitable be found otherwise qualified. Usually, this kind of veteran will be at least found to have an employment handicap.
"Qualified" is another way of saying "entitled" within VR&E, as is addressed below.
4. How do I know if I am eligible for VR&E?
The general rule of thumb is a disabled veteran with at least a 10 percent disability rating granted less than 12 years earlier should be eligible for VR&E benefits if they apply. Once the veteran applies, the VRC will perform an initial evaluation to determine whether the veteran should be entitled.
Being eligible is not the same as being found entitled to VR&E benefits.
5. What is the basic period of eligibility for VR&E benefits?
The basic 12-year period of eligibility for VR&E services begins to run on the latter of the following dates:
Date of separation from active duty
Date of first notification of a service-connected disability rating sufficient to be eligible
There are numerous exceptions to this rule. Veterans found to have a serious employment handicap may have the 12-year time limit waived.
6. Who is entitled to receive VR&E benefits?
Both active duty servicemembers and veterans can be eligible for VR&E benefits.
An active duty servicemember may be entitled if:
They expect to receive an honorable discharge
A VA memorandum rating of 20 percent or more
Using Integrated Disability Evaluation System (IDES) or have an injury or illness that prevents the servicemember from participating in IDES
Are determined by VR&E to need vocational rehabilitation services
A veteran may be entitled if they:
Received an honorable or other than dishonorable discharged
Have a VA service-connected disability rating of:

10 percent with a serious employment handicap, or
20 percent or more with an employment handicap

Are determined in need of rehabilitation services
7. How is entitlement established?
A veteran should be granted VR&E benefits meaning they are "entitled" to VR&E program benefits and services if they:
Have a 20 percent service-connected disability AND
Have an employment handicap.
If the veteran has a service-connected disability rating that is only 10 percent, the veteran must satisfy the criteria for a serious employment handicap.
A Veteran Readiness Counselor (VRC) will work with the veteran to determine entitlement during the initial evaluation appointment. This evaluation will:
Assess the veteran's aptitudes, abilities, and interests
Assess the veteran's service-connected disability(ies) and ability to hold a suitable job
Include vocational exploration activities and goal developments
Explore labor markets and wage information
Select an appropriate vocational goal
Develop an individualized rehabilitation plan to reach the vocational goal
8. What is a Rehabilitation Plan?
This plan is the agreement between the veteran and the VR&E program that outlines the benefits that will be provided. READ IT VERY CAREFULLY.
Do not sign any plan written by VR&E without reading it closely. If there is anything in the plan that you do not understand or disagree with do not sign it. Discuss it with your VRC or seek legal counsel.
These agreements are supposed to be individualized to meet the needs of the veteran, but the plans frequently contain errors and omissions. The plan is like a binding contract signed by the veteran and the veteran readiness counselor. A plan may include any of the following or a combination:
Employment through long-term services*
Self-employment
Independent living services
Re-employment
Rapid employment services for new employment
Long-term services are the most common but frequently least addressed by VR&E in its literature as it comes fourth on the list of five plan options. Why might VR&E bury this option, which is the most common and most expensive, as #4 on the VA's list with a name that is vague?
Employment through long-term services literally tells a veteran about as much as the program's new name Veteran Readiness and Employment.
Long-term services usually include college or vocational training. College training may include an associate's degree, bachelor's degree, master's degree, or doctorate. Many veterans are still misinformed by VR&E personnel that the program will only include training up to a bachelor's degree. This is false.
9. What are other benefits that VR&E may provide?
VR&E may provide other benefits in addition to any of the standard rehabilitation plan options listed above. Agency personal may provide or help seek out third party assistance with:
Tutorial assistance
Job-seeking skills via training or education
Medical and dental referrals to the Veterans Health Administration
Adjustment counseling
Payment of training allowance
Other services required to help achieve a career and live as independently as possible
How can I apply for VR&E?
Normally, a veteran can apply for VR&E benefits using the VA Form 28-1900.
There are many ways a veteran can apply for benefits. Veterans with access to their VA.gov account can submit an application online:
https://www.va.gov/careers-employment/vocational-rehabilitation/apply-vre-form-28-1900/start
Those without a VA.gov account can submit a paper application using US Mail sending the VA Form 28-1900 to the following address:
https://www.va.gov/find-forms/about-form-28-1900/
VR&E Intake Center
PO Box 5210
Janesville, WI 53547-5210
RELATED: How To Apply For Chapter 31 Voc Rehab
10. What usually happens after I file my claim?
Assuming the agency finds you eligible, you should be scheduled for an intake appointment. During the intake appointment, you will participate in a group orientation and initial evaluation.
The group orientation may be over Zoom or similar depending on whether the Regional Office responsible for your matter is working virtually or in person. This status depends on various factors including public health issues like what happened in 2020.
The group orientation will usually include a PowerPoint presentation and/or video that vaguely explains what VR&E does for veterans.
Once the presentation is over, the veteran will meet with a VRC in person or virtually. The VRC's goal is to complete a comprehensive assessment of the veteran's vocational situation. The agency calls this the initial evaluation.
The evaluation is a forensic evaluation meaning the information sought by the agency will be used against the veteran. The agency rarely seeks informed consent from the veteran prior to performing the evaluation. This means the veteran is not on notice as to the true legal nature of the evaluation.
The agency has historically underprepared veterans for this pivotal appointment, so it is up to you to get prepared on your own. I have repeatedly complained to the agency about his deficiency in outreach. Despite the amount of money taxpayers are throwing at VA to educate veterans, the VR&E program continues to fail in this regard.
If the veteran is found to qualify for benefits from meeting the criteria for an employment handicap or serious employment handicap, the agency may proceed to evaluation and planning. There, the veteran and VRC will work together to select a vocational goal.
Once a vocational goal is selected, the VRC will work with the veteran to develop the rehabilitation plan. The plan will contain all necessary services for the veteran to accomplish the vocational goal.
Usually, the vocational goal is to gain and maintain employment in a suitable occupation.
At any point during this process, the veteran might be denied benefits or run into an unusual delay in processing.
11. Does VR&E pay for graduate school programs like law school, medical school, etc?
Yes, for some veterans VR&E will pay for law school, medical school, and the like if the vocational goal requires that kind of training. For example, the vocational goal of physician will require completion of a medical doctorate, residency, and licensure.
Veterans seeking approval of a vocational goal that includes graduate training should anticipate pushback from the VRC. This means you will need to prepare for the first meeting or consider contesting a denial should the matter not go the direction you hoped.
Not everyone will be found entitled to graduate training. Only select veterans in select circumstances will be approved.
12. Can I attend a private university using VR&E?
Yes, many veterans attend private universities through VR&E.
I attended multiple private institutions when using VR&E and the program paid each time. But, each time the approval came with a fight. I have also helped many veterans with their denied claims who attended VR&E at private colleges or universities. It can be done, but it is challenging sometimes to get approved.
If the cost is greater than $35,000 per year, your VRC will need to complete an analysis called a High Cost Memorandum or similar. Your request will need to satisfy criteria to justify a private university versus a lower-cost state university.
Should you get denied, do not give up.
13. Can I use VR&E more than once?
Some veterans will be able to get into the program after being deemed "rehabilitated" but the process is not easy. And, the legal requirements are rather restrictive.
There are many different scenarios where a veteran might try to get back into VR&E. One example might be a veteran who completed training and found a job but their mental health or physical health deteriorated afterward whether the job was no longer suitable.
A veteran in that situation might be approved for benefits, though VR&E sometimes will push these veterans into a program of Employment Services, only.
Another example might be a veteran who was discontinued from services for lack of cooperation. VR&E will need to first determine if the reason for the discontinuance was addressed. The VRC will likely need evaluate you for an employment handicap and serious employment handicap, again.
So yes, you can get approved, but the process is not easy. These are two examples.
I ran into this issue when I sought reentry into VR&E after being deemed rehabilitated. I lost my job within 1 year of completing VR&E.
When I tried to get back in, I ran into a lot of roadblocks, but I was eventually approved to become a Lawyer after contesting the adverse decision.
14. Can I get approved for more than 48 months of training?
The attorney answer here is, "It depends."
You can get more than 48 months of schooling if it is warranted by your kind of rehabilitation plan and if you have a "serious employment handicap." The gist of a serious employment handicap is that the veteran is found to have a vocational impairment substantially caused by their service-connected disabilities that are significant.
And, the effects of the significant vocational impairment has not been overcome.
There are a whole host of factors at play when VR&E considers whether to extend benefits beyond this including the need for the additional training that may take more than 48 months and odds of success of the outcome.
To give an example from my own experience, I received benefits from Voc Rehab from 2003 to 2016, which translates into a lot of months – many more than 48 months.
It did not come easy, so do not plan on a moon-walk into your benefits if you need more than 48 months to reach your ideal vocational goal.
15. What are my options if I get denied?
Veterans denied VR&E eligibility, entitlement, or otherwise discontinued from the program will have the opportunity to contest the matter in the Appeals Modernization Act system.
This system includes three options that are called Decision Review Requests. They are: 1) Supplemental Claim (SC); 2) Higher-Level Review (HLR); 3) Formal Appeal. Veterans seeking an HLR have the option for the alternate Regional Office to review the matter and for an informal conference call with the reviewing official.
Veterans seeking a formal appeal have numerous options. These include: 1) Direct Review; 2) Review with New Evidence; 3) Hearing before Veteran Law Judge.
Any of these options carries with it implications that may destroy your ability to win using other review options, so proceed with caution if you are pursuing the matter without an attorney.
Most veterans are not legally trained to develop successful legal strategies, and any legal training possessed by a Veteran Service Officer is usually minimal. If they do have a reasonable amount of legal training, they likely lack experience addressing nuanced VR&E matters.
16. Is reviewing my denied claim with an attorney or VSO important?
Maybe. Maybe not.
There are a lot of variables that come to mind when a person may choose to seek out legal advice or decide to forego the opportunity. Here are a few points that may help think through the decision.
Veterans who were denied big ticket items may benefit from seeking a legal consult from a VA accredited attorney or setting up a meeting with their trusted VSO.
A big ticket item may be approval of law school or medical school that was denied. That denial may be the difference between six figures in student debt or a debt-free doctorate with a lucrative career to boot.
Veterans who were denied a certain computer or payback for a failed class may not need a review from an outsider.
Even still, if the goal being denied is important to the veteran, it makes sense to get a second set of eyes on the matter if able to find someone competent to do so.
Veterans with extensive legal training or a high comfort level in handling their own claims may be fine handling a VR&E appeal for medical school without help.
It really depends on the person, the benefit being denied, their knowledge base, and their spare time to manage their own appeal. For example, veterans in medical school or law school may have the ability and knowledge base but lack time to prosecute an appeal.
My point here is that it really depends on the veteran and whatever it is the veteran is hoping to accomplish.
17. How do I get more information about my VR&E claim?
If you have questions about your claim's processing, or if you are considering contesting an adverse decision, there are some options to consider for help to tell you more about your claim.
For more information about your claim or potential claim, connect with your nearest VA Regional Office. There, ask to be directed to the VR&E office to speak with a representative.
If you have general or specific questions about eligibility, entitlement, or your own claim, you can speak with the VR&E representative, Veteran Service Organization, or a private claims agent or attorney.
It is generally recommended that you seek advice about a contested matter or disagreement from someone other than VA personnel.
For free help, you can speak with your local VSO at the Regional Office or your local County Veteran Service Officer nearest you. Be sure you ask the official whether they are familiar with VR&E laws, regulations, and policies. Many VSOs are well intended but unfamiliar with VR&E.
For paid help, you can contact a claims agent or VA accredited attorney. The National Organization for Veterans Advocates has a list serve of attorneys who are VA accredited. This means they receive regular legal training about VA benefits.
Like VSOs, there are not a lot of attorneys or claims agents familiar with VSOs. Krause Law, PLLC is one of the few law firms listing VR&E as a practice area. I wrote a book and course about VR&E program benefits.
Most VSOs focus on helping veterans within their region. Most VA accredited attorneys and agents represent veterans nationwide since VA benefits are administered by a federal agency.
18. Can I get a copy of my VR&E file?
Yes, you can get a copy of your file if you make the request.
Presently, to put in a request for your file, you will need to submit a FOIA or Privacy Act request to Veterans Benefits Administration using the VA Form 28-10206.
When you put in the request, be sure you request a full and complete copy of your VR&E file to include the VAF 28-1902b Counseling Record Narrative Report. Also be sure to request a complete copy of all Corporate WINRS case notes. Your case notes will include information your VRC memorialized about meetings and thoughts on your meetings and other information not provided to you in a formal decision.
https://www.va.gov/find-forms/about-form-20-10206/
You can email the request to your VRC. Hopefully, the VRC will process the request correctly. You can also mail the request to VR&E at the same address for your application or turn it in physically at the Regional Office.
Your VRC may obstruct your access to the records or provide only a partial release. Be sure to contest any limited release to the Office of General Counsel.
19. Can my disability compensation rating of 100% TDIU or similar be reduced based on my use of VR&E?
This is a loaded question that is impossible to aggregate in a way that applies to every veteran who reads this page.
There are some instances where a veteran's rating may be reduced. It is highly likely a veteran with a 100% TDIU rating will be reevaluated after completing a rehabilitation plan. VR&E personnel are required to notify Compensation & Pension of veterans who complete the program with a Total Disability Individual Unemployability rating.
Other veterans with mental health ratings of 100% may also be reevaluated by the agency if the evidence suggests your condition improved.
20. How do I locate the nearest VA Regional Office?
Veterans can locate their local VA Regional Office to speak with VA personnel or service organization by:
21. My VRC is out of communication. What do I do?
The comes up a lot, especially during and after the lockdowns.
The Department of Veterans Affairs moved most of its workforce to remote work status in 2020. VR&E transitioned to an AI-driven client management model and started using video counseling sessions.
What does this mean? VRC's started to use centralized email: [email protected], instead of giving out their email or phone number.
This may work to help for VA tracking purposes, but it also created an additional layer of difficulty to reach a VRC. Unfortunately, given current workloads, some overwhelmed VRCs sometimes duck out for a while – sometimes a long while.
When this happens, here are a few tips: 1) Redundancy; and, 2) Chain of Command.
Send the VRC one email. Be very clear and short in what you are requesting. Ask that the counselor respond when the email is received. If the VRC does not respond, in the subject line, added [SECOND EMAIL], [THIRD EMAIL], and so on.
Should a counselor not respond, the next step is to send an email to the VRE Officer. You can find their name on the website of the Regional Office you use. Google it. Then click on the "Leadership" tab or menu button. Their email is usually [email protected]. For example, if the name is James Smith, the email might be [email protected].
We cover contacting leadership at the Regional Office below.
22. How do I contact the VR&E supervisor at my nearest VA Regional Office?
Finding the leadership and contacting them by email may be easy once you know a few key strategies.
Locate the Regional Office home page online.
Select the "Leadership" menu button.
Review the names of the Leaders at the Regional Office.
Identify the Veteran Readiness and Employment Officer (VREO), Assistant Director, and Director.
Create emails for the leadership you wish to email.
First, most VA Regional Office websites contain a list of leadership on the menu. You can locate the Regional Office website using a search engine.
Search for the name of your nearest Regional Office city. Type in the city name and "Regional Office" next to it. Hit search. Select the correct URL listed.
On the left-hand side of the home page, you will notice a menu. On the menu, select the tab or link labeled "Leadership." This will provide you with the names and detailed biographical information about each person in leadership at that office.
Most if not all the individuals listed will be GS-14 or SES (short for Senior Executive Service). Most VREOs are GS-15. A VREO is also called "division chief" of VR&E for that Regional Office.
Let's experiment with St. Petersburg Regional Office (St. Pete's for short) located in St. Petersburg, Florida. The St. Petersburg RO is home to one of the largest VR&E teams and workloads in the country.
To email the leader you wish to contact, you can try to input the person's name into the usual formal followed by VA: [email protected].
This may not work every time since some names are more common than others. Even if you get the right email, the official may not respond directly or completely ignore your email.
23. How should I email a VA official?
Remember, when emailing an official, especially a division chief, be mindful that this person is likely very, very busy. Do not SPAM this person. Make sure your emails are short and professional. Ask that the official has someone on her team contact you.
The official may not respond directly, but they may have someone from the team reach out. Be courteous and professional in all communications with federal officials.
If you engage in inappropriate or threatening behavior, it is highly probable you will be contacted by VA police or local law enforcement as would be the case if you did the same to a local or state official.
An example of an email might be:
Dear John Smith,
I hope you are doing well. I am unable to reach your subordinate Jane Doe. I have tried to reach Ms. Doe 10 times by email over the past month without one response. She will not call me or respond by email. Ms. Doe did not timely approve my attendance at University U causing me to pay my own tuition. I am in a financial hardship now.
Can you please have Ms. Doe call me back? (555) 555-1212.
Sincerely,
Tiny Tim
Check back soon for more examples on how to contact officials within the Veterans Benefits Administration if you run into a snag.