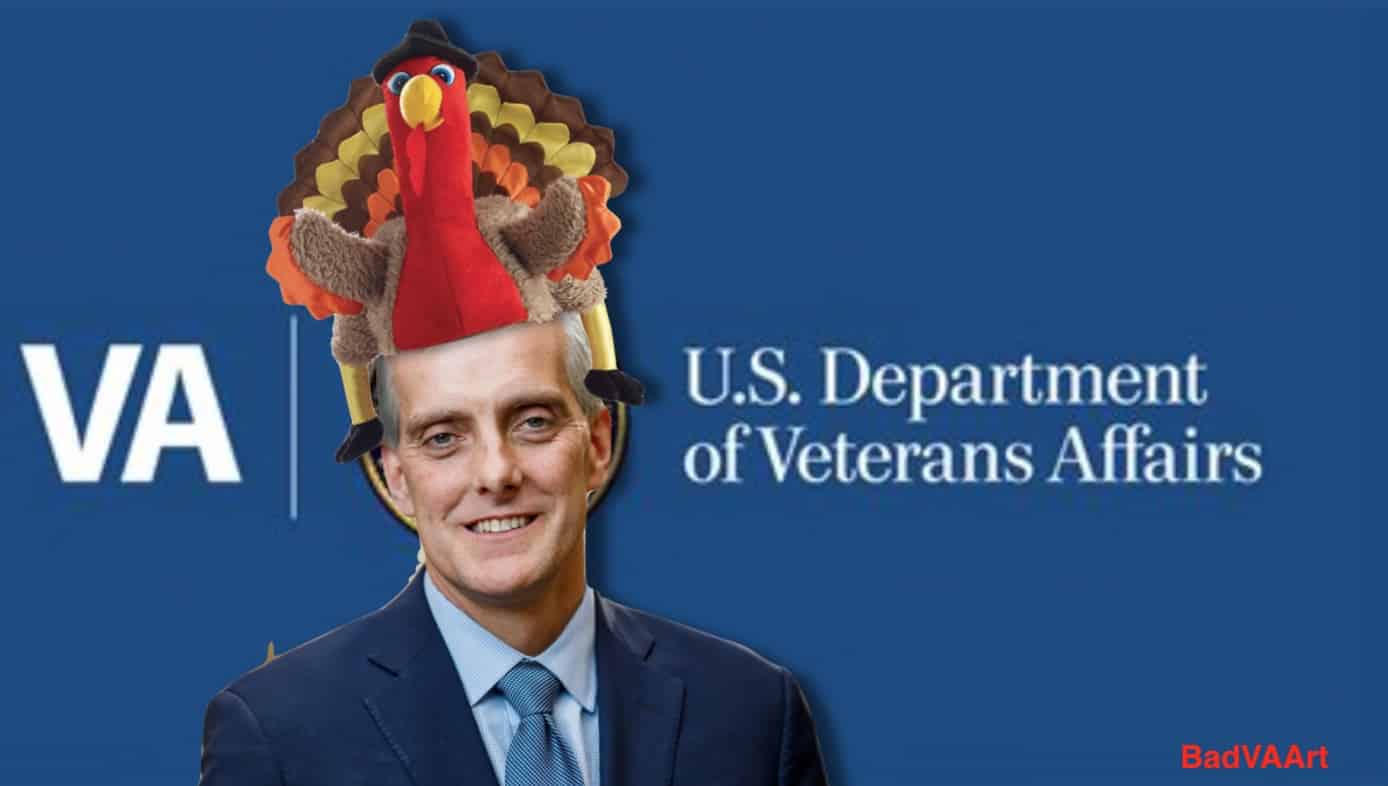 I wanted to wish you all a quick 'Happy Turkey Day' from DisabledVeterans.org this Thanksgiving 2021.
What I am thankful for this year?
Air. I am thankful that after all the fear of our current public health situation that my family is still breathing. Seriously. Praise God.
Aside from that, I wanted to bring some news from VA perhaps in the form of a statement from VA Secretary Denis McDonough wishing veterans and employees a happy Thanksgiving.
No luck finding a statement from him, at least on the press release website or VAntage Point blog, but I was able to find this fabulous picture of him.
The hat really makes McDonough's eyes pop, no? Thank you, sir.
I cannot wait to see what he wears for the annual bad sweater party at 810 Vermont. I am sure it will be fabulous.
While McDonough was quiet about one of America's oldest holiday traditions, I was able to find a 2017 statement from former secretary David Shulkin, MD.
Let's just assume this is what McDonough would have said if he wasn't too busy putting out other fires:
"As Americans across the nation celebrate Thanksgiving this week, I am most grateful and thankful for our country's Veterans and their families. I am also thankful that we have dedicated employees who are providing care and helping Veterans secure hard-earned benefits.
"Honoring our history and traditions through President Lincoln's timeless words, "To care for him who shall have borne the battle and for his widow, and his orphan," we are proud to serve all Veterans, including women Veterans and Veteran families.
"President Trump has made clear since taking office that VA has one purpose and that is to care and provide for those who have served our country so well in uniform. Under the President's leadership, and with strong support from members of Congress, we have made strides to improve VA at every level.
"While much work remains, our efforts to improve care and services represent the nation's unending thanks to our Veterans.
"I wish everyone a Happy Thanksgiving and hope that you and your families enjoy this great American tradition."
Well said, Secretary, wherever you are.
The photo is compliments of BadVAArt. (Those guys are awesome…)