Probe finds Fort Collins VA Staff taught to Falsify Records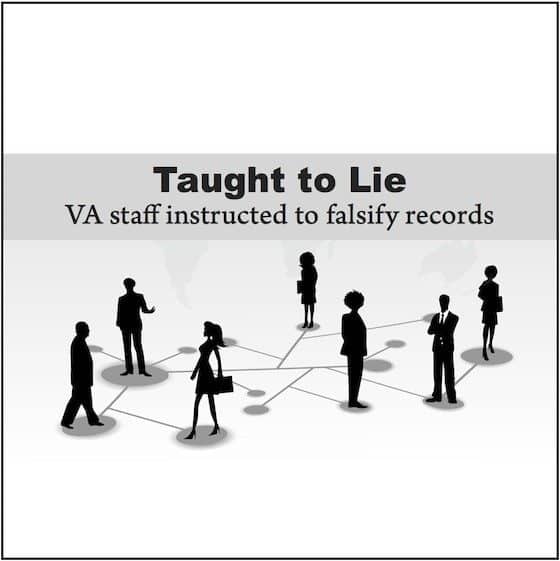 A recent VA probe found Fort Collins VA staff were taught to falsify appointment records going back at least one year. The goal of the falsifying the records was to make the small staff of doctors appear they were seeing patients within the 14 day timeline requirement.
VHA's Office of the Medical Inspector evaluated problems with wait times and passed on a copy of their investigation report to USA Today. What coverage of the report left out, like the names of management, I was sure to include at the bottom of this article below.
The report stated, "Many of the (clerks) reported significant stress when trying to explain to veterans why they cannot make earlier appointments for them. By entering (false data), the wait time for that patient appears to be zero days. … The wait times were actually much longer."
If a clerk at Fort Collins VA allowed an appointment to go beyond 14 days they would go on a "bad boy list." Scheduling was magically fixed from that point forward until investigators found the records were falsified.
Investigators found that half of the 6000 veteran patient load at Fort Collins VA did not have adequate appointments scheduled. The current crisis is the result of VA reforms in 2013 intended to fix appointment delay problems.
Fort Collins VA is under the management of Cheyenne VA Medical Center health care system. The entire system is lead by Cynthia McCormack, a former head of patient care services at the Phoenix VA Medical Center.
USA Today covered some additional history into how VA was performing in appointment scheduling across the country. According to the USA Today:
The VA in 2013 revamped some of its tracking procedures to better gauge wait times for nearly 100 million medical appointments each year at 151 hospitals and 820 clinics.

The agency found that only 41% of new VA medical patients were seen within 14 days last year, down from 90% reported in 2012 under an old, now-abandoned measurement method.

The VA found it wasn't doing so well with first-time mental health appointments, either. The agency reported in 2011 that 95% of new mental health patients were seen within 14 days, but the new tracking system found the rate in 2013 was 66%.
USA Today left out the names of the leadership staff responsible for overseeing the Fort Collins VA at the main Cheyenne VA Health Care System. I found some of the names on VA's website and then the remainder of the names from an additional source that I will keep confidential for now.  Here is the VISN 19 – Rocky Mountain Health Care Network.
Cheyenne VA Medical Center Leadership
Cynthia McCormack, RN, PhD. | Medical Center Director
307.778.7300
Cynthia McCormack was appointed Director, Cheyenne VA Medical Center on August 16, 2010. Prior to this tour Dr. McCormack served as the Associate Director for Patient Care Services, at the Phoenix VA Health Care System (VAHCS) in Phoenix, Arizona. She was responsible for direct patient care and support services for Chaplains, Clinical Informatics, Nursing, Nutrition, Hospitality and Food, Social Work, Sterilization, Processing and Disinfection, and Voluntary Services. Previous assignments at Phoenix included Acting Associate Director and Associate Chief of Staff/Inpatient Care Services.
Joining the Department of Veterans Affairs in 1985, Dr. McCormack holds a Bachelor of Science in Nursing from Mount Marty College, Yankton, SD, a Master of Science from the University of Arizona in Tucson, and a Doctorate in Human Services with a focus in Healthcare Administration from Capella University, Minneapolis, MN. She is a certified VHA mentor at the fellow level.
Paul L. Roberts | Medical Center Associate Director
307.778.7564
Paul L. Roberts is an executive leader of Tertiary Care, Acute Care and Critical Access Hospitals. Mr. Roberts has a background in Federal healthcare operations (Department of Defense and Department of Veterans Affairs), hospital operations, strategic planning, transition planning, program management, Physician network development.
Paul Roberts received his degree from Baylor University.
Jerry Zang, MD | Chief of Staff
307.778.7307
Dr. Jerry Zang is an internist in Cheyenne, Wyoming and is affiliated with Cheyenne Veterans Affairs Medical Center. Dr. Zang received his medical degree from Southern Illinois University School of Medicine. He completed his residency at the University of Kentucky and has been in practice for 23 years.
Dr. Jerry Zang is one of 14 doctors at Cheyenne Veterans Affairs Medical Center who specialize in Internal Medicine.
Polly A. Baird, RN, PhD | Associate Director, Patient Care Service Line / Nurse Executive
307.778.7550 ext. 7316
Frank W. Trejo | EEO Program Manager
307.778.7550 ext. 7930
Additional Cheyenne VA / VISN 19 Leadership
Theresa Garduno: Chief, Business Office
Cheryl Koski, RN: Chief, Center for Employee Development
Sylvie Rupp: Chief, Environment of Care Service
Kay Peterson: Chief, Human Resources
Andrew Ruben: Public Affairs Officer
Lisa Adamson, RN: Chief, Quality Management
Read More: https://www.usatoday.com/story/news/nation/2014/05/04/va-healthcare-delays-treatment-phoenix-cheyenne-deaths/8602117/