LEAK: VA Attempts to Stoke SVA's Curiously Warm Relations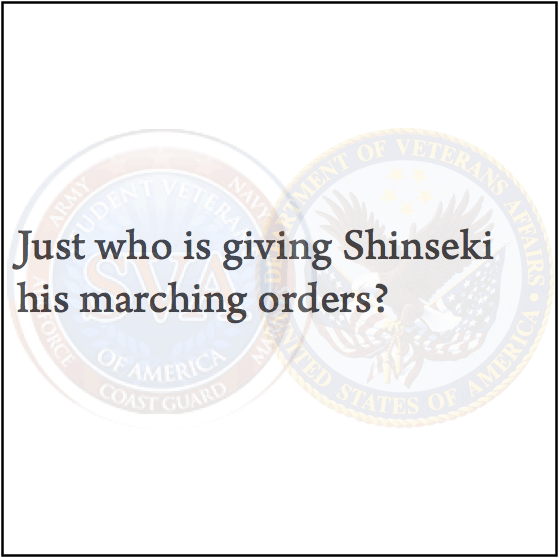 I found the departure of Student Veterans of America (SVA) head Mike Dakduk to be a sad one after years of fighting the good fight for student veterans.
While I was at Veterans for Common Sense, we fought along side SVA, IAVA and other modern veteran organizations to help limit for-profit colleges ability to exploit veterans.
We were very proud when the law was changed to limit for-profit colleges in their ability to prey on veterans using high-pressure sales tactics.
I was caught off guard two weeks ago when SVA acknowledged the recent announcement that Dakduk is moving to the Association of Private Sector Colleges and Universities (APSCU).
This is the organization that represents the interests of for-profit colleges. His new position is Vice President of Military and Veterans Affairs, which seems to contradict the work we all did before against for-profits last year.
I was further caught off guard this morning when I found an internal VA memo in my email inbox sent to Secretary Shinseki. It was titled, "Student Veterans of America Courtesy Visit."
While VA did attempt to recall the memo, it did not actually delete the email. I felt it might be prudent for veterans to have a firm understanding of how the networking game is played amongst the veteran organizations and VA within the Beltway. So, here is the memo for you to view.
Click here to see the STUDENT VETERANS OF AMERICA COURTESY VISIT memorandum for Secretary Shinseki as a Word document in its original form, typos and all.
Here it is in blog format; again, this is unedited, typos and all:
EXECUTIVE BRIEFING SUMMARY
THE HONORABLE ERIC K. SHINSEKI
SECRETARY OF VETERANS AFFAIRS
STUDENT VETERANS OF AMERICA COURTESY VISIT
SECRETARY'S SUITE 1000 
TUESDAY, NOVEMBER 19, 2013
1 P.M.
POINT OF CONTACT:
Mr. Kevin Secor, Veterans Service Organization Liaison, (202) 461-4835, cell (202) 379-8216.
PURPOSE OF EVENT:
Decisional                                  X Courtesy Visit                        Pre-Event
ATTENDEES:
Mr. Rodrigo Garcia, Chairman of the Board
Mr. Wayne Robinson, Executive Director
Mr. Brian Hawthorne, Board Member
BACKGROUND INFORMATION:
Student Veterans of America is a non-profit organization focused on addressing the needs and concerns of Veterans in higher education.  They are best known for being an umbrella organization for student Veterans groups that advocated for improvements in Veterans Educational benefits.  Their mission is to develop student Veteran groups on college and university campuses and coordinate by region between existing groups; connect student groups with resources; and advocate on behalf of student Veterans at the state and national level.  They have two major components: the executive staff and student Veterans groups, and advocate on behalf of student Veterans at the local, state, and national level. The event is designed with "leadership development" as it principal goal.
TOPICS FOR DISCUSSION:  SVA has no topics they will raise.  This is primarily a courtesy call to introduce the new President and Executive Director, D. Wayne Robinson, CSM (ret),
ATTACHMENT:
Overall of meetings with USB Hickey, Dr. Sowers and Asst. Secretary Mooney
Talking Points
Bio Sketches
Overall of meetings with USB Hickey, Dr. Sowers and
Asst. Secretary Mooney
Wayne Robinson has meet with USB Hickey, Asst. Secretary Sowers, and Asst. Secretary Mooney, as well as Danny Pummel and MG (ret) Worley at VBA.
Conversations with Asst. Secretary Sowers and Asst. Secretary Mooney were mostly a meet and greet, though Asst. Secretary Sowers took the time to show SVA the Second Thing campaign footage. SVA is looking forward to hear more about it and will support as we can.
SVA conversation with USB Hickey and senior staff was much more substantive. They discussed the following:
Graduation rate research – MG (ret) Worley indicated that the data should be coming shortly from VBA. SVA is looking forward to receiving so they can begin their analysis. SVA understands VBA will be conducting its own analysis, but SVA would like to begin comparing it to the National Student Clearinghouse data.
Discussed the opportunities available to veterans not interested or able to pursue higher education, and agreed that technical training and apprenticeships should be a topic that SVA and VBA can collaborate on.
SVA strongly believes that everyone is a lifetime student, whether enrolled or not, and are looking forward working with VBA on encouraging veterans to consistently seek opportunities to advance their minds and careers, especially in technical educations, community colleges, and apprenticeships.
Discussed ways to encourage companies in offering internship opportunities to student veterans during and after their educational experiences, which they would like to work towards together in the future.
Talking Points
Meeting is meant to be an open dialog.  Some topics of consideration:
Congratulations on your new assignment
Also want to congratulate SVA for being honored by Google with their Global Impact Award!
Understand SVA has now 897 Chapters – Great accomplishment
You have met with Asst. Secretary Sowers, Asst. Sec Mooney along with Under Secretary Hickey.  Understand all went very well.
Vet Success – Help us, where are the student populations
We need to focus on graduation rates
Ensure student Veterans are receiving the services and benefits they deserve
Received your Invitation for you January conference.  Been to all so far and I would like to continue to do so, but may be unable to.  We are looking either the new Deputy or even Under Secretary Hickey
We need to remain focused many good things VA is doing