Three Myths About Corruption And What You Can Do To Fight Back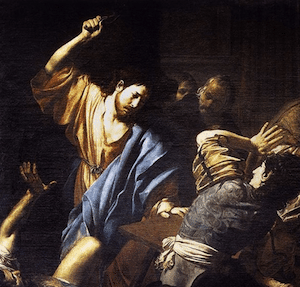 "Where you have an expenditure of public money, and it is without accountability and it's without transparency, it will always be equal to corruption — whether you're in Russia or Nigeria or Alaska." –Afra Raymond
WWJD? Whether you think Christ is a myth or real or anything in between, we can all agree that the Jesus in the Bible would kick some ass when it comes to corruption. In the Bible, we know that Jesus beat up bankers and moneychangers who were trading inside God's temple. He grabbed a whip and chased them out.
They were conducting business in a manner that the good book says was wrong. Today, we have bankers and government employees who are doing the same. There is no oversight. Congress is unable to get answers from the DOD and VA about spending and policy questions. This is wrong, and it is time we rise up to do something about it. WWJD?
Afra Raymond gave a great talk to TED Talks that was posted this month on the subject of corruption and what you can do to stop the flow of our money into corrupt pockets.
I'll summarize it below and let you watch it for yourself. I plan to cover different presentations on corruption over the next few weeks.
Pay special attention to his use of questions to get to the bottom of the Freedom Of Information Act. If you get the right information, you can bring down the "house of cards.
Now, click on this link to watch the video. I have provided a quick summary below.
To combat anything you need to first define what it is. Once defined, you can proceed to break down the tenants of myth that keep corruption moving.
Corruption Defined: The abuse of a position of trust for the benefit of yourself, friends, family or financiers.
Myths we are told about corruption:
1. Corruption is not really a crime, because people are not talking about it.
Economic crime because it is a looting of public money
2. Corruption is only a small problem… Like only 10-15%, it's been going on forever and there's nothing we can do about it.
In a smaller example, Trinidad and Tobago had great wealth until 1982 when oil prices collapsed. 2 out of every 3 dollars were either wasted or stolen.
Suspicious piece of legislation was put into place. A project to rebuild the airport in Trinidad for $1.6 billion sent $1 billion of the money to offshore banks.
3. You can't do anything about it.
There is a thing called an internet. There is a thing called the Freedom Of Information Act. It's time to stop relying on government to police the government. We need to hold the bad actors accountable and do so now.