MMQB: Confusion On Constitution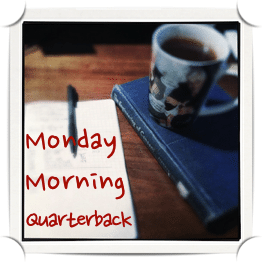 Veterans are confused about their rights and the rights of others. This MMQB will get both sides of the issue on the table.
I'd like to first give a shout out to all readers who pulled in research this weekend. Our two topics for this MMQB are the gun issue and children with spina bifida. Thank you Jay and Liz. The information you emailed me was helpful, and will be included below.
On Saturday, I sent out the Weekend Warrior Report. The WWR is a chance for veterans to help other veterans. I bring up some issues that we're hoping to resolve, and veterans joined up to help fight the good fight.
Before I get into that, let's touch on where things are at in the land of VA.
__________
Upcoming Congressional Hearings On Veterans
This week, the House Committee on Veterans Affairs will have hearings on the following:
Joint House and Senate Committee on Veterans' Affairs to receive Legislative Presentation of the Disabled American Veterans (DAV) Feb 26, 2013
Two weeks ago, the House Committee held a hearing on GI Bill delays. It was interesting to hear how the VA somehow wasted $263 million on a new software system for processing new claims. I'm not sure why they did that, especially since it did not work.
__________
VA Veterans Claims Statistics of the Week
From February 9 to February 16, the over 6,000 appeals claims were added to the total. As of today's writing, 257,000 veterans are awaiting adjudication for their appeal.
The grand total of claims waiting for adjudication is 1,592,382 as of the date of this writing.
I'd also like to give smart-ass congratulations to the following Regional Offices for being the top 5 slowest in the country. You guys at these regional offices are sure keeping taxpayer dollars safe by delaying our veterans' access to the benefits they have earned. (Did you know that your disability benefits are considered your property? Food for thought.)
Here is how this rating worked. The rating is as a percentage of claims over the VA's goal of 125 days for processing. The slowest RO is at the top. I will also include the total number of claims fore each RO awaiting their initial entitlement.
Baltimore VA Regional Office: 19, 891 claims; 83.8% over 125 days
Oakland VA Regional Office: 30,751 claims; 82.5% over 125 days
Boston VA Regional Office: 11,547 claims; 81.4% over 125 days
Chicago VA Regional Office: 20,993 claims; 81.3% over 125 days
Reno VA Regional Office: 10,184 claims; 81.1% over 125 days
Seattle Regional Office was a close seventh despite having hiring numerous claims adjudicators 3 years ago. Veterans awaiting an initial determination of entitlement in these offices should not expect miracles. It is a national disgrace that in this age of nano technology and space travel, we cannot figure out how to process a disability claim in a reasonable amount of time.
Source: Monday Morning Workload Reports
__________
Updates straight from VA's Blog – VAntage Point –
Here are their announcements from the "Intel Report":
Source: https://www.blogs.va.gov/VAntage/
__________
The Gun Blog Post Issue
There is some confusion about a flurry of websites with information claiming that the VA is now taking away the guns of veterans. But is the VA really doing this?
The answer depends on which website you go to. I'm not sure what is going on behind the scenes, but it looks like someone is playing the spin game. Pay attention to the titles and the dates of the articles you read – sometimes what people claim the article said is not what it really said.
We will cover the basic arguments with links for documentation. At the end, I'll include what the word "incompetence" means in how the VA applies it.
At the center of the controversy is the Dept of Veterans Affairs Fiduciary Program. Last year, the VA was approached to change its policy on automatically putting a veteran's name into the National Instant Criminal Background Check System if they are deemed financially "incompetent." Veterans groups want the VA to better define what it means when they determine a veteran is not financially fit to avoid veterans who are not mentally incompetent from being denied their 2nd Amendment rights.
Huffington Post did a write up on it called "Veterans' Gun Rights Becomes Tough Issue In Defense Bill."
The policy impacts around 127,000 veterans to date, and only 185 veterans have been able to reverse the determination.
"VA officials have told lawmakers they believe veterans deemed incompetent already have adequate protections.
For example, they said, veterans can appeal the finding of incompetency based on new evidence. And even if the VA maintains a veteran is incompetent, he can petition the agency to have his firearm rights restored on the basis of not posing a threat to public safety."
I am not a fan of VA doing anything when it comes to restricting rights of veterans, because the agency has a hard enough time accurately deciding benefits veterans are supposed to receive. I'm not sure how accurate the VA will be when deciding to take away Constitutional rights.
The Debate – Whose Gun Argument Is Better?
There are two groups of veterans on this debate – as to whether or not the VA is doing this. The first group claims the rumors are false, but even if they were true, mentally ill people should not have guns anyway.
The second group says the rumors are true, and they want the Constitutional rights of all veterans to be upheld. They also point out that being "financially incompetent" is not the same as being mentally ill, but the VA does not care and lumps all these people together.
The "The Claim is False" group selected a couple websites to debunk the myth. Believers of this camp send out the following two articles:
No, the VA isn't arbitrarily disarming veterans – by Twitchy Staff on Twitchy
VA Screening Vets to Take Away Concealed Carry Permits – from Military Officers Association of America Blog
The first article is written by "Twitchy Staff." Whenever I see an article or smear blog post that does not list the name of the author, I immediately assume it is bs of some kind. I then look for reasons why it may or may not be bs.
When it comes to the Twitchy article, it references the blog post of Attorney Michael Connelly. Connelly wrote an article talking about a recent change in VA policy on the Fiduciary Program.
The title of the Twitchy article is deceiving because it implies that the claim is that VA is arbitrarily taking guns from vets. This is not what Connelly wrote, and for that matter, "arbitrary" did not appear in his post.
Those who float this article get into the argument that mentally ill people should not own guns, anyway. Most veterans in blogospher who cite this article do not pause to read what "financially incompetent" meant, and assumed that the veteran is mentally ill. That is not always true. Some of the veterans might in fact be mentally ill, but that is not the precise focus of the VA Fiduciary Program.
So, I give Twitchy 2 stars out of 5. Good effort, but light on substance and facts. The post looks good with screen shots of twitter feeds.
The second article is from the Military Officers Association of America, or MOAA. The article itself is from 2009, but it's being passed off as current and addressing the Red Flag article I'll get into below.
In short, for Team Twitchy (includes both articles), I give the overall collection of articles a 1 because they are off point. And, they use an article from 2009 to cry wolf when the issue is in 2013. I guess I credit that decision with just plain poor attention to detail.
Meanwhile, the "It's True, Grab Your Guns" group sent two websites supporting the claim.
Why are military veterans receiving letters from Feds prohibiting ownership or purchase of firearms? – by Michael Connelly on Red Flag News
Is the Veterans Affairs Dept. trying to prevent some vets from owning guns? – by Liz Klimas on The Blaze
The first article is what has everyone all fired up. Connelly at least brings life to the issue. He includes a document from a veteran where the VA warns the veteran that an affirmative decision on incompetence will result in you being on the "do not buy" list.
My critique of the article is that it needed some editing. The title had a typo as did the rest of the body of the post. Nonetheless, it did accurately point out that the VA putting some veterans under the Brady Act.
I actually reached out to Michael Connelly, Sunday night. He told me that numerous other veterans have contacted him directly about being put on the list unjustly since he posted the article. Like it or not, this issue will be heating up.
The second article from Blaze had the most accurate title with the exception of not being able to figure out that there is no Veterans Affairs Dept. I guess for an outside, I'll let it slide, but any decent journalist should be sure they call the organization at the center of the debate by the right name.
The Truth and the Regulations
It looks clear that the VA determination of "incompetent" does result in a veteran losing their Constitutional right to bear arms. This is probably fine if the person is a harm to himself or others. My concern is for the veterans who are not a harm to themselves or others. They just cannot balance a checkbook due to a head injury. In this latter scenario, I am nervous.
The more cautious part of this issue is that VA gets to decide how to define "incompetent." This just makes me nervous all around because it ties together certain benefits with other ways of adjudication. Here is the definition according to M21-1MR Part XI, Chapter 1, Section A, page 1-A-10:
Incompetent: "An adult, to include an adult helpless child, who is rated incompetent by VA or under legal disability by reason of court action."
Legal Disability: "A legal disability is a condition or situation that allows a State to appoint a fiduciary. Each state determines what constitutes a legal disability within its jurisdiction. Regional Counsel should be consulted if clarification is required."
In Fast Letter 00-44, the VA writes:
"In November 1999, VBA provided NICS with an initial load of data on incompetent veterans, surviving spouses, adult helpless children and dependent parents from information in the Benefits Delivery Network (BDN) and the Fiduciary Beneficiary System (FBS). This consisted of data on 88,898 beneficiaries which were loaded into the NICS index."
Since this date, another 40,000 veterans have been added.
The examination on incompetence only lasts around 20-30 minutes, which seems hardly long enough to make such a sweeping decision.
During a hearing for HR 5948 Veteran's Fiduciary Reform Act of 2012, Vietnam Veterans of America suggested some basic reforms to the program. These included a proposal for the VA to make a separate determination and distinguish between "mental incompetence" and "financial incompetence."
VVA had this to say:
"Therefore, we urge a change to the examination protocol for determining that an individual is unable to manage his or her benefit payment.  Currently, VA only assesses veterans' ability to manage their benefit payments in certain disability exams.  Furthermore, these compensation or pension exams frequently last only 20 to 30 minutes.  It is unclear how VA is able to determine the capacity of a veteran without protocol for certain questions to be asked of the veteran, which are consistent across the board."
__________
Honey Sue Newby and Spina Bifida
Later this week we will be releasing our press release on spina bifid child Honey Sue. Honey Sue is a severely disabled child with spina bifida that was connected to her birth father's service in Vietnam.
VA has been withholding desperately needed health care that they are legally required to provide. We are examining different theories for getting VA to change its policy on how it administers health care benefits to these children.
One veteran wrote in that we might want to explore the Federal Tort Claims Act for $20 million. Under the Federal Tort Claims Act:
"A federal or state law that waives the government's sovereign immunity under certain conditions, allowing lawsuits by people who claim they have been harmed by negligent or intentional torts (wrongful acts) by a government agency or its employees. Before the enactment of tort claims acts, governmental bodies could not be sued without the specific permission of the government. The federal version is the Federal Tort Claims Act."
I will need to explore this legal theory more. Even if it is a pipe dream of a law suit, I should probably read up on how the FTCA would apply to a suit against the VA, anyway.
Nonetheless, we will need readers to help pass along the word about Honey Sue and her battle against the VA Purchased Care system. This facility is located at the Denver VA Regional Office.
Keep her in your prayers and that we are able to get some kind of resolution to this matter.
__________
Top Tweets About Veterans