MMQB: Dispatch From Washington DC – My VA Challenge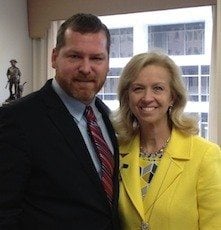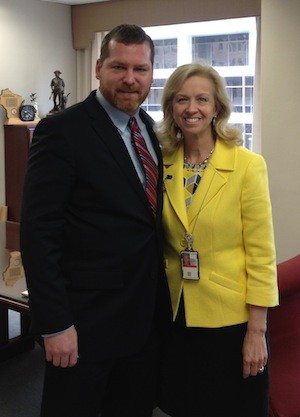 Hi there and welcome to this week's Monday Morning Quarterback. This is where I write about my thoughts and comments on veterans issues, broadly.
This week, I am writing my recap from my trip to Washington DC and wanted to be sure to write about the trip before I start to forget details.
I want to start out by offering my challenge to VA. I will forgo starting my legal career for a little while to come help fix VA from the inside. You can either hire me, and my "A-Team" of veterans to fix your stuff or fail.
Joe Galloway said it best Saturday night. "Rick is a friend of mine. If anyone can fix the backlog, Rick can. But I am not sure Rick can fix it." He said these sad words after delivering a tear jerking keynote address about America's failure to care for her wounded warriors at the 20th Anniversary of NOVA.
I met the man in person and can tell you that Joe is the real deal. He really has a heart for the American veteran after his experience in Vietnam. For those who do not know the name, Joe Galloway is the Texas journalist who, in 1965, jumped on a chopper and flew into the first major firefight between American and North Vietnamese forces.
This experience we recaptured in the timeless move, "We Were Soldiers."
The point I want to make to anyone reading this who is a DC decision maker is that VA cannot fix the backlog without pulling in the veterans whom VA is obliged to help. Without creating a direct dialogue, unfiltered, with immediate executive leadership, the current leaders of VA will fail.
This means that SES VA officials would not filter the all disabled veteran A-Team I would pick. This A-Team would only report directly to Under Secretary Hickey and Secretary Shinseki. And, this A-Team would have the motto, "I pity the fool who blocks a veteran from their benefits."
Aside from my VA challenge, I can probably summarize this trip with three words; advocacy is expensive. People who think DC will listen without pitching in their own fair share of cash are fooling themselves.
These kinds of endeavors cost money, and it should be no surprise that the reason DC tends to revolve around the interests with the deepest pockets is due to the fact that money really does make the world go round.
Now, I'll jump into the remainder of the MMQB.
Veterans Stats: Helping Vets Ain't Cheap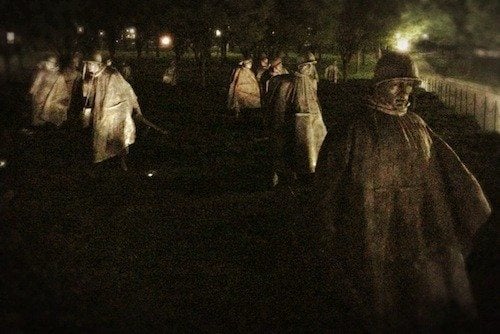 Rather than covering VA this week, I thought I would give the numbers to my readers on how much it costs to do FREE advocacy work in Washington D.C.
When I say free, I mean no veteran, no veteran organization, and no government agency paid me to do this. I was asked to come to DC to help with the backlog. I paid for the trip out of pocket because I care and truly believe that it will take the full commitment of each veteran in the veteran community to fix the issues within the VA.
Veterans talk a lot about how much they wish people in DC would just listen. Here is what these veterans do not realize. People in DC are busy. They have people from all walks of life pulling on them to take care of this fire or that fire.
Everyone is competing for attention and ultimately resources that are ultimately finite. The resources are both time and taxpayer dollars.
Given competing priorities, veterans issues generally get pushed to the back of the bus. Meanwhile, Big Oil, Big Pharma, Tobacco, Alcohol, and Defense, etc, tend to get more face time with Senators and Representatives.
Notice anything?
Lobbyists and lots of dollar signs make that happen. Veterans do not have lobbyists, at least to the same capacity. While fixing veterans issues sure makes a lot of people feel good, it does not cover the costs of campaigning for your seat.
So let's put this into the context of cause and effect.
If you have the bucks to help get the person reelected, you will get more face time and your fire will get some water. This means that money talks and BS walks. That's what it means. I hopefully do not need to point out what direction daily veterans issues fall.
Aggregate veterans issues do get a degree of attention due to media pressure. Individual veterans issues are just not a real priority unless the veteran is well connected or the particular issue is shocking enough to warrant positive press for the elected official.
Here is what it costs to advocate the VA for a guy like me who pays for everything out of pocket – this is what I spent on this trip from my student loan money.
The trip was over 9 days:
Round trip flight – $500
Hotel – $1400
Rental car – $250
Cabs – $100
Metro – $50
NOVA Conference – $150
Dinners – $300
Total Advocacy                    $2750
Result of Advocacy Trip
Policy input to VA was part of backlog fix
Meeting with VA Under Secretary Allison Hickey
Meeting with VA Assistant Secretary Tommy Sowers
Meeting with POGO on VA backlog and contractor issues
Meeting with former GSA head Martha Johnson
Meeting with DAMA House Committee on Veterans Affairs
Met Joe Galloway (journalist depicted in movie We Were Soldiers)
NOVA 3-day Veterans Law Conference
I would say that the trip was a success. I'll go into why I came to town a little later in this MMQB.
What I would like to reiterate is that if veterans want to change the system, they will need to dip into their own pockets to push for change either on their own or to hire a lobbyist / advocate to do the same.
Not only did I pay for my own trip, but, if I had a normal job, I would have had to burn up vacation days to do what I did last week. Regardless, it was worth it.
Moving forward, I will likely start a veteran-centric legal practice to start paying for my student loans and future advocacy trips.
The Backlog: Meeting With Under Secretary Allison Hickey
"Can we meet?" That was the subject of an email I received from the Under Secretary back in February. What resulted was an email discussion about backlog fixes that led to the meeting with her last week.
Here is the good news. Friday, VA announced a similar proposal to what I and other veterans advocates suggested – start making decisions on the backlog right now. If the evidence is there to justify the decision, make the decision now.
We met last week on Tuesday to talk about the backlog just after I was listed in her "Big Brain" email. In that email, she requested that VA pull together the best minds inside and outside of the VA to help fix the backlog. I was listed under the category for critiques of VA who are also willing to help fix it.
I will organize this post about the meeting in two ways. First, I will talk about the general rumors I heard prior to our meeting. Second, I will talk about my actual impression and the topics I feel comfortable posting on my blog.
Hickey-ism Rumors
Pro-Hickey
These rumors were pretty good, and a big part of why I was willing to meet with her:
Allison Hickey is the best thing to happen to VA in some time.
She is a breath of fresh air in an agency that used to prescribe to the motto, "The beatings will continue until moral improves."
She is a great boss who is willing to listen and make unconventional decisions outside of the box.
She truly wants to help veterans.
Anti-Hickey
These were the rumors I have heard that were negative:
Allison Hickey does not have the tools to handle the problems within the VA bureaucracy that will solve the backlog.
Some people around her do not respect her. She should step down.
She is about to go on administrative leave (I'm not sure why this would be bad, but it was a rumor).
Meeting Notes
Here are my comments about the meeting and the Under Secretary. Some of my following comments may seem strange, but I was cataloguing my impressions when I was there so that I could relay them to you all. So keep in mind that some things are relevant and other things are just impressions to help paint the picture for the readers.
Macro-view of Under Secretary Hickey
The Under Secretary cares about veterans and fixing the backlog. She is willing to make radical decisions to make that a reality. This is what I gleaned in talk with her overall, which confirms the first part of the rumors.
Despite the bad press as of late, she was much "nicer" than I would have expected. She is a visual thinker and can explain some problems through drawing them out. I have only met a few people who think like that, which impressed me right away.
The Under Secretary has good fashion-sense. Her office was clean and organized. The staff-members buzzing around her were attentive and friendly toward her.
In addition, they were friendly to me. I found this last part ("friendly") to be surprising since I write primarily from an anti-VA, pro-veteran perspective. Nonetheless, the veterans and nonveterans working for the Under Secretary were very kind and personable.
On the down side, when I talked about what I do, the Under Secretary's staff were of the mindset that they were already doing what I do. I asked the question, "How many of your staff members working in social media have advanced legal training?" Of course the answer was none.
Micro-view of Under Secretary Hickey
The meeting consisted of the Under Secretary sharing with me what her views, or rather what her staffs' views, of the backlog are.
Let's remember, the Under Secretary is like a quarterback for a football team. She is an expert on pulling the parts of the team together, but she is not the expert at each roll – no one could be. So, when I talk about what she said, I am really referring to what her staff members are saying to her, and that she is in turn relaying to me.
There are likely many great people on her staff. However, I am personally of the mindset that some members on her staff are feeding her inaccurate information. She did not relay this to me (other DC insiders did), however, after talking with enough people on the street after my meeting, I concluded that some people there have ulterior motives.
In aggregate, the problem of the backlog will take many fixes from many areas all at once. The electronic claims system is only a small part of the fix. VA will need to incorporate numerous strategies to bring about an effective change.
We talked about ways to improve the backlog immediately. I shared with her the possible solution of doing temporary grants of disabilities that are well beyond the 180-day window. On Friday, VA announced that it would start making grants of claims immediately, starting with the oldest claims.
We also talked about how to better explain to veterans and the public what the issues are within the backlog. VA believes the public does not understand how complex the disability claims process is, and that if the public did understand this, somehow it would help.
I feel like this is an example of one area of misinformation being circulated from the Public Relations side of the house. Even if this issue were resolved, assuming it is even true, there would be no overall benefit to veterans directly.
Let's think about this. One VA staff member has an assignment of drawing graphics and showing how the perception of complexity of the VA system somehow makes the backlog worse. I believe this is a waste of effort and resources because its focus is merely on public relations – trying to change the public perception of the backlog.
How about this, let's just fix the goddamn backlog?
Conversely, VA should focus on educating veterans about how to get their benefits. This focus should be designed to help the veteran not need a veteran service officer or lawyer initially. Then, only after researching their own claims file and the law, they could help their advocate because they will understand what is going on and better understand what information the advocate really needs.
Let's remember. No one will care more about the veteran's claim than the veteran. Period. By helping the advocate by providing clear information, the veteran could improve their chances of winning the first time around.
As stated earlier, I would be willing to forgo starting my legal career to come into VA to design this educational platform from the veterans' perspective. I think it would reduce the number of frivolous claims because veterans using the material would better understand how to submit their claims when the claim is realistic.
My next step would be to create an "A-Team" of tough mother-f-er veterans who have fought and won their benefits. These guys should be brought into VA as consultants to audit the systems and provide feedback immediately to the Secretary and Under Secretary.
Like I said before, some staffers in VA are filtering veterans' true stories and not giving VA leadership the true picture of the problems within the bureaucracy. This problem could be bypassed to some degree if veterans were educated in the system.
I have developed the intellectual property necessary. VA could either pay me a lot to license the material, or they could hire me to come in as an employee for a little while to fix their systems. That's enough about that.
Overall, I think the Under Secretary can "get it done" so long as she pulls in the right team members. She has some great people working for her now. For example, I like Tom Murphy, head of Disability Compensation. I think he is a no-nonsense kind of guy.
However, she will need to find and fire whoever it is that is undermining her attempts to fix this system.
VA Public Relations: Meeting With Assistant Secretary Tommy Sowers
I also met with Assistant Secretary Dr. Tommy Sowers about VA's public relations arm. Like the matter with the Under Secretary, I did offer my services to Sowers as well. However, I am 99% sure they do not want me to figure out how their PR system works.
Again, I put my money where my mouth is and did offer to forgo starting my law practice to come in to develop educational systems for veterans.
Before I get into my impression of Dr. Sowers, I want to give you some background.
Sowers graduated from Duke University. He went into the Army and became a Green Beret. While in the military, he taught at West Point and received a PhD from London School of Economics.
After the military, Sowers worked with IAVA for a little while. He ran for Congress but lost despite raising $1.5 million in campaign contributions. Then, he was selected by President Obama to take over the former role of Tammy Duckworth since Duckworth did win her campaign in Illinois.
When I was in town last week, Dr. Sowers was willing to meet with me.
The week prior, he called to interview me for a position within the VA public relations department. So, like Under Secretary Hickey, this was not the first discussion I have had with prior to the meeting last week.
We sat down in his office. He shook my hand and then kicked up his cowboy boots on the table.
I probably do not need to say much else beyond this. After all, anyone willing to wear cowboy boots in DC is a guy with guts, and I would drink a beer with anyone who has guts despite working in DC.
For those of you who do not get what I mean, I'll continue by explaining what I thought of him. He was a smart guy who is personable. These two things seem implied since he did attend two great universities and run for Congress.
As for the job offer, that is to be continued.
I guess my point in brining this up is a reiteration of what I hope we are all willing to do. Just because we took the uniform off does not mean we stop serving. I personally feel very inclined to help from within VA for a little while, because I know I can help.
This does not mean VA would want my help. After all, I am a "big brain" who is critical about VA. I might hurt someone's feelings by telling the truth.
Should Veterans Be Able To Hire Attorneys?
While in DC, I heard a rumor that the DAV veteran organization was calling on Congress to limit the ability of lawyers to get paid for helping veterans get their benefits.
Basically, DAV wants to cap the amount of money a veteran's lawyer can get paid.
This would have one result; lawyers would not solely represent veterans like they do now. This also means veterans would have to rely on nonlawyers in developing their claims that will get denied by VA lawyers later.
Would you trust a nonlawyer to go up against a trained VA lawyer?
With the backlog "fixes" of last week – basically rushing to make decisions on claims – VA is now hiring over 100 more attorneys to work on appeals. I think this should be a sign of bad moons rising.
Meanwhile, DAV wants to limit access to lawyers by veterans.
This makes me wonder just who DAV is advocating for. Is it advocating for the interests of veterans? Or, is it trying to increase veteran demand for more veteran service officers?
Regardless of the answer, the timing is interesting. Right before VA implements fixes that would result in huge numbers of poorly decided claims, DAV wants to limit access to lawyers.
What I will say about the lawyers who specialize in VA claims is that they generally do not make "the big bucks" like the lawyers on TV. They do not make "the big bucks" like lobbyists. They generally do not make "the big bucks", at all.
However, for many of these lawyers, it is a way to make a good living while helping veterans. Veterans have traditionally needed help, especially now that claims are more complicated then ever before.
I'd like to raise another point. VSO's had a monopoly on the VA adjudication system from the 1940's until 1988. Even then, lawyers were capped at $10 until recently.
In 6 years, veterans law has changed radically. Every year, VA is being further pushed to provide the "nonadversarial" disability system they have for so long claimed to administer.
Instead, it looks like the DAV wants to continue the old status quo of veterans by limiting veterans' access to legal representation.
I think the DAV high hogs should, like me, put their money where their mouth is, "Take a pay cut before you limit veterans' rights."
Here are the yearly earnings (total compensation which includes salary) of the top paid DAV officials. The full compensation break down is within this excerpt of DAV's Form 990 for 2011 linked here. The full IRS Form 990 is on their website.
| | |
| --- | --- |
| Name of Key Individual | Total Compensation |
| Arthur Wilson | $353,519 |
| Barry Jesinoski | $346,450 |
| Christopher Clay | $325,890 |
| J. Marc Burgess | $263,185 |
| Anita Blum | $254,726 |
| Joseph Violante | $250,520 |
| Garry Augustine | $240,358 |
| David Gorman | $208,130 |
| William Saunders | $160,458 |
| Total | $2,403,236 |
I want to hear from veterans about this topic through commenting after this post.
If you think these salaries are reasonable given the progress DAV has had in fixing the backlog, then I would love to hear from you.
If you think veterans should have equal access to lawyers, just like VA, then I would love to hear from you, too.
Either way, veterans should share their voice.
House Committee on Veterans Affairs – DAMA
I had a chance to meet with Rory Riley at the disability subcommittee again. For those who do not remember, Rory is the first person to invite me to DC, back in December 2011.
Prior to her invitation, I had never thought of advocating for veterans on Capitol Hill. As a result of her calling in "out of the box thinkers," now veterans have been getting more benefits more quickly.
So, to Rory, "thank you" for including me and other veterans like me. I think we need more people like you in DC who are not afraid to upset the apple cart once in a while.
The Committee will be holding round tables next month about disability compensation and the electronic medical records system problem.
Alvin L. Young Agent Orange Collection
Dr. Young was one of the country's experts on Agent Orange and its use in Vietnam and prior to Vietnam.
Upon his retirement, Dr. Young donated 200 boxes worth of research and material to the US Department of Agriculture. The information now sits in the USDA Special Collections outside of Washington DC.
On this trip, I made a point to schedule a visit to review this special collection. At this time, I do not have time to write about everything I found.
What I will say is that I was the third person in 2 years to view the materials. How interesting, right?
VA is still fighting to provide service connection for certain diseases and congenital diseases TCDD caused (that's the bad stuff in Agent Orange). Yet, no one is reading the research.
To me, this calls into question VA's decisions on the subject.
The big questions are as follows. What did we know? When did we know it? These two questions are answered within the material on file in Young's collection.
Beyond this, VA's attempt to stonewall these veterans is nothing more than to limit the cost of the war.