MMQB: Rep. Bruce Braley AWOL At 75% Of Veterans Affairs Hearings, Runs For Senate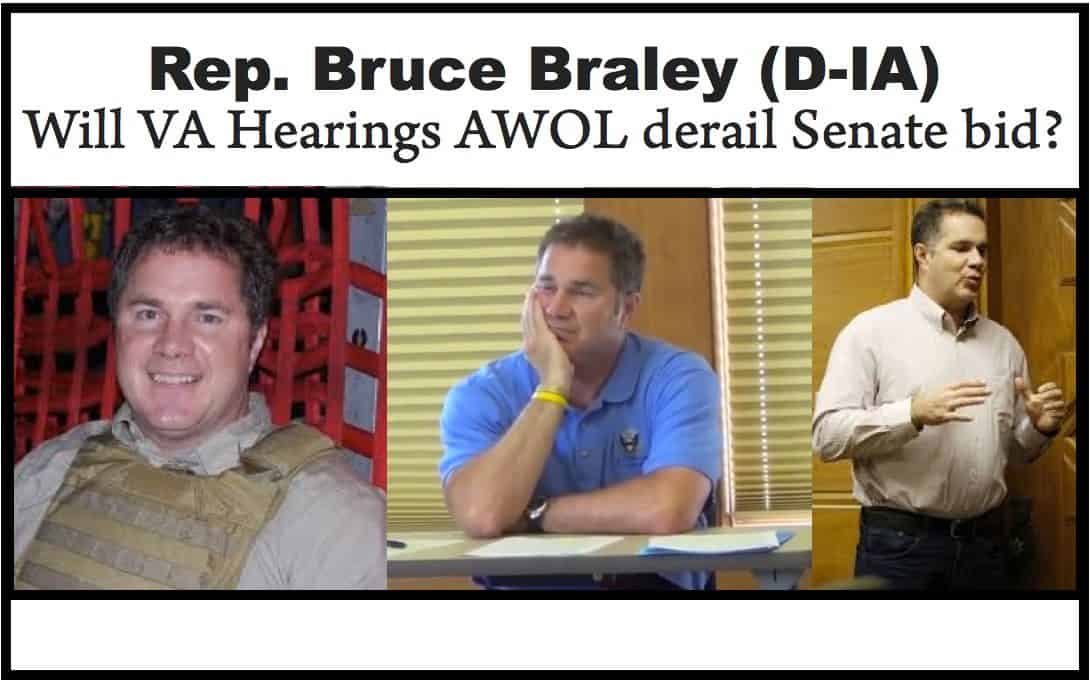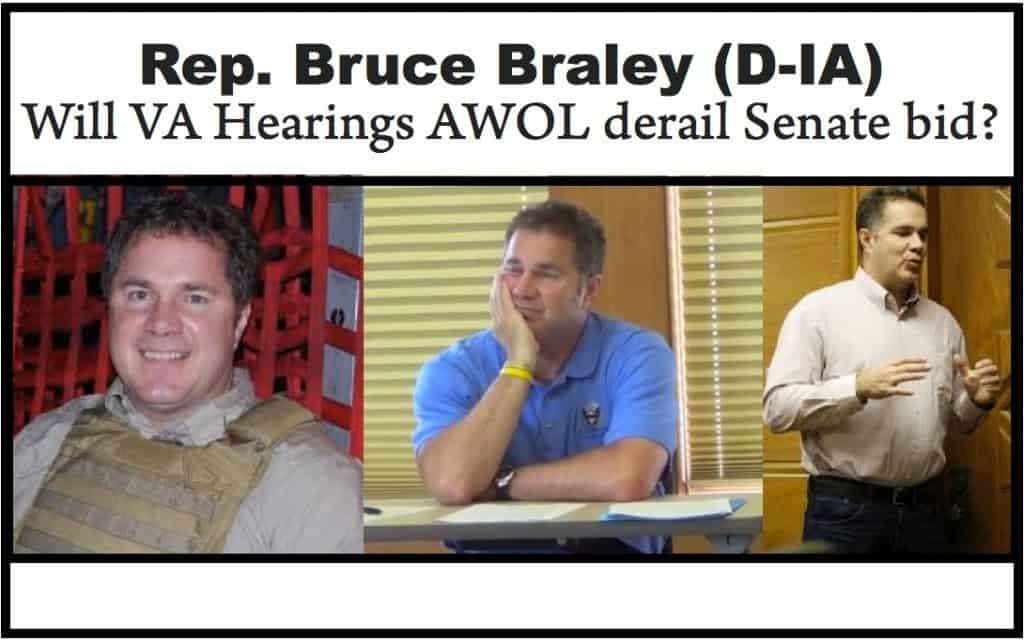 After an unforgivable dereliction of duty, Rep. Bruce Braley (D-IA) is finding out just how unpopular it is to shirk one's responsibilities to veterans.
While serving on the House Committee on Veterans Affairs, Mr. Braley skipped a staggering 75 percent of its hearings in 2011-2012. Now, he wants to run for Senate.
Concerned Veterans for America now pledged to spend $2.4 million against Braley to hold him accountable for missing an alarming number of hearings.
Should Braley's AWOL be rewarded by Iowa voters with a promotion to Senate? Or, is Braley's dereliction overshadowed by some other amazing legislative accomplishment?
We will get into this and more during this edition of Monday Morning Quarterback for Veterans. I am your host, Benjamin Krause, creator of DisabledVeterans.org. This is where we hit on relevant topics pressing right now to give readers a quick update on numerous topics.
Here is what we will touch on today:
Does Bruce Braley + Dereliction of Duty = Senate seat?
Gainesville FL VA health care linked to 40 veteran deaths or injuries
VA reports 70% jump in "adverse events" from 2010 to 2013
VA chief claims Phoenix VA is improving
Does Bruce Braley + Dereliction of Duty = Senate seat?
In the run up to some of the most pressing scandals in VA history, Congressman Bruce Braley was AWOL during 75 percent of the House Committee on Veterans Affairs hearings from 2011-2012.
Some major issues during this time that come to mind were:
The growing Disability Backlog
Misspending of IT budget
Broken GI Bill software system
Build up to health care wait list scandal
And more…
Now, he wants Iowa voters to repay his dereliction of duty by electing him to the Senate. Should they?
[Read full attendance report from Des Moines Register]
Bruce Braley's camp is caught in up in a shoot out with Concerned Veterans for America (CVA) over the AWOL issue. CVA grabbed onto the AWOL issue after the Des Moines Register reported the 75 percent number last week. Now, CVA has dedicated $2.4 million to railroad Braley's campaign through various advertising highlighting the narrow but important issue of dereliction of duty.
In response, the Braley campaign has labeled CVA as a Koch brothers front group that is "misleading Iowans on Bruce Braley's long record of delivering results for Iowa's veterans." Apparently his campaign places little value on showing up for work.
The Braley campaign claims Bruce Braley has placed Iowa veterans issues number one on his list of priorities. Yet, when he had an opportunity to make a difference on the most pivotal committee that can impact veterans benefits in Congress, Rep. Braley was AWOL.
Nonetheless, it is possible that Mr. Braley missed three fourths of those Veterans Affairs hearings because he was helping veterans directly in some way that is equally as important (though I doubt it since little is as vital to veterans as those hearings).
However, I am disappointed by his use of a logical fallacy (ad hominem) to discount the viable claim by CVA. The accuracy and truth of the organization's claim, that he missed three quarters of the hearings, is valid and important regardless of who paid for the advertisement that highlights his dereliction.
On a bigger picture, if elected, what kind of message would this send other politicians who shirk their responsibilities to America and to veterans? These committees are damn important.
Is CVA wrong in spending money to railroad Braley's campaign? Does Koch funding diminish the importance of the message?
These are all important questions we need to ask this election cycle.
Read More: https://www.desmoinesregister.com/story/news/politics/elections/2014/07/25/conservative-veterans-for-america-tv/13171707/
Gainesville, Florida VA health care linked to 40 veteran deaths or injuries
A report obtained by NBC revealed that the number of adverse events at the Gainesville Florida VA Medical Center was the highest in the country with 40 reports since the last quarter of 2013.
Gainesville was followed by high numbers at Los Angeles VA Medical Center with 34. The Pittsburgh, Pennsylvania VA Medical Center was third with 28 adverse events.
By comparison, the San Diego Health Care Facility was linked to 6 adverse events.
Adverse events are events that result in either deaths or disability that is caused by VA actions. VHA Handbook 1004.08 contains standards for disclosure of adverse events to patients.
Read More: https://www.nbclosangeles.com/news/local/Hundreds-of-Vets-Died-or-Injured-Under-VA-Care-Data-Shows-268677582.html
VA reports 74% jump in "adverse events" from 2010 to 2013
Hundreds of veterans were harmed by VA health care from 2010 to 2013 according to the same report given to NBC by VA referenced above.
Through a Freedom of Information Act request, NBC reported:
575 [veterans] were affected by adverse events, up 74 percent from 330 in 2010.  The VA did not disclose details or individual outcomes.
Of course, VA has been known to manipulate the data it reports to news agencies and Congress, so it is likely that these numbers are also lower than the reality of VA misconduct, negligence, wrongful acts, and malpractice facing veterans on a daily basis.
According to one family, VA lied about he nature of their father's death from Legionella disease. Initially, VA falsified reports to family members as to the cause of death of one 83-year-old Korean War veteran. Only later, following a Congressional inquiry, did the agency get a dose of honesty and admit that Legionella was the cause.
The Legionella was likely the result of human error at the Pittsburgh VA. CBS covered the story well where one wife of a victim complained and was discredited by VA in a typical character assassination campaign:
An internal memo shows a top doctor at the hospital knew that Legionella could potentially be in the hospital's water system, and recommended the use of bottled water. Though staff members were told to test patients for Legionnaires' disease if they exhibited certain symptoms, there is no evidence to suggest patients or their families were informed of management's concerns about a potential outbreak. (Read the memo.)

An email dated September 30, 2011 shows hospital staff had received lab tests indicating that the hospital's water system had tested positive for the lethal bacteria that causes Legionnaires' disease. John Ciarolla, a nursing home resident at the Pittsburgh VA, died in October of 2011, just one month after this email was written. His daughter, Maureen Ciarolla, told CBS News that hospital officials told her he had tested positive for Legionnaires' disease, but that he must have caught it while visiting her home. She says they even sent her a kit to test her water.

In a November 2012 memo, a VA employee wrote that the wife of "one of our probable [Legionnaires'] cases" who died at the Pittsburgh VA was "very disgruntled" and that a social worker should visit her and sample her water.
What will happen to those VA officials who knowingly lied to the family or harassed survivors? Will they ever be held accountable for their crimes and unprofessional behavior?
Or, will America through its Congress fail to pass laws to encourage honesty within this scandalous agency?
I have no doubt that some of the victims will be successful in suing VA for the negligence at play here. However, VA employees that lie to victims should also be held accountable by either VA or by the law, but will they?
Read More: https://www.nbclosangeles.com/news/local/Hundreds-of-Vets-Died-or-Injured-Under-VA-Care-Data-Shows-268677582.html
VA chief claims Phoenix VA is improving
Last week, VA chief Sloan Gibson told Congress his agency was making improvements at the Phoenix VA following the interim report from VA OIG.
The report indicated troubling behaviors at managerial levels that included, "numerous allegations daily of mismanagement, inappropriate hiring decisions, sexual harassment and bullying behavior."
While there is no doubt that Phoenix VA has done some things, there is no clear indication if the agency fired the criminals at the facility who were falsifying wait lists and committing fraud.
Nonetheless, Secretary Gibson claims he is optimistic. However, should this optimism be more aptly labeled "irrational exuberance" in absolute defiance of reality?
You tell me.
Read More: https://www.cvbugle.com/main.asp?SectionID=1&SubSectionID=1&ArticleID=43265
Want VA reform? Challenge 38 USC § 511
So what do you think? Will VA turn around or do we need to lobby Congress to revise 38 USC § 511 to allow veterans to sue VA employees when they clearly break the law?
The statute reads:
(a)
The Secretary shall decide all questions of law and fact necessary to a decision by the Secretary under a law that affects the provision of benefits by the Secretary to veterans or the dependents or survivors of veterans. Subject to subsection (b), the decision of the Secretary as to any such question shall be final and conclusive and may not be reviewed by any other official or by any court, whether by an action in the nature of mandamus or otherwise.
That statute serves as an almost absolute prohibition against suing VA employees while administering benefits, including health care benefits in certain circumstances.
While medical malpractice may be allowed in certain situations, other forms of legal remedies are tough to obtain for most veterans.
For veterans who want to "sue the VA", you really need to read through this legal decision from the 9th Circuit that VA is sill hiding behind like the cowards they are. Read Veterans For Common Sense vs. Secretary Shinseki.