'Vulnerable' Veterans Bedridden By Veterans Affairs Wheelchair Repair Failures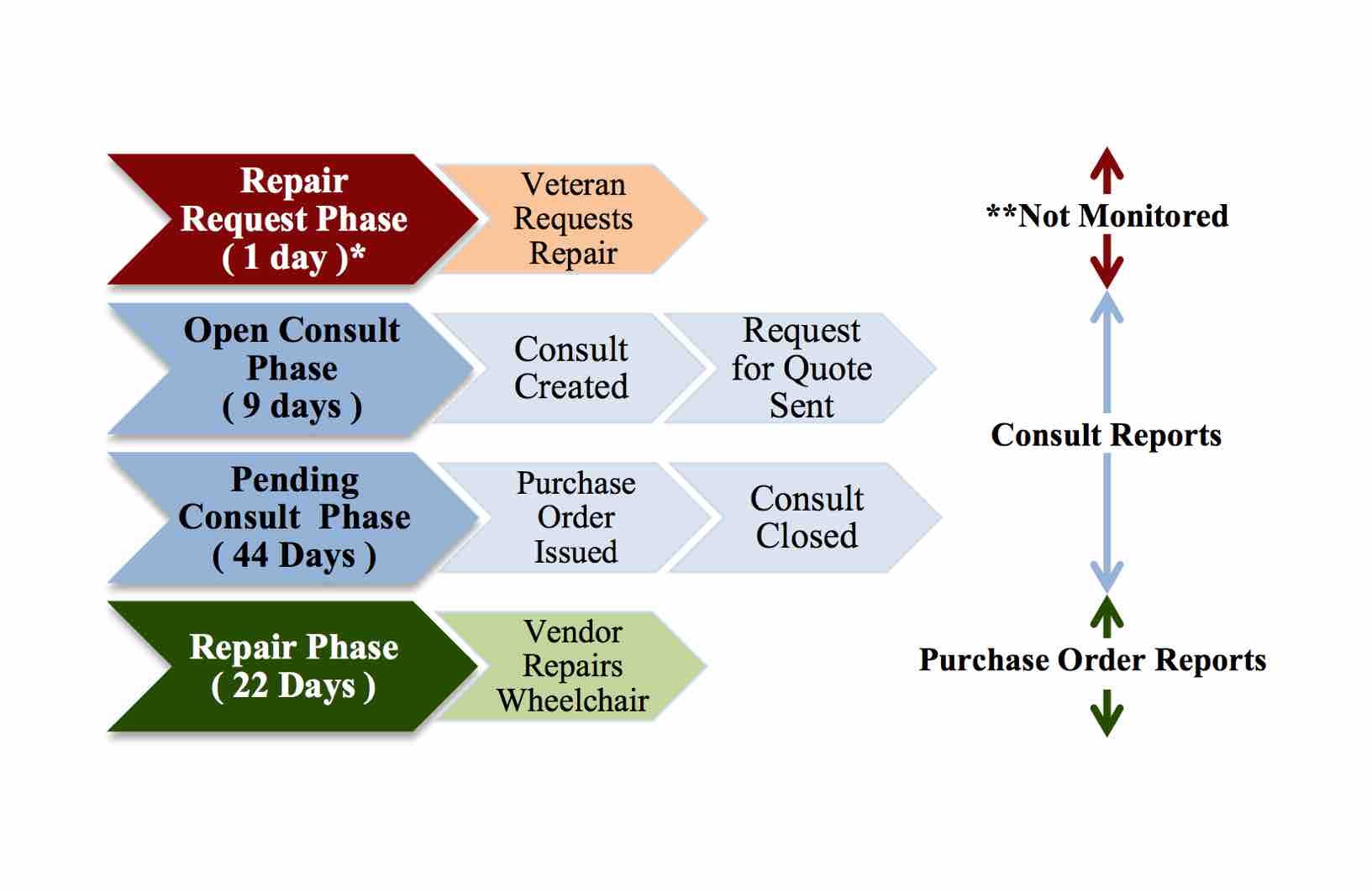 A recent VA OIG report found "vulnerable veterans" experienced physical hardships including confinement to a bed due to a massive Veterans Affairs failure in VISN 7 to properly schedule and complete repairs to power wheelchairs and scooters.
IG investigated eight VA medical centers in VISN 7 using a statistical sample of power wheelchair and scooter repairs. The analysis estimated that 40 percent of veterans seeking repairs experienced delays averaging over two months for repairs. As a result of the delays, some veterans experienced documented hardship.
Prosthetic Service managers failed to ensure timely repair of VA-issued power wheelchairs and scooters. Officials in Prosthetic and Sensory Aids Service failed to establish timeliness standards for repairs so IG established a 30-day benchmark for the audit.
The delays were due to predictable failure to "effectively manage and monitor repair requests." The officials failed to input repair requests and failed to properly track the requests when they were input. Prosthetic Service managers also failed to consistently ensure vendors completed repairs by established delivery dates.

VISN 7 Power Wheelchair Repair Delays Summary
Here is the executive summary from VA OIG:
The VA Office of Inspector General (OIG) conducted this audit at the request of Senator Johnny Isakson who was concerned that delays in the repair of VA-issued power wheelchairs and scooters at the Atlanta VA Health Care System placed veterans at physical and financial risk. To evaluate these concerns, the OIG assessed the timeliness of power wheelchair and scooter repairs at Veterans Integrated Service Network (VISN) 7 VA medical facilities. The OIG confirmed that VISN 7 medical facilities, including the Atlanta VA Health Care System, did not ensure the timely completion of repair. The OIG used a 30-day benchmark to assess timeliness because Prosthetic and Sensory Aids Service does not have a timeliness standard for the completion of repairs. Subsequently, the OIG projected 380 veterans in VISN 7 experienced delays in the completion of approximately 480 repairs in FY 2016. Furthermore, these veterans waited an average of 69 days for their repairs to be completed. These delays occurred because VISN 7 Prosthetic Service managers lacked policies to ensure VA medical facility staff promptly input repair requests and prosthetic service purchasing staff monitored repairs from inception to completion and held vendors accountable for the timely completion of repairs. Although the OIG could not confirm that the delayed power wheelchair and scooter repairs financially impacted veterans, it confirmed that some veterans experienced physical hardships related to the delays. The OIG recommended the VISN 7 Director implement controls to ensure VA medical facility staff: initiate repair consults as soon as repair requests were received; follow consult documentation procedures; monitor and follow up on repairs through completion; and monitor vendors to ensure the completion of repairs by agreed-upon delivery dates. The VISN 7 Director concurred with our report and recommendations and provided an action plan to address the recommendations. The OIG considered the action plan acceptable.