MMQB: Supersized Bill Likely a DOA, says AMVETS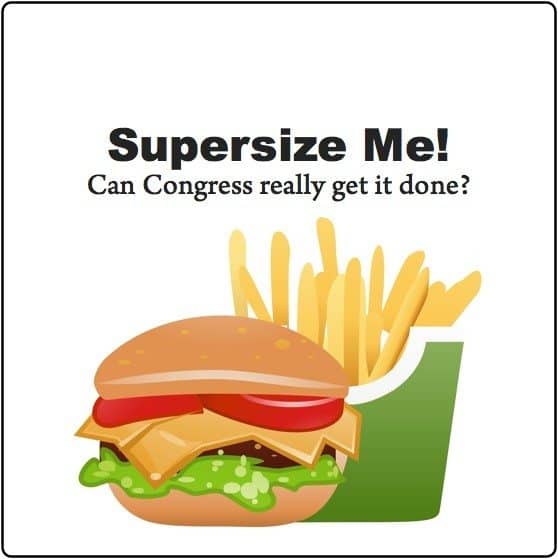 In the country that invented Happy Meals, supersizing has become a way of life, whether it be a truck or a Whopper meal. Congress is looking at pulling a supersized failure for the upcoming veteran bills wrapped into S. 1982.
In what AMVETS calls a bill that includes throwing in the kitchen sink,  veterans should proceed with caution.
Hi. My name is Benjamin Krause – founder of this website and fearless leader of one (me). Lately, both parties have been rejuvenating different ways to figure out how to generate favor within the veteran ranks.
I'm going to keep this one short and sweet.
The answer for those pandering parties is to truly back veteran issues. However, that kind of an answer is too straightforward. Instead, they seek ways to divide the veteran and minority vote to both get elected and on the other hand not say anything relevant.
This week I'd like to talk about this form of politics. We will call it (modern Republicans and Democrats) the Tammany party, which is the party of the sellouts from the 1930's and before.
AMVETS on Supersizing S. 1982
Here is the AMVETS' press release on this bill. I'll let you all take it from here. Research the bill and contact your elected officials:
There are some organizations holding back and asking the hard questions about Senator Bernie Sanders' (I–VT) supersized veterans' bill, S.1982 (formerly S.1950, the Comprehensive Veterans Health and Benefits and Military Retirement Pay Restoration Act of 2014). We at AMVETS and Concerned Veterans for America (CVA) certainly appreciate the good intentions of Senator Sanders in introducing S.1982 and those of our colleagues for supporting it. Many have rallied to the flag of S.1982 in large part due to the prospect of the reinstatement of COLA benefits without fully examining the details and practicality of the bill.

While we agree the bill addresses many critical issues and recommends important solutions for our veterans we do not support this bill for several reasons. First, it would be morally irresponsible and fiscally unsound, given the historically volatile situation in Afghanistan, to hang the funding for such robust legislation on any potential "peace dividend." Throwing more money — upwards of $30 billion, and taken from war funds no less — at a failing department will only make matters worse.

This kitchen sink-like bill also endeavors to be all things to all veterans, and is very enticing to all of us 'Veterans Service Organizations' as the panacea for all of our legislative agendas. The problem is, in its current configuration, it has little to no chance of passage. It's just too "pie in the sky" and has lacks the power base to hold VA accountable for providing excellent care and services to veterans currently accessing the system.

At present there's a distinct lack of bi-partisan support for S.1982. Inviting political infighting to get in the way could potentially relegate this legislation to no more than a political exercise. There is so much good they could do by supporting legislation that has potential for bi-partisan support and passage. Sen. Ayotte's (R-KY) S.1977, for example, seeks to repeal section 403 of the Bipartisan Budget Act of 2013 (repealing the military retirement COLA cuts) while not adding additional deficit spending. With similar bi-partisan support is Sen. Blumenthal's (D-CT) S.1281, the Veterans and Servicemembers Employment Rights and Housing Act of 2013. This nearly cost-neutral legislation would make it illegal to discriminate against individuals based on their military or veteran status and give veterans legal recourse. In fact, twelve states have passed state laws similar to S.1281 to protect vets.

The passage of S.1982 would unfortunately condemn S.1281 to a mere study, the Washington term for make work, kill slowly, or death by committee. At any rate it will be delayed at best for years and at worst killed off quietly while our veterans continue to have problems with employment and housing.

We all want what's best for the veterans community, and many of the provisions in S.1982 are positive. However, 'bigger' doesn't mean 'better,' and the Sanders bill further expands a VA system that is already overwhelmed and cannot meet the current needs of veterans. Before overcommitting the Department of Veterans Affairs and subjecting our veterans to more broken promises, Congress should rally on legislation that keep the promises already made.
Source: https://www.prnewswire.com/news-releases/supersized-veterans-bill-promises-much—mostly-broken-promises-says-stewart-hickey-of-amvets-244033571.html
Supersize Me!