More Than A Dozen Impacted By Scabies At VA Medical Center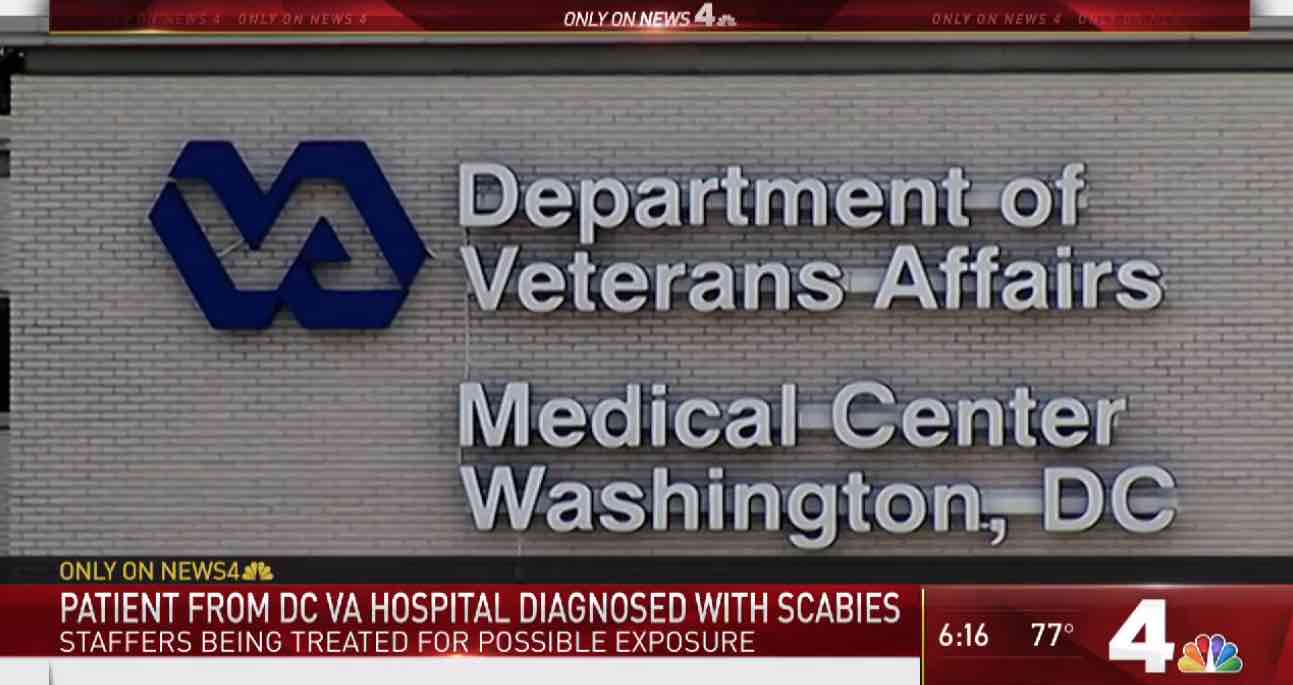 Medical teams have ordered precautions to prevent the spread of scabies at Washington DC VA Medical Center after thirteen reports surface.
The facility is still operational while clinicians sort out how best to address the problem. Residents, staff, and their families are working with the clinicians since at least 12 were potentially exposed. The agency says only one patient was affected.
VA would not confirm if the employees had confirmed scabies cases.
Scabies is a highly contagious parasite that can live on the skin for months. The mite burrows into the skin to lay eggs resulting in itchy, red rashes. The mites can be transmitted by touching skin, clothing, or bedding.
The Washington DC VA Medical Center has been rife with problems for the past few years generally involving dirty equipment, dangerously low levels of supplies, and poor management.
RELATED: Blast From 2017
IG Report Summary Problems
In summary, the facility:
Failed to keep a normal supply of required supplies and equipment to perform the lifesaving services expected of all major VA medical centers
Failed to use proper protocol to remove recalled supplies and equipment to not put veterans' lives at risk.
Failed to ensure supplies were sterile but instead using dirty supplies.
Missing Supplies And Equipment
Here are the full bullet points on missing supplies and equipment:
At the time of our site visit, the Medical Center was in the process of conducting a patient safety review because sterile processing ran out of supplies to test the insulation of scopes used in laparoscopic or endoscopic procedures. This testing is used to detect holes in the insulation surrounding the scopes that may result in the transmission of electrical current into surrounding tissues. If this occurs, patients may develop burns or latent infections. The Medical Center could not verify whether this testing had been done on scopes used in approximately 20 procedures since February 28, 2017-March 16, 2017.
As recently as March 15, 2017, the Medical Center ran out of bloodlines for dialysis patients on the second shift—they were able to provide dialysis services to those patients only because staff borrowed bloodlines from a private hospital.
On March 29, 2017 a nurse emailed the patient safety manager, reporting that during an acute episode, she needed to provide oxygen to a patient. The floor was out of oxygen nasal cannulas (tubing that fits into a patient's nose and provides oxygen). The nurse was able to use one found on the crash cart, but reported the shortage as a risk to patient safety.
On March 29, 2017 a vendor loaned bone cements to cover two total knee replacements for surgeries scheduled that week. Operating room staff requested that prosthetics purchase the bone cement, but was told the company could not deliver it until the next week.
On March 30, 2017 the dialysis unit ran out of dialyzer bloodlines and 15 gauge fistula needles, both of which are essential for dialysis treatments.
On April 4, 2017 staff inspected the storeroom on the floor that had run out of the oxygen nasal cannulas. Between 11 a.m. and noon, OIG staff determined the storeroom was out of alcohol pads; slipper socks/aqua shoes; denture cups (plastic containers used to store patients' dentures); and large tegaderms, a type of wound dressing. OIG was informed that nursing staff inventoried the rooms three times a day, and sent requests to logistics to replenish stock as needed. However, when OIG staff returned after 6 p.m. on the same day, only the alcohol pads had been replenished.
On April 5, 2017 the lead sterile processing technician had been tasked with finding a clip applier for use in a procedure scheduled to occur the next day. A clip applier is a device that deploys surgical clips that may be used to close off blood vessels or other tubular structures. OIG staff accompanied the technician as she searched for the device in the sterile processing department and in the central supply room. Despite having the purchase order number for the device, she was unable to find it.
On April 11, 2017 received an email stating that the operating room (OR) ran out of vascular patches, despite having requested the assistance of the Deputy Chief Medical Officer of VISN 5 in obtaining them two weeks ago. The OR also ran out of Doppler probes. Nursing staff stated that the ORs could not form emergent or elective open vascular surgery without those in stock.
On April 11, 2017 received an email stating that the OR ran out of sequential compression devices (SCDs). These are devices placed on patients' legs to prevent blood clots during surgery. Surgery proceeded without the devices.
Long-term Supply Problem
VA OIG later determined the above problems existed for some time:
Since January 1, 2014, the Medical Center has recorded 194 patient safety reports relating to the unavailability of equipment or supplies.
In February 2016, a Stryker bone tray used in surgeries to repair mandibular (jaw) fractures had been removed from the facility due to outstanding invoices from the vendor. Surgical staff informed us that a procedure had to be delayed as a result.
Four prostate biopsy surgical procedures were canceled on April 25, 2016 because prostate biopsy guns were out of stock. A nurse wrote an email to the medical center director on April 26, 2016 recommending an OR "stand down" until the operating room's inventory situation could be remedied.
In June 2016, the Medical Center discovered that one of its surgeons used expired surgical equipment on a patient during a surgical procedure. The Medical Center determined that the lack of an inventory management program caused the error. Rather than undertake measures to implement an appropriate inventory program, the Medical Center elected to require its nursing staff to conduct monthly rounds to identify and remove any expired supplies.
On March 16, 2017, the facility found Sterrad chemical indicator strips that expired on February 28, 2017 in sterile processing. The indicators are placed with equipment and change colors when exposed to hydrogen peroxide. This allows a visual verification that sterilization occurred. The Medical Center could not determine whether the expired indicators had been used on some of the 396 items sterilized in the Medical Center between the date of the strips' expiration and the date staff discovered the expired strips and removed them from the facility.
Dirty Supplies
IG also found VA was mixing clean supplies with dirty supplies:
Eighteen sterile storage areas were dirty.
Five sterile storage areas mixed clean with dirty equipment or supplies.
Eight sterile storage areas contained supply racks lacking solid bottom shelves as required to reduce cross-contamination from the floor.
Seventeen sterile storage areas lacked a method to monitor pressure, temperature, and humidity.
Five sterile storage areas were cluttered.
Five sterile storage areas improperly served multiple purposes including office and patient care space. These areas also lacked security and appropriate environmental controls.
Are We Surprised?
The facility can't quite seem to get a handle on basic facility management. Every few years, VA has a scabies problem. The last one I could find in the news was 2011.