New VA Secretary Shulkin First With No Military Experience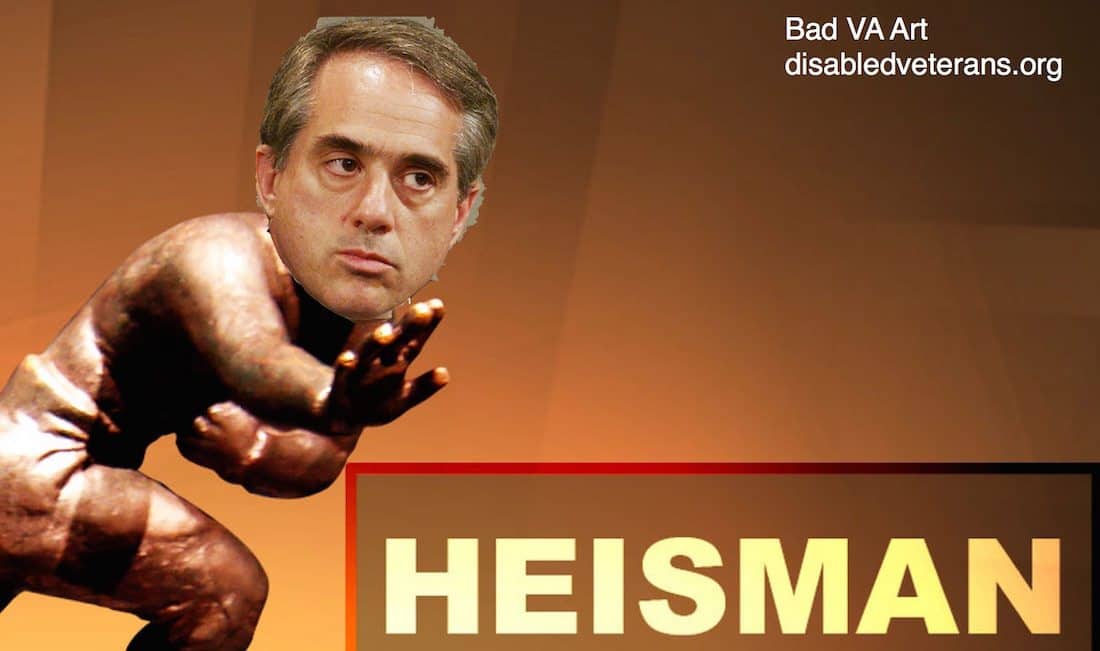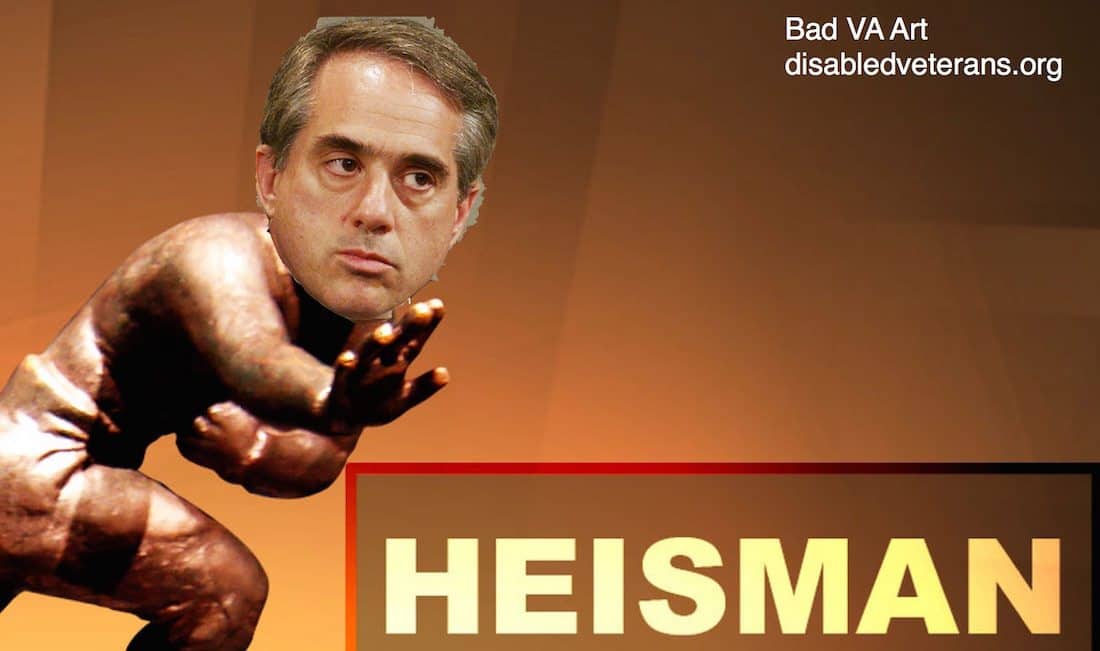 Donald Trump announced he will nominate David Shulkin, the present under secretary for VA Health, to lead the struggling Veterans Affairs.
I did not see this one coming, but I am glad Trump did not pick another general from the Army to perpetuate the agency's Army good-ole-boy system. After Danny Pummill left, there are still some lingering Klingons that need to get flushed.
If Trump fails to churn out the corrupt holdouts who steer contracts to their buddies, VA will continue to waste millions of taxpayer dollars while failing its veterans.
@realDonaldTrump Don't forget the promise, remove fraudsters still at VA under Shulkin
Assuming Shulkin is confirmed, the medical doctor turned entrepreneur will be the first Secretary of Veterans Affairs to have never served in the military. He is known to be a scholar, entrepreneurial and internal medicine doctor who was nominated to lead Veterans Health Administration in 2015.
In 2015, Shulkin replaced interim under secretary Carolyn Clancy. Clancy was appointed after the sudden resignation of Robert Petzel following confirmation of the wait list death scandal initially uncovered in Phoenix, Arizona.
Most interesting, Shulkin founded a company website, DoctorQuality.com, that allowed users to check in on physicians' backgrounds. He also served as head of the University of Pennsylvania Health System and Medical College of Pennsylvania.
The focus of Shulkin's work tends to be on practitioner accountability:
Shulkin's work has frequently involved looking at managed and accountable care, in which patients, especially the chronically ill, get the right care at the right time, while avoiding unnecessary duplication of services and preventing medical errors. In 2008, for example, he studied why patients who are admitted at night are more likely to die than patients admitted during the day. Also in 2008 he edited the book Questions Patients Need to Ask: Getting the Best Healthcare.
Since July 2010, Shulkin has been president of the Morristown (N.J.) Medical Center, which is part of Atlantic Health System. One of his innovations there was to champion 24-hour visiting hours for its healing effect on patients.
Shulkin is heavily involved with Atlantic Health System, as he is president not just of Morristown Medical Center, but of Goryeb Children's Hospital and Atlantic Rehabilitation Institute, as well as Atlantic Health System Accountable Care Organization and Atlantic Health organization Primary Care Partners, and he is principal shareholder in Practice Associates.
VA Secretary David Shulkin Background
Full Name: David J. Shulkin
Age: 57
Birthplace: Born on an Army base in Highland Park, Illinois.
Family: Shulkin is married to dermatologist Merle Bari, MD. He has a daughter and son.
Education: He graduated with his medical doctorate from Medical College of Pennsylvania.
What He Does Now: Under Secretary for Health for VA. President Obama nominated Shulkin in March 2015 and confirmed in June 2015.
What He Used to Do: Previously, Shulkin was president at Morristown Medical Center located in New Jersey from 2010 to 2015. He also worked closely with other organizations in an executive capacity during that time including:
Goryeb Children's Hospital
Atlantic Rehabilitation Institute
Atlantic Health System Accountable Care Organization
Before that period, he was CEO of Beth Israel Medical Center in New York City and founded a doctor quality ranking system called DoctorQuality.
What You Might Not Know About Him: Shulkin comes from a long line of veterans but did not serve in the military himself. Both of his grandfathers served in WWI. One of them went on to become the chief pharmacist at Madison VA. His father was an Army Captain.
That is enough on his background.
Shulkin On Important Issues
The real deal is his position on various topics of high concern to the veteran community right now. I pulled the following from ABC, which covered his various statements to the news media with some of my own additions:
ON VETERAN SUICIDE
In a September 2016 op-ed, Shulkin wrote, "Losing even one veteran to suicide is unacceptable, which is why suicide prevention is a top priority at VA."
MY ADD – It important to note that despite spending tens of millions of dollars to address the suicide epidemic each year, veteran suicide is still a massive problem. President Obama had 8 years to address it head on. Taxpayers spent hundreds of millions to fix the suicide problem but we still have 20 veterans per day committing suicide.
VA'S INTERNAL RATING SYSTEM
In December, USA Today made public the VA's internal ratings of each of its 146 medical centers around the country. Before the ratings were released to the public, patients didn't have a way they could easily assess performance. Most of the lowest-rated VA hospitals are in Texas and Tennessee, USA Today found.
In a December interview with USA Today, Shulkin cautioned, "My concern is that veterans are going to see that their hospital is a 'one' in our star system, assume that's bad quality and veterans that need care are not going to get care. And they're going to stay away from hospitals and that's going to hurt people."
He also called the rating system an "internal improvement tool" and discouraged using the star ratings as a "ranking tool."
"It is essentially a system within VA to see who's improving, who's getting worse, so we can identify both," Shulkin told USA Today.
Shulkin also said that since his tenure at the Veterans Health Administration, 120 of the 146 medical centers have made progress, and all but one of the VA's one-star medical centers have improved.
MY ADD – I always find it interesting how VA likes to play the paternalistic agency that needs to shield veterans and the public from the truth. Quality rankings that are a 1 in a 5-star ranking system should alarm veterans who are forced to get their health care only from those lowest rated facilities.
Do you ever by the lowest rated lawnmower? If you had a choice, would you send your child to the lowest rated school? Would you by the car with the lowest quality and reliability ratings?
In many instances, Americans have the opportunity to select the lawnmower, school and car of their choice. They can generally select their own doctor and their own health care system from which they get care.
Meanwhile, veterans are not allowed that same choice of probably the most fundamental rights – – to select the doctor who gets to touch our junk when we are sick.
It seems like a fundamental right. Veterans want a choice. We also want to make that choice based on quality rankings and facts.
ON MOVING VETERANS' CARE TO PRIVATE SECTOR
In response to recommendations that the VA medical centers be shut down and instead have veterans get their care from the private sector, Shulkin told the Daily Press in April,
"This would be a terrible mistake, a terrible direction for veterans and for the country, to essentially systematically implement recommendations that would lead to the end of the VA health-care system."
Shulkin told Philly.com in May 2016 that from his time with the VA, he's come to realize the agency provides ""a different model of care, which treats the physical along with the psychological, the social, and the economic aspects of health, all of which contribute to the well-being of the patient."
MY ADD: Same as above. Veterans should have a choice whether to stay in the VA system or to get their health care from a civilian facility. This is especially important for veterans who were victims of malpractice or who were victims of the disruptive behavior committees.
ON VA WAIT TIMES
In his interview with USA Today in December, Shulkin touted that the number of veterans waiting over a month for urgent care has decreased from 57,000 to 600 since he took office.
In May 2016, Shulkin and the VA proposed giving full practice authority to nurses with advanced training, something doctors pushed back on.
"The purpose of this proposed regulation is to ensure VA has authority to address staffing shortages in the future," Shulkin said in a statement.
MY ADD: VA actively obfuscated the investigation into wait time frauds committed by its employees nationwide. Numerous veterans died as a result of the scandal. VA has not fully resolved the problem. VA OIG provided wildly inaccurate numbers to Congress following investigations, and actively spun the results to diminish public awareness of the scandal.
My Take On Shulkin
As a practical matter, most veterans who voted for Trump did so with the impression Jeff Miller would take over the agency. Instead, we ended up with the same team Hillary would have likely had run the agency. It certainly left me with the "bait and switch" vibe today.
Now, VA can only get better than where it was at before with the wait time scandal and backlog scandal related to disability benefits.
RELATED: VA Paints Veterans As Crazed Psychos
Then you have the scandal where employees actively committed fraud or at least violated numerous ethics rules but the agency was unable to discipline them. VA says you cannot fire yourself to excellence. But you can also not-not fire yourself to accountability.
Some heads need to roll.
Compounding matters, you have agency union employees from AFGE and elsewhere who are actively engaged in acts of simple sabotage to undermine the agency's mission.
RELATED: CIA Sabotage Manual At Veterans Affairs
The obvious goal is to demoralize the veteran population while making the American public feel impotent in following through with its promises to veterans. Totalitarian schemes that rob veterans of their rights like disruptive behavior committees and the fiduciary program are travesties that need to be uprooted.
That crap would not fly in a civilian hospital. Veterans victimized by those policies should be allowed to get health care from non-VA providers.
Keeping Shulkin will keep a host of flunkies and criminals who should have been part of the whole "drain the swamp" promise. Instead, numerous high-level senior executives will engage in contract fraud and deception over the next year where they steer contracts to their cronies.
Taxpayers will lose millions and veterans will suffer. Let's hope Trump clears the bench for Shulkin to create savings while also ensuring veterans do not get screwed out of services.
VA has done a great job of self-promoting to create the appearance of accessibility. But it just ain't so, at least not yet. I hope Trump gets the picture.