'No Media' For Minneapolis VA Mental Health Patient Suicide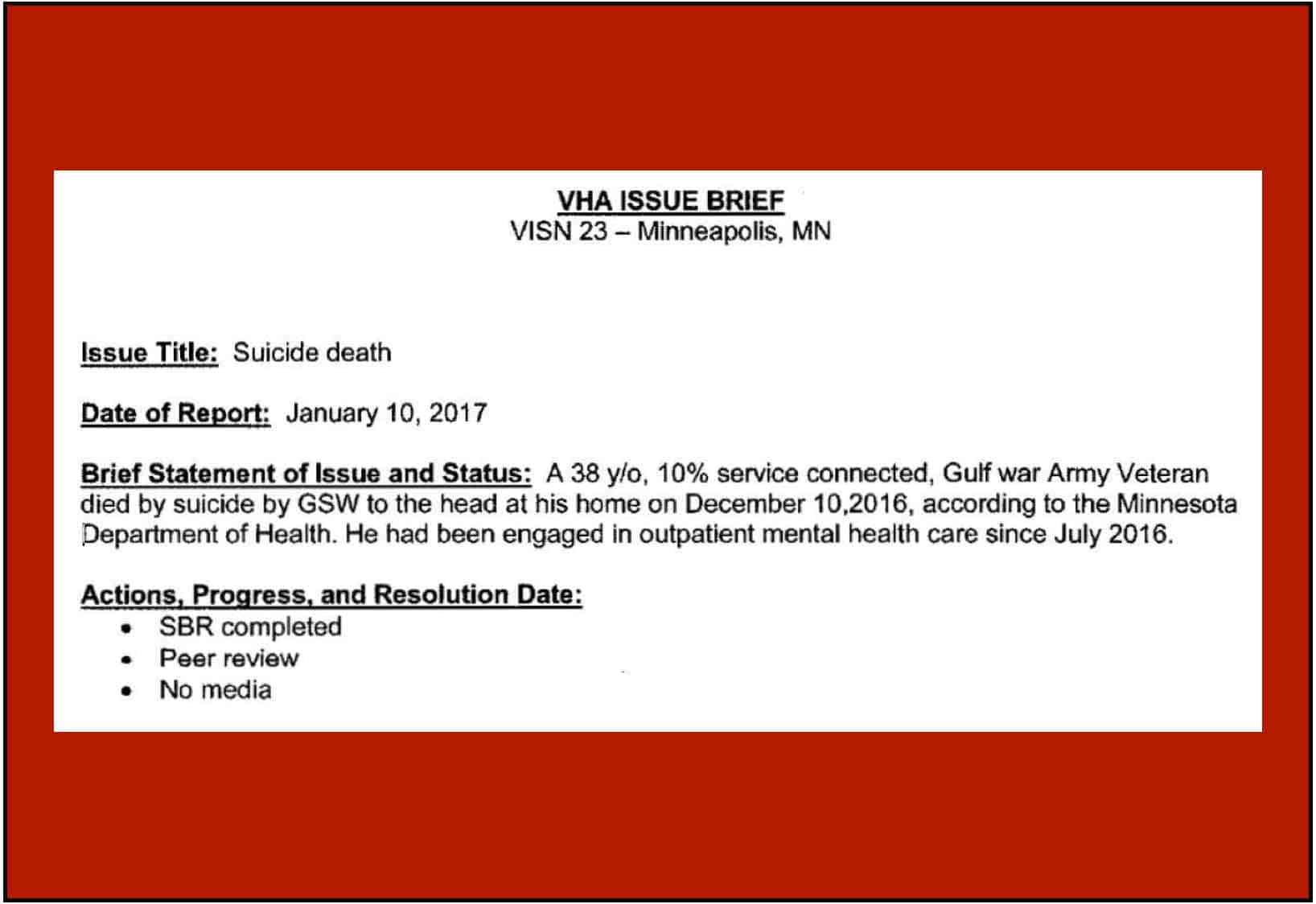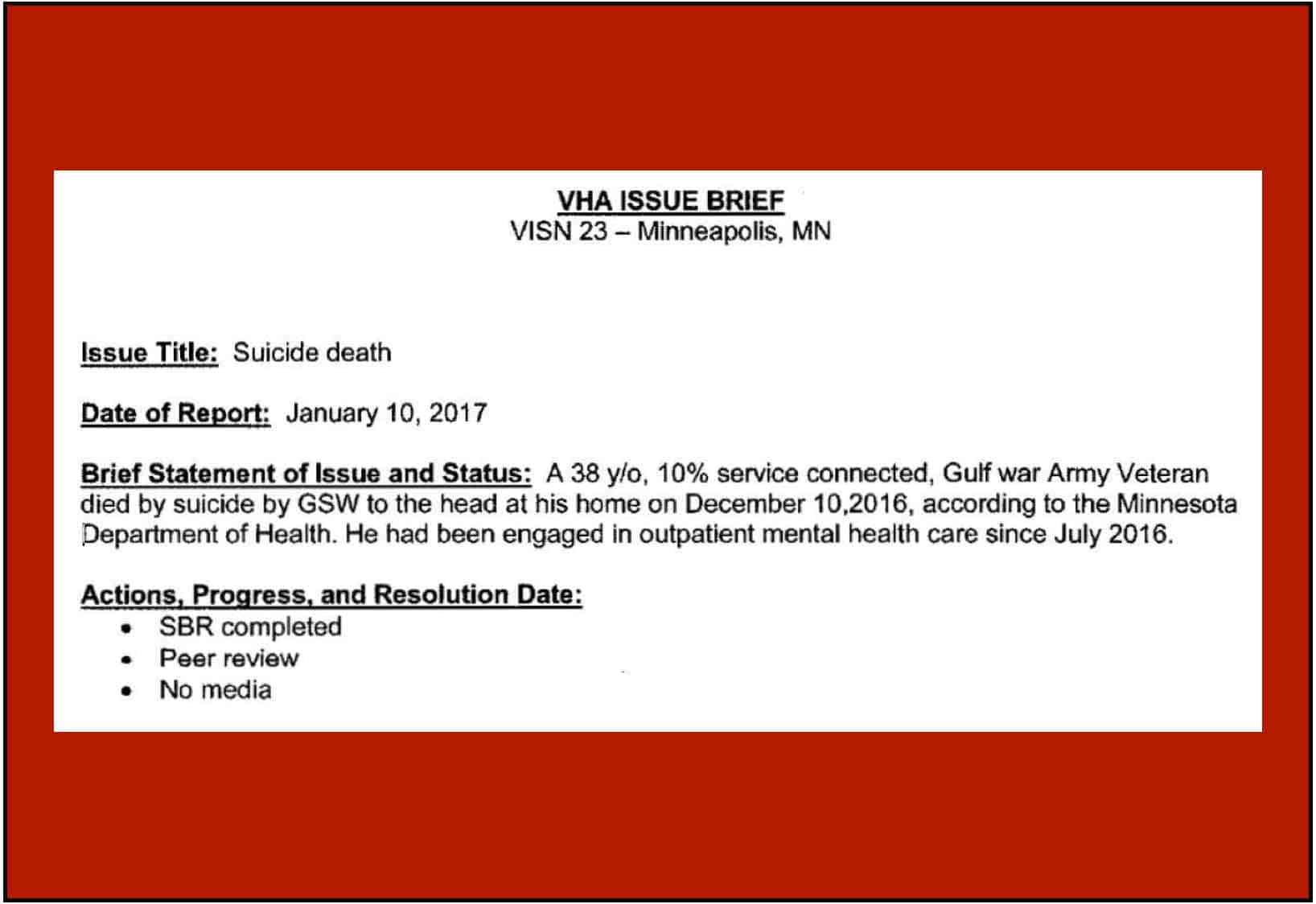 A whistleblower disgusted by the lack of regard for the recent suicide of a Minneapolis VA mental health patient leaked the VHA Issue Brief.
According to the brief, the suicide victim was an unnamed Gulf War Army veteran who committed suicide before the Christmas holiday using a gun. The disabled veteran was aged 38 years with a 10 percent disability rating.
The most recent suicide assessment on August 1, 2016, which listed the suicide risk as "Low risk". How thorough was this assessment? Or did something happen after the assessment?
The whistleblower contacted me yesterday after seeing what happened at the VA medical center in Albuquerque, New Mexico, hoping I would shed some light on the matter and provide some form of recognition for the veteran's apparent mental distress.
New Mexico Veteran Suicide
There, VA has engaged in a virtual stonewall against the press while keeping any witnesses in a state of perpetual fear of reprisal should any of the relevant fact be leaked to the press with official quotes and the name of the veteran.
In that suicide, VA alleges it will keep the name of the veteran who committed suicide by gun on December 22, 2016, private to protect the dead veteran's privacy. Due to the predictable delay in securing FOIA information, the local Albuquerque press is losing interest as the suicide is no longer timely news.
As for Minneapolis VA, did clinicians fail to address the Minnesota veteran's risk of mental instability? What happened between August and December, when the veteran committed suicide?
The veteran contacted VA for help in June. The veteran was referred to psychiatry and subsequently received various assessments. The veteran was assessed for suicide risk by a social worker (not a psychologist and not a psychiatrist) on August 1, 2016. On August 25, 2016, the veteran failed to attend the mental health appointment. VA sent a no show letter. On December 10, 2016, the veteran was dead – – death by gunshot wound (GSW).
When the veteran failed to show up for an appointment later in August after his suicide assessment, other than sending a "no show" letter, what could VA have done differently if anything?
RELATED: VA Fails To Help Ft Lauderdale Shooter Before Shooting
We may never know.
Breitbart On VA Failed Mental Health
It may be noteworthy to point out that Breitbart ran with my position on Ft Lauderdale shooter Esteban Santiago-Ruiz – – that VA and the US Army (ie DOD) failed to provide him with the mental health services he clearly needed after his discharge from the Army in August:
DisabledVeterans.org, a website founded by veterans advocate and lawyer Benjamin Krause, suggests Esteban may be one of the many veterans who suffer from severe mental health issues and are not receiving treatment at the VA or the U.S. Department of Defense (DOD).
The deadly incident "certainly highlights failures between DOD and VA where veterans fall through the cracks who obviously suffer from mental health problems," reports the organization.
VA and DOD have known histories for failing to provide desperately needed mental health care to veterans suffering from PTSD or depression who may be suicidal or worse.
As best we can tell, Minneapolis VA did not adequately follow up with the suicidal veteran in meaningful way that could have prevented the suicide.
No Media For Minnesota Veteran
One of the three factors highlighted in the leaked VHA Issue Brief from Minneapolis VA and VISN 23 caught my attention. The third bullet read, "No media".
No media? As in, no one is looking into it and evaluating what the agency may or may not have done to help prevent the suicide?
Where is Star Tribune on this? What about Pioneer Press? These are major organizations that have covered veterans' issues in the past.
Was this veteran's death not sexy enough to warrant a short article? Or, did the Department of Veterans Affairs and the State of Minnesota merely do a solid job keeping a lid on the suicide?
I speculate the suicide would have received coverage locally if VA or the state felt such coverage was warranted. But, since when do we trust the government to tell the people what warrants coverage? Oh, that was World War I.
After a search, I could not find one mention of the suicide or death of the veteran that occurred on December 10, 2016. This is concerning, but it is a reflection of the Department of Veterans Affairs newest tactic to combat suicide – – do not report on veteran suicide to the public.
While I do not condone sensationalism of suicide, I firmly believe VA and DOD are exploiting politically correct suicide reporting guidelines the agencies follow to diminish overall reporting of suicide.
The desired effect, of course, is to make the public forget VA and DOD are failing to provide adequate mental health care for veterans and servicemembers suffering from anxiety and mental distress.
Minneapolis VA Mental Health Contact
Those curious about the suicide should reach out to Minneapolis VA suicide prevention coordinator Lindy Fortin-Case. She can be reached at 612-467-3620 or emailed at [email protected].
I am attaching the VHA Issue Brief below for veterans, reporters and policymakers to evaluate if for no other reasons than to see how the reviews are cataloged and what the documents omit or include.
Why Cover-up Suicide?
At the end of the day, this is all about recruiting while keeping the image of military service as being one solely of honor, dignity where the veteran goes on to live a happy life later.
VA fights the public affairs battle DOD creates with bad policy while it shortchanges soldiers of the tools and tactics they need to fight safer battles.
VA then is forced to diminish scandals and negative imagery after the servicemember returns, broken, with the goal of helping DOD sell economically disadvantaged kids on the honor of becoming cannon fodder to fight the fight of global elites and bankers while they hang out at Martha's Vineyard.
There, many of you are thinking it; I said it.
Last week, I promised to start hitting on the suicide issue because, after 8 years of failed opportunities, President Barack Obama's policies on suicide did not make an appreciable dent in the number of veterans committing suicide each day – 20 per day.
As veterans read this tomorrow, 20 of us will make the deciding to meet our maker early. That is a tragedy and VA is not doing enough and not being honest about what it is doing with the money allocated to help us.
Let me tell you, much of that money is going to fund sexy online advertising campaigns like "Make The Connection" or "It Matters" to combat suicide and other problems.
The agency did this with its limited tax dollars rather than funding real doctors and real psychologist and real investigators to investigate why suicides are still a problem.
RELATED: VA Awards JR Reingold $87 Million Advertising Contract
While veterans are dying from lack of adequate health care services, the agency is paying tens of millions in taxpayer dollars to advertising firms each year for advertising and propaganda.
Is that a good use of your tax dollars?
[documentcloud url="https://www.documentcloud.org/documents/3260075-170111-Minneapolis-VA-Email-2.html"]