SURVEY: Will The Next Bonus Army Protest Be At Trump's Mar-a-Lago?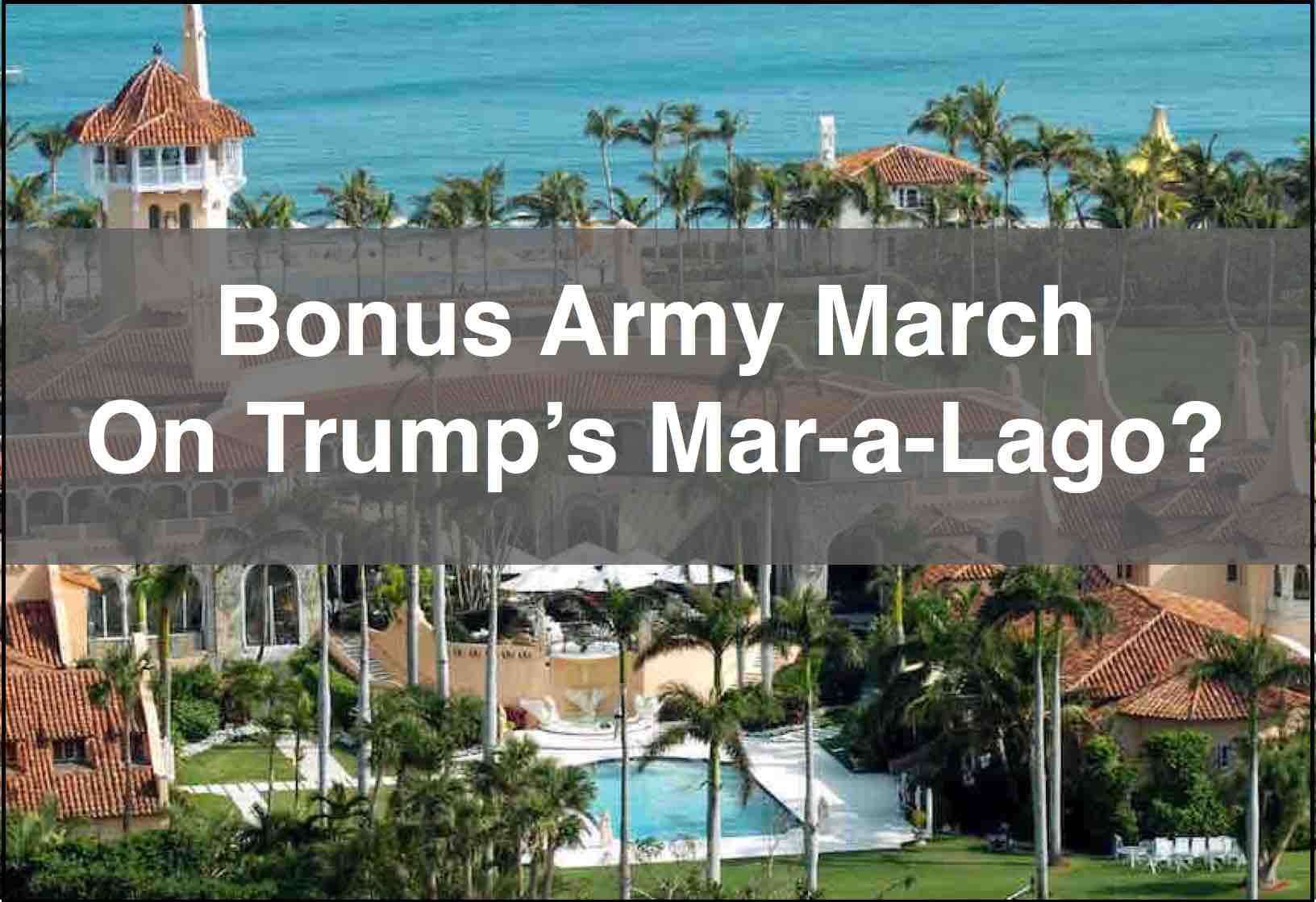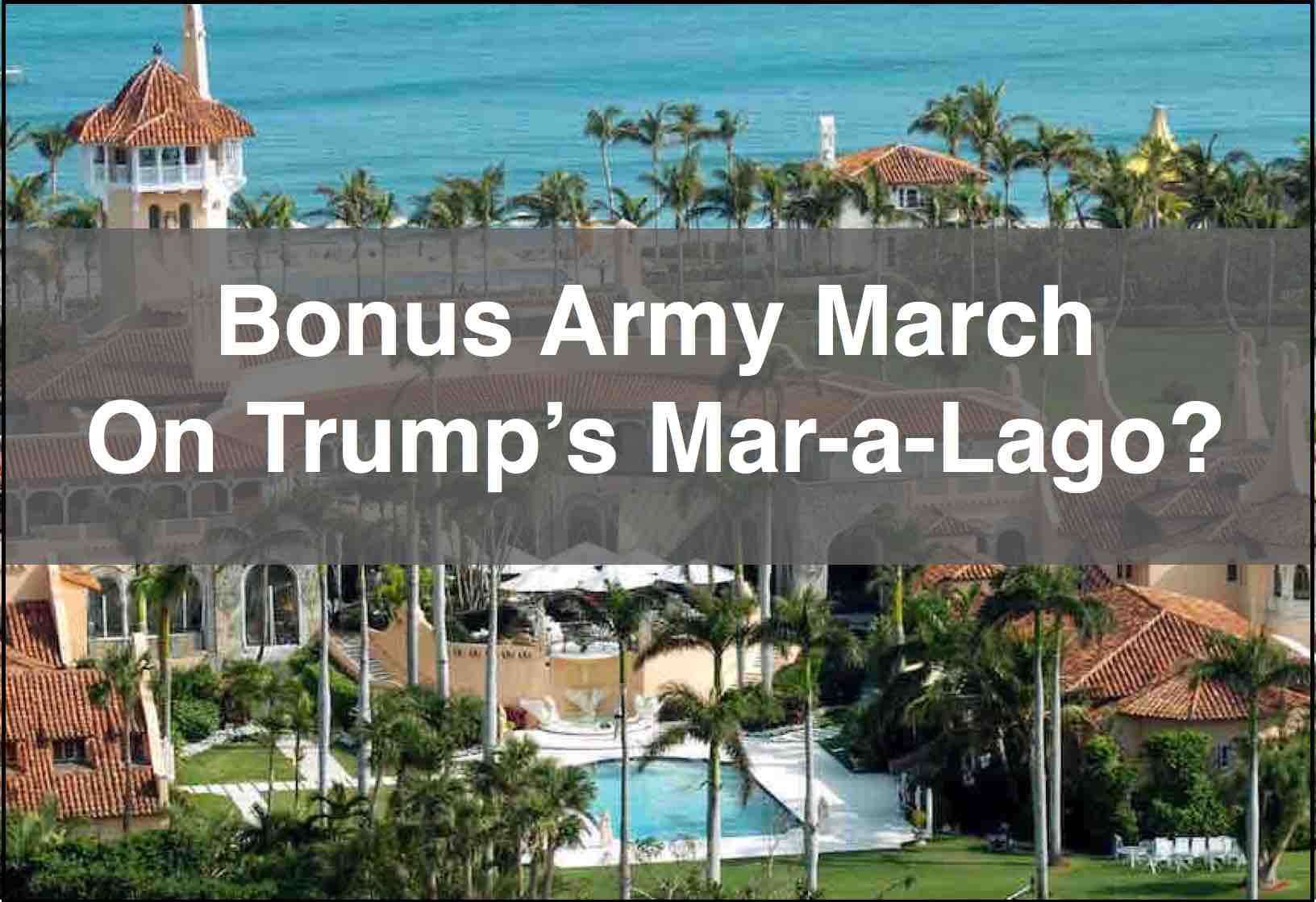 Veterans pissed about Trump's selection of David Shulkin as VA Secretary should consider our next Bonus Army protest location – Trump's exclusive, members-only resort Mar-a-Lago, in Palm Beach, Florida.
Personally, I would prefer this protest at Trump's most exclusive resort sometime next winter, when it is crazy cold where I am at in Minnesota. Just be sure to bring your tanning lotion, a beach towel, and some Sharpes for protest signs.
Speaking of Sharpes, Trump played politics with veterans lives when he picked Shulkin, which is basically an endorsement of Hillary Clinton and inevitably the corrupt VA cronies lurking at high levels behind the scenes at VA.
In no way, shape or form was Trump's selection of Shulkin a smart move in the long-term unless Trump wanted to shake loose his massive support from veterans in favor of the few hundred thousand union employees happy about the selection.
Where is the reform, Trump?
One commenter, Ron Nesler, founder of VA Is Lying, highlighted his forecast for his VA reform group on Facebook. "Now that Trump has endorsed business as usual at VA, watch this group grow." And Nesler is right.
Support of the status quo will not move VA toward greater accountability, at least not yet.
If you are concerned, be sure to give your two cents at the bottom of this post in the survey to sent the Trump Team a message and hit tweet on the message here.
@realDonaldTrump Nice puke move with Shulkin at VA, stud
The real issue here is the long-term impact of veterans being denied what we were promised after many of us voted on just the veteran issue.
Without a backlash, future politicians will consider the veteran vote as one that does not require follow through.
Vets Deserve Great – Shulkin Not Great
To me, the Shulkin pick was worse than the lackluster selection of McDonald before. Some of you may recall veterans were hoping to Toby Cosgrove or someone like that. Instead, we ended up with McDonald, and everyone said, "Well, let's give him a shot – – wait and see."
We ended up with a lot of internal reforms. Some good. Some bad. We also ended up with high-level employees who committed fraud or related bad acts but who were also never fired. McDonald failed to fix Veterans Choice and wait time problems still plague Phoenix VA just like they did years ago.
For McDonald, my favorite positive was the increased focus on customer service. My most hated bad was the inability of senior leadership to hold its staff accountable while also rooting out contractor fraud.
It is still going on and will continue since Shulkin will likely pursue the same course McDonald was on. This selection was a huge win for Senator Johnny Isakson, who early on supported keeping McDonald back when everyone thought Hillary Clinton would win.
Given what has now transpired, Trump should have just swallowed his pride and kept McDonald as is rather than promoting his number 3 guy. At least McDonald was comfortable in his office and had a lay of the land, so to speak.
As for Shulkin, what on earth will he be able to accomplish without massive support from power brokers within DC, which is the opposite of what Trump promised for veterans?
This makes me wonder what douche inside his transition team told him this would be a good trade-off? I can only assume there is a lot more to the story than what meets the eye.
I can only assume (or hope and pray) there is a lot more to the story than what meets the eye.
Some are saying, "We should wait and see." Well, that is what we did with McDonald, but the brave reformer we hoped for never showed up. And the reforms we sought was to root out the wait time fraud, reform the union chokehold over VA, and increase access to Veterans Choice, a program so rife with problems now that many civilians doctors refuse to accept it as coverage.
And if we get totally screwed over the next six months? Where should we go? DC?
To me, the Mar-a-Lago Club would be a great choice for a protest.
Even if Trump does not show up, we could at least enjoy the weather at Palm Beach. And, unlike the Bonus Army protest in the 30's, we could easily bathe on the beach.
Missed Opportunity
This all could have been avoided if Trump delivered the product he asked us to vote for.
He sold us his promise of massive reform in the most corrupt agency in the federal bureaucracy. When it came time for us to cash in… he gave us a stiff middle finger.
Now, it is too late for us to ask for a refund, unlike many of his products from those infomercials.
Again, whoever advised Trump that he should sell out veterans was a complete moron, and many of us are disappointed in Trump for buying it after all the "drain the swamp" rhetoric.
What a joke.
Fool me once, shame on you. Fool me twice, fuck you.
Post-Shulkin Announcement
Stunned, the veteran community has largely remained quiet about President-elect Trump and his unexpected selection of Sec VA David Shulkin.
The dinosaur Veteran Service Organizations basically got the continuation of McDonald they wanted and that Hillary Clinton would have pushed for.
Meanwhile, disappointed whistleblowers and victimized veterans feel like they just dropped the soap in a prison shower.
Reality Of This Pick
We, the veterans, ended up with the Hillary Clinton B-Team.
In the end, we are basically no better with Trump in this capacity, which is a pathetic and misguided move on his part. (Let's hope his other Cabinet picks pan out better.)
Almost two-thirds of veterans voted for Donald Trump.
We all thought Rep. Jeff Miller would be his pick to reform VA. Over 80 percent of veterans wanted Miller as head of the agency. (Miller supposedly backed out – he wanted less work for more money.)
Now, that is not what we get? We vote but we get screwed only then to support what?
What is in it for us to tow the party line now?
Do we need memberships at Mar-a-Lago to get some respect? Or, maybe enough of us do not have enough pull to hold Trump's feet to the fire.
And if we do not take a stand, will future candidates get the message that veteran voters are merely pliable tools Republicans can manipulate because we love our country more?
Why Not Jeff Miller?
Donald Trump propped up Rep. Jeff Miller as being the selection we would get if Trump were elected. After the election, the Trump frontrunner was negated because he was not a veteran.
Now, we get a non-veteran nominee who is not where near the best of the litter.
So now what? What is the story?
As I said above, Sen. Isakson, chairman of the Senate Committee on Veterans Affairs, wanted McDonald to stay on. However, all the anti-McDonald rhetoric made that impossible. So, Isakson likely negotiated a deal with Trump to keep the McDonald B-Team to help Trump in other ways.
But this apparent bait and switch will not sit will with many veterans but VA employees are reportedly happy with the selection. After Trump's election, 85 percent of veterans surveyed preferred Jeff Miller over other candidates for the position.
Instead, we veterans, the most vocal group of Americans, are being told to expect less than what we were promised. In fact, we are told to suck it up with the VA staff Hillary Clinton would have kept in power?
BS.
Trump would not take it lying down and neither should we.
Whoever advised him that trading off the interests of veterans after everything we have been through was a liar who set up Trump. We will make his agenda a tough one moving forward if he does not fall in line after we paid to play with our 2 to 1 vote.
A Trump Resort Mar-a-Lago Veteran Protest?
Welcome to the counter-movement against our entrenched, overpaid and oversexed VA establishment, its bloated AFGE union and corrupt executives running the chokehold on veterans' benefits and healthcare.
It is time we rain hellfire on our corrupt VA employees since Trump, our last shot, kicked us in the shorts.
Most of us have been kicked in the pants before. This is nothing new. We will merely need to unite against the corruption without assistance from the president we elected.
We need to work with whistleblowers now more than ever to expose corruption within the agency. Whistleblowers need to come out of bureaucracy and start leaking anything useful to force reforms through the press.
A Let-Down
What else is new? We got no "change" with Obama. Now we get no "accountability" with Trump. Screw it. This is like hiring a new employee who flips you off after working the first day.
We need to flush out the riffraff but lift up those inside, who are many of the outstanding employees fighting for us in the beltway and in each VA facility against the special interest cronies who continue to loot the coffers of millions.
If Trump will not dredge the VA swamp, we will do it for him.
Each honest American working within VA is a spy against the globalist interests corroding our country. We can flush it out with whistleblowers.
Sadly, veterans would prove much better allies than his yellowbelly Republican piggies who suckle at the hind tit of the corporate elite. And I hope Trump figures that out sooner than later.
Maybe veterans should consider staging a sit-in at one of his fancy resorts?
But what do veterans think about these decisions?
Give us your feedback:
Oops! We could not locate your form.