Is Ocasio-Cortez Feigning Idiocy Fighting Against Veterans Choice?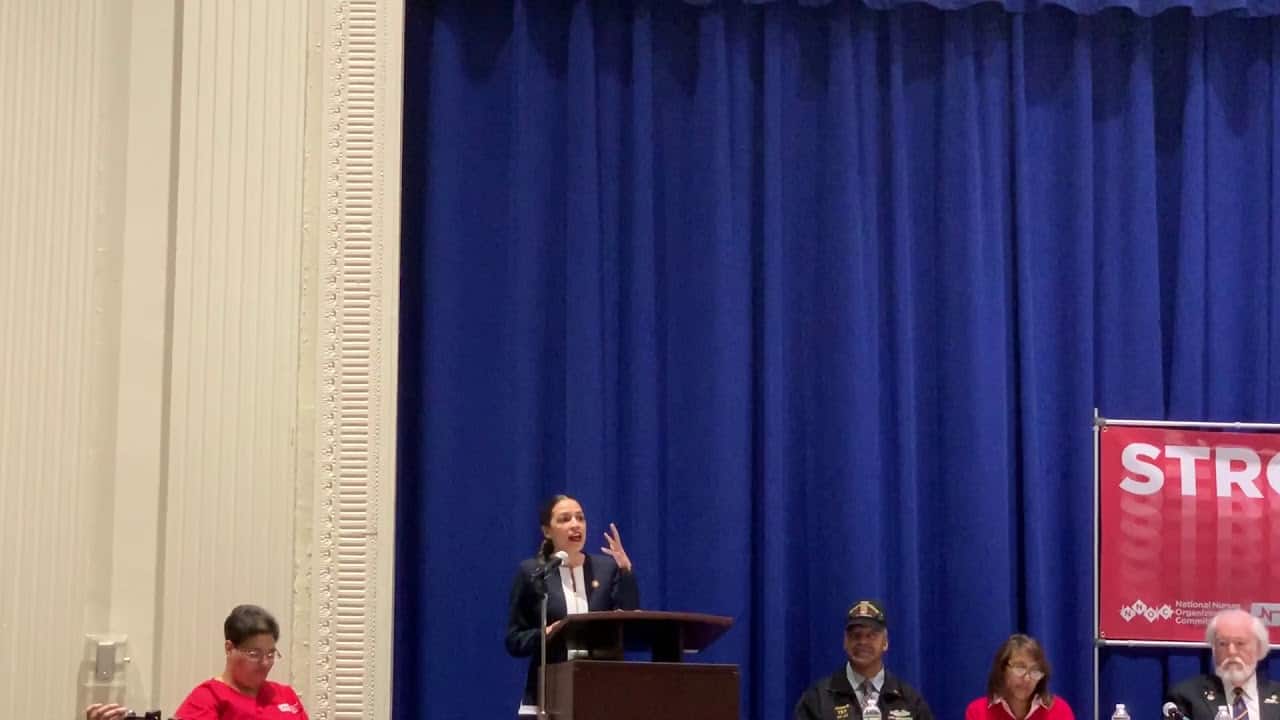 Even if someone provided Rep. Alexandra Ocasio-Cortez, D-NY, a history lesson on Veterans Choice, would she still try to claim VA isn't broken?
Ocasio-Cortez recently provided a speech to union members about VA health care and expansion of disabled veterans' right to choose where they seek health care. She literally tried to tell the crowd of mainly union employees that VA is not broken and that the real benefactors of Veterans Choice expansion are private industry, not the veterans needing timely access to care that VA was otherwise not providing.
Her statements, as you can see in the above YouTube video, are surprising. Not because they are unique or earth-shattering, but because it is clear she does not know what she is talking about.
Most veterans eligible for VA health care must receive that health care from a VA medical center (VAMC) or community-based clinic (CBOC). A few eligible veterans can choose where they get health care as a direct result of one thing.
What's the big deal?
Most veterans eligible for VA health care must receive that health care from a VA medical center (VAMC) or community-based clinic (CBOC). A few eligible veterans can choose where they get health care as a direct result of one thing.
What's the big deal?
Wait List Scandal
In 2014, the Department of Veterans Affairs was caught in a massive health care fraud scheme first exposed at Phoenix, AZ, but later known to occur nationwide.
What was the scheme?
VA bureaucrats were able to falsify performance data by putting veterans on fraudulent shadow lists for scheduling appointments. Access to health care suffered because performance numbers looked better than they were resulting in those same facilities not receiving the necessary resources to actually serve all the veterans needing care in a timely manner.
Basically, veterans on the shadow list were not given timely access to necessary health care. Many veterans died as a consequence of the fraud.
Yes, Ocasio-Cortez, or at least your speech writer, VA was and is broken.
Don't Spin VA History
If you engage in the obvious and idiotic spinning of this history, you will look like a total fool completely ignorant of veterans' issues for the past few years.
That said, let's treat this article as a short history lesson for you and your staff about veterans issues.
Step 1: Fight Club
The first step to fixing the VA is understanding the first rule of Fight Club.
No one talks about Fight Club. And like Fight Club, no one in VA really talks about what is wrong with VA. No one. So, do not rely on VA, or its union, for accurate information on all topics.
If you want to know how to spell, "Department of Veterans Affairs," then sure, ask VA how to spell its own name. If you want timely access to accurate information, sure, listen to what VA or the union has to say in much the same way you listen to your toddler who's mad at his sister. Listen, but be sure to dig a little deeper.
Step 2: Google It
The second step is to simply Google a topic and read the first few articles.
This may seem stupid or too obvious, but I am sure reading Google about why the agency is privatizing some of its health care could have helped you not look foolish.
As noted, in 2014, VA was caught in its wait list aka wait time fraud. No one was penalized for the fraud, at least not directly, but it did happen.
RELATED: Fallout For Pheonix VA
The reason Veterans Choice, now called the MISSION Act, is even a thing is due to the agency's refusal to address the fraud for decades.
Here on this website, we addressed the fraud and source documents dating back to at least 2002 acknowledging the scheme. It festered for more than a decade before being splashed across CNN and elsewhere.
RELATED: A Brief History Of Wait List Scandal
Many veterans really want to have a choice as to where they get health care. According to VA, the majority of those individuals prefer to stay within the VA system.
Great. Let them eat cake.
The rest of us would prefer to receive our health care from private practitioners unless the care type sought is unique to whatever the VA provides. For example, mental health care for posttraumatic stress disorder may be better at VA then elsewhere.
Third Step: Look At Privatization History
The third inquiry about privatization, more broadly, should be directed at the history of privatizing the federal government, which is a decades-old initiative that is costing taxpayers billions each year more than what it otherwise may have cost.
Of course, sometimes the thing private companies do works great. Sometimes it doesn't.
For example, starting in 1993, Hillary Clinton worked to Reinvent the Government starting with… you guessed it… the Department of Veterans Affairs. She worked closely with the support of the Iron Triangle, aka Big Six veterans organization to change the government by merging it with private industry.
RELATED: Clinton's Role In Reforming VA In History
One of the many consequences of the initiative was the erosion of legacy knowledge within the ranks of the agency. They could no longer perform many of the tasks they previously could perform resulting in a new dependence on government contractors.
There are good aspects of this practice, and, there are bad aspects of it, too.
From my perspective, as a journalist, one bad perspective is that government contractors are not given FOIA requests. So, if I want to investigate something previously managed by VA that was outsourced, my access to data is severely limited to only the part of any task VA performed. Otherwise, I am limited only to agency records related to their communications with the company and not much else.
The nuts and bolts of the agency's history of privatization have little to do with political party affiliation. Democrats regularly facilitate the expansion of privatization of VA. So do Republicans.
Privatization is a bipartisan game.
Fourth Step: Understand Veterans Read Things
Fourth, please realize veterans read and we are quite outspoken.
When you try to tell us ridiculous things like "If it ain't broke, don't fix it," regarding VA health care, you will piss us off.
"Here's the thing, they are trying to fix it. But who are they are trying to fix it for, is the question we gotta ask …They are trying to fix the VA for pharmaceutical companies, they are trying to fix the VA for insurance corporations, and, ultimately, they are trying to fix the VA for a for-profit healthcare industry that does not put people or veterans first," you said.
Yes, pharmaceutical companies earn a lot of money selling drugs to VA. But, then again, I do not recall VA ever being in a position to make its own drugs. Someone has to make the drugs, and, as I recall, VA does get a discount on what it buys.
As an aside, I do recall Tomah VA engaging in illegal and deadly prescriptive practices resulting in death and injury to Wisconsin veterans.
RELATED: Tomah VA 'Candy Man' Fired
Now, the reason veterans health care is being outsourced is because VA failed to put "veterans first."
I am not saying the Veterans Choice expansion has been a great success, though. There is no question millions in taxpayer funds has been misspent in some manner or another related to the expansion.
The progress has been less than perfect, in part, due to agency obfuscation and obstruction to prevent veterans from easily and fairly accessing the benefit.
Ironic, right?
VA would not provide the care in a timely manner and were not worried at the time about veterans being sent outside VA for the care they were not able to receive. But, now that some veterans have an option, VA union members don't want veterans to leave VA to get timely access to care, either, because it may cost union jobs.
What happened to putting veterans first?
Zeal Good, Idiocy Bad
I really appreciate your zeal, and it sure would be great if you would take a look at the history of an issue rather than talking points from stakeholders like the union.
And, one last thing, I would like to also point out VA has taken efforts to improve, but a broke vase is still broken until you glue all the pieces back into place.
Veterans willing to watch AOC's speech linked at the top should also go directly to the YouTube channel playing the clip and comment below so AOC and America Rising can see what we actually think about her talking points.