Phoenix VA Rebukes Fox News Tucker Carlson Story, Kind Of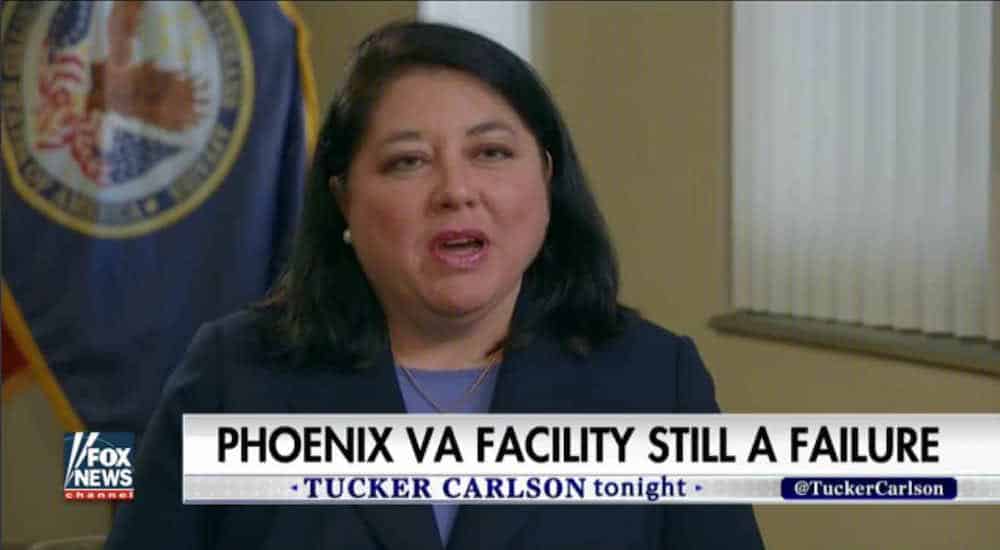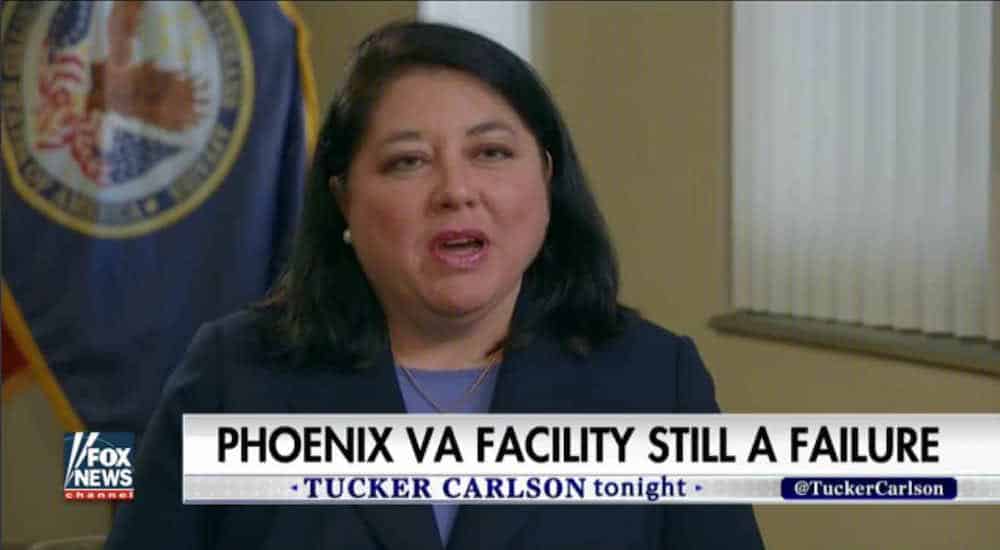 The team at Phoenix VA attempted to punk Fox New host Tucker Carlson by covertly releasing audio recordings of an interview not included in the Fox story.
While those segments were not included in the TV piece, they do not necessarily improve the optics. Instead, some of the clips merely support the position that Phoenix VA is still one of the worst rated in the country.
And, the language in the release seems to play on any possible naivety of viewers who might believe Fox News could play all the segments listed, which would be impossible for shorter news stories with multiple interviewers and perspectives to include.
But even if Fox did so, the end picture would not be any better. Or, would it? Why did they try to punk Fox News and Tucker Carlson? Or was this a punk fail?
WATCH: Phoenix VA Still A Failure
[NOTE: If you have problems with the video, move the player bar to the end of the interview and then move it back to the beginning of the interview to make it work.]
Summary Of Fox News Story On Tucker Carlson
Last Thursday, Tucker Carlson did a segment highlighting a lack of progress reforming the wait time scandal and related whistleblower retaliation scandals at the facility.
Such problems have clearly persisted despite injections of over $100 million in funding and widespread press coverage.
Since the scandal first surfaced in 2014, some veterans still die without care and the wait times continue to be a problem. One of the newest whistleblowers has had his employment curtailed in response to his whistleblowing.
What is new after hundreds of millions in additional funding?
On film in the Fox News segments, the Phoenix VA director RimaAnn Nelson asserts she knew nothing of the present whistleblower scandal and refused to answer questions about how well the agency is doing on a 1 to 10 scale of improvement.
Fox News reporter Will Carr pressed Nelson about her history at St. Louis VA involving a massive scandal there a few years ago when she ran that facility. She blamed bad press back then on the headlines of reporters.
Carr also highlighted emails from a whistleblower that kept her informed of the retaliation she asserted she knew nothing about. In the segment aired by Tucker Carlson, Fox included emails from the whistleblowering indicating Nelson did know about the retaliation matter but lied to Fox about it.
Phoenix VA Press Release
On Friday, the next day, Phoenix VA issued a response highlighting Fox News did not play every clip:
"Phoenix VA publishes full responses from director's Fox-TV interview – Fox-TV reporter Will Carr presented a story on the Phoenix VA Health Care System on the Tucker Carlson Tonight show on Feb. 5, 2017. The story contained very little of the information from the interview, so in an effort to provide Veterans with transparency, the director has released the audio files from the rest of the interview."
There is a whole lot of deception in the statement by implication.
First, you need to know a little about the background. Will Carr tried to interview Nelson when he first shot the segments with whistleblowers and veterans while in Phoenix but she canceled the interview at the last second. Nelson's team reconsidered and then agreed to the segment after the shots with everyone else had occurred.
Second, how self-absorbed is VA to state very little of the information was included in the interview? Fox News ran two segments on air and then a long article about the interview, "'Vets continue to die': Phoenix hospital at center of scandal ranked among nation's worst."
Does this seem like Fox News excluded much "information" from the interview? Or, are they disappointed Fox News also included information from other interviewees such as VA employee and whistleblower Brandon Coleman?
Coleman highlighted that Phoenix VA has received enormous budgetary increases since the scandal was exposed but the funding has not resolved the problems of wait times and whistleblower retaliation. The facility is still low ranking.
So what is the problem?
Third, if you watch both videos from the Tucker Carlson interview and the earlier interview with regular Fox News, reporters gave RimaAnn Nelson the majority of interview footage. That footage included interviews and what is called b-roll where the reporter narrates the majority of topics he covered in the interview. Nelson herself received 45 seconds of video footage in both segments.
Reporters use b-roll to avoid the segment being boring where viewers tune out.
Last, I did a quick analysis comparing what Fox highlighted in its footage and compared it against the transcripts VA asserts Fox News left out. Below, I added titles to each transcript organized here and include a star before the titles that were addressed on air in whole or in part. As you will see, Fox did cover most of the general topics as they saw fit and included other perspectives.
Again, it seems Phoenix VA is more upset that the segments included clips from veterans negatively affected by existing employee decisions at the facility.
REVIEW: Phoenix VA Press Release
So, VA published all the clips and transcripts for you to view. I posted these below for you to review yourself. Remember to consider the "*" before each title that was covered at least in part in the segments:
*About RimaAnn Nelson Past Problems At St. Louis
Will Carr: As you're aware of, there's been some criticism of your time at St. Louis. After there were issues in St. Louis, do you believe that you're in the best position to help continue to turn things around here in Phoenix?
Rima Nelson: So the issues in St. Louis were brought to my attention by staff, and again, I said the same thing to the staff in St. Louis—I can't fix what I don't know. So staff brought to my attention that sterile processes were not being followed the way they should've been and that there were some concerns not only in sterile processing but in the operating room.
When those were brought to my attention, we took action immediately. And so what I'm focusing on is one, making sure that employees feel that they are working in an environment where they can say what needs to be said and that leadership takes action immediately. And that's what I did in St. Louis, and the facts will speak for itself. There were no veterans that were infected, and if I had to make those decisions again,
I would, because at the end of the day, we had better processes in place, better systems. We were able to provide better care to veterans.
And I really feel that the employees saw that we did take them seriously, so I'm very happy with what happened there in a sense that a lot of those issues that we addressed immediately—in fact, all of them—came from employees themselves.
*After St. Louis, Can You Fix Phoenix?
Will Carr: Do you understand why after everything that's happened at this facility, veterans would have concerns about what happened in St. Louis?
Rima Nelson: I understand, because if they read the headlines, the headlines would paint a different story, and that's why I think it's very important, because we're all in this together serving veterans, is that the stories are balanced and the facts speak for itself. And so I do understand their concerns and I thank them—our external stakeholders, the veteran service organizations, employees—for asking, "What happened in St. Louis?" and allowing me to share with them that what happened in St. Louis is consistent with what I want to have happen here, and that is folks come forward when there's an issue so we can address them.
*Refusal To Give Scale Of 1 To 10
Will Carr: I'll wrap up by looping back to my first question, because I don't think I got a number, but just in your mind right now, on a scale of 1 to 10, overall, what do you think the status of this facility is, compared to 2014?
Rima Nelson: I wasn't here in 2014, and so I don't have all the details. I know what happened with the access issue in 2014, but I'm going to stay away from a rating because I don't have all the information.
Will Carr: Well, let me ask you this way: What do you think the rating is of the facility right now compared to where you want it to get to be?
Rima Nelson: Where I want it? Well, all of us would want it to be a 10 if the scale is from 1 to 10. But we're not there, because we have a lot of work to do.
Will Carr: Where are you realistically right now?
Rima Nelson: I won't give that number, only because we have a lot of work to do still. But I would say that significant improvements have been made based on the numbers that I shared.
*What Is Biggest Thing To Fix At Phoenix?
Will Carr: What are the biggest things that need to be fixed right now, in your opinion?
Rima Nelson: There's a lot to be fixed. I mean, we're focusing on access, as you know. This was what brought attention to Phoenix, so access is at the top as well as quality and safe care. But to give you an idea of the numbers that we're dealing with, from last year to this year, we enrolled over 4,000 new veterans into the Phoenix VA healthcare system and we had over a million outpatient clinics visits in this past year as well. In addition, we deal without about 1,400 consults a day, which is over 350,000 consults per year. So that should give you an idea of the volume that we're working with, so access is important, though sale quality measures are important. But I would say what I've brought to this is making sure that we are looking at this on a daily basis. We cannot take our eye off of this because the volumes that I described are very large, and in order for us to make sure that veterans have access to this care, we have to ensure that the capacity to provide this care is balanced with the demand.
*Continued Reports Of Wait Time Problems From OIG And OSC
Will Carr: Recent reports by the OIG and the OSC have said that there's still significant wait times for patients. What is your average wait time right now?
Rima Nelson: So it depends on what you're looking at. So there are many different lanes—I would use lanes to describe the different things that we're looking at. So for example, let me pick cardiology. This morning we had 213 consults in cardiology in the process of being scheduled and reviewed. That is 23 more than we had yesterday—yesterday we had 190. And of those 213, we look at consults that need to be addressed immediately because they're of an urgent nature and we make sure that those consults are, like I said, addressed immediately. Then we have consults that are routine, that are not emergent, and so at that point we give our veterans a choice. If we're not able to see them within 30 days, then we schedule that care out in the community if the veteran prefers to be seen outside.
Will Carr: With that in mind, do you think that you're still struggling with wait times right now?
Rima Nelson: I wouldn't say struggling, I would say we have a large volume of consults we need to continue to address, and again, because we have a lot of veterans enrolling into our system, so it's very important that in order to maintain timely access to this care that we're providing, we need to stay on top of it daily.
*Whistleblower Retaliation
Will Carr: As you know, whistleblowers have come forward since 2014 with various allegations. There's been some recently saying that data is still being manipulated here. Is that the case?
Rima Nelson: You know, every employee, and I've said this from the beginning, that we cannot fix what we don't know, and I'm very happy to say that I've had many employees come forward with concerns and issues in their area, and these concerns and issues have to do with systems that are not working the way they should. So I'm appreciative that employees are engaged and involved and are willing to not only bring it to our attention but to work to be part of the solution to fix it. We're all in this together, we're here to serve veterans, and to make sure that they get the care in the timeframe that they need it and make sure it's of high quality. I will not tolerate a culture where there's retaliation. That is not the culture that we want here, so I have an open door, I continue and will continue to say I cannot fix what we don't know, what I don't know.
Advice To Veterans Having Problems Accessing Care
Will Carr: What would you say to veterans who are continuing to run into problems here?
Rima Nelson: So it depends what the problem is, and what I would say to them is that we are working every day to make sure that we address whatever those concerns are. So for example, one of the areas that I'm working with our TriWest partners is to make sure that the coordination of care for our veterans between the community care providers and the VA is as seamless as it can be without putting the burden on the veteran to make sure that that care is provided. We have a long ways to go, still have a lot of work to do, but we've also made a lot of progress. And when veterans bring issues forward, we look at those individually and we work immediately to try to break that down step by step to understand the root cause and address it. But we still have a lot of work to do.
Problems With Veteran Suicides
Will Carr: I know the issue of suicidal elopements came up within the past couple years and there were problems there and that is one section that you guys have addressed recently. Can you tell me what has been done to help make sure that that is not happening in the future?
Rima Nelson: So a lot has been done. So one of the things that we're able to provide today that we were not able to provide two years ago is that we have same-day access to mental health services. We also have social workers that are trained in mental health to cover the emergency department on a 24-hour basis seven days a week. We were also able to expand capacity in the emergency department by adding over 20 more beds so that our wait times in the emergency department has decreased. By doing those things, we can ensure that when a veteran presents with a mental health issue or is in crisis that we're able to immediately take care of that veteran. So that is something that we are able to do. We also look on a daily basis at the number coming into the emergency department, and so yesterday we had 144 visits. Of that 144, we ended up admitting 21 veterans into the medical center, but we also know that our wait time was a little over two hours, which is below the national average. So those are things that we keep track of, but whenever a veteran signs into the emergency department and leaves without being seen, we have a process in place where we make sure that we contact that veteran to make sure that they're okay. So we have put in multiple systems in place to ensure that veterans are receiving the care, and of course mental health is the area that we need to really make sure we keep an eye out for because we want to make sure we serve veterans that are in crisis.
Veterans Will Have Same Day Access?
Will Carr: You just mentioned same-day access. Can you define what that means?
Rima Nelson: What that means? So if a veteran comes in and needs to be seen by a mental health provider, they can be seen today.
Will Carr: Okay. It's been explained to me that there's a difference between preferred dates and actual dates when you can get seen, and so if somebody wants to get seen today, that can actually happen?
Rima Nelson: Yes.
*Revolving Door Of Directors
Will Carr: Okay. As you know, there's been a revolving door of directors or acting directors here recently. What can you say to the veterans who don't feel like there's been stable leadership here, and that's led to continued problems.
Rima Nelson: Yeah, so today we have 3,300 employees and that is an increase of over 850 in the past two years. So there's been a lot of employees coming into the system and leaving the system for one reason or another. I am aware I am the seventh director and that has been a frustration, but I'm here to stay. Next week will be my fourth month here—I don't have any plans to go anywhere. You know, there's a great group of employees here at Phoenix that are dedicated to serving the veterans in the Phoenix area. We have a lot of work to do, but we are headed in the right direction and we continue to enroll thousands of veterans into the Phoenix VA healthcare system and we have a tremendous amount of support from our veteran service officers, our representatives. And so, you know, this is a great place to work and we continue to hire more staff. But as far as leadership, I'm here to stay and I really look forward to working with the employees here in Phoenix.
Final Words From RimaAnn Nelson
Will Carr: Anything else that you want to add, Director Nelson, that you would like for people to know? There's a lot of critics out there, as you're well aware of.
Rima Nelson: Mm-hm.
Will Carr: Anything else that you can do to quell their fears about the future of this facility?
Rima Nelson: Well, what I would like to say is that there are a lot of great things happening here at the VA in Phoenix. Again, we have a great group of committed employees, 37 percent of them being veterans themselves. We have tremendous support from our community partners who want to see that we are successful. The areas we need to continue to work on, like I mentioned, because veterans are enrolling into the Phoenix VA, is the area of access, and in addition to that, quality. So the things I described about the sale measures are things that are at the forefront of what we do. We are looking at that and making sure we address lengths of stay and so forth, but there's a lot of good things happening here and what I would like to see is that when stories are written and told about the Phoenix VA, that those are balanced and fair because it is the veterans that watch and listen that are the ones most affected and we want to make sure that the veterans hear both sides of the story.
Will Carr: And that's certainly why we wanted to talk to you and I appreciate you taking the time. And I know not all easy questions, but there's a lot of questions out there by the veterans who use this facility, so we do really appreciate you sitting down and answering those for us.
Conclusion?
After reading through the transcript, what do you think? Did VA add to the dialogue by pushing out a late press release in response to the Fox News story?
If yes, was it effective or did it highlight even more problems?