ProPublica Hammers VA Over Recent Agent Orange Science Rejection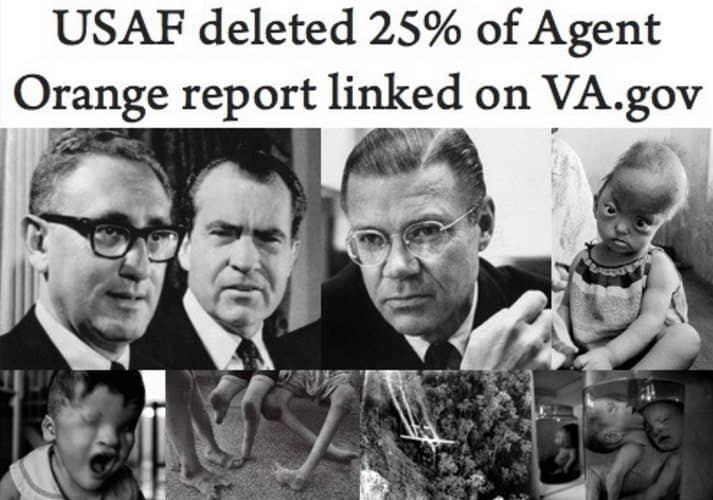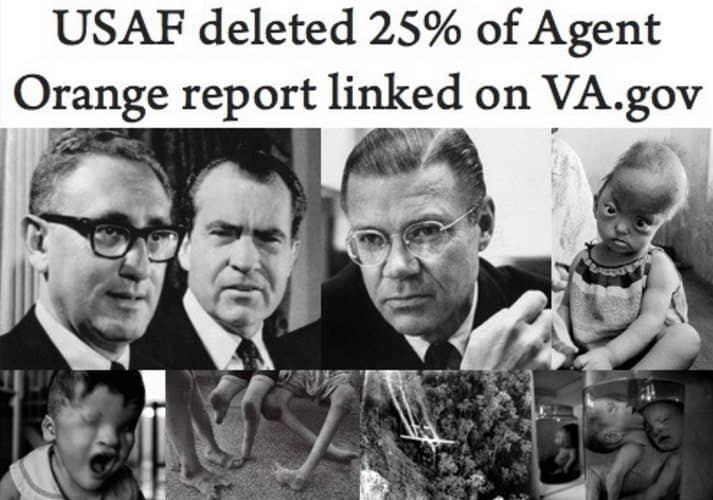 Today, ProPublica hammered a key VA official who denies the harm caused by use of dangerous toxins commonly referred to as Agent Orange.
Commenting on testimony provided to a VA advisory committee, lead analyst Jim Sampsel, dismissed present concerns over Agent Orange exposure, calling it "hype" and "hysteria" not based on "science."
This curious given the longstanding obstruction VA and DoD have engaged in regarding the effects of herbicides using in Southeast Asia during the Vietnam War including massive redactions of evidence and voodoo science to support the interests of Monsanto, the two companies responsible for manufacturing the toxin.
Much of the research in the past that I reviewed, which is part of the Alvin Young Collection, focused on impacts of dioxin exposure at normal levels. This assumption fails to account for the military's use of the dioxin in highly concentrated forms to function as a chemical weapon, according to Russian research published at the time. (more on this below)
The collection consists of much of the research reviewed by US Air Force's supposed subject matter expert Alvin Young, PhD. He went on to deny the harm caused by herbicides used in Vietnam and testified as a hired gun expert for Dow and Monsanto when the companies were sued by Vietnam veterans decades ago.
Assertions Of VA Agent Orange Denier Jim Sampsel
The testimony was presented last March to the committee in an effort to explain why VA denies to many claims related to the herbicide, "When it comes to Agent Orange, the facts don't always matter." Sampsel continued, "So we have to deal with the law as written."
His subsequent testimony has caused enormous outrage in the veteran community due to Sampsel's narrow view of the research and medical literature. In his testimony, Sampsel revealed VA will not include hypertension or high blood pressure within the list of presumptive conditions despite recent medical research supporting the connection.
RELATED: What Did VA Cover Up With Incomplete Thailand AO Report?
It should be important to note Sampsel is a Vietnam veteran who is VA's lead analyst for Agent Orange research and Gulf War Syndrome research within VA Compensation. Quite often, agencies make use of a supposed "friendly" to destroy opposition to the same group.
Here, Sampsel is seen as a sellout by other Vietnam veterans. When you read what follows, his allegiances seem clear.
READ: Sampson Anti-Agent Orange Benefits Testimony Transcript
Sample Of Sampsel's Assertions Highlighted By ProPublica
The following are examples of the outrageous assertions made by Sampsel to the committee followed by facts revealed by ProPublica that counter the allegations:
 He said he believes Agent Orange contained "very, very small amounts" of dioxin, which was quickly destroyed by sunlight and the open air. "That's not commonly acknowledged by advocates," he said. Moreover, Sampsel said, U.S. planes did not spray it when American troops were in the area.
In fact, a report by the Aspen Institute notes that on leaf and soil surfaces, dioxin will last one to three years and that dioxin under the surface could have a half-life of more than 100 years. Moreover, scientists have said that there are numerous ways in which American troops may have been exposed to the herbicide and some disagree that few troops were exposed.
 Sampsel pushed back against claims that veterans who served outside of Vietnam were exposed to Agent Orange. "When we get to outside of Vietnam, there's a lot of controversy about Agent Orange use. And primarily it's media hype, in my opinion."
In fact, veterans who served in Thailand, near the Korean demilitarized zone, in Okinawa, Japan, and aboard ships off the coast of Vietnam contend they were exposed in a variety of ways. Some have produced memos, photos and testimonials that have been enough to convince the Board of Veterans Appeals, the VA's tribunal, that there was sufficient evidence to prove exposure and that they were entitled to benefits.
 Sampsel criticized the Board of Veterans Appeals for its decisions. "BVA is, can do anything they want. I don't know if everybody understands BVA. BVA has caused a lot of, what I would call misinformation about Agent Orange issues."
A member of the advisory panel, Thomas J. Pamperin, responded to Sampsel at the March meeting: "A decision by the Board of Veterans Appeals is the secretary's final decision. I mean, we can't distance ourselves from the Board of Veterans Appeals. It is part of the VA."
And in its statement, the VA said it, too, respects the BVA. "BVA is the highest appellate authority in VA," it said. "They are attorneys who review the evidence of record and make decisions." While the VA may not always agree with a decision, "their decisions are final and are implemented when issued."
 Sampsel criticized the prestigious Institute of Medicine, a congressionally chartered research organization hired by the VA, which in 2015 determined that the evidence suggested that a group of Air Force reservists could have been exposed to Agent Orange years after the Vietnam War when they flew aboard the C-123 planes that had been used to spray the herbicide.
"One scientist from Harvard or somewhere said that dried, solidified TCDD dioxin never stops emanating molecules into the air," Sampsel said. "Hardly anybody bought that at the time, but the IOM went with it."
He added a bit later: "I don't think the science supports it. Most scientists don't think the science supports it, but the law is what it is."
The Institute of Medicine, now called the National Academy of Medicine, found that the dioxin present on the aircraft could have exposed reservists who flew the planes years later. In its report, it said one contention of the VA and its expert, Alvin Young, was "inaccurate," another "appears to be conjecture and not evidence-based" and a third was based on a study funded by Dow Chemical Co., one of the herbicide's makers.
In its statement, the VA said the Institute of Medicine "provides a valuable service to VA."
 Sampsel favorably cited Young, an Air Force officer, federal official and later the government's go-to consultant, who has guided the stance of the military and the VA on Agent Orange and whether it has harmed service members. "I'm not the scientist," Sampsel said at one point. "But I know that Dr. Alvin Young and the majority, the vast majority, of scientists don't think that anybody gets any harmful effects from something that's in the soil, buried in the soil."
But ProPublica and The Virginian-Pilot reported last fall that critics say Young's work is compromised by inaccuracies, inconsistencies or omissions of key facts, and relies heavily on his previous work, some of which was funded by Monsanto Co. and Dow Chemical Co., the makers of Agent Orange. Young also served as an expert for the chemical companies in 2004 when Vietnam vets sued them. In an interview at the time, Young defended his work.
 Sampsel said Young's research showed that Agent Orange "never went to the Philippines, never went to Okinawa, never went to Guam," as some veterans contend.
A member of the panel interjected because he felt that Sampsel was being overly broad.
"I'm sorry. I'm sorry. Yes, yes. You're, you're absolutely correct," Sampsel said, noting he should have said there was currently no evidence. "And if evidence does show up, we'll certainly change our policy. … You're right."
After the first day, one commenter highlighted Sampsel's deficiencies. Jerry Manar, a recently retired VFW member, commented:
There were no written public comments. Jerry Manar, a Veteran who recently retired from VFW, said he was disturbed by Mr. Sampsel's presentation on Agent Orange. In one instance it conflated a lack of evidence of exposure with evidence of no exposure. It was openly dismissive of evidence of herbicide usage while extolling the virtues of Alvin Young, whom many regard as a biased source. Mr. Manar also commented on a remark by Mr. Sampsel that the Secretary would probably deny the creation of a presumptive for hypertension. He felt this position was taken largely for budgetary reasons, and if the Secretary were to grant a presumptive it would help tens of thousands of Veterans.
Rick Weidman, legislative director for Vietnam Veterans of America, called for everyone supporting Sampsel's position within VA, including Sampsel, be fired.
"Where they are now is doing active evil," Weidman said. He added that he doesn't expect Sampsel and other VA employees to necessarily be advocates "but we do expect them to be neutral and honest arbiters of science — and they are not."
Years ago, I searched through the Alvin Young Collection located at the US Department of Agriculture. Some of the documents are located online but many of them are not.
One very disturbing note came from Brooks Air Force Base. It was a translation from a Russian medical journal highlighting how the US used herbicides with dioxin as a chemical weapon instead of merely as a defoliant.
The military would mix many times the normal dose with the stated goal of inflicting harm on civilians and military personnel, according to the USSR researchers, at least.
[documentcloud url="https://www.documentcloud.org/documents/3863061-Brooks-AFB-Translation-Harmful-Effects-of-AO.html" responsive=true]
In light of all the various lay statements from veterans concerning the spraying of toxic herbicides in locations outside Vietnam, why is VA still running scared from acknowledging what we all know…?
Not every mission was cataloged and not every area sprayed by the harmful herbicides was likewise memorialized in logs of any kind.
But, does that mean our military never did it?
If a tree falls in the woods, and no one is there to hear it fall, does it make a sound when crashing onto the forest floor?
Using Sampsel's logic, the answer would be a nonsensical, "No."
Source: https://www.propublica.org/article/veterans-affairs-official-downplays-agent-orange-risks-questions-critics