PURGE: Will VA Press Secretary Curt Cashour Be Fired For Subversion?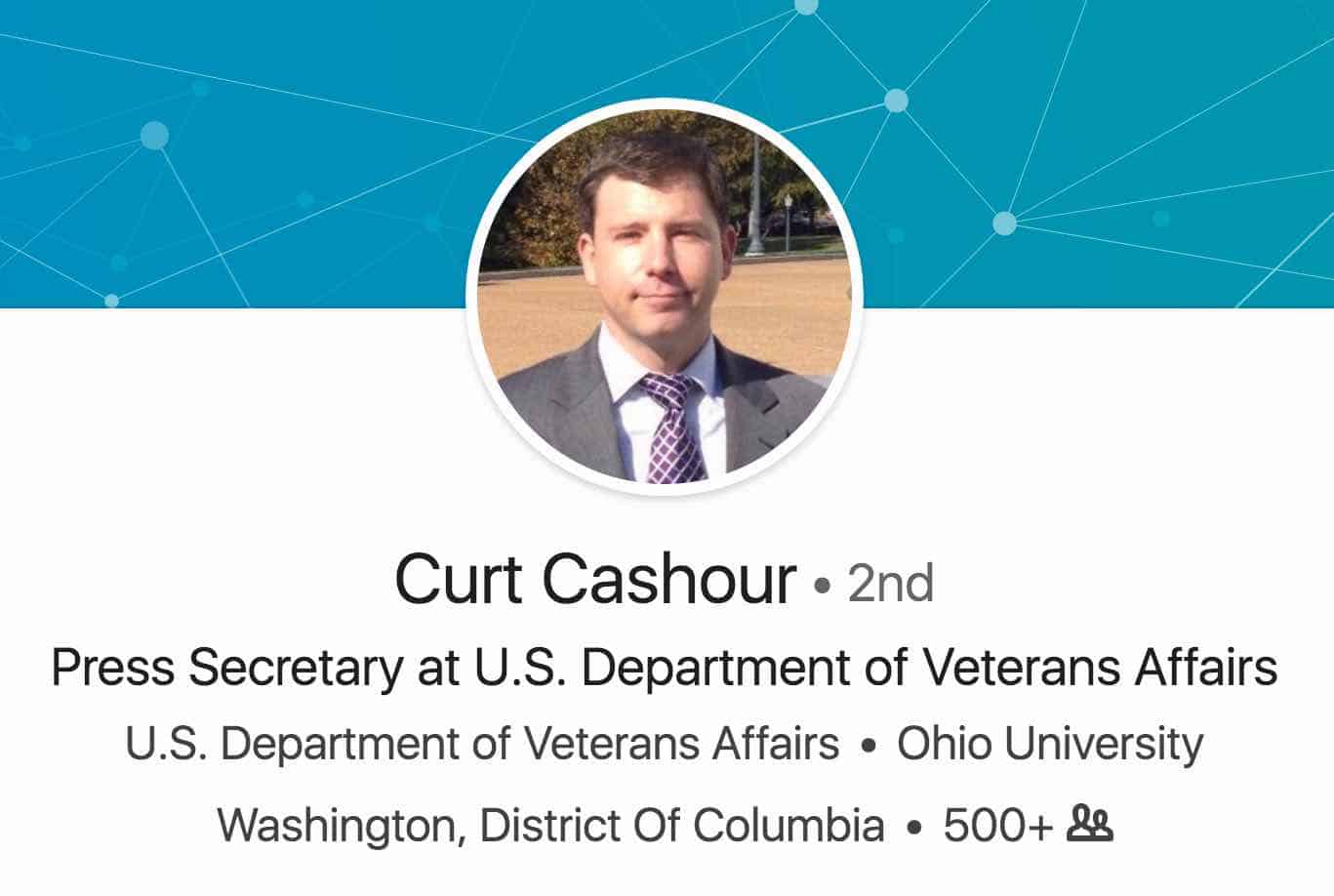 Press Secretary Curt Cashour may be the first to go from the Department of Veterans Affairs after Secretary David Shulkin received backing for a purge.
Yesterday, Politico reported Shulkin gained White House backing to purge various employees from his staff at VA that were overtly engaged in subversion of the Secretary's mission and agenda. Last week, following the release of an IG report calling out the Secretary for inappropriately using taxpayer funds, various news reports came out that some staff under Shulkin attempted to thwart his political career.
Following a meeting with the White House about subversion and an upcoming purge of those employees involved, Shulkin appears to be on top of the matter. Based on reporting from Politico, it looks like first on the list to go may be VA press secretary Curt Cashour for blocking the Secretary's attemps to work with the press during last week's ouster attempt.
And, assuming the facts reported by Political are true, Cashour should be fired for his role in overtly subverting Secretary Shulkin to the American public and the press.
Hint: If you are reading this Secretary Shulkin, firing Cashour may improve public relations and it would send the right message to the public and to VA employees. If you cross the bull, you get the horns.
I explain why below.
Curt Cashour Background
Curt Cashour was hired from the House Committee on Veterans Affairs after Rep. Jeff Miller retired. He previously worked closely with Rep. Miller and numerous whistleblowers who reported longtime corruption within the agency.
John Ullyot, head of VA Public Affairs, brought him on last summer.
Immediately after his hiring, the press secretary began to restrict access to official comments from smaller reporters like me while reserving substantive responses only for mainstream media reporters, which is a complete contradiction of President Donald Trump's position on the need to support independent media.
But, we now know Cashour is not beyond disregarding the will of his employer based on his own prejudices regardless of his grasp of the facts or issues in question.
His approach also served to control the narrative based on whatever deep pockets decided the public should know about VA issues, conspiracies and scandals, which is obviously rather limited when reserving substantive responses to the few journalists who focus on VA issues at major publications.
My own personal gripe aside, as being a small news editor, Cashour regularly referenced the position of the agency under his own name giving the impression he was steering policy and decisionmaking, which is not the role of any press secretary.
Previously, most VA employees providing statements to the press were merely referenced as "spokesperson," etc., and sometimes by name, but Cashour seemed to communicate the agency's position in a manner that would create a spotlight for himself rather than the Secretary or the agency.
To me, this seemed inappropriate. If he were my employee, I would have knocked him down a peg or two.
As for subversion, as of last week, Cashour reportedly blocked all communications between Shulkin and the press to prevent him from responding to various allegations.
Despite Shulkin's desire to get out ahead of the scandal, Cashour disregarded the demand of the boss and referred all comments directly to the White House.
Politico indicates Cashour went as far as to remove written statements Shulkin placed online for the public to view.
Now, subversion is a verb where the action is to overthrow someone or bring about his destruction by undermining their principles. Shulkin is the boss, and anyone engaging in acts of subversion like Cashour needs to be fired immediately.
Do not pass go. Do not get $200. You are fired.
He intentional actions that effectively subverted his boss's attempts to manage the press cycle surrounding the scandal should result in termination.
Now, can you imagine reviewing this case as a company looking to hire Cashour in the future? I hope he garnered some favor for his actions should he end up jobless soon.
Most Employers Would Fire VA Press Secretary Curt Cashour For His Subversion
From my perspective, the agency would benefit if  Curt Cashour were fired immediately.
It would send a message to others involved in the scheme while also improving press relations with the agency.
Over the past 8 months, Cashour's quotes were evasive and insulting of many reporters, and his strategies within the agency have rubbed numerous employees the wrong way, even those employees trying to improve the agency.
He is reportedly dismissive of topics he views as not having a large audience while failing to sufficiently grasp the agency's mission and internal politics.
To the public, Cashour apparently holds himself out as a decider at the agency, which was further revealed by his actions shutting down Secretary Shulkin's attempts to salvage his own career.
Based on what we know now, it seems clear Cashour believed Shulkin's ouster would be successful, and that he would garner favor from Shulkin's replacement.
Despite those attempts, Shulkin now reportedly has the support of the White House assuming he handles the mismanagement of gifts and travel to Europe in an appropriate manner.
Is Cashour Good At This Job?
Some would want to evaluate whether Curt Cashour is good at his job.
To get at this question, I suggest looking at a piece I wrote in October published at The Hill in response to Secretary Shulkin's rather flip op-ed published in USA Today about dog testing at the agency.
RELATED: Foreign Based Company Benefiting From VA Canine Research, Not Veterans
Now, we all know Secretary Shulkin did not research or write the piece that was published in his name. It was reportedly written and published by Cashour.
In my response, I highlight how VA is contracting with at least one foreign-based corporation to conduct canine testing at VA facilities nationwide.
The USA Today op-ed was not well researched but instead created an easy target for me to position and attack rather simply. The op-ed regurgitated age-old positions of the agency without diving deeper into the historic significance of canine testing.
RELATED: VA Secretary – Disabled Veterans Need Dog Research To Continue
That testing, coincidently, substantially benefited one company, Medtronic, the foreign-based company linked to present tests by the agency.
Whenever the agency cites its great triumph in the 60's of the implantable pacemaker, it fails to mention the research patent was sold by the original researchers in question to Medtronic. Meanwhile, the most recent medical advancement for Type II diabetes is also a device tested and sold by Medtronic.
While there is no question some veterans benefited from the implantable pacemaker, the connection between high dollar profits and the research presently being conducted, when compared to veterans possibly benefiting from any Type II diabetes device was too attenuated to argue that veterans still benefit from canine research, today.
Is Cashour good at his job? That is a question I would like Shulkin to answer. Personally, if I were shadow writing an article for mass publication for a Cabinet-level official, I would work hard to make that op-ed bulletproof.
This is a goal Cashour failed to accomplish in my opinion.
VA Secretary Purge Of Subversives
This coming week, his new chief of staff Peter O'Rourke will gather all individuals engaged in the subversion for evaluation and potential termination in a purge.
Regardless of Shulkin's Europe-gate, Curt Cashour did subvert Shulkin's attempts to resolve the matter in the press by deleting website content published by Shulkin.
Can you imagine ever doing that to your boss? What other VA employee would keep their job after directly blocking the will of a director or supervisor?
In any other environment, he would be fired as of last week even before Vivieca Wright Simpson, the former chief of staff, resigned. So, do not be surprised if we see him pop up in another organization soon, or maybe at the unemployment office scrubbing his resume.
Will Secretary Shulkin fire Cashour?
At this point, your guess is as good as mine.
It really depends on whose interests Cashour is representing within the agency and whether the White House will back the obvious and questionable acts of one of Shulkin's subordinates.
Should he be fired? Well, assuming reports from Polotico are accurate, Cashour should absolutely be fired.
Source: https://www.politico.com/story/2018/02/20/shulkin-veterans-agency-purge-417896