Social Media Marketing World: Why We Are Going Next Year – #SMMW20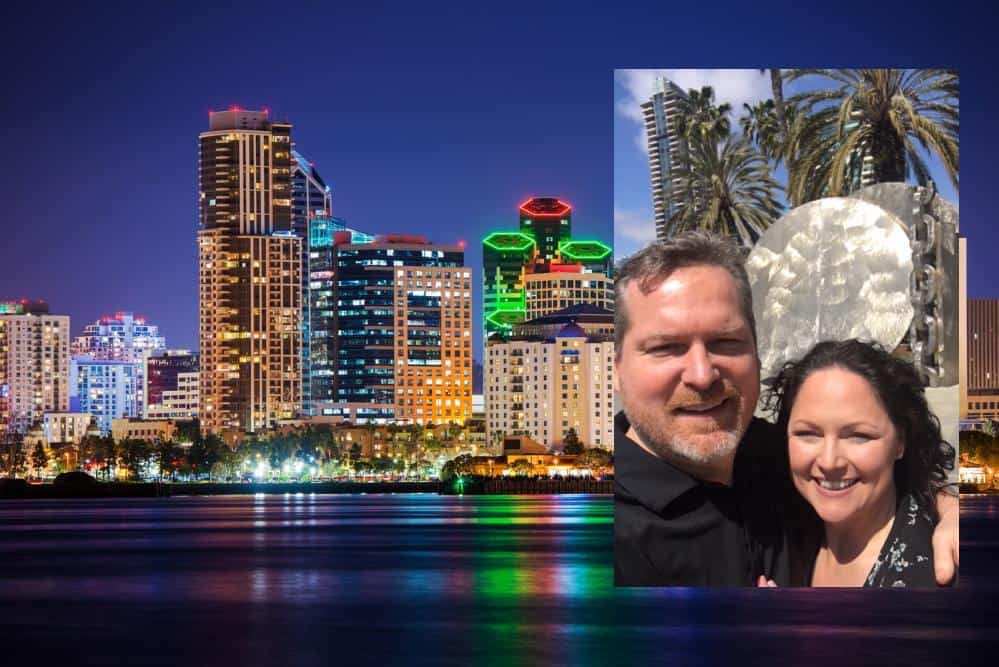 My wife and I have been to loads of conferences over the years… and while my brain is still fried from the #SMMW19 (Social Media Marketing World), we were pumped about it enough to buy in for next year.
That's right.
I passed up on a legal education conference in Middle America in exchange for a somewhat sunny week in San Diego with some of the best social media experts in the world.
Now, for a quick disclaimer.
This was the first trip my wife and I have been on since we got married almost four years ago. One teenager and two little babies later…
And for my second disclaimer.
The winter in Minnesota this year was brutal.
It was one of the coldest and snowiest seasons in history. And, since it was the first time our skin has touched the sun, we were sunburned within three hours of getting to the hotel.
I was red, lobster red. Gretchen braved the 60-degree weather to go swimming – – making the best of the weather while the locals complained of the cold…
This article is totally different than what I normally write about, but I wanted to give my entrepreneurial readers an idea of the resources out there that we learned about after paying well over $4,000 to attend the full conference.
How does it help? Knowing the names of some of the speakers can help you look up their books, websites, and YouTube channels for testimonials.
My Takeaways
Okay. Most of you will not read this entire article, so here are the five takeaways I had:
Stop stressing about perfection before production
Make use of what I have right now to grow the business
YouTube has videos on practically everything
Do more video, duh!
NETWORKING – I really like people but frequently get caught up in my own bubble and forget to actively engage others
The Event
We liked many of the speakers, and here is a quick rundown.
On the plane flight over, we were seated next to LinkedIn guru John Nemo who happens to also live in the same part of the same suburb we live in outside of St. Paul, MN. Great guy and I can't wait to pull in his big brain to help grow the knowledge of my readers, here.
Of all the different sample ads we saw, this one about ChatBooks was the funniest thing I have seen in eons. Maybe that means I lead a boring life, but it cracked us up – 16 million views.
I would love to know who wrote that script.
A lot of my readers have asked for more video and even broadcast, so we were paying special attention to video offerings and vendors.
Day 1
At the conference, our first-day highlight was Sunny Lenarduzzi on YouTube and Pat Flynn with his new invention called the Switchpod.
Sunny is a YouTube expert (see above), so anyone here wanting to understand how to grow their channel using video should check out her how-to videos. Flynn created podcast software and specializes in passive income.
The first day we also had a chance to meet disabled veteran Arron Barnes, entrepreneur and creator of Life Butta, an almond butter product that saved his life. Arron hails from my old haunt in Portland. Great guy with an inspirational story.
Through Arron we met Katie and Dan Krefft. Katie served in the Marines and the duo is building out a content blog related to the traveling industry called The Tandem Travelers.
That was day one. It was jammed.
Day 2
The best on the second day for me was a presentation by Amanda Bond – The Ad Strategist – explaining how she uses Facebook advertising to increase customer satisfaction while nurturing prospects.
From my perspective, the presentation basically walked audience members through her Facebook Ads funnel. True story. Before we knew my wife was quitting her corporate job, I made her sit through Bond's funnel on the website.
The site's funnel was well put together and listening to her explain the journey and its impact on advertising helped connect the dots I was otherwise missing by simply reviewing her website.
Quick hint: If you send her a message on Facebook, she will respond, which is unusual for someone at her level in the industry.
Some of you may know we have a Facebook group with almost 30,000 members that I have organically grown since 2009 focusing on a niche area of veterans' benefits called Vocational Rehabilitation & Employment.
We also liked a presentation by Ian Anderson Gray that focused on tips for broadcasting quality videos. I sometimes run Office Hours inside our Facebook group and thought the time was well spent.
The #SMMW19 folks ran an 80's themed karaoke party downtown that night. All I can say is that it was awesome… and hilarious.
Day 3
Day three we did more networking than watching presentations and checking out vendors of anything from stickers to broadcast software. From Switcher to ECAMM, from Wave.video to Promo.com, we have lots of options to pick from for educational videos I plan to roll out.
Our big takeaway was for me to stop stressing over producing perfect videos.
Why 2020?
So, why are we going back next year?
I really like San Diego and meeting great folks while on a business trip with my wife is always a plus after a brutal winter. We learned so much in such a quick amount of time. The other attendees were generally helpful, and the presenters were also approachable despite being rockstars in their own rights.
Now, San Diego in March is certainly not the same as Playa del Carmen in February, but it's better than most other options in our area.
If you are considering it, I suggest you check it out but plan ahead for the meals and hotel.
Tickets were around $1,300 each. Flight cost $1,200. Lodging was $1,700. Food was … ?
If you're still reading this, you're probably wondering why I would spend that kind of money for three days of training.
Networking was invaluable, and I am a visual learner. The chance to speak with experts in the flesh while also seeing the tools they use in action was priceless. It also helps that we get access to all the insider videos for the next two years.
I want to grow this platform and additional business ideas including training veterans on how to produce their own news stories for publication on sites like mine or primary news stations.
Until next time… wish us luck, and maybe through up some prayers to the Almighty.
Specifically, pray for steady revenue growth to better build out this platform to HIRE HELP and for protection to keep our mission moving forward.