The Decision Review Officer and You: Be Afraid, Be Very Afraid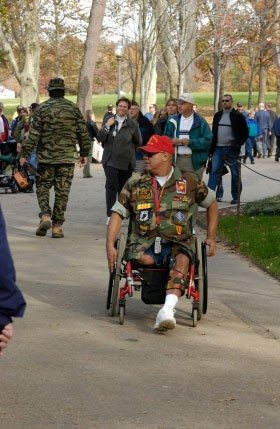 (Also known as my "that's f-ed up" blog post.)
Last week I had a hellish Decision Review Officer hearing. This hearing told me what the DRO is actually looking for when vets are trying to get benefits. And this post is all about telling you what the DRO secretly wants and what the Government tells us about the Decision Review Officer.
As you read this, ask yourself this question, "Are felons in prison treated with more or less dignity than our nation's veterans?" The VA seems to assume our nation's heros are also it's biggest liars.
I'm still very salty about this but thought writing while pissed would work.
The Magic Words – Not Quite Abra-ca-dabra
Last week I had a disturbing revelation during my Informal Decision Review Officer hearing. DRO's use behavioral psychology to decide their claims when they meet you in the flesh. This should scare you because it is totally subjective. Subjective tends to be bad when it comes to the VA or any application of law.
For years, I've held that Voc Rehab and the VA use secret "decision rules" in deciding who gets what. When it comes to the Decision Review Officer process, it is also probably true. Now, I'm going to reveal the magic words you need to look for during your hearing.
"I do not care about the money. I just want the VA to make a decision on my claim based on the law." Seems straight forward and, well, what is supposed to happen, right? Don't hold your breath.
My Decision Review Officer Experience
This happened to me last week after a 30 minute argument. The DRO refused to address my claim, like the actual words in my claim, other than telling me I needed yet a 4th exam on the same thing. That's it. 18 months of waiting boiled down to, "We need another exam." When I asked for the regulations mandating this, he was set of.
I flatly told the guy "no" and requested to record the remainder of the hearing. That's when the magic happened. After 30 minutes, he finally read my claim in front of me and we settled.
One odd-ball story. The VSO and the DRO gave me this dumb as hell example about why they make it so hard on vets. "Either the VA just gives disability ratings away like a gumball machine or they make the process hard." To me, this is where my meeting was fucked. "No, why don't you guys make decisions based on the law!" However, we all know the VA only likes the law when it allows them to keep your money for a little while longer after denying you access to benefits.
Another friend of mine, an ex officer, had the same experience last week regarding tinnitus. The DRO told him she didn't believe him and was antagonistic until he also said the magic words, "I don't care about the money, I care about getting diagnosed."
You're take away? Just come back to the law, no more, no less.
Some Government Facts About Decision Review Officers
The DRO wants you to convince him during the hearing that you are sincere. This is laughable to me because he already has a fully developed claim with documentation. In court, sincerity only matters when weighing evidence. However, if someone has a broken leg or brain scarring, it is what it is and the attitude of the victim doesn't matter.
Things to know about Decision Review Officers according to the Government Accountability Office in their report "Clearer Information for Veterans and Additional Performance Measures Could Improve Appeal Process:"
DRO's lack a formalized, national training process
There is no appropriate metric for performance
Veterans are not given enough information to know what's going on
I especially like the last one, but they are all pathetic in their own way. First, if I'm paying a lot of people over $100k every year, I sure hope to hell they can write well. Second, it's not surprising the VA has no metric for performance. Third, the formalized training process is interesting because it may expose employees to liability for a §1983 lawsuit and the VA to further liability.
We may skin that cat if they don't shape up. That kind of suit holds the official liable for their own actions. Many VA employees operate with a perception that they are immune even when they violate your constitutional rights. However, the 9th Circuit recently held that the current VA approach to TBI and PTSD victims violates the Constitution. Maybe we'll see who's right over the next few years.
Your takeaways: Further Advice on Decision Review Officer Process
First, record the meeting if it's legal to do so. The VA has NO POLICY on recording. I called the VA Office of General Counsel, here. If you live in a single party state, you may not need to ask permission to record. However, be sure to check with an attorney before you record without permission.
Second, be prepared for a fight. Have your documents ready. The DRO may or may not have read your claim. They will likely tell you they need a new exam if the initial exams are a year old or older. This is fucked because the delay has everything to do with the VA taking their sweet ass time to process your claim. Be ready for it. You can say no.
Third, your Veteran Service Officer may be working with the Decision Review Officer behind the scene to come to an amicable resolution. This may or may not be in your best interests. They can play "Good Cop, Bad Cop." This is fucked. It's fucked because it implies veterans did something wrong. No, just give us our damn benefits.
Fourth, be ready for your VSO or the DRO to present you with a settlement on the spot. Be ready to understand how a settlement would impact your disability rating. Again, if your Veteran Service Officer is working with the DRO to close your claim, the VSO may not have your best interests in mind.
In the future, I am going to do research into Decision Rules. There is something suspicious going on, and it's time for it to end. Help us get to the bottom of this. Take this quick survey if you've had a hearing like this. It's our Decision Review Officer Survey.