VA Lied To CNN, McDonald Gave Award To Denounced Foundation Head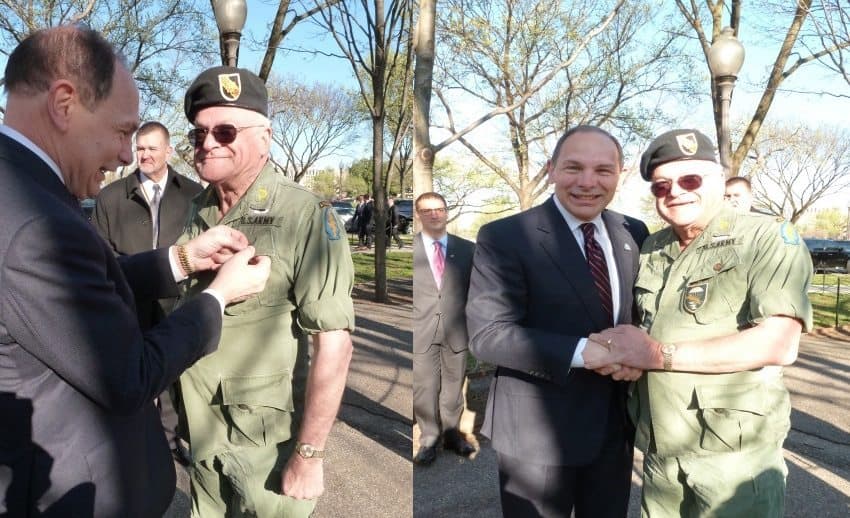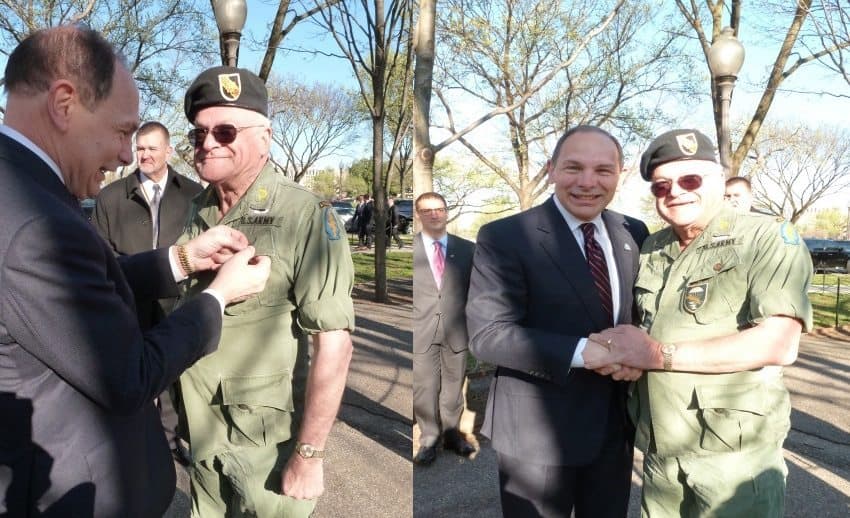 Leaked photos show VA likely lied to CNN when it claimed the agency was "unaware" that VA employee J Thomas Burch was also head of a "worst" rated foundation.
I just received photos of Secretary Bob McDonald pinning a commemoration pin on the former foundation president and current VA attorney J Thomas Burch in his capacity as president of National Vietnam Veterans Foundation (NVVF). The photos were likely used or intended to be used to increase the appearance of legitimacy of the now closed down foundation for fundraising purposes.
The photo notation reads, "Secretary of the VA, Bob McDonald, pins a 50th Commemoration pin on Foundation President, Tom Burch, after the wreath laying ceremony at the Wall.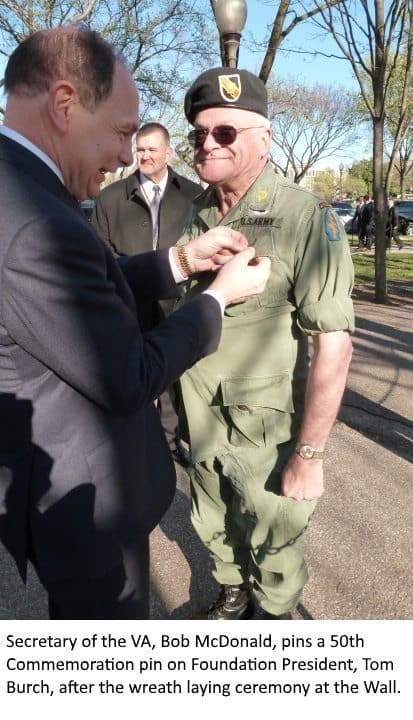 They are likely at the Vietnam Veterans Memorial Wall. The individual who provided the photos indicated the pinning ceremony was "fake" and done "to help boost [Burch's] organization." I am unclear where the photos are from, be it a VA magazine or elsewhere, but what is reflected in the photos is enough to refute the lack of awareness claim from VA.
VA clearly lied to CNN about the agency's awareness of what J Thomas Burch was doing.
In fact, the photos seem to indicate the Department of Veterans Affairs right up to the top VA official were aware of that J Thomas Burch was president of NVVF, the "worst" rated foundation for veterans while he also worked as a VA attorney. The award was apparently for Burch's work at NVVF based on the photo's caption, which I did not alter. That is generally the uniform Burch wore at other events at his foundation, at it does not appear to be normal dress for a VA staff attorney, so I can only conclude Burch is there in his capacity as president of NVVF.
These images were leaked to me following publication earlier today where I speculate VA was misleading CNN due to Burch's high profile within the public and inside the agency at NVVF. The organization was previously named National Vietnam Veterans Coalition prior to a lawsuit involving a telemarketing scheme shortly after 9/11.
RELATED: Was VA Really 'Unaware' Of Thomas Burch Foundation Work?
VA LIED TO CNN ABOUT J THOMAS BURCH
To play catch-up, CNN exposed J Thomas Burch earlier this year for running the "worst rating" veteran foundation. The foundation raised millions but only provided a few thousand to veterans each year. CNN further confirmed that J Thomas Burch is an attorney working inside the Office of General Counsel. He is a FOIA officer and reportedly works in coordination with Department of Homeland Security.
Earlier this week, CNN received news that Burch resigned from his post at NVVF and that the organization was shutting down. CNN also reported that OIG was investigating the matter but that Burch was still working as a "staff attorney."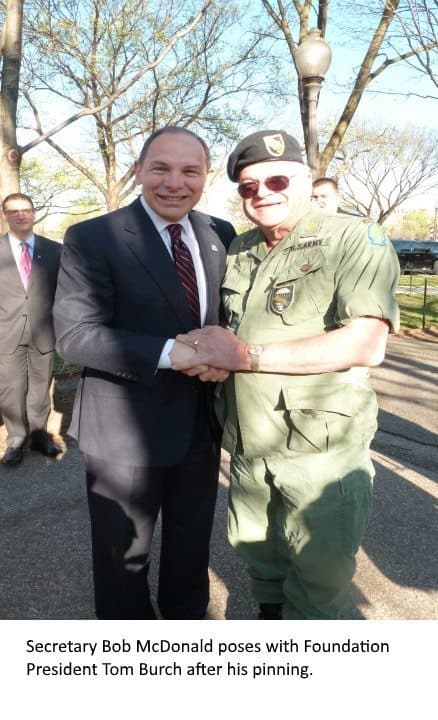 Acting Assistant Secretary James Hutton falsely stated the Department of Veterans Affairs was unaware of Burch's job as president of NVVF. CNN reported that Hutton stated:
"The VA, through a spokesman, said it had been unaware of Burch's job as the president of the charity. In an email, VA spokesman James Hutton said Burch was still employed as a staff attorney but that an internal investigation, conducted by the agency's Office of Inspector General, was still in progress."
If what Hutton said was true, it would mean Burch failed to submit any notice to VA of his other activities to ensure there existed no conflict of interest. However, we now know that statement from Hutton was apparently false based on these photos and the fake ceremony.
After the allegations surfaced earlier this year, J Thomas Burch was called out by the website This Ain't Hell for being a "phony special forces" veteran.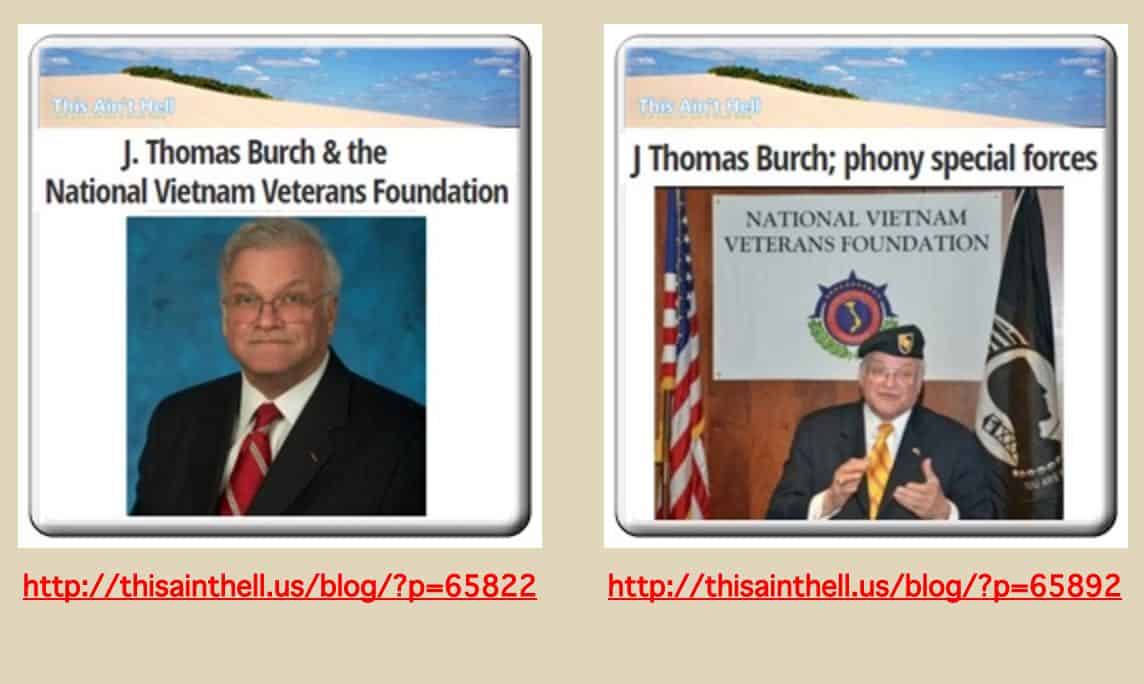 BURCH WITH OTHER VA OFFICIALS
After publishing this Friday, I received emails from a very 'sluethy' reader who directed me to the Wayback Machine for more photos of Burch with other VA officials.
We found the following photo of Burch presenting NVVF personal hygiene kits to various VA medical center directors. The photo does not indicate which facilities these individuals were in charge of at the time of the photo:
"NVVF President J. Thomas Burch presents that NVVF personal hygiene kits to (L) Paula Gorman, Assit. Medical Center Director for the Dept. of Veterans Affairs Medical Center; (C) Michael H. Dunfee, Assoc. Medical Center Director of the V.A. Medical Center; J. Thomas Burch and (R) Dr. Fernando O. Rivera, V.A. Medical Center Director."
The paragraph below the photo reads:
"[Since] 2009 [the] National Vietnam Veteran's Foundation, Inc. has been devoting it's entergies to our nation's hospitalized Vietnam veterans. We take pride in personally delivering items to the various Veterans Administration Medical Centers across the states."
What does this signify?
Even if Secretary McDonald was "unaware" of what Burch was doing on the side, it cannot be said that VA was "unaware" that Burch was president of NVVF.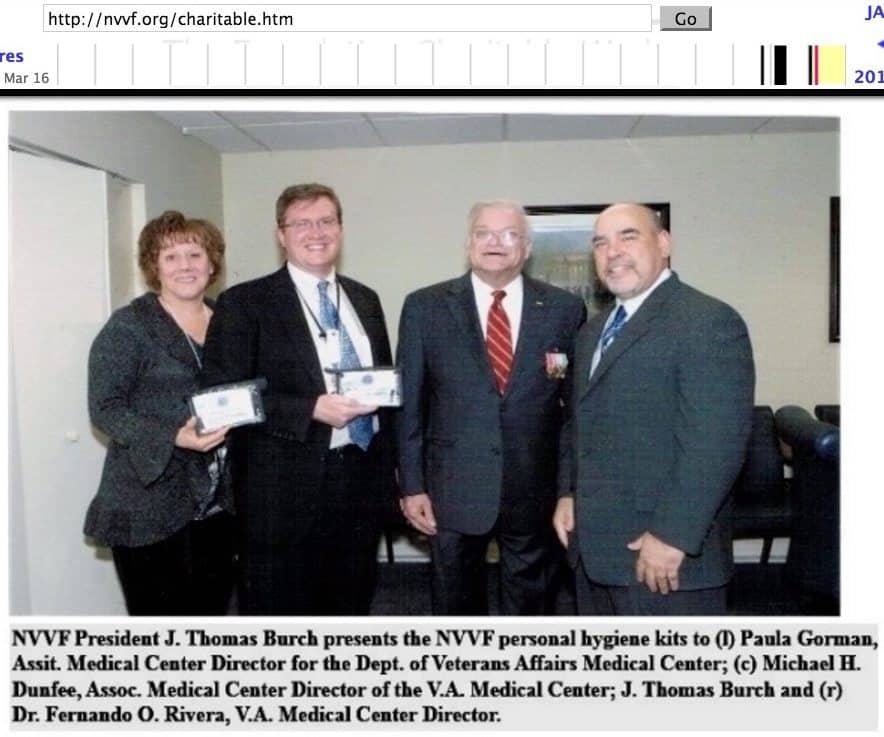 Where are they now?
PAULA GORMAN – VISN 5, Office of Rural Health
"Ms. Gorman began her Federal career in 1987 as a Recreation Therapist for the Washington DC VA Medical Center. She has since held positions of Voluntary Service Specialist, Chief, Voluntary Service and Recreation Therapy and the Assistant Director overseeing multiple services to include Prosthetic Service, Canteen Service, Chaplain Service, Voluntary and Recreation Therapy Service, Patient Advocacy and Patient Centered Care. She continuously managed many of the Medical Center's large-scale, high-profile special events including the Winterhaven Homeless Stand Down and the Welcome Home Celebration for Veterans of Operation Enduring Freedom, Operation Iraqi Freedom and Operation New Dawn (OEF/OIF/OND).

"Ms. Gorman joined the VA Capitol Health Care Network- V05 in 2011 as the VISN Rural Health Consultant and Lead Women Veterans Program Manager. She received her BS degree in Therapeutic Recreation from the University of Maryland. In her twenty-six years with the Department of Veterans Affairs she continues to serve our nation's Veterans with compassion, commitment and professionalism."

https://www.ruralhealth.va.gov/rural-consultants.asp
MICHAEL DUNFEE – Hampton VA Director
"Mr. Michael H. Dunfee was appointed as the Director of the Hampton VA Medical Center (VAMC) on December 30, 2012. Mr. Dunfee joined the Hampton VA from the Washington, D.C. VAMC where he served as the Associate Director from November 28, 2007 – December 2012.

"Mr. Dunfee graduated with a Bachelor of Arts degree from St. Cloud State University and Masters of Arts in Health Management and Policy from the University of Iowa. He began his VA career as an administrative resident at the Tomah VAMC in Tomah, Wisconsin in 1998.

"Mr. Dunfee's other positions include Acting Associate Director, South Texas Veterans Health Care System (HCS), and Assistant Director, South Texas Veterans HCS. Additionally, he has served as the Strategic Planner for VA's Heart of Texas Health Care Network (VISN 17), overseeing the development and implementation of the network's Capital Assets Realignment Plan. He has also completed two tours in the Veterans Affairs Central Office.

"Mr. Dunfee has served on and led a number of critical Veterans Health Administration boards and committees including those focused on Information Technology, Capital Assets and Logistics, and he led the development of the Associate Directors Guide."

https://www.hampton.va.gov/about/leadership.asp
DR. FERNANDO RIVERA – former VISN 5 Director, now SLVHC Director
"The Department of Veterans Affairs (VA) is pleased to announce the appointment of Fernando O. Rivera, MBA, FACHE, as the new Director of the Southeast Louisiana Veterans Health Care System (SLVHCS), effective January 11, 2015. Mr. Rivera will oversee the delivery of health care to more than 66,000 enrolled Veterans in 23 parishes of Southeast Louisiana.

Mr. Rivera is also responsible for the opening of a $1 billion replacement VA Medical Center in New Orleans that will serve as a model for health care of the future and set the standards for patient-centered care, flexibility and sustainability. The state-of-the-art facility will authentically reflect the culture of the region and be the cornerstone for the emerging biosciences industry in Louisiana. It includes a 200-bed tertiary care regional referral center that is projected to serve 70,000 enrolled Veterans and is designed to meet the full array of VA missions: health care to America's Veterans, medical education, medical research and national emergency preparedness & response.

"SLVHCS employs approximately 1,300 employees and provides primary and mental health care at all sites and specialty care at selected sites including eight community based outpatient clinics in New Orleans, Baton Rouge, Slidell, Hammond, Bogalusa, Franklin, Houma and St. John Parish. SLVHCS is affiliated with Tulane and LSU medical schools and is designated as one of nine VA Emerging Centers of Innovation for patient-centered care. SLVHCS is a recognized leader in several unique clinical programs and nationally recognized programs, including Home Based Primary Care, Hospital at Home, Health Care for the Homeless, and the Community Resource and Referral Center, which is the first in the country to integrate federal, city and private sector resources to serve both homeless Veterans and non-Veterans. SLVHCS was also recognized by the National Alliance for Ending Homelessness for being a leader in ending Veteran homelessness.

"'We are excited to bring Mr. Rivera on board as the new director of the Southeast Louisiana Veterans Health Care System. His sound leadership qualities and proven experience will be valuable assets for the facility, the employees, volunteers and, most importantly, for the Veterans we are honored to serve,' said Gregg Parker, MD, MHA, Acting Director for the South Central VA Health Care Network.

"Prior to his appointment as SLVHCS Director, Mr. Rivera was Director of the VA Capitol Health Care Network (VISN 5) in the national capital region. He has also served as the Medical Center Director at the Washington, D.C. VA Medical Center, Martinsburg VA Medical Center (W.Va.), and Acting Director at Overton Brooks VA Medical Center in Shreveport, La. From 1984 to 2004, he served in various positions at the VA Medical Center in New Orleans, including Associate Director.

"Mr. Rivera earned his bachelor's degree in Civil Engineering and a master's in Business Administration from the University of New Orleans. He is committed to community service on many levels. He is an honorary member of the Vietnam Memorial Wall Washing Crew and has received the Military Order of the Purple Heart Distinguished Service Award, the Marine Corps League Distinguished Service Award, and the AMVETS Leadership in Service Award. He also served as Assistant Scout Master in Troop 1444 of the National Capital Region Council of the Boy Scouts of America."

https://www.neworleans.va.gov/features/NewsRelease_SLVHCSNewDirector.asp#sthash.8o97zppl.dpuf