Social Media Blows Up Over Filthy VA Examination Room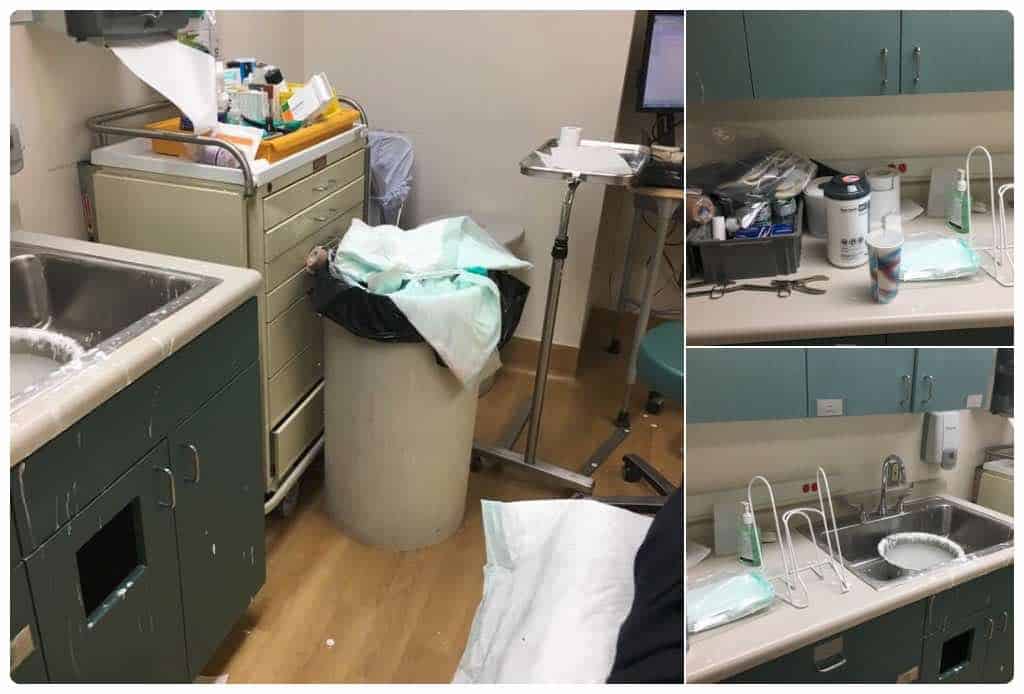 Salt Lake City VA stashed a veteran in a filthy examination room for over 45 minutes without taking any steps to ensure it was sanitary. A tweet with photos of the unsanitary room had 16,000 retweets with over 2,000 comments from outraged Americans, pushing the problem into the headlines.
Veteran Christopher Wilson went to VA for healthcare and was stashed in a room with overflowing trash and other debris covering the floor, sink and supply tray. Wilson was at the appointment to get 18 injections around his ankle for an injury he received in Iraq.
"I figured they would say, 'Oh, this room's not clean' and take me somewhere else, but they just kind of blew past it, didn't acknowledge it," said Wilson, who spent six years in the Army and was deployed to Iraq twice. "They're doctors, right? So I figure one of them was going to say, 'Let's go somewhere else' or 'Give us a minute to clean it,' but nothing."
RELATED: Secret Waitlist For Eyecare Uncovered
Dr. Karen Gribbin, chief of staff at the facility, said the mishap was the result of staff trying to expedite Wilson's appointment.
"This particular day, the afternoon session was (especially) busy," Gribbin said. "Unfortunately, Mr. Wilson was taken into this room in an effort … to expedite this appointment."
We haven't come much further than the mid 70's has it? Was this for general care or a specilist? pic.twitter.com/VpvhQG2s4V

— Paula Minger (@Paulaminger1) April 27, 2018
Gribbin said she can empathize with the urgency experienced by medical staff who "feel the frustration of the veterans that are waiting," but despite that, "Mr. Wilson should not have been placed in that room."
"I and the entire facility apologize to him for that experience," she said.
"We have had a huge growth. That is a significant growth and we have had some challenges that come along with it," Gribbin said. "That's a good problem to have, but we are busy."
RELATED: Suspicious Veteran Death Investigated
Gribbin said she believes Wilson's unclean room "was an aberration." Asked whether the new inquiry would actively look for patterns of additional rooms having been left unclean for patients, Gribbin said, "We are talking with staff across the board and making sure we are all on the same page."
"This has certainly opened our eyes to make sure that we take a good hard look across the board at this issue," she said.
Stephen Wilson, father of the veteran, tweeted photos showing the condition of the room that resulted in a massive outcry and resulted in huge awareness about the problem faced by his son Christopher.
RELATED: 5 Things You Need To Know About Leaked Anthrax Memo
"It (is) not something I want to see my son subjected to again or any other veteran," Stephen Wilson said.
He added that "at first, I was sad for my son being subjected to those conditions, and then it made me angry."
Stephen Wilson said he worries his son could have been subjected to the risk of infection by virtue of the room was placed in, adding "diabetic ulcers are by nature open wounds."
Gribbin lent her insight into what she thought was the most troubling aspect of the facility's condition, "I think the saddest thing to come out of this is the damage to that and the potential damage to the trust that our veterans have in us."
After all, according to Gribbin, the room was "unsightly" rather than unsanitary, "there (were) not other types of debridement or surgical removal of tissue" in the room. "I do not believe Mr. Wilson was exposed to any dangerous body fluids or blood."
Source: https://www.deseretnews.com/article/900017416/va-says-unclean-clinic-room-was-wrongly-used-to-mitigate-long-wait.html