Veterans Affairs Secretary Admits VA Is 'Adversarial' For Veterans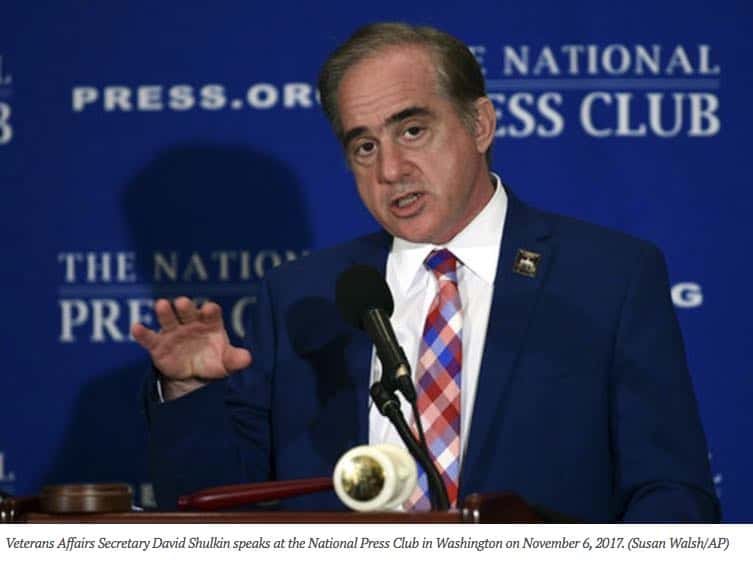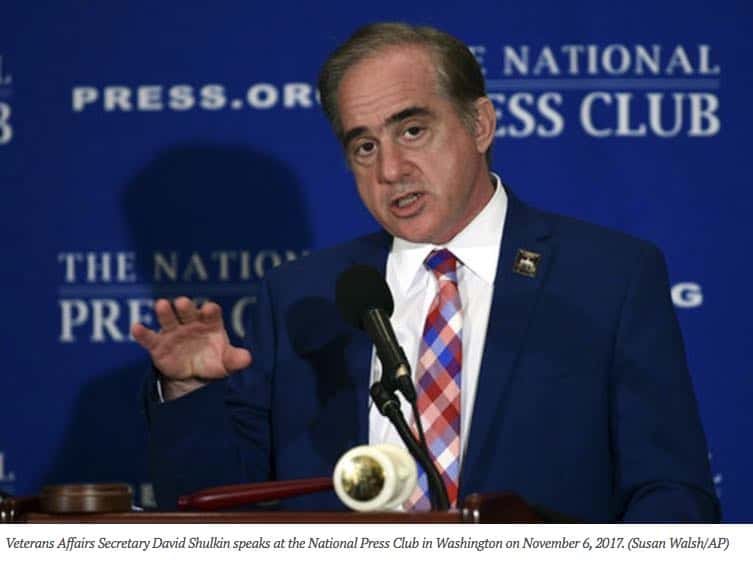 In a landmark statement, Veterans Affairs secretary David Shulkin, MD, admitted the process of securing veterans benefits is "adversarial" for veterans.
To my knowledge, this is the first time any VA chief has admitted the agency treats veterans in an adversarial way during the benefits process, and that the adversarial treatment is costing taxpayers a lot of money in bureaucratic work done in error.
In a speech at the National Press Club on Monday, Shulkin told the crowd he wants a full review of all veterans benefits programs to reduce administrative costs.
"We have to make simpler benefits determinations," VA secretary David Shulkin said at the National Press Club. "We're spending too much on administrative costs, and we have to let veterans know what they can expect."
"They shouldn't have to constantly be refiling claims to get what they deserve," Shulkin added, also confirming the benefits process is "adversarial."
.@SecShulkin .@DeptVetAffairs thanks for calling spade a spade, VA is 'ADVERSARIAL'
Background On Adversarial VA System
Veterans, support organizations, and attorneys have long claimed VA treats veterans as adversaries when adjudicating veterans benefits. While VA enjoys public perception that it is pro-claimant, the agency has deprived veterans of a right to sue VA in district court over benefits problems.
Instead, veterans are deprived of discovery, cross-examining witnesses, and other legal strategies all other Americans enjoy in practically every other legal process. At the core of these deprivations is the false assertion VA is uniquely pro-claimant.
With Shulkin's admission, maybe the tide may be changing, not only within VA but also outside the agency when addressing these problems.
All Is Not Rosy For Elderly Veterans Benefits
During his speech, Shulkin did give indication to suspicions that he may be going after benefits presently enjoyed by elderly veterans if those disabilities are tied to "age-related issues."
RELATED: VA Secretly Working Deal To Cut Vets Benefits
"This is not about taking away benefits from veterans," he said. "This is about making benefits work better for veterans and transforming the Department of Veterans Affairs to do better for years and for generations for future veterans."
But Shulkin did remind the public of his concern over benefits for elderly veterans to instead emphasize "service-connection for disabilities, so we aren't compensating veterans for age-related issues."
RELATED: VSOs Throwing Elderly Veterans Under Bus
When Shulkin assumed control of the agency, he immediately gave indications to the veteran community of his intent to reduce elderly veterans benefits for those receiving Total Disability Individual Unemployability (TDIU) benefits past the age of 65.
After blowback from veterans, the public, and elderly veterans, Shulkin promised he would not reduce these benefits, but his statements Monday show maintained focus in this area.
However, a renewed focus and reduction of elderly veterans benefits for those receiving TDIU would result in many elderly veterans going without.
One argument in support of eliminated TDIU benefits for elderly veterans is that these veterans are double dipping from Social Security and should not be allowed to also receive TDIU. Yet, many elderly veterans receiving TDIU were disabled at an young age and did not pay into Social Security meaning that benefit is not available.
Veterans Affairs Unusually Honest Week
This week has proven to be an usually frank week for the Department of Veterans Affairs.
The same day Shulkin spoke, Columbia VA Regional Office director Leanne Weldon spoke before a rotary club near her facility. She warned veterans against protecting their appellate rights in favor of claims options that ultimately reduce overall payouts when they disagree with an agency decision or denial. Favorable claims require the Veterans Benefits Administration (VBA) arm of Veterans Affairs make monetary payouts to veterans.
Due to bureaucratic mistakes and bureaucratic backlogs, Weldon advocated for denied disabled veterans to surrender their rights in favor of quicker solutions that conveniently reduce benefits payouts over the long run.
For the past two years, veterans organizations have informed attorneys that the agency was instructing them to steer veterans into filing new claims or to request to reopen claims instead of protecting their appellate rights with an appeal. But these advocates lacked concrete proof the agency was engaged in the duplicitous and unethical strategy.
Weldon is the first high level VA official to openly admit the agency is encouraging veterans give up their rights in favor of other less costly solutions due to agency malfeasance and mistakes.
According to Shulkin, "adversarial" VA policies and protocol have created a bureaucratic burden to taxpayers he hopes to reduce. Meanwhile, those within the bureaucracy push solutions that further reduce longterm lump sum payouts.
Combined, both strategies discussed by Shulkin and Weldon this week stand to reduce VA's overall budgetary footprint.
Source: https://www.militarytimes.com/veterans/2017/11/07/va-secretary-wants-full-review-of-veterans-benefits-programs/