How To Beat Veterans Affairs SEO, $24k Per Month Advert Budget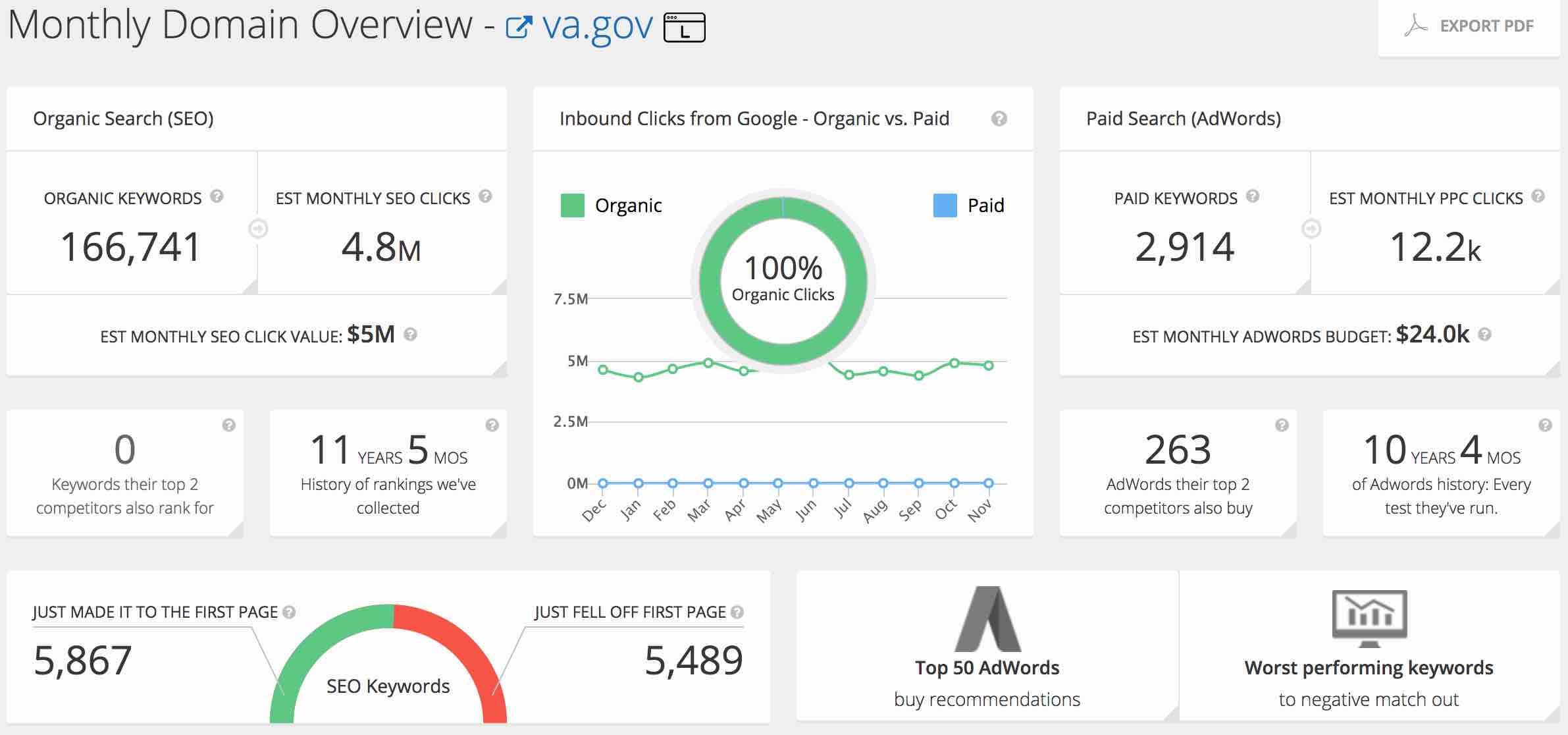 Have you ever wondered how much Veterans Affairs SEO budget costs when VA pays to stay at the top of Google searches to control the dialogue?
They pay $24,000, and that does not include the VSOs working closely with VA to drive discussion much less the tens of millions VA pays via taxpayer funds each year.
Hi all, and thanks for checking out some comment rules I need to implement for the DisabledVeterans.org website moving forward to compete with Veterans Affairs.
Did you know the Department of Veterans Affairs spends at least $24,000 each month to bomb Google with its own content?
The same holds true for some veteran organizations. Take Paralyzed Veterans Of American (PVA) as an example. They spend over $50,000. Compounding this, VA maintains its $5 million per month organic keyword website, VA.gov, and its subdomains.
RELATED: VA Admits Adversarial Treatment Of Veterans
Veterans Affairs Adwords Budget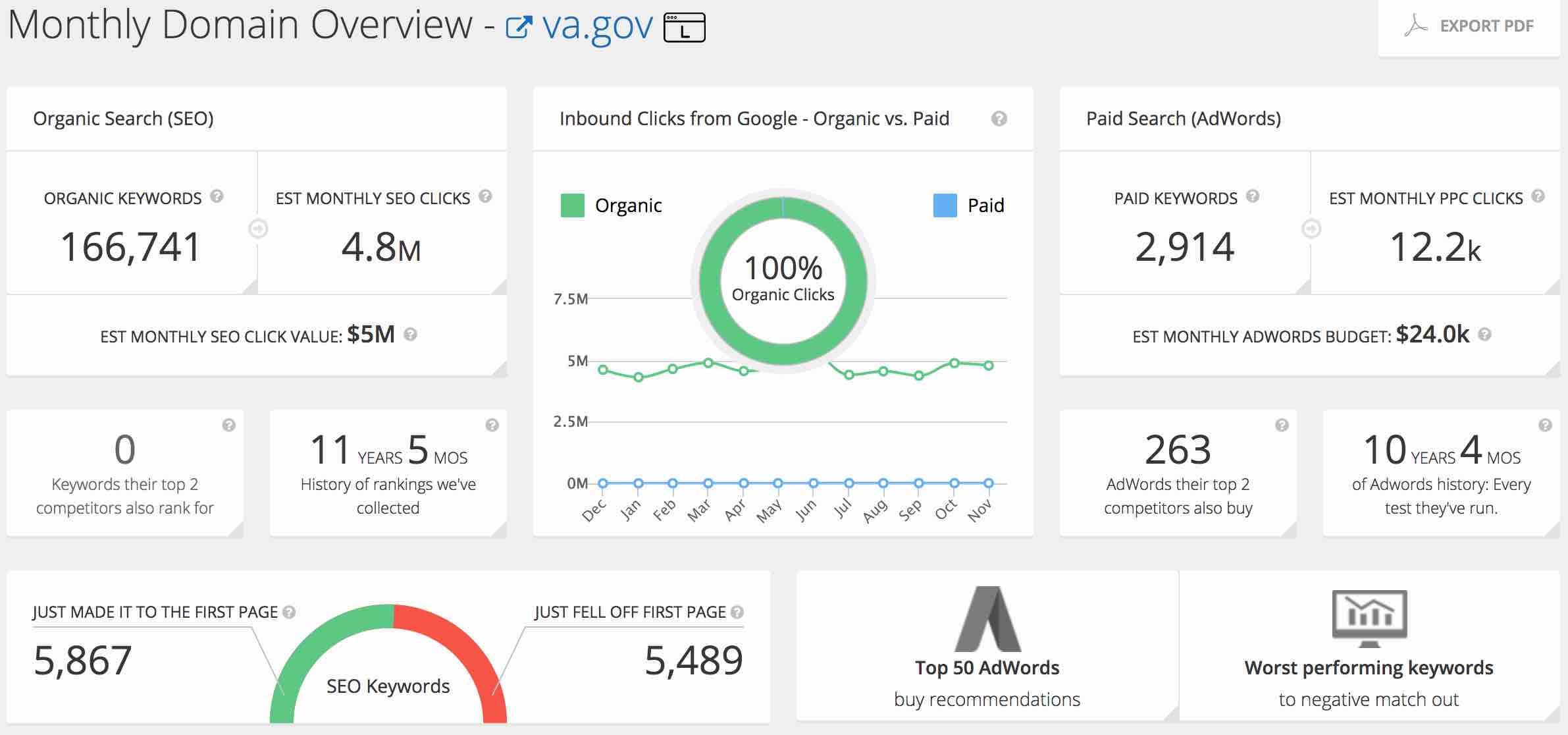 Paralyzed Veterans Of America Adwords Budget

Just those two organizations spend $74,000 each month, almost $900,000 per year, to control traffic and messaging about veterans benefits.
And that is just on its Google advertising from just those two organizations not to mention all the government contractors VA hires to manage its keyword campaigns and other initiatives. All in, VA is spending tens of millions each year to dominate the landscape of Google Search.
RELATED: VA Goes High Tech With iPad Program
Can a small fry like DisabledVeterans.org compete? Heck yeah, but it will take a village without the budget of the Empire.
Do you know how many guides I would need to sell each month to compete with that budget? We'd need to sell 3,500 to offset our lack of taxpayer funds to control the dialogue, at least in the same way VA tries to manipulate public sentiment.
In order to compete in the marketplace of ideas, and to spread our Courtroom of Public Opinion to expose VA fraud, waste, and abuse, without that kind of budget, means DisabledVeterans.org needs our readers to go on the warpath more than ever to spread the news and keep our comments on target.
RELATED: Senior Official Says Veterans Should Give Up Rights Due To Delays
Given VA's enormous clout, budget, and partnerships to create an echo chamber, do you ever wonder how Free Speech and Free Thought on topics guided by the federal government can be maintained?
(More on the comments and their impact on SEO below.)
Top Paralyzed Veterans Of America SEO Paid Keywords
Top Veterans Affairs (VA.gov) SEO Paid Keywords
Background On Comment Strategy
Those readers who have followed the progress of DisabledVeterans.org are aware I changed over to a new comment software platform. I had a mix of readers who wanted more options related to managing comments, and so I set out on finding a solution over the course of many months.
During that process, we saw a significant hit to site ranking and search engine optimization (SEO) as a result. This makes sense because the new platform truncates the comments somewhat, and the website is finally getting back to normal after 6 months. SIX MONTHS OF LOWER THAN NORMAL TRAFFIC AT DISABLEDVETERANS.ORG!
RELATED: Audit Shows 40,000 Veterans Appeals Ignored
Next Phase On SEO And Comment Strategy
The next phase is better coordinating website production with certain SEO standards.
Unbeknownst to me, comments matter when it comes to SEO. The best practice for comments related to SEO is to enforce a "stay on topic" standard rather than letting folks post whatever they feel like about anything. This prevents keyword frequency from being diluted from the target article, which happens if people post 100 comments about topics unrelated to the post.
RELATED: VA Pays Millions For Propaganda Machine
Yes, I realize this is not what some of you want, but here is my solution.
I will need help and support from all my readers to spread the word about the work we are doing here by sharing the heck out of the content on a regular basis. While VA relies on its deep pockets and backchannel agreements with veteran organizations, I rely on you to push this mission forward.
Now, I also intend to open up channels for contributors and a better forum option, so veterans and contributors who want to get the word about their particular mission will be able to publish here and in exchange for the content, I will continue to produce and edit the content.
RELATED: Veterans Choice Overbilled By Tens Of Millions
When you compete against Goliath, you have to think like David. I do not have a massive editorial board that buries commentary and unique reporting like a NY Times or other publication.
Of course, while all this is going on, I am managing my law firm and working to build out my learning management system I've been working on for two years. Luckily, that is finally almost ready to go.
While this new plan will not truly "beat" VA.gov with its hundreds of billions in taxpayer dollars, given the unique content we produce here, Google will hopefully continue to rank the website well as we continue to add new voices and fresh perspectives the Politically Correct within VA would be afraid to grab hold of.
RELATED: Veteran Commits Suicide By Fire
Next Steps At DisabledVeterans.org
So that's where things are at right now on DisabledVeterans.org. My ask moving forward is that comments on each post remain on topic. Here is an example of keeping things on topic in this article where I am addressing:
public affairs,
propaganda,
censorship,
media control,
federal funding for any of these,
search engine optimization,
Google Adwords,
spending by the government or veteran organizations on Google Adwords to push out divergent messaging,
First Amendment concerns,
VA deleting adverse opinions on Facebook,
Online publishing, etc.
Comments addressing these issues, your feelings and thoughts on these issues, and linking to articles addressing this same concern is basically on point.
Veterans who want to highlight additional issues should consider their hand at contributing here to get the word out about their unique perspective.