Veterans Not Better Off Under Obama Says Majority Surveyed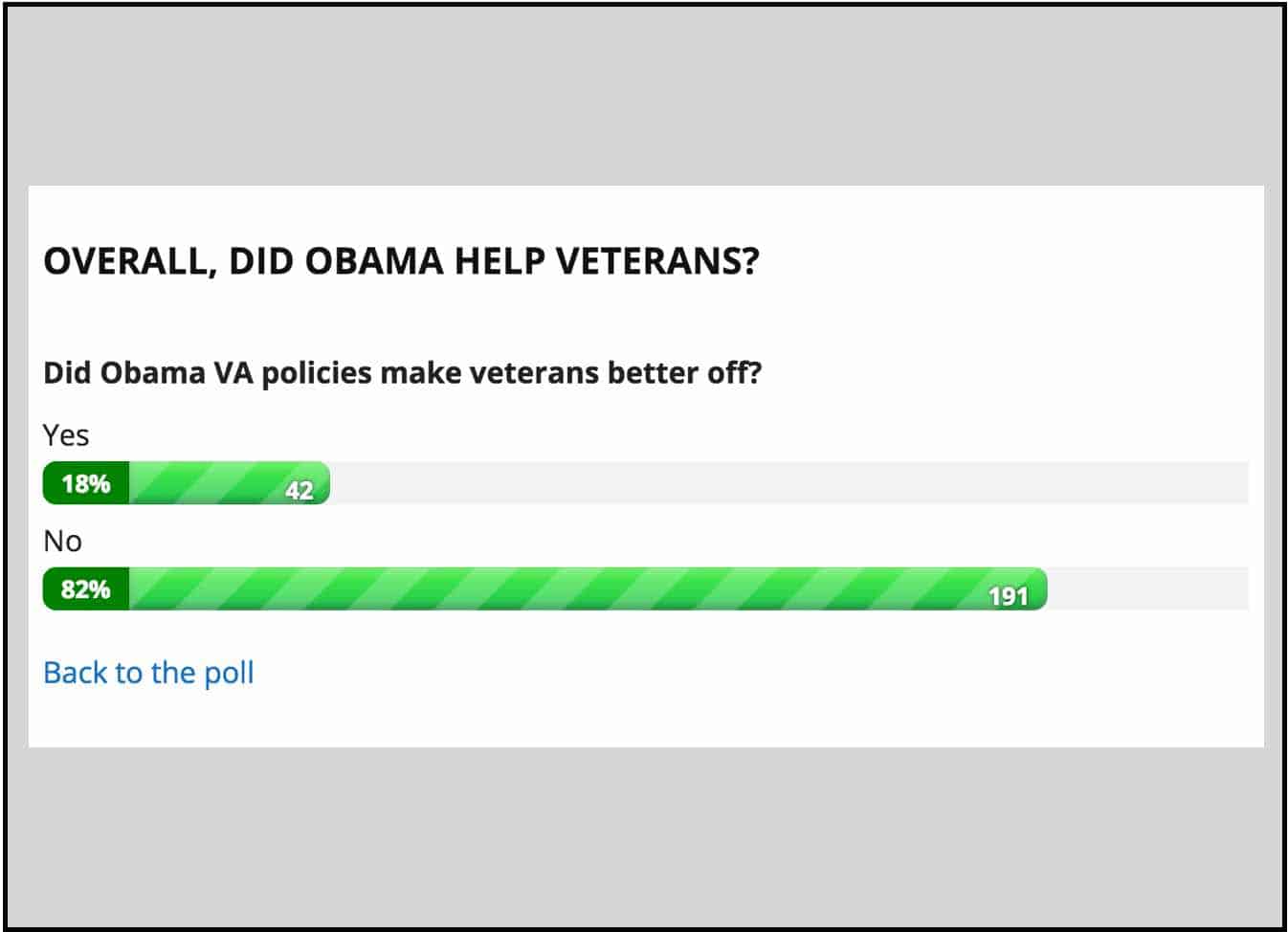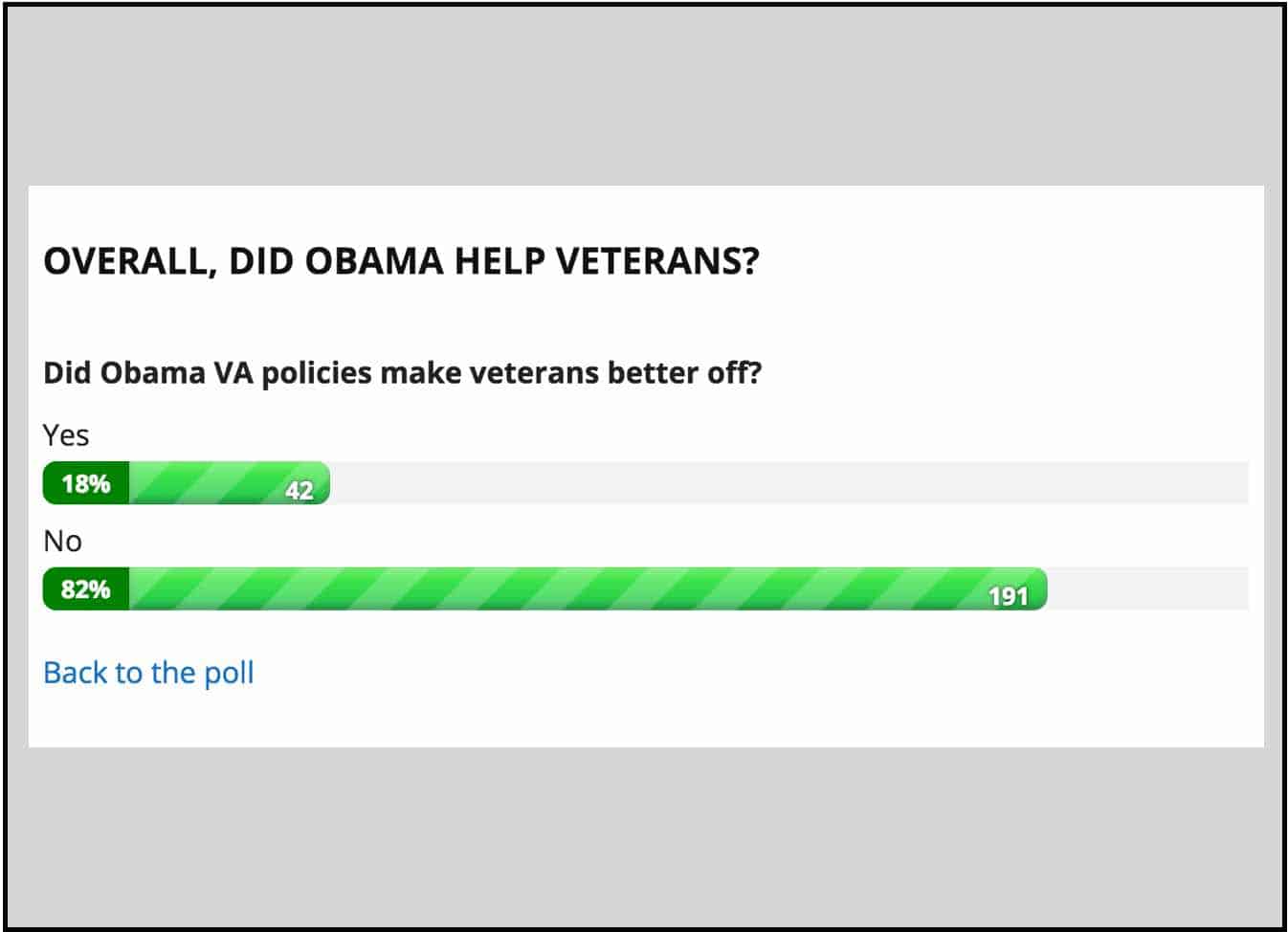 Eighty percent of veterans surveyed about whether we are better off because of President Obama's policies responded "no".
With the inauguration and recent shake-up at the Department of Veterans Affairs, it seemed like good timing to post the responses to the survey we ran here two days ago.
Many of the veterans on both sides provided thoughtful responses worth highlighting here. Rather than edit out what individuals wrote, I decided to provide the raw answers for both sides unedited.
These are posted first with those who believe they are better off followed by those who believe veterans are not better off.
Personally, there is no question veterans were benefited in some ways. More veterans get benefits for Agent Orange from the Vietnam War 40 years ago. Veterans dying from Camp Lejeune toxic exposure will finally get compensation as last Friday after waiting 30-60 years.
Nice, those veterans still alive will get some benefits and recognition for their plight due to military failures to protect troops from toxic exposures. Gulf War veterans are still fighting for greater recognition of toxic exposures from 25 years ago.
However, despite some improvements, Obama maintained the status quo without addressing, head on, the wait time scandal that killed many veterans due to fraud. Secretary Robert McDonald told Congress he fired thousands of employees while the real number was 4. The union was never reformed. The backlog still exists for disability claims.
Despite the positive momentum on some issues, Obama's legacy as it relates to veterans should be tarnished for not addressing ongoing fraud and related criminality that killed and continues to harm veterans nationwide.
Veterans Who Believe Obama Made Them Better Off
In my area (Birmingham, AL) the VA seems to be doing a better job of reducing the number of homeless vets. Also, I personally believe that the VA hospital here is doing a great job. Thanks
Many of my claims were granted, also received a great deal of assistance from vocational rehabilitation.
I believe that the last eight years the Obama administration tried to correct problems that have been identified in the VA were Republicans in congress are always trying to eliminate essential veteran's benefits.
Appointed Shinseki as Sec. of VA. who then expanded AO presumptives.
increased speed of benefit processing for one, quite a feat given the VA – sadly bias and inconsistent standards still exists.
Developed the choice program
better options
I hate to put yes of all the bureaucracy still in existence. I have an appeal in that is over 4 years old now. Even though I am not happy and bitter about many things, the President has made some really good improvements!
Collectively and personally outcomes from the VBA although flawed are marginally improved, outcomes from the VHA are being subjected to intensive scrutiny and marginally improved too.
His leadership and compassion
He brought soldiers home
The fixes put in place are superficial, at best. I speak only for the VBA (not VHA). VBMS has been in place now for more than four years. With nearly everything that we do, there is more administrative burden and time-consuming tasks and a lot of duplicate work.
Scaling back of wars started under Bush regime.
He finally appointed a director who wasn't a political hack.
Well it didn't make things any worse nd you have only two options available. We will see with the Don.
Reduced the claims backlogs.
Sec. McDonald was a good pick and he's worked on the transformation of VA and helping it move into this century.
Initial claims reduced dramatically and cleared
Started reforming the good old boy network and began getting the needed manpower and funding to handle the Republican wars
Women's health care has dramatically improved for me both in terms of care and dedicated women's facilities.
As a former worker within the VA beauracracy, I can unequivocally state that PBO's policy changes led to a reduction in the Vietnam veterans backlog in claims.
The automation improvements have made direct contacts with staff less neccessary.
As a veteran I saw my medical care in the San Juan VA MC, PR be a top notch care in every aspect and with the new civilian care program. Overall awesome!
Because I am a veteran and I was successfully "awarded" a PTSD disability rating.
The automation improvements have made direct contacts with staff less neccessary.
Personal experiences with VA from 1995-present: Quicker response & more personal., but staff retention for long-term care remains a problem in some places.
The wait time for appointments are less.
The increase was lacking
Yes – almost no. I'm relatively new to the VA Healthcare system. However, I discern an attempt of improvement. It's big-ass boat, and it turns very slowly. However well Veterans Choice was intended, it still failed due to implementation by the same Beltway-Centric system.
Camp LeJeune water contamination benefits (some of them) were finally approved ; on his way out of office. Other than that, I would have answered NO. It only took the VA 28 years to finally do something for us Marines. How many more former service members will die before they take care of us?
It took me 40 years to get the ball rolling with the VA, especially, since I had put in a claim in 1975, after my attempted murder on me in 1974.

I received my PTSD in 2010, what a shame. Remember, back then in the 70's, they cared even less for veterans, many were just thrown in the streets, SAD!
The wait time for my "Service Connected" hearing aides dropped from 24 months to six. I spent more than $7.000 for hearing aids from 1968 when I was awarded a 10% disability. At that time I was told I was only entitled to1 pair in my lifetime and should wait for my hearing to worsen.
TBI reevaluations
Post 9/11 GI Bill 2.0 helped me go to Law School, and VocRehab helped me finish Law School. We are better off, but things could have been better on the whole.
He reopened the VA to all Veterans and that resulted in me and the Veterans I now assist with initiating claims in navigating both the VHA and BVA.
Increased funding
I have no problem with the VA. And to straighten out so large an organization will take a long time.
HE attempted to put an end to the endless combat in Afghanistan and Iraq and therefore created less veterans with problems that the VA will ignore
I was Null. Democrats fighting a union…tough situation. GET A NEW UNION.
I can see it by the lower back log percent
While I said yes (for me), the items are minimal often unbalanced negatively–shortened the adjudication line but increased denials and suicides–Choice but enriched a couple fee based insurance companies and their executives, etc. (better for vets but worse for taxpayers).
Obama inherited the problems at the VA and did the best he could to fix them during his time in the White House.
Veterans Who Believe Obama Did Not Make Them Better Off
It still takes 90 to see my provider.
Your kidding me,what did he do for us other than the choice card program. Which has backwards policies. Eventually you get to a Dr. Non VA. Let's fix what we got first.
We are not
Corruption has become endemic with the Obama administration and the veterans suffered
Managers and unions took over the Department and the veteran out the door!
Absolutely nothing has changed, the fed unions run everything.
He ignored requests to help veterans obtain their basic benefits.
Fire the upper management team and bring back Allison Hickey
Public scrutiny forced some minor change.
I'm an African American who voted for Obama for both terms, however, unless the VA treats our veterans with dignity and better medical care by draining the swamps at the VA, our American society is doomed!
Still manipulating records

Still cant get appointments under 30 day. Been trying since August 2016 to get outside doctor for my feet and prosthetic.
He hired the wrong director
The va system was broken when he started, and the va system is broken when he ended.
He is a muslim.
Veterans continue to wait months for medical treatment and years for disability compensation.
In the last two years, I have seen positive changes at the VA. It is the result of all the negative stories that have come out in the press against them. It had NOTHING to do with any policies that the Obama administration had in place at the time.
It is still as difficult to get into and through the system.
I continue to see corruption and delays that demonstrates that what the President said was for show and was not willing to apply the change needed.
I have been on appeals for 12 years and am one of the 24,000 caught up in the TBI scandal and am 90% disabled.
Overall, the answer is no. Money was allocated to HUD/VASH, hiring more mental health workers, and claims were digitally fast-tracked. More money does not fix the problem(s).
Since 2014, WLA VA, California I've watched the personnel in Claims and Pension change-out. (Shifting the shit) Long Beach, CA VA, C&P denied my CO & VA Phychiatric claim of PTSD. Fucking Joke! Car Salesman!
The Va is for the VA only, The Veterans don't matter
The suicide rate of veterans did not decrease nor did homelessness under his presidency. The Dept. of Veterans Affairs should have fired all senior management and non-performing staff and eliminate all union members.
I can't explain why in one sentence or even a paragraph.
Lack of transparency in dealing with unlawful/ethical employee treatment of veterans as well as unresponsive leadership
The status quo of poor, overpriced service was allowed to continue; poor leadership had time to shift around and find protection for their jobs and salaries. There were many failures, the scandals uncovered can stand alone as testimony that Obama is a loser who cared about Vets for press clippings
Mr. Obama can only do so much. Congress holds the purse strings and they are not invested in funding or helping vets.
The was no legitimate push from the Administration to resolve anything – just words. The only real push seemed to come from Congress in getting the Veterans Choice Program started. Unfortunately, the resources weren't there to match
Our vets are not being cared for and should get priority treatment….Including being able to seek medical care(physical, emotional and psychological) anywhere and have the govt pay for it. They have earned it more than anyone else has in this country!
he loves the hell out of muslim terrorists and snowflakes, and hates veterans.
communists dont like veterans!
since when did politations care about veterans?
he allows quack Drs like linda borgtuno and ricardo pena to still work there and lets be honest,the politations want us dead so they dont have to spend money on us,but theyll throw money at people that have never done anything for this country!
15 years in the system; Agent Orange Prostate Cancer, VA has fought me every step of the way, no improvement in last 8 years.
Either Obama has done no good to the system or I see this due to the fact that I keep having more things happen mostly all related to my Vietnam service & heavy Agent Orange exposure while i was a "Ground Pounder" with the 82nd Airborne.
Military retired and especially those disabled are no better off now than before.
Obama stole money earmarked for veterans' care and used it to take care of "Syrian refugees" that are un-vetted, impossible to vet, and almost universally subscribe to a political ideology that demands non-moslems convert, be enslaved or killed.
Because both my husband and myself have been proposed to lose some of our previous SC and we have both been waiting more than a year. My husbands physical for a heart condition was done by a psychiatrist
Because both my husband and myself have been proposed to lose some of our previous SC and we have both been waiting more than a year. My husbands physical for a heart condition was done by a psychiatrist
I went to college on for two years, then I got a new vocational rehab counselor she disqualified me from Voc rehab and told me if I didn't get a re-evaluation by a va doctor I couldn't continue to pursuit my education.
Gaps in accountability, inconsistency and/or outright ignorance in adjudicating compensation claims, a growing backlog despite significantly more staffing, longer waiting times from claim to adjudication, and an increasing gap in veterans benefits being administered to veterans.
He continued to allow the corrupt activities especially among directorship of the VA's and many of these Criminal directors have gone unpunished such as Sharon Helman is not tried to clean up the VA he's just made ingenuous lip service
no accountability of leaders in va or firing any leaders in va for doing wrong actions or not changing va. entrenchments of bigness
Choice is a joke but worse, because of paperwork, my doctors are limited to 10 min appointments.
Nothing changed for the good at our VA.
Created division among veterans pre-911/post-911 in regards to caregiver program and 3 years after removed post-911 Ill veterans after caregiver program implemented.
No noticeable change in policies. Veterans may get their first mental health appointments sooner but thereafter it could take 6-7 weeks for follow up appointments. In the civilian community one can make an appointment in two weeks with a psychiatrist.
The system is still broke! The VA still has employees that work with a broken system on a daily basis that are to afraid to say anything out of fear that they will not be a protected whistle blower. The rural veteran is still being ignored with no fix even in sight. The choice system is broken…
It's a great question and straight to the point.
The VA became remarkably worse under his administration.
I am worst off know then when I first went to the VA in 1978.
Poor quality C&P exams and poor quality diagnostics are caused by medical professionals that cannot do the job right because they have too many people that they must deal with, and I am a victim of that failure.
There are no change and Obama never held the top management to do things right. They even stop the va from enforcing the demand that Obama put into effect. Till the VA cleans house. I know my case the va never wanted my rate to get raised but the applet court got involved and them it jumped 40% to70
aiding illegal aliens, terrorist, transgender was his concerns .
The core problem of the VA has always been accountability. And this is not as much of a VA problem as it is an Administration problem. Leadership starts at the top and no one has held the VA accountable for the crimes, yes crimes , they have committed.
Much worse bureaucratic hurdles, more corruption, and…….
The House Veterans Affairs Committee is in possession of emails that prove VA Dep Sec Sloan Gibson, the VA OIG (now retired), and White House Deputy Chief of Staff Nabor colluded to cover up the VAMC Phoenix waitlist scandal and the deaths of 293 veterans there.
Obama loathes the military and is only concerned with his legacy and Marxist agenda.
The VA employees lots of HACK doctors, also, it is there way or the highway cause there are never wrong(and thats a lie) also claims are denied at the drop of a hat. Dayton, ohio VA clinic is getting away with so much.
Decisions on pending cases take forever (mine 5 yrs) and the online web site (EBenefits) is worthless for finding up to date information concerning your submitted case i.e. whats happening!
I can't get any help in medicine after 45 years any more of today do to his adding more problems of getting quality medicine instead of generic and lower cost medicine
Claims processing time has not decreased and there has been no improvement in health care.
vets station in Thailand are not getting the right help on their cancer claims from agent orange.
I am a victim
I'm still suffering from prostate cancer treatment SIDE EFFECTS associated with Hormonal Therapy/ZOLADEX, because it's too easy for the VA to hide the harm done to veterans by their DRUGS & TREATMENT!!!
We did not know 8 years ago that the reason the REDpublicans were obstructing every possible improvement to any thing that Obama could make was nothing short of their desire for power had reached the point of willingness to destroy America to get it. Now we know…
Lot of corruption and/or neglect in the higher levels of the VA Administration. The VA Medical Foster Care Homes providers are NOT given VA Veterans to fill their homes with 3 veterans in each home. This needs to be mandated from top down.

A Whistle Blower

Whistle Blower Protection Act.
Still the same problems in Benefits and Health side.
More veterans died under obama than in any other administration.
far too many claims are denied, the appeal process backlog is simply ridiculously long & the process can take up to 5 years or more. The VA clinics & Hospitals in my area have improved but still need a lot of work. The wait times are 40+ days, the knowledge of some of our VA clinc Doctors are substa
He has no respect for military.
Failure to prosecute administrators engaged in malfeasance. Problems with wait times swept under the carpet.
Fuck him
VA has gotten worse top tier admin needs to go
lim a veteran
Tricare went up, and deductibles, prescription deductibles and no cola pay raises 4 times and lame pay raises the other years. The above went up more then what the entire cola raises added together under Obama where.
Replace the VHA with Medicare-type insurance, real insurance…..
There is no consequence for VA employees or leadership when they fail in their mission, it's not about serving vets but is instead about administrators keeping their jobs.
Absolutely nothing has changed in the base levels of care since 1993.
The disingenuous influence of non-Veteran, non-profit and for-profit special interests throughout the entire system, facilitated by the senior level DVA bureaucracy (the NAC funding trough being one example) under the guise of "public-private partnerships".
He didnt fix wait times or the private practice.
Wounded warriors and soldiers are just props for him.
No accountability, PR spin on every issues instead of recognizing the problems and take action. He was a follower never showed any true leadership skills or ability.
It will take more than one administration to fix what has been for a long time.
Not much has changed.
Because the VA Administration continued to 'REWARD' themselves and did little to speed up services, correct past/present mistakes in VA Cases and pushed services to the outside medical world to look good but the delays still existed!
I believe that it was the scandals and whistle-blowers that forced the Govt. to make a few meaningful changes.
When it came to veterans he was all talk no action.
Employees of VA allowed to promote racial and partisan behavior as culture turned towards entitlements of the select, and punishment for the many. Lost too many friends during the last 8 years to drugs, alcohol, and suicides. All preventable with real sustainable treatments if not shamed for at VA.
Times are as bad as ever, it took from April 2016, to November 2016, to see my primary care Doc for the first time after moving here to Jacksonville, Florida!
He lacked the knowledge and leadership to help veterans the VA is as bad as it was 8 years ago
I'm still waiting 30 days just to see a regular doctor because Veterans Choice is actually a longer wait then that.
Has anything changed?
He ain't done shit, Ben!!! U know it & I know it, so does the rest of the Veteran Community!!!
He did not care about veterans. Ben your blogs have done more than Obama.
He had a policy of not holding any VA employee accountable.
One thing is, the VSO'S have turned to supporting themselves and the Veterans and their families are more alone in this fight than I can remember.
Veteran care by employees at a record low at VA hospitals. I know I was a patient at Dallas CLC from 11/18/16 thru 1/09/17 and experienced the lack of respect for veterans medical needs!!!
Still have backlog
my husband has been part of the VA health care system since 2007. started out very bad then, not much better now in 2017.
The VA still does what it wants and ignores directives.
Refusal to pay ER bills putting vets in debt and allowing the VA to cripple me via ongoing poisoning.
O'Bama just hasn't been forceful in holding the VA to accountability.
because none of the delay issues have been fixed nor is any noticeable progress/improvements been made. Veteran job programs are a joke with no real opportunity or assistance through existing programs.
The VA is in shambles and there is no fix in site, the Dem's seem to not care at all about Veterans or active duty, continuously diminishing benefits and forgoing any financial support increases to alleviate the strain on military families both active and veteran.
No improvement in quality of medical services or in the quality of VA doctors and staff.
Scandals developed that were not resolved, and his attempts to fix problems often made them worse.
Because he knew veterans would not support him and only did things for groups that would support his agenda and vote for him and his cronies
The alternative, "Veterans Choice Program" is too complicated and "EXTREMELY" slow to get outside medical treatment approval…. "Veterans Suicide Rates" are not acceptable….."Bad Actors" (employees) in the VA System are not being punished for misdeeds……Veteran Homelessness is just shameful..
They did not fix the Primary issue with the VA; a inept and criminal Administration and the Union.
Misguided priorities.
not really a term to think about , any American should use common sense and determine through Obama's presidential actions, scandals and lies that he left veterans well beings to the personnel that enslave a system of false promises.
Finally McDonald helped Camp Lejeune victims
The current establishment, showed outwardly on camera to be concerned, but the reality, we got shoved in the corner and forgotten. Lets hope Trump has the entestinal fortitude to actually change the VA.
The current establishment, showed outwardly on camera to be concerned, but the reality, we got shoved in the corner and forgotten.
Obama ignored problems at va and the crimes at va continued to get worse.
Just for the simple fact that my brother's medical care under the VA is nothing more than ongoing medical malpractice and just getting worse since he came back from Viet Nam.
The quality of care under Obama was much much worse then bush. I have been treated in multiple va facilities across the state of CA. Bakersfield is the only one I would give a sat rating to. They have very few specialists and most appointments are in LA or LB over 100 mile drive and pts are treated
Absolutely not! He had blinders on and denied that there were ongoing issues that were never addressed!
Besides the "Race division" he caused, he did the bare minimum in everything he did.
Just review the drafting committe you listed below!
Cause none of the many health issue's that I'd suffer from still hasn't been address for over forty five years or more now and my teeth are rotting in my mouth as I type….
For instance, if you write www.whitehouse.gov for VA help. They send it to the VA and they ignore it. No one follows up with you.
He's A Muslim Here To "DESTROY" America !!!!
The list of press seeking DVA FOIA disclosure at the House VA Committee keeps getting longer; no access to VA info means no accountability at the grassroots level.
No interest in veterans with cursory attention after the Phoenix massacre.
The choice program is a joke
Barry's mindset is pro Marxist-Muslim. Accordingly his priorities are not veteran oriented but attempt to implement future change toward his leftist agendas.
After 40 years of using the VA, I can tell you for certain, every aspect of my care has gone down in quality, cost's have gone up substatially, and claims are denied by unqualified examiners.
We were seen but not took care of
I have been fighting with the va for benefit since 2014 and because of it there have been times that I have went days not being able to eat I can't even afford my own place
Policies were more for Illegals than Americans!!!
Quality of care is still not good. Not enough well trained doctors.

I applied for additional disability and they lost my info. Can't get anyone to respond to my claim.
Lots of talk and bluster. No real changes seen. I'm a service connected diabeti(x13 years) no glucose monitor or insulin pump.
PRES. Obama does not have good judgment (discernment) concerning veterans no insight.
I am 62 r old veteran with a 4 yr ptsd claim
The problem is still ongoing.
He did not provide treatments for brain-injured veterans — real healing of the underlying wound to the brain.
Policies are great but if there is little action to enforce them, they are not worth the paper they were written on.
Still in a mess, I was married over 8 months ago still no word on my wife's (dependent) compensation…
Just in the area of economic opportunity alone, the Obama administration has repeatedly lied regarding employment numbers and "official" job growth – there are nearly 95 million Americans without work, and veterans have been hit by this bus extremely hard.
Still failed to change concurrent receipt laws for vets medically retired with less than 20 years of service.
My 30 year claim before the Court still pending, my 9 year old claim before the Board still pending!
no changes long waits
Just speaking for myself I was poison from a medication the VA put me on. They claim no responsibility. Only medication I took for an extended.period of time in my entire life. Destroyed kidney function down to 50% function on each side. Disputing things at this time
Benign neglectl
I have been fighting with the va for benefit since 2014 and because of it there have been times that I have went days not being able to eat I can't even afford my own place
It's hard to get proper medical care from the Marion va system. The doctors are aloud to treat veterans harshly.nothing is being done about it this has been going on for years and will not stop unless the system is redone
From my experience, here in Southern California, unemployment and homelessness of veterans have increased, while mentsl health of veterans were not taken seriously.
There is still no accountability to VA workers poor performance!
Made worst no increased and some disable veterans are not entittle to get mortgage loan unless perfect credit. Befits denied or holding some veterans for re-evaluation even though already declare disable100%.
The Obama Administration ignored and hunted whistleblowers throughout the country who reported wrong doing, this is not a funding issue as much as it is a bad management issue throught the VA! Bye Felicia!
Veterans are not fully aware of their benefit for which they qualify
There was no fundamental change at the VA; only updates around the margins. Same issues, different year.
DID,NT CLEANUP THE SYSTEM OR FIRE THE CROOKED V.A. LEADER,S
This really got of hand,,
promise, promise, deny, deny and forget !
Appointments are still hard to get and some types of special treatments are still almost impossible to get.
still waiting from 2009 for disability approval?
still waiting from 2009 for disability approval?
because obomber works for the invaders of America who want to eliminate as many true americans as possible, therefore he has no incentive to improve vets care; indeed, he is just a puppet, dancing as his israeli masters say to dance.
All combat era veteran's should be treated the same benefits.

Not specialized on one era only. Discriminating the older vets in services
My NOD has been sitting there for 6 months.
I have had nothing but problems trying to get care for both my service-connected and non-service connected medical conditions.
There is still a shortage of access to VA benefits and the wait time it takes to get said benefits, and to get seen by medical VA clinics.
The AfGE Union is still allowed to fester their anti-veteran care in the VA.
they made it very difficult to receive chronic pain medication inclusive of medical marijuana
When there is a mismatch between one's words and deeds, you have extinguished any chance for accountability.
He failed to establish a strong legal policy of accountability at all levels…………
NOBAMA A PUUSY PUNK TO THE AFGE UNION @ FAT PIG DAVID COX !!!!!!!!!!!!!!!!!!!!!!!!!!
Obama, like his predecessor and successor, has to deal with an entrenched bureaucracy that exhibits more interest in the power structure of the department rather then the focus of the mission: take care of veterans who fought the country's fights.
Nothing but lip service
VA suffers from a Bloated headquarters bureaucracy; non-veterans leading VA hospitals; no accountability when a veteran is mistreated; and hatred of whistleblowers by VA managers at all levels except at the very front lines (such as the squad leaders and the platoon leader in an infantry context).
Veterans Suicide is still abhorrent.
Corruption still runs rampant!
The lack of transparency,accountability, and a genuine true concern for veterans in all past wars and conflicts. Professional procrastination..Currently the V.A. uses a system of "Death" in stalling veterans claims. This is ""MALUM IN SE". New "laws"for those that violate the public trust of veteran
The lack of transparency,accountability, and a genuine true concern for veterans in all past wars and conflicts. Professional procrastination..Currently the V.A. uses a system of "Death" in stalling veterans claims. This is ""MALUM IN SE".
I don't think I can put that much rage in one sentence.
Nothing was done on the frontline.
Obama's "Change you can believe in", became the reality sham of a "legacy" it is when Obama and his DOJ *refused* to prosecute VA fraudsters caught red-handed in the cookie jar.
Obama's "Change you can believe in", became the reality sham of a "legacy" it is when Obama and his DOJ *refused* to prosecute VA fraudsters caught red-handed in the cookie jar.
Appeals r 2/2 years out and waiting.
Pres. Obama sent the DOJ after a known thug was killed to try and make it just; however, he decided veterans mistreatment and deaths caused by the VA did not warrant or justify any action.
He was hands off in his approach, so that the blame could be shifted to his cabinet members. Look how he ignored Brandon Coleman publicly when he tried to ask him a question. Parading injured veterans around in his speeches another bs dog and pony show. Saluting with a cup of latte in your hand.
no change
The Executive Branch of Government is out of touch of Veteran's needs.
Obama's VA policies have seriously raised the level of corruption at the Veterans Administration while substantially lowering all levels of accountability.
Any policy or new program initiated by Washington became so twisted and corrupted by the medical centers administrators that there was little left of those good intentions that went into the medical care for the majority of Veterans, the va system is too corrupted and will remain so.
He is just another part of the problem we have in America today, politics, corruption, divisions, hate, greed, Feudalism, Hate for White people, Draconian laws and regulations, racial instigation, useless bureaucracy, malevolent activism, total dis-concern, golf, and much
nothing changed but got worst and many dead vets more money for doing nothing and we still have no one to take to jail for killing the vets
He lied