Veterans' Voice of America with co-hosts Benjamin Krause and Susan Knowles on Friday, June 9, 2017 at 10amPT/1pmET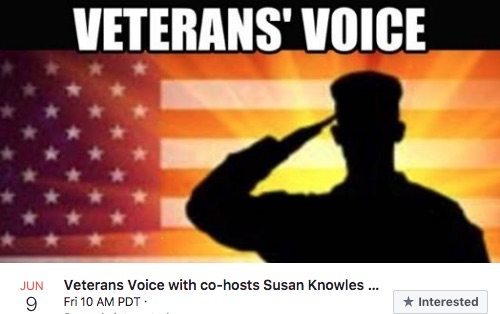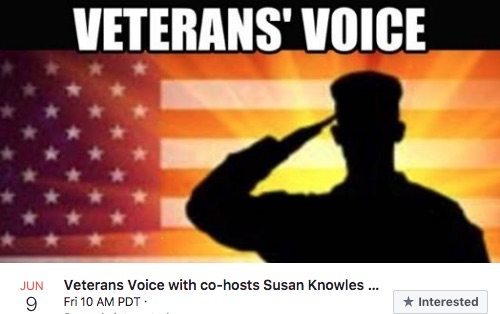 Join co-hosts Benjamin Krause and Susan Knowles as we bring you "Veterans' Voice," a new weekly LIVE video interactive show where we discuss issues important to our veterans and those who support them. 
You, the LIVE audience will be able to ask questions and comment during the show so make sure you don't miss a moment.
YES, if you have a question, you should tune into the show to ask it. Ben or Susan will do their best to answer whatever question you have.
The show will be broadcast on the Veterans' Voice of America Facebook page.
You can click on the Veteran's Voice of America Logo on this page to be taken there. The show will begin promptly at 10amPT/1pmET. 
Just go to the page, like it and you're in.
Please notify all veterans, military and those interested in veterans' issues to join us!
ABOUT THE CO-HOSTS
BENJAMIN KRAUSE 
Benjamin Krause is an award-winning veterans rights attorney and journalist who investigates government fraud, waste and abuse within the Department of Veterans Affairs.
He uses advanced cyber advocacy techniques to help disabled veterans access the benefits they deserve while ensuring VA does not misallocate resources. He is considered an authority on veterans' rights. His work has been featured within various media outlets including NBC, Bloomberg News, Foreign Policy, CBS, Fox News, Washington Times, National Review and Star Tribune.
Benjamin is a disabled veteran of the US Air Force where he served in its Special Operations Command. After receiving an honorable discharge, he fought with the agency for fifteen years to finally win his benefits. After the military, he studied economics at Northwestern University and attended law school at the University of Minnesota, where he graduated magna cum laude.
Benjamin writes about veterans' issues regularly on the website DisabledVeterans.org.
SUSAN KNOWLES
Susan Knowles is a licensed psychotherapist, former practicing Family Law attorney, online conservative radio talk show personality and producer at Stand For Truth Radio. Susan comes from a family of Veterans and champions Veterans' causes.She has appeared as a guest on The Glenn Beck Show, The Pat & Stu Show, The Doc Thompson Show and The Rick Amato Show on One America News Network.
Susan has also been a frequent guest on The Morning Blaze with Doc Thompson. In addition, she has made guest appearances on  AM 760 KFMB, 600 KOGO News Radio San Diego, 106.7 WYAY FM in Atlanta, News Radio 610 WIOD in Miami, Fla. and Overnight America with Jon Grayson.
Susan is also a former Contributor to TheBlaze.