VSO Exec Pay Shocker: Veterans Outraged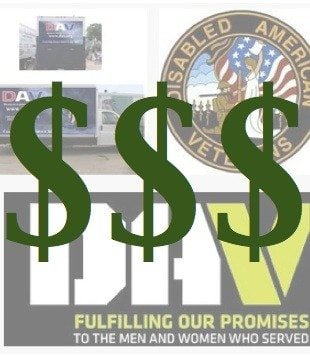 Veterans this week were outraged when they learned how much DAV executives are being paid.
DAV's top three executives earned over $1 million in compensation during 2011, according to the DAV's IRS Form 990. That revelation may force DAV from the moral high-ground it claimed recently in its quest to cap attorneys' fees in veteran disability claims.
"When I saw their pay, I immediately called the National Headquarters and asked for my dues back," said DAV lifetime member Ron Nesler. "I assumed these guys were making a good living, but I didn't think they were using the DAV as more of a get-rich-on-vets scheme."
Disabled American Veterans (DAV) is one of the largest veteran service organizations (VSO) in the country, along with the Veterans of Foreign Wars (VFW) and American Legion.
Collectively, these organizations represent millions of members nationwide.
Overall, these organizations provide a great service to many veterans. They provide free help with disability claims. They provide advocacy in Washington, D.C. They also assist in the health care delivery process with the Department of Veterans Affairs.
Despite these accolades, the organizations, particularly DAV, have come under scrutiny of the veteran community on social media.
This week on Facebook, veterans posted data-mining results from IRS Form 990's and other sources. The data allowed financial comparisons of most of the big veteran organizations, including compensation.
The IRS Form 990 is a public document that nonprofits like DAV are required to file with the IRS every year. These documents disclose the executive compensation and relevant expenditures as well as money from memberships.
This is what the veterans found. Compare the totals to Secretary Shinseki's compensation of $200,000:
| | |
| --- | --- |
| Name of Key Individual | Total Compensation |
| DAV | 2011 Form 990 |
| Arthur Wilson | $353,519 |
| Barry Jesinoski | $346,450 |
| Christopher Clay | $325,890 |
| J. Marc Burgess | $263,185 |
| Anita Blum | $254,726 |
| Joseph Violante | $250,520 |
| Garry Augustine | $240,358 |
| David Gorman | $208,130 |
| William Saunders | $160,458 |
| Total | $2,403,236 |
| | |
| VFW | 2010 Form 990 |
| Lawrence Maher | $238,513 |
| Robert Wallace | $223,410 |
| Allen Kent | $219,142 |
| Robert Greene | $197,028 |
| John McNeill | $171,980 |
| Richard Eubank | $163,679 |
| Richard Denoyer | $149,741 |
| Richard Kolb | $146,664 |
| Thomas Tradewell | $146,269 |
| Total | $1,656,426 |
| | |
| American Legion | 2011 Form 990 |
| Daniel Wheeler | $232,177 |
| William Justis | $163,871 |
| Peter Gaytan | $151,735 |
| Philip Onderdon | $151,183 |
| Jeffrey Brown | $149,991 |
| Patsy Waltz | $138,341 |
| John Querfeld | $109,513 |
| George Buskirk | $77,291 |
| Jimmie Foster | $68,726 |
| Total | $1,242,828 |
| |   |
When You Live In A Glass House, Don't Throw Stones
The research started on Monday when reports surfaced that DAV execs wished to limit the amount of money attorneys can make when representing veterans. Meanwhile, their own compensation was found to be shocking by many veterans.
DAV has had a longstanding distain toward attorneys in the VA claims process. The organization has been a vocal opponent to the  decision that allowed attorneys to get paid a reasonable fee when they help veterans during the claims appeals process against the Veterans Administration.
Working against progress, DAV executives wish to limit the options available to veterans. In a DAV-type perfect world, veterans would have to return to the old pre-1988 model.  Back then, only veteran service officers would represent veterans against VA lawyers and adjudicators. These service officers were generally nonattorneys.
Due to gross disadvantages, many veterans were unable to get their benefits. VA exercised its traditional "splendid isolation" decision making strategy – they could do whatever they wanted with no oversight. Further, traditional veteran organizations held a monopoly in helping veterans.
At that time, a law created around the Civil War restricted lawyers to only being paid $10 for their work to help a veteran get his or her benefit. The dollar amount changed very little until 2007. Once lawyers were able to get paid for their work the laws started to change dramatically in favor of veterans.
Specifically, veterans benefits are now considered "property" and as such a veteran has a Constitutional Right to their property which is protected by Due Process. This now includes property rights prior to the benefit award. In the 19th century, veterans benefits were considered little more than a gratuity in exchange for military service.
The Federal Circuit is now forcing the VA to live up to its claim that the VA system be tilted in favor of veterans – i.e. that it is nonadversarial and that vets get the benefit of the doubt. Things are changing. However, DAV would like to turn back the hands of time.
In response to the push against attorneys, veterans responded by researching compensation of VSO executives. Since VSO's claim attorneys make too much money, some veterans thought it was worthwhile to see how salaries added up.
Of the biggest VSO's, DAV had the highest total compensation of the bunch. When compared to Secretary Shinseki's salary of $200,000, the executive salaries of the VSO's have been questioned by these same veterans.
The Message From Veterans To DAV, "Pot calling the kettle black."
Here is what some within the veteran community had to say:
Keith Rose: "That kind of money going to the big wigs when the actual service officers are underpaid in comparison to their VA equivalent counterparts. The heads making $250k or more is ridiculous! What kind of NPO pays theirs heads that much money when they seemingly provide so little to the people they are supposed to be advocating for!?"
Garwin Redman: "Chevy Cobalt service, at Ferrari pay. Just like government."
Tanya Boozer: "People donate to these organizations to help veterans and their families NOT so the executives can get rich! If they want a six-figure income, they need to work for a for-profit company not a non profit."
Tyler Brown: ""They have turned a national disgrace into a subsidized wealth program of their own to which it becomes profitable to have a backlog because if it were not for the backlog their job would not exist at all"
Bryan Dyer: "Not as angry at their compensation as I am at the quality of work that they produce along with the absolute archaic structures that I've seen. They need new blood, young blood, who are able to incorporate technology, program management, and lead this new wave of veterans into the future. CEO of non – profits make tremendous amounts of money. I don't care about them making money due to the responsibility they have on their shoulders. I want new programs that are helping veterans get jobs. Why aren't they leading the way with WWP, IAVA, Hire Heroes, and various other NSO's to develop positions with top fortune 50 companies."
Thomas Bruce: "Just more of the "elite" screwing the commoner again. It happens unfortunately in most aspects of "caring" entities."
Special Thanks
The Facebook Page "Gulf War Veterans" was a big help with this research.