YouTube: Your First Voc Rehab Meeting And How To Avoid These 3 Mistakes Veterans Commonly Make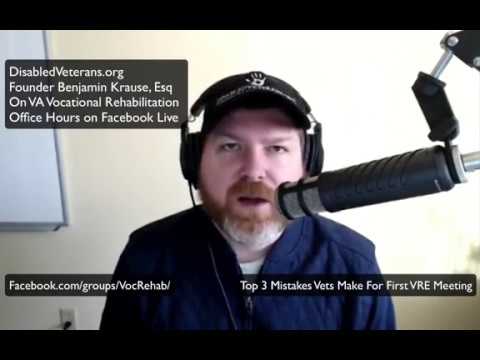 This "office hours" in our Facebook group addresses the top 3 mistakes veterans commonly make during their first Voc Rehab meeting for benefits.
I have been researching and investigating VA Vocational Rehabilitation (Voc Rehab) for years and even moderating our group since I founded it in 2009. After years and years of listening to the experience of veterans, there are three common mistakes many make when first appearing for the entitlement appointment before a Voc Rehab Counselor.
Those mistakes, or here we call them "fails," tend to be:
Failure to prepare by researching the program
Failure to fill out required documentation
Failure to bring supportive evidence.
I go into greater depth in the guide I wrote that funds this website, Voc Rehab Survival Guide, but I wanted to hammer away at these three during our office hours yesterday to help newcomers understand what they need to avoid.
I also wrote a freebie guide on the Top 5 Lies Voc Rehab Counselors Tell Veterans that explains some of the false denial justifications Voc Rehab Counselors consistently tell veterans regardless of the facts or laws.
RELATED: Get The Facts On The Five Retraining Tracks VRE Uses
Top 3 Voc Rehab Mistakes At First Meeting
First, it is imperative to conduct your own research about the program, about your possible career goals, your disabilities, and how your disabilities negatively affect your ability to gain and maintain suitable employment.
Second, it is imperative to fill out the required documentation Voc Rehab gives you prior to the meeting. Generally, this documentation is the Rehabilitative Needs Inventory form and the online CareerScope aptitude test. Be careful to clearly explain your disabilities and other limitations as they relate to why you need support from Voc Rehab.
Third, it is imperative to bring with you other forms of evidence that support your claim. This can include notes of support from your medical doctor or former employers. It can include buddy letters from your spouse or anyone else familiar with your situation.
RELATED: Individual Unemployability Myth And Your Voc Rehab Benefits
What This Means
The possibilities are endless when it comes to applying for Voc Rehab benefits, which is why I wrote a book on it with corresponding videos to explain the benefit.
Here is one thing you can count on regardless of the quality or integrity of your Voc Rehab Counselor. VA is basically a big government insurance company that will never give away benefits without a fight when you are seeking something expensive, like a masters degree or law school or small business support. This makes sense for an agency that used to call a spade a spade back in the day called the Bureau of War Risk Insurance.
YOUTUBE: Get VA To Pay For Your Reasonable Accommodations
VA Is An Insurance Company, Get With It
Yup, VA used to call itself exactly what it is – basically a governmental version of Allstate.
The difference is that the Department of Veterans Affairs is required to support veterans and give us the benefit of the doubt whereas insurance companies are openly adversarial to claimants. Instead, VA merely pretends to not be adversarial.
RELATED: Key Terms You Need To Know For Voc Rehab Claims
And like all things adversarial, before you go to battle, you better sharpen that battle ax. Here, the battle ax is your knowledge of the program, of yourself, and of the options you seek from the agency.
Veterans commonly fail to recognize they are up against an insurance company, which is explained in the video above.
More Details – Support Us
For more detailed strategies on the first appointment, I suggest checking our Voc Rehab Survival Guide. The strategies in the guide consistently help veterans prepare for their own battles with Voc Rehab and win.
Plus, with each purchase, you support what we do here… and that is investigating VA scandals and schemes to expose the truth to American taxpayers including disabled veterans.