Does Attack On 'Official Time' Really Harm Veterans As AFGE Claims?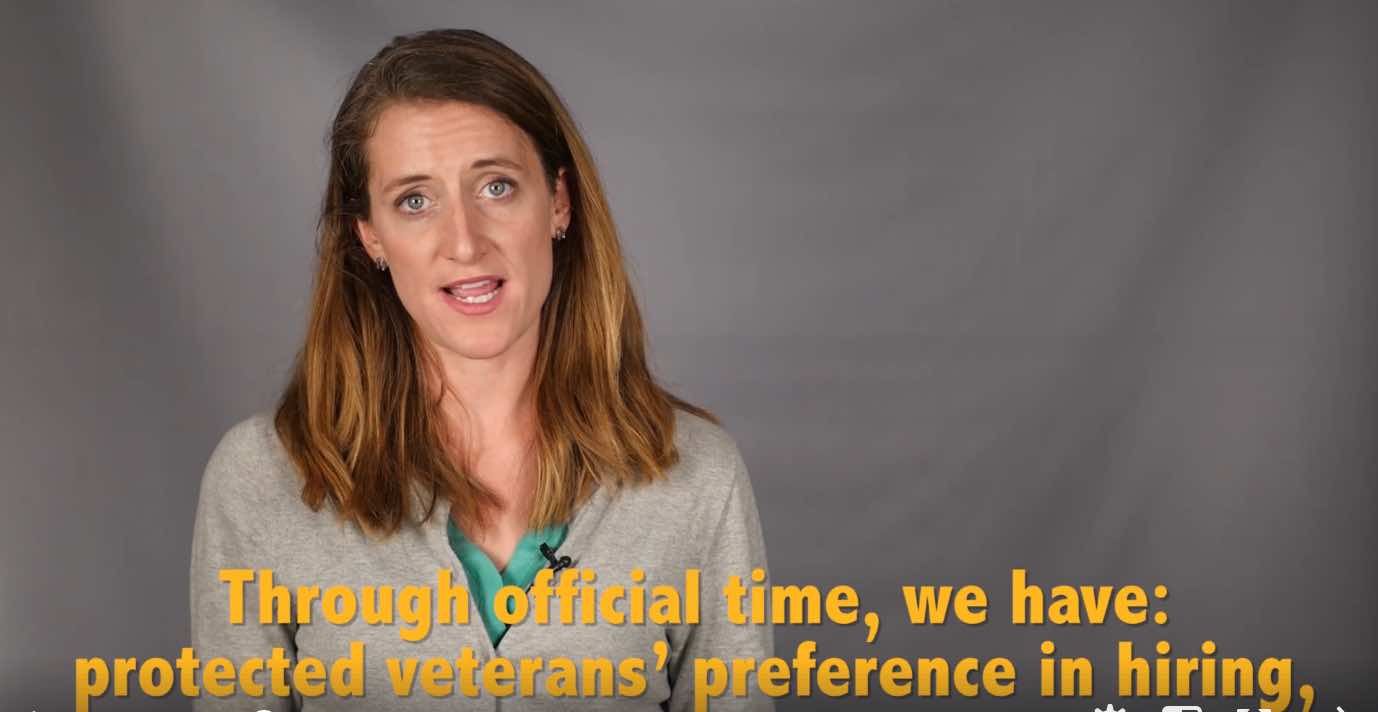 In a "disgusting" propaganda video, an AFGE union official tries to tie the present move to curb "official time" as an attack against benefits like veterans preference.
I received a link to the union video embedded here with a comment calling the propaganda piece a complete joke and an insult to the intelligence of VA employees and veterans, alike.
The spokesperson in the video claims "official time" has protected veteran hiring through veterans' preference and even expedited the processing of benefits claims.
What is "official time"? That is the time VA allows its employees to work on union issues while earning their paycheck from Uncle Sam.
Of course, if you believed what this AFGE video says, you would think it was some creation of God from Mount Sinai comparable to the 10 Commandments. But last I checked, J. David Cox is certainly no Moses.
What planet was AFGE was on when they created this video, anyway? Since when did AFGE protect Veterans Preference?
Last I checked, VA hiring of veterans in jobs other than "janitor" is a complete joke. As you can tell by watching the video, the assertions in it are so loopy, I thought I would ask my favorite VA whistleblowers to comment.
VA Whistleblowers On AFGE Union Propaganda
"The statement about Vet Preference in hiring is a joke," said Shea Wilkes, a well-known VA whistleblower, veteran and union member. "Hiring practices at VA are manipulated at every level. I've never seen the union fight for Vet Preference.
Wilkes went on to point out that VA has even contracted away Veterans' Preference in contract negotiations with the union, "In fact Veterans get 2nd Preference over current VA employees, which is in the union's contract with VA."
On position types, VA tends to shy away from hiring educated veterans while instead allocating low-level jobs like "janitor" or "clerk" with regularity.
"The problem lies in the fact that the vast majority of vet employees at VA hold food service, janitorial, and clerk type positions," said Brandon Coleman, a disabled veteran turned counselor who exposed wrongdoing at Phoenix VA. "The more educated we get the numbers drop dramatically."
The overall tone and message of the video is most concerning.
Coleman called the video "disgusting" and a typical example of "how AFGE manipulates veteran sentiment to further its own agenda".
Social worker Germaine Clarno, another well-known whistleblower, said the spin job was typical of AFGE propaganda, "They are no different than the VA – – masters at spinning the truth."
Union Capitalizing On Positive Veteran Sentiment
Personally, I am tired of AFGE burying itself in the flag and capitalizing on positive sentiment for America's veterans while cutting us off at the knees when we seek jobs that do not require pushing a broom or counting beans like a clerk.
At VA, we have a lot of veterans who are "Yes" men at the top. These are usually career officers cashing in for a second pension.
Then, the other lot is caught pushing brooms.
Not all veterans fit this mold, and I am pleased to say I am working with a few high level veterans turned VA executives who are pushing to get more high performing veterans into places of authority within the agency.
But that is certainly not with the help of AFGE.
Comment On AFGE Facebook Page
I encourage you all to take a look at the video and provide your comment on the AFGE official Facebook page. It is important they know that we know what shameful games they are playing to justify "official time."
AFGE Union Transcript
Taking away official time is union busting, plain and simple.
Official time is a vital tool used by employees and management used to address workplace issues quickly and amicably.
Through official time, we have:
Protected veterans' preference in hiring, prevented discrimination against veterans with PTSD, and expediting the processing of benefits for veterans and their families.
At the VA, official time is used to improve qualify of care, it empowers and protects employees who blow the whistle on issues big and small that reduce quality of care.
If Congress eliminates official time, taxpayers will foot the bill for lengthy and costly litigation to address issues that are handled internally at far less cost.
VA employees are passionate about their mission, which makes sense since 33% of VA employees are veterans themselves.
Eliminating official time will not help a single veteran get better or faster quality care, but in fact could lead to the opposite, by distracting employees and management from doing their jobs.
Instead of wasting taxpayer dollars on anti worker actions, Congress should work on filling the 45,000 vacant positions at VA. And reducing the layers of management so that VA can use those resources to hire thousands more direct care providers.
What's Up With That?
What do you think of the assertions in the video? Are these accurate claims or more spin intended at distorting the accomplishments of the union while ripping off taxpayers who fund "official time" to begin with?
If "official time" was really accomplishing its intended goals, would we still have such a whistleblower retaliation problem?
And what about the assertion that "official time" has resulted in processing veterans benefits claims faster? Excuse me?
Last I checked, there was a claims backlog and an appeals backlog, all within the past decade and both of which are still problems today.
Thank God for "official time" though, whatever it is being used for.
Be sure to go to the official Facebook page for this video at the following link and comment to let AFGE know what you really think: https://www.facebook.com/afgeunion/videos/10155280179739770/