AFGE Union Protests Staff Shortage At Veterans Affairs Headquarters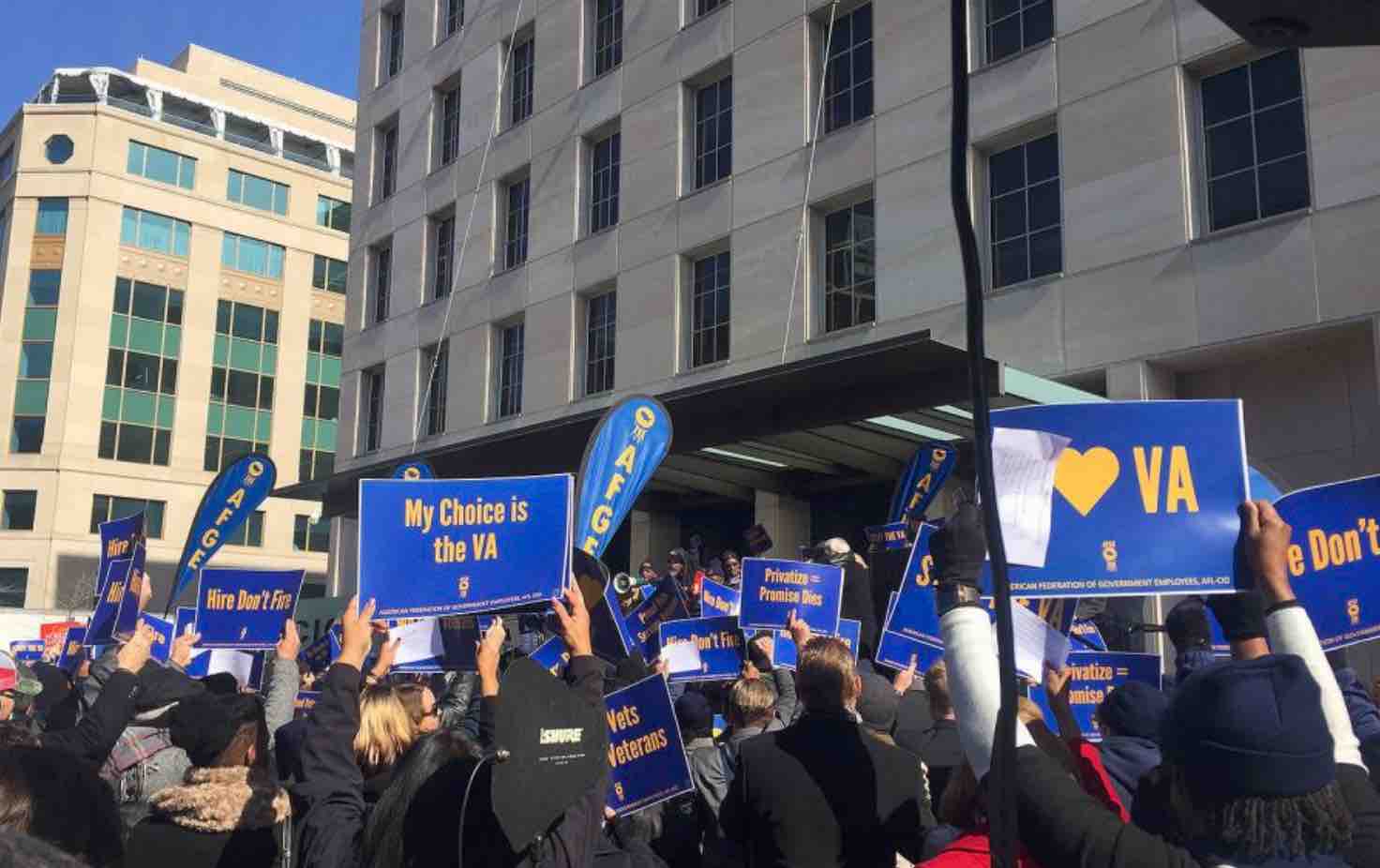 An estimated 200 protestors including AFGE union workers protested staff shortages and its perceived dismantling of Veterans Affairs health care by President Donald Trump.
The protest was organized by the American Federation of Government Employees (AFGE). Employees were armed with noisemakers and carried signs reading "Staff the VA" and "Hire, don't fire". The group of protestors enjoyed speeches from Sen. Bernie Sanders, I-Vt.; Rep. Mark Takano, D-Calif.; Rep. Ruben Gallego, D-Ariz.
"We want to march on the VA," said AFGE National President J. David Cox. "We want the secretary to hear our voices loud and clear."
Typical AFGE Fear-Mongering
Speakers fear-mongered in perpetuating the belief President Trump is singlehandedly dismantling VA health care. Democrats and the union have made hay promoting its contrived moral panic over the issue that is premised on a false understanding of the origins of privatization of the federal government.
RELATED: Politifact – Clinton Claim Trump Will Privatize VA 'Mostly False'
Brief History Of Federal Government Privatization
If you are a reader of this website, you know my longtime position is the agency's employees engaging in fraud and endangering the lives of veterans with waitlist manipulations are truly responsible for any moving of funds away from the agency toward the private sector. In other words, had VA employees not endangered veterans' lives with the waitlist fraud, Veterans Choice would never have happened.
Further, much of the agency's privatization started under President Bill Clinton and accelerated under Presidents Bush and Obama. Obama did not stop the trend and scandals exposed by the press under his watch that were allowed to fester until being exposed led to Veterans Choice. It also led to the privatization of much of the disability compensation claims adjudication process.
RELATED: Did Clinton Administration Create Present Veterans Affairs Dysfunction?
President Trump will no doubt carry the mission forward, but any concerns about privatization are purely political and devoid of a historical understanding of privatization of the federal government through public-private-partnerships starting decades ago.
AFGE On Veterans Affairs Vacancies
According to AFGE, the agency still has 49,000 vacancies. Many of these vacancies existed prior to President Trump taking office. AFGE argues the continued failure to fill these vacancies lowers morale and forces burnout by existing employees in understaffed positions.
RELATED: Waitlist History – Fixing VA Like Boxing A Glacier
It is noteworthy to point out Secretary Shulkin promised to hire 1000 mental health care workers last year. The agency hired 900 but lost 945 that same year.
There is no question the agency is understaffed in certain areas and needs to be fully staffed to function well.
AFGE claims it represents the interests of 230,000 VA workers.
Trump To Increase VA Budget – Highest Ever
Despite the criticism, the Trump administration is pushing for a $200 billion budget for the fiscal year 2019, which is the largest budget ever proposed for the Department of Veterans Affairs.
My take here is the agency should properly staff its various positions. Failure to staff parts of VA does lend itself to further scandals related to continued use of waitlist frauds to make numbers look better than they are. This fraud tactic is not a new invention, but Trump's failure to staff the agency now that he is in charge is irresponsible.
However, since Trump has failed to put forth political appointees to ensure proper management of the agency, I do not expect much to happen, especially now that Shulkin is being pushed out alongside Bowman.
When any turnover occurs, it means lifelong bureaucrats win. Veterans lose. Every time. Each leader usually stays about two years and is ultimately pushed out by some scandal or another. The agency will never be fixed.
Source: https://www.stripes.com/federal-unions-march-on-va-headquarters-to-protest-staffing-shortages-1.511543