Bay Pines VA Hits Back Against Malfeasance Allegations, FOIA Fees Outrageous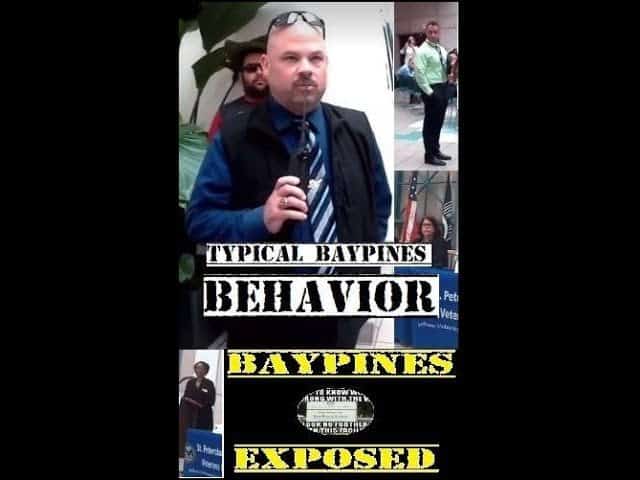 At least one veteran linked to the Facebook group Bay Pines Exposed took time to record and produce on YouTube his questions of Bay Pines VA director Suzanne Klinker about wrongdoing and obfuscation of problems at the facility.
One line of questioning that jumped out at me was the veteran's question about extremely high FOIA fee for records requested of $1,077. He called out Klinker for obfuscation of malfeasance by hiding behind massive FOIA fees. When asked to reduce the fees, Klinker flatly said, "No, I will not."
The veteran quickly retorted, "What do you have to hide?"
RELATED: Secret Recording Program At VISN 12 Health Facilities
Later during the meeting, Pay Pines VA police repeatedly instructed the veteran to sit while others speak even though he was standing in the back of the room where others were clearly standing, too.
I know some of you may be asking yourself, ' Slow news day, Ben?"
I picked this story because the use of a recording device while at a townhall struck me as interesting enough to bring up.
RELATED: Smile, VA May Be Recording You
Create Your Own Evidence
Veterans too often rely on word of mouth stories rather than using concrete evidence like recordings, photographs or the like. Where legal, I encourage all veterans to make use of the same or similar recording devices VA uses to spy on its employees and veterans at these facilities.
Be sure such recordings are legal in your state because there are a few states that require consent.
That aside, do not be afraid to push back against the criminal leadership within various VA facilities across the country. They will not stop engaging in criminal fraud, waste, and abuse, and the federal employees at the top believe they are above the law.
RELATED: VA Illegal Spied On Hill Staffers During Investigation
Take action. Do not hide behind the cowardice of anonymity. Get in their face and push back. And do it legally.
While I cannot speak for the quality of the taping linked here, I'll leave that up to you to assess, I can appreciate the veteran who took the time to record and publish the recording for outsiders like us to watch and analyze.
Remember? HVAC Confronts VA For Spying On Veteran At Florida Hospital, Circa 2013