Contractor Announces Plan To Fix Non-VA Fee Basis Claims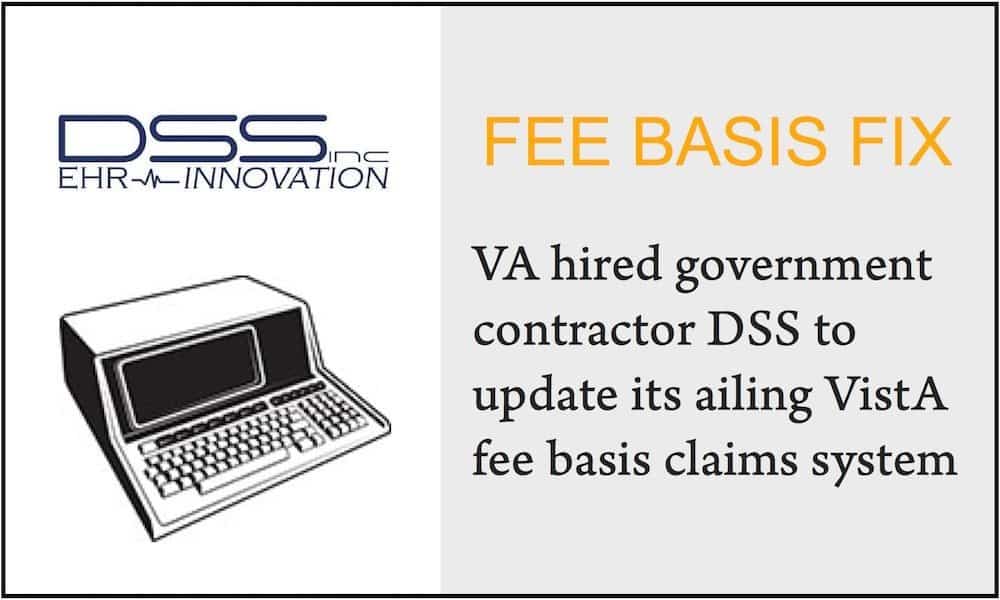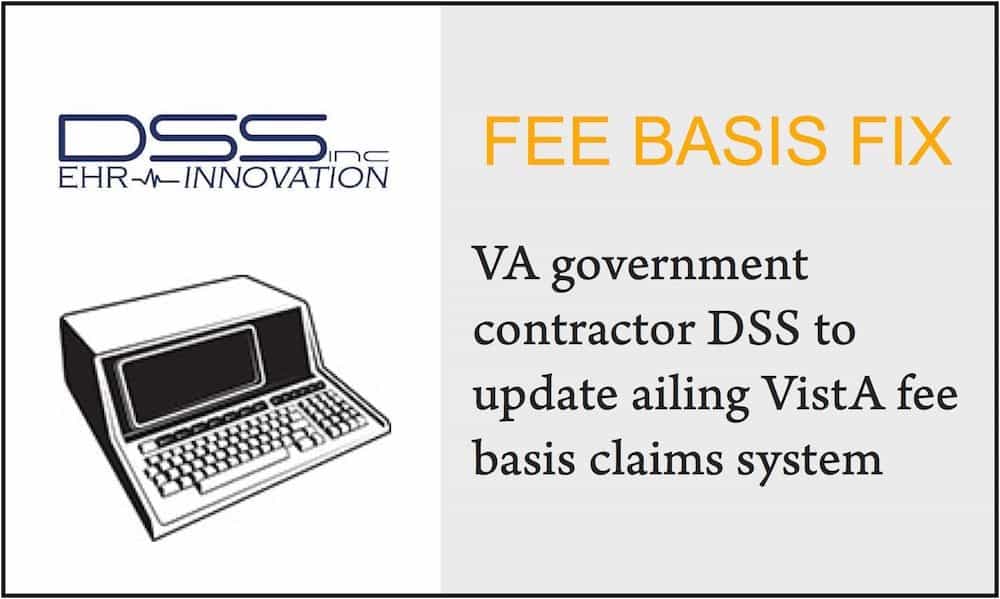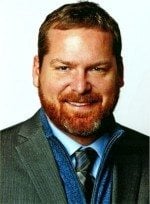 Government contractor DSS Inc a new plan to fix VA's failing non-VA fee basis claims processing and management system with certain software updates – self-funded – to improve the system they put in place in 2009.
The automation plan will reduce processing time by 90% and lower costs. DSS is the leading commercial provider of VistA-based systems. If the plan works, it will help many veterans eligible for non-VA care who file fee basis claims get the care they need more quickly. Right now, that system is a complete mess across the country.
UPDATE: DSS contacted me to clarify that this plan to fix the Fee Basis part of VistA is in connection to services and software DSS implemented for VHA starting in 2009 and not a new contract.
NEW PLAN TO FIX FEE BASIS CLAIMS SYSTEM
According to BusinessWire, the new plan is as follows:
The new functionality enhances the claims management process for the Department of Veterans' Affairs (VA) Non-VA care claims by centralizing data and further automating the adjudication process. The new browser-based version of the application suite complies with VA Enterprise Technical Architecture (ETA) as well as VA future-state design patterns and is scalable to support current and expected increases in claims processing workload. These enhancements will greatly assist in processing the ever-increasing number of Non-VA Purchased Care claims to ensure that medical providers who treat our nation's veterans receive timely and accurate reimbursement. The enhanced system will also assist the VA in managing regulatory changes (such as the Veterans' Choice Act) as they arise.
FEE BASIS UPDATES
The new solution upgrades include the following capabilities:
Automated processes reduce the time to intake claims by over 90 percent
90% reduction in IT costs with a fully browser-based interface
80% reduction in staff login times via Single Sign-On (SSO)
30% reduction in claims processing costs with rules-based auto-adjudication
Centralization of access, storage, and reporting of data
Single point of entry for all VA staff
Instant, organization-wide visibility to stakeholders via dashboard metrics of national data
Standardization of processes through user-configurable rules, policies and settings
The fee basis system has long been plagued with processing problems that resulted in enormous delays and failures in providing payment for medical services. These failures undermined relationships between veterans and their doctors.
Across the country, VA has experienced numerous data integrity problems with its VistA linked systems that allowed manipulations resulting in the wait list scandal going back to at least 2001.
UPDATE:
DSS asserted in their call to me that the company was not connected to the scheduling part of VistA that was connected to the wait list scandal. They further expressed a desire for me to not mention the wait list issue in VistA when writing with their work with VistA. They did not want the reference point to remain in my article concerning the global problems with VistA. I reassured them that one cannot mention VistA without also reminding the public of problems VistA experienced related to the wait list manipulations even if DSS products were not linked to the bad behavior.
They did not want the reference point to remain in my article concerning the global problems with VistA. I reassured them that one cannot mention VistA without also reminding the public of problems VistA experienced related to the wait list manipulations even if DSS products were not linked to the bad behavior.
We do know the earlier version of Fee Basis within VistA was quite problematic for veterans seeking Fee Basis benefits from non-VA providers. That knowledge alone certainly warrants a skeptical review of this "offer" to update VA's troubled VistA through a "self-funded" initiative.
I will file a FOIA for the contract in 2009 to verify the claims from DSS today.
RELATED: VA Awards VistA Contract BPA Renewal in 2009
2009 VISTA CONTRACT RENEWAL
Following my call with DSS, I decided to do some additional digging on the 2009 contract they referenced.
To provide some additional context, in 2009, VA renewed its annual Task Order contract under VA's existing Blanket Purchase Agreement (BPA). At the time, such a contract was worth $24 million for that period. VA awarded the renewal to QuadraMed Corporation. Quadrupeds "valued subcontractors" included DSS, Inc. Two other subcontractors noted were MEGAS and Unicor.
In a 2009 article about the BPA renewal, BusinessWire wrote:
This renewal includes the term license for QuadraMed's Encoder Product Suite (EPS), and for related training services for all Veterans Affairs (VA) medical centers and existing Consolidated Patient Accounting Centers (CPAC) nationwide during the government's 2010 fiscal year (FY10). All VA medical centers have been licensed to use QuadraMed EPS since 2005 under the current BPA.

QuadraMed EPS is a comprehensive VistA-integrated Health Information Management (HIM) and Revenue Cycle Management solution that enables VA medical centers to enhance workflow through efficient inpatient and outpatient coding, compliance, claims editing and revenue-cycle management.

"VA medical centers serve a critical role in our nation's healthcare delivery for our veterans. The VA's renewal for FY10, and its successful deployment of QuadraMed technology since 2005, helps to demonstrate the tangible value derived from our solutions. We are pleased to continue this strong partnership and look forward to a productive 2010," said Duncan James, QuadraMed President and CEO.
Based on past experience, it certainly appears that the annual Task Order contract may be up for renewal again as it was in 2009. I would wonder if DSS Inc's current generosity to "self-fund" the updates to systems they were already maintaining is a typical commercial enticement linked previous services or perhaps it is made with the aim of gaining favor for a future contract.
Either way, let's hope the fixes / updates help veterans get smooth and efficient access to competent non-VA health care.
DSS INC GSA PRICE SCHEDULE – UPDATE 12/31/15, 1:20AM
One reader just got a hold of the DSS Inc GSA price schedule for what the company charges to work on VistA systems. If you skip to page 55, you can start looking over how much DSS charges and come to your own conclusions. Here are a few examples that are broken down per facility:
Resource Management System – $497,000
Annual License To Fix Bugs – $160,000
Fee Basis Compliance Suite – $118,000
Fee Basis Claims System – $193,000
Release of Information Search Module – $27,000
Fee Basis Payment Module – $50,000
Chemotherapy Manager – $126,000
Physician Portal – $62,000
READ: Document Storage Systems, Inc Price Schedule
I would be really curious to see what you all can find based on this price schedule. I am beginning to wonder what they meant behind their "self-funded" upgrade. Perhaps they will make the money back on the down the road.
Source: https://www.businesswire.com/news/home/20151217006265/en/DSS-Upgrade-Veterans-Administration%E2%80%99s-Non-VA-Care-Claims