Democrats vs Republicans on Secretary Shinseki Subpoena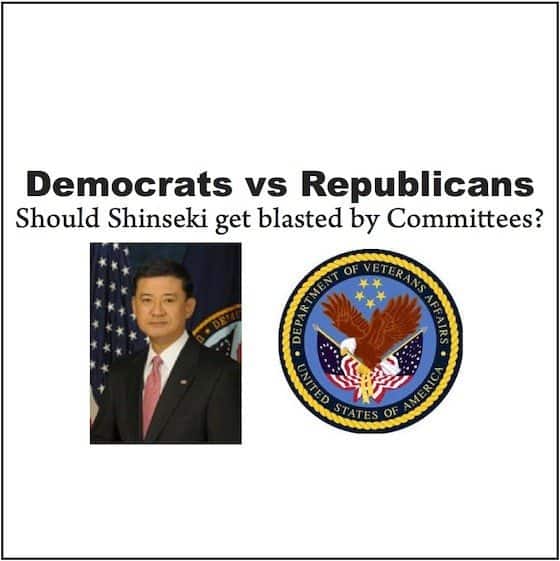 On Thursday, the House Committee on Veterans Affairs voted to subpoena VA Secretary Shinseki. The Committee intends to question the Secretary over emails about the alleged destruction of a secret wait list in Phoenix.
VA denies the existence of a secret wait list. VA doctors claim the secret wait list existed.
Despite heightened rhetoric from the American Legion and Concerned Veterans for America, Secretary Shinseki has refused calls for his resignation. In a statement to the Wall Street Journal, Shinseki stated:
"I serve at the pleasure of the president," Shinseki told the newspaper when asked whether he would step down. "I signed on to make some changes. I have work to do."
The White House has yet to change its position on the Secretary. According to press secretary Jay Carney, "The President remains confident in Secretary Shinseki's ability to lead the department and take appropriate action."
Democrats vs Republicans on Veterans Affairs
The parties are now squaring off on the scandal. In my trips to Capitol Hill, I have noticed two distinctions between the parties that center around the union. Democrats are pro union and anti outsourcing of VA tasks the agency is bad at. Republicans are pro outsourcing bad tasks and anti union growth. Basically, it is Pro Union vs Pro Contractor.
Republicans in the House Committee on Veterans Affairs have announced their subpoena of Secretary Shinseki. That hearing will focus specifically on emails and the destruction of the list. There will be fireworks, and Republicans will likely hammer VA.
Meanwhile, the Senate Committee on Veterans Affairs, led by the Senate's Democratic majority, has announced a hearing of their own called, The State of VA Health Care. There, Democrats will likely diminish the problems in Phoenix. They will appear slightly tough and VA officials will explain away VA's problems by pointing out how big the agency is. That is my prediction.
Here is the down and dirty. Democrats almost always laud VA for doing a great job with its huge workload and huge staff size regardless of the crisis type, with the exception of Bob Filner rocking VBA Under Secretary Hickey. Otherwise, it is guaranteed that VA officials and Democrats will offset any scandal with a statement saying something like, "We know you messed up, but your agency is just so big; it would be hard for anyone to manage such a work load."
Personally, I think it is irresponsible to contextualize VA this way because it diminishes the pain and suffering of its victims at the moment of pain. In the civilian sector, no civilian hospital would hide scandals with such vigor as VA by hiding evidence with impunity regardless of the size. I am unclear why we point to size as a scapegoat during a crisis.
Senator Bernie Sanders' press release
Last night, I read through Bernie Sanders' press release and was very disappointed. While I like some of his positions as an Independent, he clearly pulls out his Democrat trousers when VA is on the hook.
Exactly what I expected above was contained in his press release. He even sunk as low as to remind everyone that VA hospitals are ranked among the best in the nation in a VHA survey… of veterans who do not get care anywhere else and do not know the difference. Making matters worse, he basically verbatim repeated the White House's talking points on the IG investigation.
Here is Sanders' press release. I underlined the parts that I found offensive in light of the seriousness of the scheduling scandal that is fast spreading across the country:
Secretary Shinseki to Testify on VA Health Care

WASHINGTON, May 8 – Senate Veterans' Affairs Committee Chairman Bernie Sanders today announced a hearing next Thursday on "The State of VA Health Care."

Department of Veterans Affairs Secretary Eric Shinseki will be among the witnesses at the hearing that Sanders said will focus on what the VA health care system does well and how it can improve care for veterans.

Referring to allegations that patients died while they were on waiting lists at VA hospitals in Phoenix and elsewhere, Sanders previously announced that his panel will hold a hearing immediately after the independent Office of Inspector General sorts out the facts and submits its findings.  "I take these allegations very seriously," Sanders said. "I expect the inspector general will conduct the investigation thoroughly and provide this committee with an objective analysis of these allegations."

Meanwhile, Sanders said the committee at Thursday's hearing will take a broader look at the overall VA health care system that serves 6.2 million veterans at hundreds of VA facilities throughout the country. "In fact," he said, "some 200,000 veterans get care every single day and independent studies consistently show that VA provides, in general, excellent care to our veterans."

A survey released last month found that veterans ranked VA hospitals among the best in the nation. The American Customer Satisfaction Index said VA hospitals scored equal or better ratings than private hospitals.

"Nonetheless," Sanders said, "in a system as large and bureaucratic as the VA, it is imperative that we uncover the problems that exist in the system and address them boldly. The veterans of our country deserve the best-quality care that we can provide and I intend to do my best to make sure that happens."
What do you think Congress should do and ask Secretary Shinseki? And before you comment below, just know that I am an independent voter who exposes faults regardless of whether it is a Republican or Democratic issue. For example, Obama, Republicans Seek $23 Billion Disability Pay Cut.
Read More:
https://www.cnn.com/2014/05/08/politics/va-shinseki/
https://www.sanders.senate.gov/newsroom/press-releases/secretary-shinseki-to-testify-on-va-health-care