Facebook, Big Brother And Vet Org 'Protecting' Veterans From 'Fake News'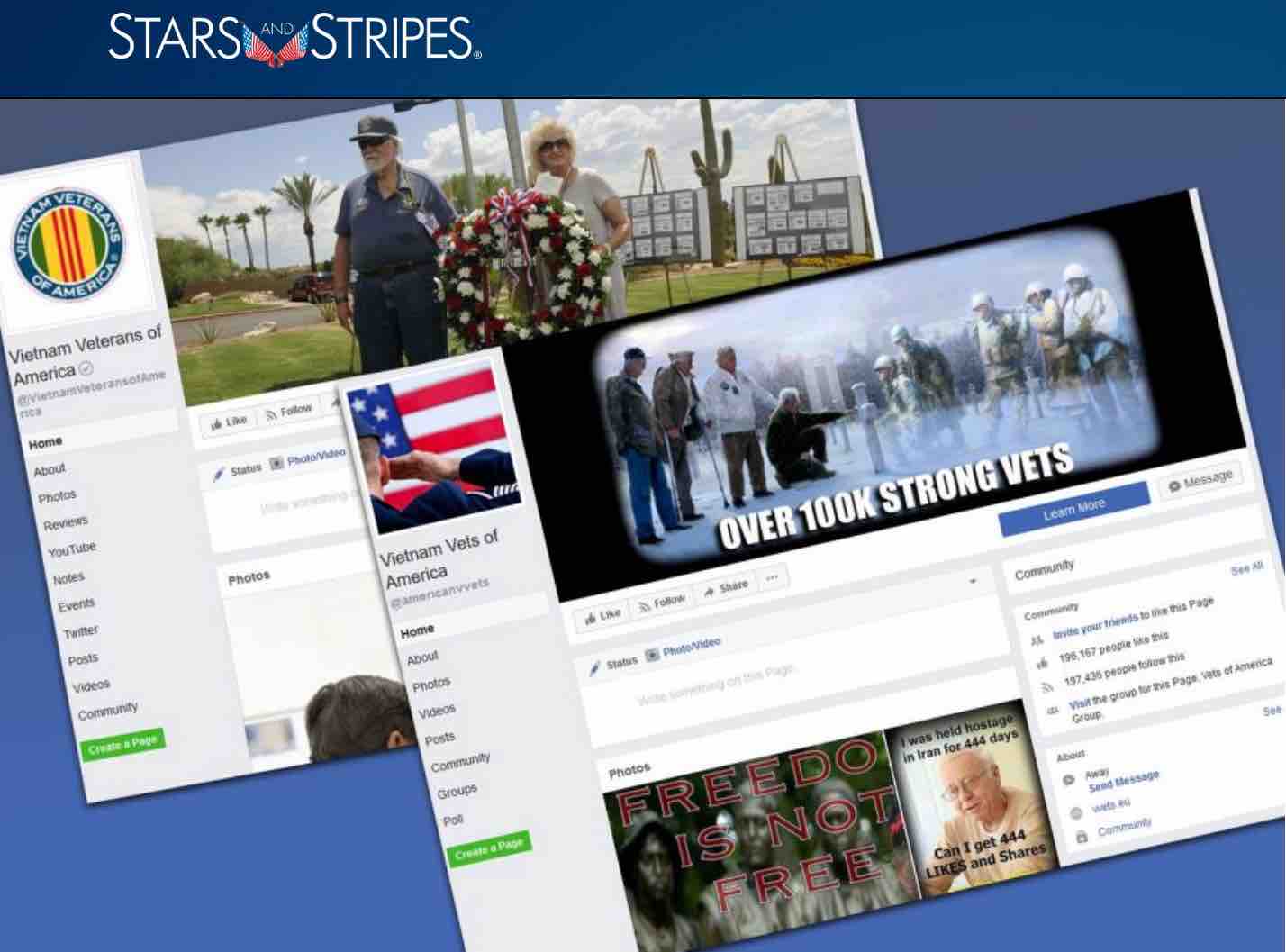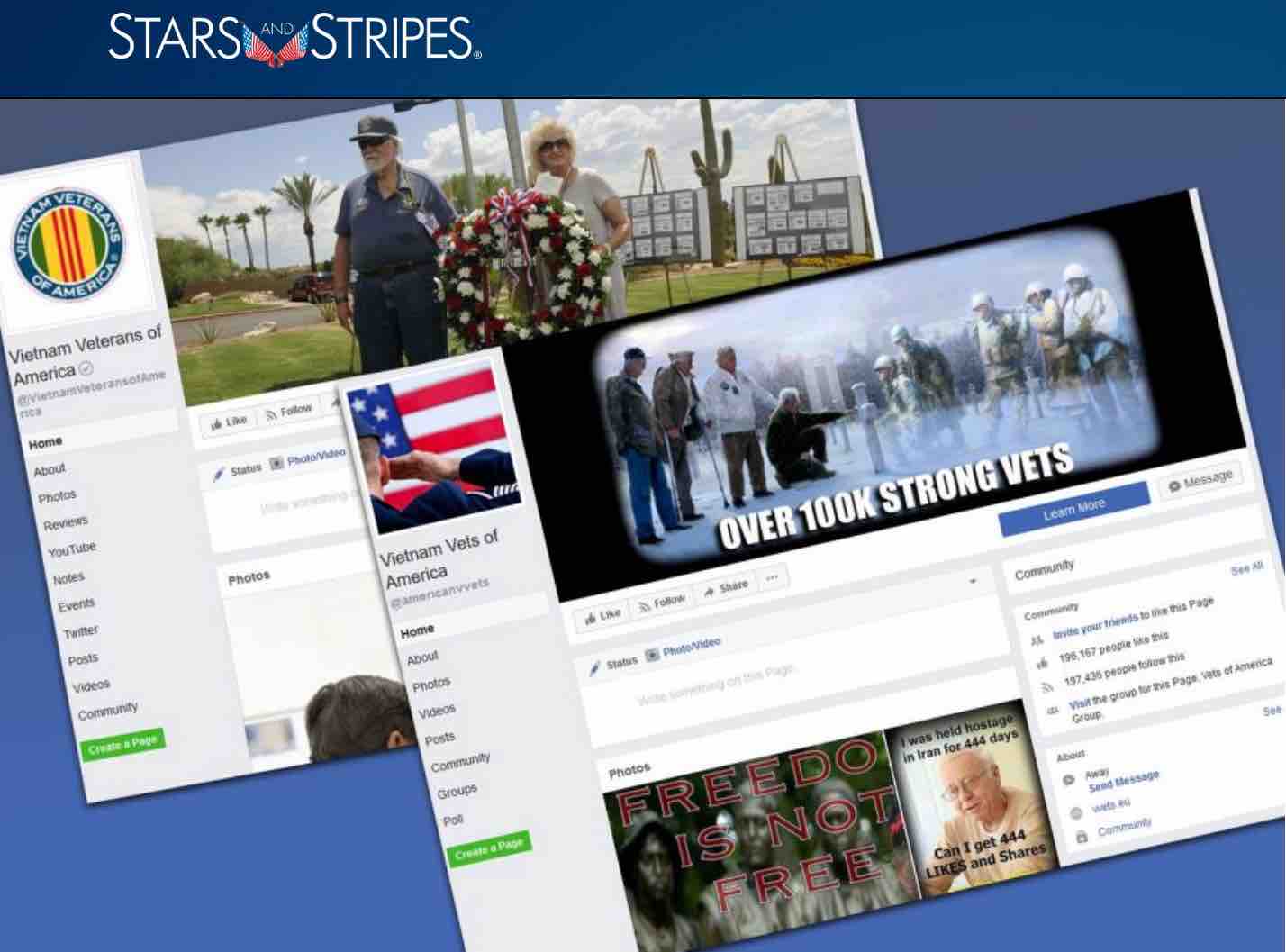 A vet organization, unhappy with a competing Facebook page publishing "politically divisive posts," successfully called on Big Brother (VA) to shut it down.
On Tuesday, Facebook shut down a page at the request of Vietnam Veterans of America (VVA), VA and DoD for supposedly violating the rights of the congressional charged veterans service organization. The other page had over 200,000 followers, which was almost twice the following of VVA, and it published political posts VVA did not agree with.
VVA initially filed a complaint with Facebook about the page, called Vietnam Vets of America, claiming the page was deceiving veterans with propaganda similar to the alleged propaganda or "false perspectives" that Hillary Clinton now says cost her the 2016 election.
The important word being "vets" versus "veterans" in the name, and of course, VVA does not agree with the messaging used by the page dubbed an "imposter" group.
Jumping on the Russian "fake news" boogieman, VVA called on VA and DoD to take action to protect troops and veterans as thought police. Shortly after calling on Big Brother for help, Facebook reversed its previous refusal to shut down the competing page.
Facebook initially said the page was different enough to not infringe on any terms of use, but it later reversed after VVA upped its game.
Despite VVA throwing around the fake news Russian narrative, based on the Stars and Stripes report, it was not known whether the Vietnam Vets of America Facebook page was actually run by a foreign government.
Think this move might have broader implications down the road as leadership in the veteran community runs faster and faster toward the paternalism and thought control of 1984?
Process Of Facebook Investigation
At first, Facebook refused to shut down the page asserting the two pages were different and the different name of the offending page was in fact different enough to not violate its policies. Facebook instead suggested VVA educate its members about "false perspectives" on the other page.
Unhappy, VVA then enlisted the help of Big Brother, aka the Department of Defense and Department of Veterans Affairs, asserting troops and veterans need the federal government to protect us from fake news, false perspectives and propaganda on social media.
VVA essentially called on the agencies "to get involved in stopping foreign entities from targeting veterans and servicemembers online." Nothing in the Stars and Stripes news article suggests the page was run by a foreign entity.
Regardless, the absurdity of this position, however, is that many veterans were trained to create propaganda and fake news of the same ilk we supposedly now need protection from. Is VVA basically saying those once entrusted with the highest secrets of the nation can no longer be trusted to successfully discern between fake news, real news, and propaganda while looking at memes of kittens on social media?
I think it's a bit absurd and insulting to my intelligence, but since when has absurdity or insulting the intelligence of veterans stopped a veterans service organization from marching blindly into the abyss?
The more familiar I become with VSOs and their relationship with VA, the more apparent it becomes that these organizations work together to corrale veterans by controlling the narrative through media.
VVA Calls On Big Brother To Lean On Facebook
Once DoD and VA got involved, Facebook suddenly reversed its position and shut down the offending Facebook page. It claimed the page violated community standards for not "protecting other people's rights."
In an interview, organization president John Rowan indicated VVA was concerned the offending Facebook group was targeting veterans with "junk news," propaganda, conspiracies and hyper-partisan political content. His complaint comes on the back of an Oxford University study published earlier this month that addresses the role of such media in the 2016 election.
Thanks John for saving me from being beguiled.
VVA apparently wants to protect veterans from the Russian operatives many of us used to combat during the Cold War. And, it wants to do this by calling on Big Brother to save us.
It is noteworthy that more veterans signed up for the offending page, with a membership over 200,000, than signed up for VVA's actual page.
VVA Now Wants VA To Police Social Media To Protect Vets
VVA celebrated its big win on Tuesday, but voiced its dissatisfaction with using its own resources to contact Facebook, DoD and VA to get the matter resolved. Instead, VVA wants DoD and VA to take on a more paternalistic role by politicking social media to protect veterans.
"We can't afford to dedicate staff time and funds to play whack-a-troll on the internet to protect our members from deception," Rowan said. "We're encouraged by Facebook's action this week but want to re-emphasize that we believe the VA and DOD have a role to play in protecting troops and veterans from influence and deception by foreign actors."
What exactly does this mean to protect troops and veterans in a way the government has not already been doing? Isn't our government already doing this? We already know Big Brother is good at using such tactics against the public to trick us into going to war – – like in Iraq with the whole yellow cake nonsense. Or, maybe Big Brother was involved in the same fake news tactics used during the 2016 election?
Instead of the status quo, whatever that is behind closed doors that we are presently unaware of, VVA wants VA, an agency presently unable to hire and fire bad employees or reign in malfeasance, to also police social media, too.
Sound like a good idea?
Is This Paternalism An Overstep?
Personally, I think VVA is overstepping.
In this instance, copyright law seems like the best avenue to resolve this kind of issue rather than using the strong arm of the federal government to weigh in using an extra-legal process behind closed doors.
As you know, VA has labeled this website as being "anti-VA" rather than "pro-veteran."
Should VA take up the mantle of policing 1st Amendment issues on social media, I guarantee all veterans will be worse off than before.
VA is already using its massive budget to push out competing ideas like what you get here on DisabledVeterans.org using paid advertising and SEO vendors to chew up page rankings.
That's right. VA is literally using your taxpayer dollars to compete against private citizens and service disabled veteran owned businesses like mine with their massive propaganda budget to push my "speech" out of Google searches.
On Facebook, VA is also rolling out disclaimers that include an indemnification clause. That clause forces veterans to accept responsibility for "attorneys' fees" if VA gets sued related to any content posted by a user:
Further, by posting comments, the user agrees to indemnify VA against any damages, losses, liabilities, judgments, costs, or expenses (including reasonable attorneys' fees and costs) arising out of a claim relating to any material the user has posted.
What if a whistleblower uses that VA Facebook page to expose a scandal where veterans die as a result of malfeasance or refusal to provide timely health care? Will the whistleblower be liable to VA's attorneys' fees or the judgment?
So yeah, how do you feel about VVA's proposal?
If I wrote a pro-Trump article in 2016, would that article be called "fake news" or hyper-partisan by VVA? What if VA starts policing speech and social media messaging organizations by pressuring Facebook and Twitter on a regular basis?
Another problem here is the right of a person to think for herself.
Let's not forget that over 200,000 people joined Vietnam Vets of America and kept following that page despite the "hyper-partisan" nature of the messaging of the page.
If any person following the page did not like the page, they could've quit the page. So what was the motivation of VVA?
No Evidence Presented Suggesting Page Foreign Run
Curiously, the Stars and Stripes article addressing this VVA win repeatedly mentioned the Russian operative social media conspiracy theory without actually confirming whether the Vietnam Vets of America Facebook page was actually operated by Russian operatives or some other foreign entity.
Nonetheless, that did not stop anyone from tying in that page with the Russian "fake news" hype to justify shutting the page down.
I've personally not seen the page, and now the page is gone.
Maybe it was run by the Russians, but I would like to see verification of that fact rather than VVA calling on Big Brother to pressure Facebook to shut it down.
Will veterans organizations stop there from silencing divergent views using Big Brother, or will this serve as a test run to start marching against dissenters and contrarians like me?
Source: https://www.stripes.com/facebook-shuts-down-imposter-veterans-page-1.494404