Veteran Puts Huge Smack-Down On Veteran Service Organizations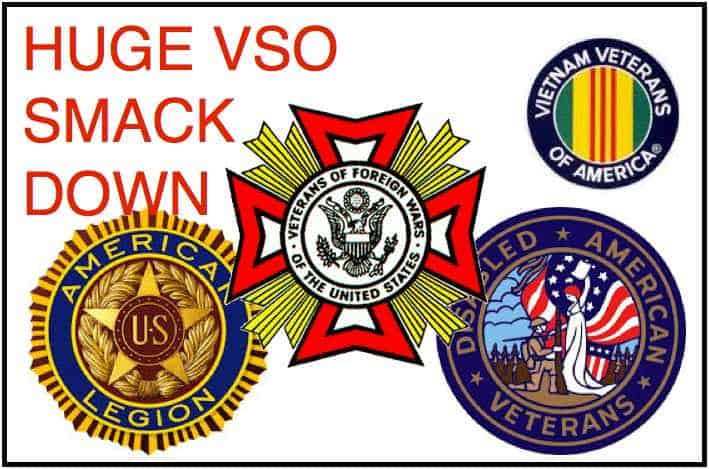 Veterans applauded as one DisabledVeterans.org reader issued a smack-down indictment of all veteran service organizations for being "stupid-in-the-face" men's clubs.
Sue Frasier, a Army veteran and national veterans activist, lambasted traditional veteran service organizations (VSOs) for being "blank and clueless" when failing to tackle qualifications of doctors and disability adjudicators.
For Frasier, VSOs have been asleep at the wheel while selling out veterans. I tend to agree, and her commentary was both amusing and sharp-witted.
She slammed VSOs for taking the general veteran population on a "bungling fool ride" when they report to America that all is well within VA despite obvious reports to the contrary. When it comes to evaluating VA health care, Frasier believes VSOs are running on nothing but "group stupid" while failing to really push for veterans.
Frasier hit on DAV and American Legion for conducting "inspections" of VA facilities and then falsely publishing reports in their "club magazines" that VA is doing great.
Think she is right? Is it time we dismantle the Iron Triangle that has been fueling the current problems within the agency? Are VSOs too cozy with their VA counterparts?
SUE FRASIER SMACK-DOWN OF VETERAN SERVICE ORGANIZATIONS
For a very long time now, the issue of QUALIFICATIONS have been front and center at almost all operations at the VA while a blank and clueless arena of VSO men's clubs, such as DAV, VFW, American Legion, and Vietnam Veterans have all stood around with nothing but Stupid-In-The-Face as a response to it.

VSO's continue to make the same mistakes over and over again and then takes all the rest of us along for the same Bungling Fool ride whether or not any of us want to ride shotgun with them. The VA disability claims process is running on a network of Raters who have a ZERO academic background either in practice of medicine or practice of law and YET, it is passed off to unsuspecting new veterans as merely a "clerical" event. It isn't and it is bizzarely mishandled by the incompetent RATERS who have no business at all to be seated in those offices.

THEN there are the Hospital operations – Oh Geez don't even get me started!!

Academic licensure, accreditations, board certifications, academic affiliations, — the VSO men's clubs have been running on empty with nothing but Group Stupid for fuel in the phrasing and advancing of THAT little matter as well. How many times did many of us sit through the years while American Legion or DAV did hospital "inspections" and then falsely published reports in their (Ahem!) club magazines that all was well at VA??

"What shit," I say.

The availability of the Internet has put a new set of Vet eyes on the entire information stream of, and the reality of the crisis at the VA without having to go through the men's clubs first as a filter. VSO's have made a complete mess with their many layers of incompetence, and it will only be through the mechanisms of REPEAL and REPLACE that a true overhaul can ever be accomplished.

— Sue Frasier, Army 1970, National Veterans Activist.
Whether you agree or not, her use of "stupid-in-the-face" really caught my attention. I'm still not sure how to use that one for my next smack-down, but I will figure it out.
There is no question that VSOs have done a lot of good. But the flip side of that coin is that they also developed chummy relationship with VA across the hall that many veterans are pissed about today.