GI Bill, Voc Rehab Subsistence Rates Get Fix For Forced Online Learning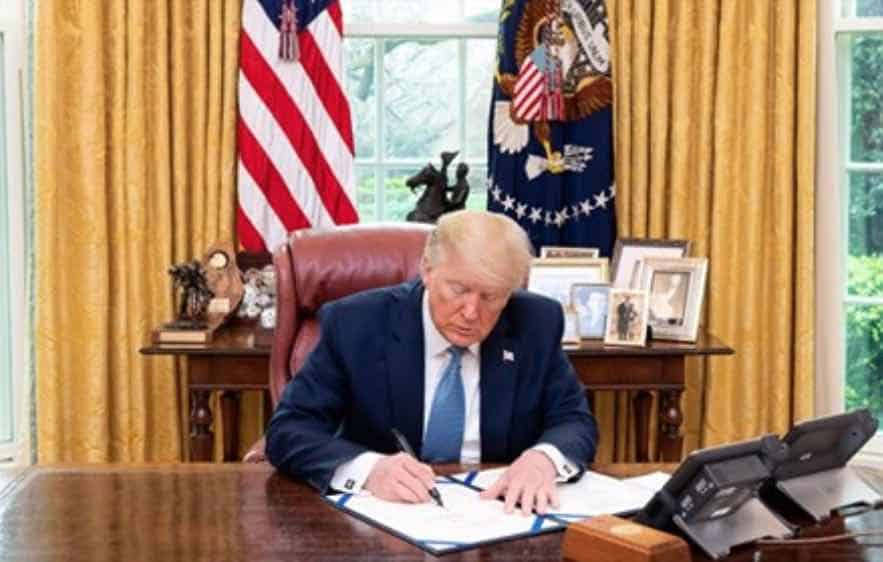 Veterans forced to attend college online in recent weeks will not be penalized by the online subsistence rate language of the Forever GI Bill three years ago.
President Donald Trump signed Senate Bill 3503 on Saturday. The bill "clarifies how the Department of Veterans Affairs should treat in-person courses of study that convert to distance learning formats due to health-related situations and other emergencies."
The bill clarifies monthly housing stipends under Chapter 33 and Chapter 31 Voc Rehab subsistence payments, as well as other education programs.
This is a huge concern for veterans previously receiving the full amount of subsistence or stipend instead of the half-rate for online learning.
Thanks To SVA
Student Veterans of America (SVA) alerted Congress that existing GI Bill language could result in significant reductions in the amount veterans receive while being forced to study from home. Congress, in turn, developed and passed language to help (see bottom).
Basically, the bill says VA may pay veterans converted from in-person to distance learning at the in-person rate "without regard to such conversion" when the reason for the conversion is "an emergency or health-related situation" as determined by the Secretary.
According to Military.com:
"The law had to be changed because previous regulations said that if a class meeting on campus was originally authorized for GI Bill payments and then was moved to online sessions, it would no longer be eligible for GI Bill reimbursement. This also affected the Monthly Housing Allowance for the Post-9/11 GI Bill and the subsistence allowance for VRE.
"Students would have been on the hook for thousands of dollars in GI Bill payments and seen their housing allowances terminated immediately if the law hadn't been changed."
The swift action is aimed to protect veterans by clarifying that the VA Secretary may continue veterans at the in-person rate of monthly pay despite being converted to distance learning.
RELATED: Learn Strategies To Win Your Voc Rehab Benefits
Dollar Difference
The online rate is around $900 per month. Meanwhile, students studying in-person can receive between $1500 to $4000 per month depending on the relevant zip code.
Disabled veterans receiving subsistence payments without GI Bill entitlement receive a significantly lower monthly payment amount.
RELATED: FY 2020 Voc Rehab Subsistence Payments
Veterans who are now suddenly studying online instead of in-person would experience significant financial hardship in most instances given rent and other personal expenses would likely not change based on individual contractual terms.
What happens if this continues into the summer?
How Long It Lasts
The language in the bill states the adjustment is in effect from March 1, 2020, to December 21, 2020.
It is important to note the VA Secretary has discretion when considering when to allow payment using on-site rates instead of using distance learning rates. Hopefully, the Secretary will keep the change in place through the duration of the bill's maximum allowable term.
That aside, it is difficult to say how colleges and universities will classify students in the coming semesters should distance learning continue.
Many universities use specific degree types to differentiate degrees such as Harvard University's traditional brick and mortar programs versus their online degrees. For that reason, I suspect the in-person payment amount will continue at least until the end of December.
But, the decision is obviously up to the VA Secretary. Again, the language of the bill to pay attention to is the use of the word "may" rather than "shall."
For those veterans contemplating next steps, I would hope for the best but plan for the worst. Right now, there appears to be a sentiment in support of actions like this.
However, down the road, if this situation gets worse, social betterment programs related to education could see benefits amounts reduced.
S. 3503 Bill Language
The operative language of the bill is below for interested readers:
(a) In General.–In the case of a program of education approved by a State approving agency, or the Secretary of Veterans Affairs when acting in the role of a State approving agency, that is converted from being offered on-site at an educational institution to being offered by distance learning by reason of an emergency or health-related situation, as determined by the Secretary, the Secretary may continue to provide educational assistance under the laws administered by the Secretary without regard to such conversion, including with respect to paying any…