Harvard Business Review Got VA Sec McDonald Legacy Wrong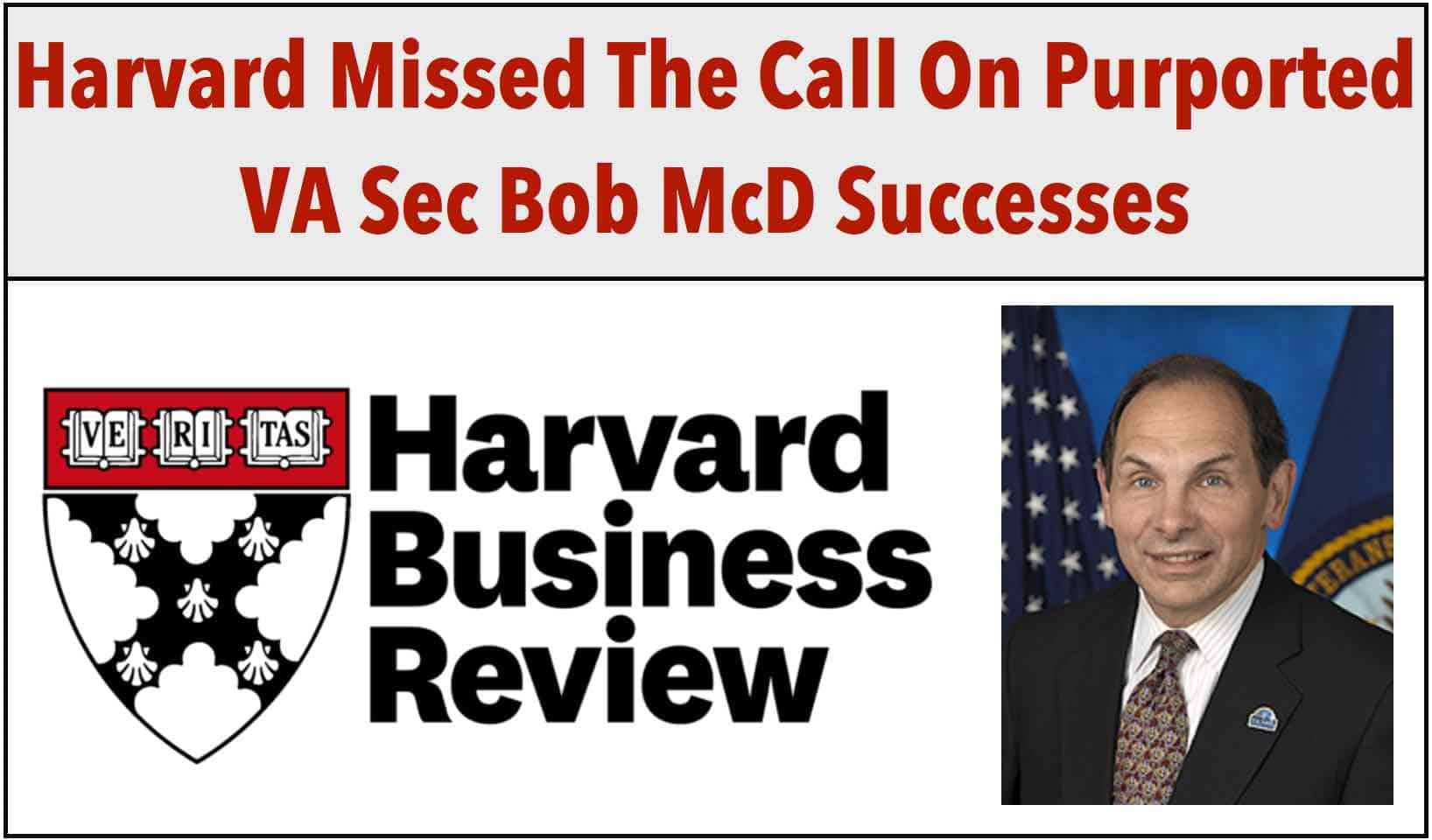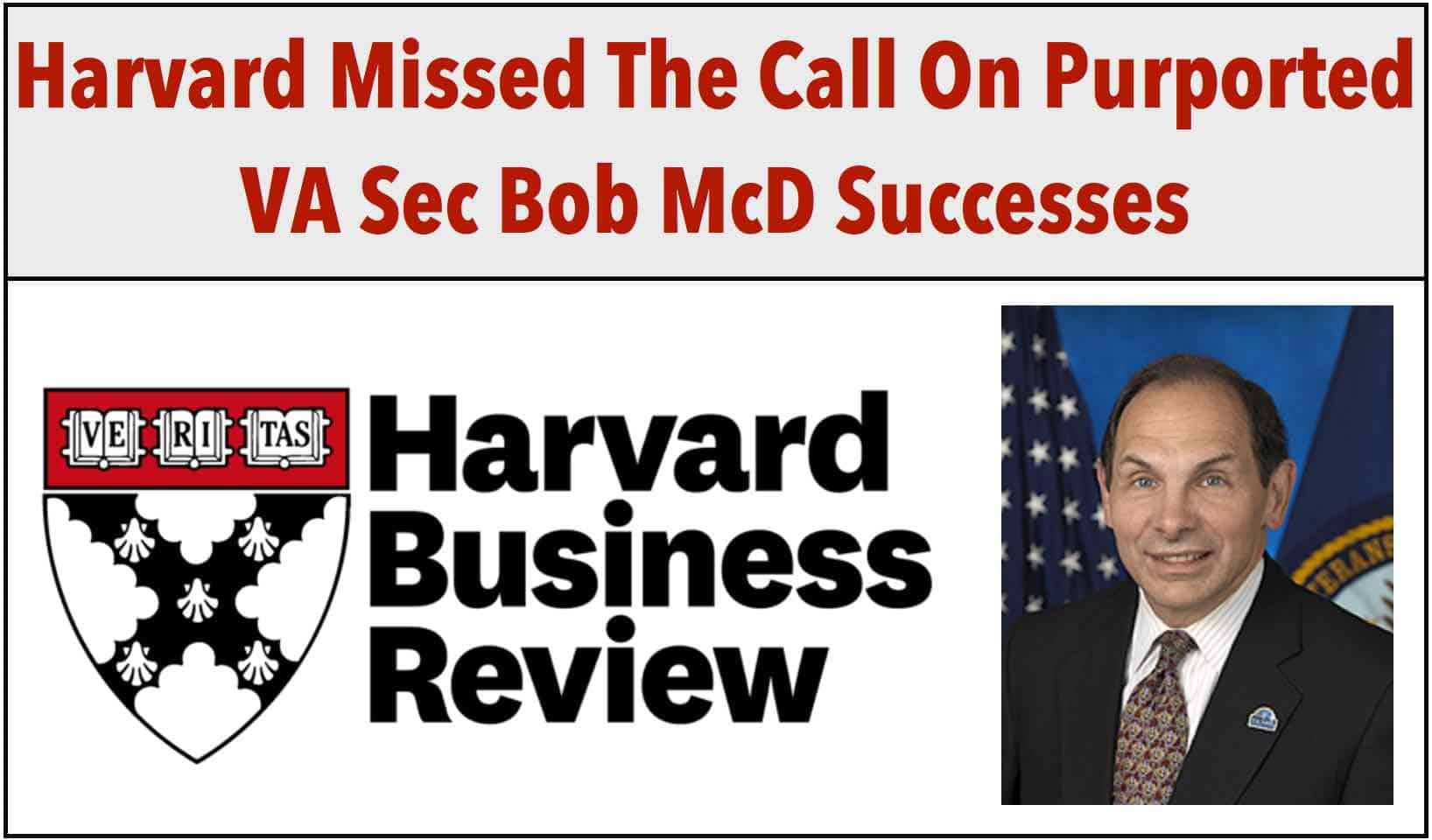 Harvard Business Review published yet another piece lauding the successes of VA Sec McDonald that should cement his great successes if accurate.
To the public, Secretary of Veterans Affairs Robert McDonald has achieved limited success in changing the course of VA. Despite moves to improve customer experiences, reports from veterans show the agency is slow to embrace the iCare values including increasing accountability for criminal senior leaders the agency refuses to terminate.
Still, McDonald received prime treatment from Harvard after President-elect Donald Trump was elected by publishing two articles highlighting VA's assertion that the agency is getting better fast and that veterans should not be allowed 100% choice.
Articles and reports from high-minded institutions like Harvard and RAND like this are frequently cited by union-friendly publications that support VA expansion.
One example is a recent Washington Post article titled, VA progress, despite contrary Republican rhetoric, that spins the reports without assessing them:
A Harvard Business School case study, published in November and updated this month, concludes that the team assembled by VA Secretary Robert A. McDonald has "made impressive progress over the past year." In July, a literature review in the Journal of General Internal Medicine found "the VA often (but not always) performs better than or similarly to other systems of care with regard to the safety and effectiveness of care."
Neither article is a blanket endorsement of VA health care, which remains tainted by the scandal that erupted in 2014 over the covering up of long patient wait times. Neither article deals with the many cases of management retaliation against VA whistleblowers, who exposed much of the wrongdoing. Yet each shows the nation's largest integrated health-care system performs far better than Republican rhetoric indicates. Just in the past few days, GOP Sens. Ron Johnson (Wis.) and Charles E. Grassley (Iowa), called for new agency leadership as they told President-elect Donald Trump "it is clear that not all veterans are receiving the high-quality care they deserve."
Former House speaker Newt Gingrich used spiteful language when he asked whether federal employees "who kill veterans should stay in their jobs."
The wait list was "Republican rhetoric"? Concern over the dead veterans was Republican rhetoric"? The "rhetoric" here about those topics is veteran-centric, and Democrats should be ashamed they were not onboard, and that the scandals like the disability backlog and the wait list fraud occurred on President Obama's watch.
Apparently, Washington Post's audience, or at least the one Davidson was writing for, is not familiar with the reports he cited or the real experience from veterans on a daily basis.
First, the case study and later Harvard article I address here cite erroneous information or mischaracterizations to support that VA made impressive progress under McDonald.
Second, the Internal Medicine journal is actually citing a RAND study I previously ripped apart for using pre-2010 datasets as proof that VA healthcare is better presently. How absurd, but today's drive-by main-stream media and its journalists apparently read no further than the title.
What we know is our dinosaur Veteran Service Organizations are pushing Trump to keep McDonald. Some suspect a backroom deal was struck in February to push this agenda forward.
RELATED: Some Vets Suspect Backroom Deal To Keep McDonald
The plan McDonald implemented is a 10-year plan rather than a more sensible 2-year or 4-year plan meaning his overall reform platform is presently half-baked.
Now, why would someone implement a 10-year plan knowing his tenure is likely only 2 years? Don't get me wrong, I hope some of his reforms work out, and I discuss this below.
But did it make sense to push forward with a 10-year plan? Was this initiative based on the erroneous assumption Hillary Clinton would win the election?
The answers here are no, it did not make sense, and yes, McDonald and the White House (that ultimately approved his plan) thought Clinton was a shoe-in.
Double oops.
[But be sure to tweet this out by pressing the below button so Harvard has a chance to reconsider its positions on some erroneous assertions about McDonald.]
@ryanbuell @HarvardBiz FYI Harvard Business Review got it wrong on McDonald and #VeteransAffairs transformational successes
Harvard On McDonald
The Harvard Business Review (HBR) article in question covers some of the scandals plaguing the agency including the wait list scandal. It also highlights numerous improvements of which the public is largely unaware.
But straight away, the HBR author, Professor Ryan Bruell, makes a fatal misstep affecting the credibility of the article.
HBR credits McDonald's successes by his decision to follow strategies outlined by John Kotter in his eight steps for effective organizational change.
Then, the highlights noted were:
READ: HRB Article On VA Sec Robert McDonald Successes
Unfortunately, two of the first successes are mischaracterizations misattributed to McDonald's reign as VA Secretary leading me to wonder if the article is more of a public affairs puff piece intended to cement McDonald's legacy before President-elect Donald Trump makes substantial reforms.
Could it be anything other than this?
The remainder of the article highlights various steps McDonald implemented to improved the agency. You can read that for yourself.
Instead, I feel the need to get the record straight on the above assertions HBR provides as proofs allegedly showing VA is improving under McDonald's VA reforms.
Backlog Drops By 90% Under McDonald?
Can and should McDonald really assert this as his success?
The program linked to the backlog fix started much earlier. And, its implementation resulted in a new appeals backlog due to agency adjudicators focusing on speed of processing rather than accuracy.
This was a FAIL, not a success.
First, Veterans Benefits Administration has engaged a decades-long plan to revitalize the agencies disability compensation system. For years, VA executives cited a transition to electronic records processing through Virtual Benefits Management System (VBMS) as the silver bullet.
RELATED: VBMS Cost Taxpayers $1.3 Billion
A claims backlog of 1 million claims earned the agency a ton of bad press. When the press grew politically inconvenient for the White House in 2014, the agency came up with a new plan. Push all the claims through as quickly as possible regardless of accuracy.
So, while the backlog of initial claims may be down by 90%, the new backlog of appeals is now gumming up the system. To fix this new backlog, VA and some veteran organizations are pushing to reform laws that will restrict certain veterans rights on appeals.
RELATED: VA Plan To Eliminate Appeals Backlog
Create the problem you already have a solution for. Agency insiders have wanted to reform the regulations for years, the unwieldy appeals backlog created by previous agency bungling with VBMS created just the backlog appeals rights reforms advocates needed.
And, McDonald did not "fix" the backlog. That ad hoc plan was already in place for many years. Instead, he is merely presiding over the appeals backlog his agency created.
In fact, prior to resigning, Secretary Eric Shinseki announced he fixed the backlog.
VA Healthcare Better Than Private Healthcare According To RAND?
RAND, the known shills of agency bureaucrats who can craft any study to create the result sought by its funders, say VA healthcare is better than private sector care.
Is this true? And, if it is true, is this a success McDonald can claim?
No and no.
I revealed the dirty side of RAND's sham study in my article, 'New' RAND Study On VA Healthcare A Bait And Switch Sham. The data in the RAND study held out by pro-VA advocates as a sign of great success, but was it?
This one earns not just a "no," but a "hells no."
The RAND study was a regurgitation of pre-2010 research data but was held out to be a sign that VA healthcare was presently better than private sector care. The data evaluated in the studies was created between 1985 and 2009.
So how can this study be used to evaluate the quality and efficacy of present VA healthcare? It cannot.
The assertion highlighted by HBR was plainly a mischaracterization of the study, but that did not stop the main stream media and Harvard from citing RAND's sham study as proof that veterans are better off inside the VA system instead of opting for the Veterans Choice Program model Trump likes.
Same Day VA Healthcare?
What on earth will this look like? I have no comment on it other than I hope VA intends to provide the precise kind of healthcare veterans need on the same day they request it.
The goal was set for December 31, 2016 for all VA medical centers to provide same day care services. I guess we will see if they accomplish this goal.
Two Changes I Like If They Last
There are two changes I like. Since McDonald took over, his senior staff did respond more to veterans than in the past. Under former Secretary Shinseki, senior staff was impossible to reach. Now, they will reach out to veterans in some instances. That is a good thing.
According to HBR, McDonald is also changing the organization from its previous rules based operation to being values based. Basically, VA was really run by the Office of General Counsel until McDonald took over. This resulted in all issues by resolved by attorneys rather than applying common sense.
The problem with this model is that it ground down decisionmaking to a halt. And, it turned those working on frontlines into fearful button pushers rather than employees capable of making decisions in a thoughtful manner.
Over-reliance on policy and rules for each and every decision while removing common sense is a platform highlighted to shut down corporations within the CIA manual Simple Sabotage, so it makes sense that the agency was essentially impotent under these policies.
CIA published the manual in 2012 and referenced its lessons as "timeless tips." A quick read of the manual reveals numerous practices used by the agency including promoting bad employees over good employees and creating multiple steps when one step would do.
Instead of sabotage, HBR says McDonald moved the agency in the direction of following values while unshackling frontline employees to allow them to make decisions rather than being afraid of doing so.
This could be a good change so long as the right people are mandating the right values. But what happens if a fascist or communist is in charge?
Cementing McDonald's Legacy
The article is an interesting read if for no other reason than to highlight the fight to cement McDonald's legacy as being one who reformed the agency.
HBR falls short in evaluating the claims of success and in so doing make the article fall short in the eyes of my readers who are well educated on agency problems.
The data points HBR uses to highlight the great successes do not line up. RAND is a farce. Shinseki claimed he fixed the backlog prior to resigning. The remainder success of the same day care by the end of 2016 has not even happened yet.
So what is the great success(es)? I acknowledge many transformations have come into fruition under McDonald, but was he responsible for them? Or, were these transformations already in the pipeline?
I cannot help but be suspicious about his assertions of success given his repeated false assertions.
Remember when McDonald told a homeless veteran he was in the Special Forces?
What about the time McDonald told Congress he fired over one thousand offending VA employees when the correct number was 3?
RELATED: Veterans Affairs Secretary Still Bad At Math
In 2015, I highlighted the following exchange at a Senate hearing on Veterans Affairs that should be insightful between McDonald and Senator Johnny Isakson (R-Ga):
Recently, McDonald looked clueless in front of a Senate Committee while trying to claim he is responsible for firing over a hundred thousand, "We've terminated over 140,000." Senator Johnny Isakson called him out.
McDonald then stated he terminated 1,800 dysfunctional employees linked to the wait list scandal. He shifted his number to 1,400 – then back to 1,755 – then down to 755.
Really? I know very few people who could mistake 3 people for 140,000 people.
At that point in the testimony, Senator Isakson gave Bob McDonald a pass, "I'm not good with numbers either." McDonald may be a lot of things, but an engineer is clearly not one of them.
I accept that the agency has implemented some good changes overall. I even agree that VA Sec McDonald is responsible for some good changes.
But why were two of the three examples cited by Harvard Business Review completely erroneous mischaracterizations used to support present successes of McDonald?
Source: https://hbr.org/2016/12/a-transformation-is-underway-at-u-s-veterans-affairs-we-got-an-inside-look