IG: Amyotrophic Lateral Sclerosis (ALS) Disability Claims Repeatedly Botched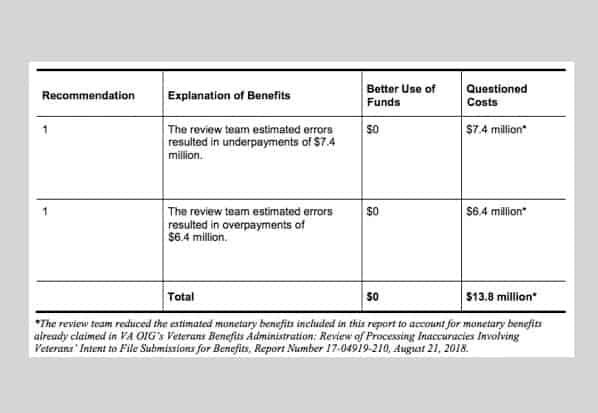 A new IG report shows nearly half of disability claims for veterans seeking benefits for Amyotrophic Lateral Sclerosis (ALS) were botched resulting in both underpayment and overpayment of veterans.
The report found errors in 45 percent the disability claims reviewed that were processed by the agency's Veterans Benefits Administration. IG indicates complexity of the claims being sought was the culprit – – not poor training or poor leadership – – at least in the summary. IG also concluded VA often failed to inform veterans of their benefits when processing these ALS claims.
IG Report Summary Into Amyotrophic Lateral Sclerosis (ALS)
According to IG:
The OIG found that VBA's claims processing involving service-connected ALS needs improvement. About 45 percent of ALS claims completed from April through September 2017 had erroneous decisions. These errors resulted in estimated underpayments of about $750,000 and overpayments of about $649,000 to a total of 230 veterans. These errors were due to the complexity of these claims. ALS claims can involve a wide range of medical complications, evaluations, and special monthly compensation (SMC) levels, and most rating personnel do not decide ALS claims often enough to maintain proficiency.
Also, the OIG determined that VBA staff generally did not tell veterans about additional SMC benefits that may be available. VA is usually required to notify veterans of the conditions that must be met to grant a higher level of compensation. However, VBA's Compensation Service staff stated they are not required to do so for SMC benefits.
Without information about SMC benefits, veterans with ALS may not know about benefits available to them, or they may not be sure they are receiving the correct SMC benefits. Also, they may not know when to file a claim for an increase in compensation.
The OIG recommended that VBA implement a plan to improve the decisions and additional reviews of claims involving service-connected ALS, and monitor ALS claims to ensure staff demonstrate proficiency. The OIG also recommended that VBA implement a plan to provide notice regarding additional SMC benefits that may be available to veterans with service-connected ALS.
You can learn more about the botched disability compensation findings by downloading the entire report here.
Poor Leadership?
Essentially, it looks like poor leadership resulted in many veterans being improperly paid. How long has VA known about this problem leading up to the IG investigation?
Hopefully, VA does the right thing by not requiring repayment from all the veterans who were overpaid due to VA's mistake.