MMQB: VA Spins, Second VA Whistleblower stops Illegal Plot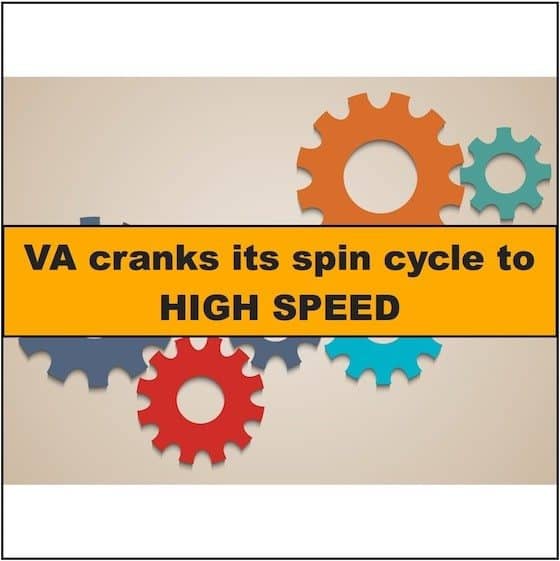 Phoenix, VAMC – After VA denials, yet a second VA whistleblower has come forward to confirm acts taken by her and another VA staffer to stop an illegal plot to destroy evidence.
In what has become the most bizarre VA scandal in years, a second VA doctor not only confirms the existence of a list, but she also claims she thwarted a conspiracy to destroy evidence at the facility.
We will cover her story and other news about Veterans Affairs here this Monday Morning Quarterback (MMQB) for Veterans. I am your host, Benjamin Krause, creator of DisabledVeterans.org.
This site is the leading source for VA scandal synthesis and benefits help across the web. We take the spin out of VA doublespeak to create clarity for veterans. MMQB is where we deliver highlights over the past week through our own unique take on the VA spin machine.
This MMQB, we will cover the following:
Another VA whistleblower saves evidence
How VA spins scandals
How VA uses media to spin American public
VA takes action in Legionnaires' Outbreak
Recent & Upcoming Congressional Hearings
Second VA doctor blows whistle, saves evidence
A second Phoenix VA doctor came forward last week to support claims leveled by Dr. Sam Foote weeks ago.
Dr. Katherine Mitchell confirmed allegations related to manipulations of scheduling lists. The manipulations allowed Phoenix VA heads look good while veterans went without health care.
Allegations are that 1,400 – 1,600 veterans were removed from the main scheduling system and placed into a kind of secret list – more aptly called a shadow record. When an opening came up after numerous months, the veteran's name was replaced back into the system formally tracked by VA Central Office for appointments.
VA has since been tasked with investigating the matter. Last week, Congress alleged VA destroyed evidence despite the litigation hold Congress placed on the agency to not destroy evidence.
Dr. Mitchell came forward Thursday following claims about the destruction of evidence and denials from VA officials about the allegations. She and another VA employee claim to have subverted attempts by other VA employees to destroy evidence. Dr. Mitchell believes the evidence they salvaged confirms the allegations about the existence and use of the wait list.
[Mitchell] and her co-worker reportedly asked officers at VA to secure the documentation. Police declined, but suggested they find a safe place to conceal the documents inside the hospital. Twelve hours later, Mitchell said, her co-worker delivered the evidence and a statement to an IG investigator, while Mitchell went to the Republic, asserting status as a government whistleblower.
VA managers previously retaliated against Dr. Mitchell for pushing back against bad policies that hurt her patients. Dr. Foote, the initial whistleblower, commented on this to IBTimes:
"[Mitchell] was an ER doctor there for a long time and kept raising absolutely legitimate concerns to administrators that were basically ignored," Foote said. "She got so frustrated she presented her complaints to Senator John McCain's office. The VA fired her, and then she went to the office of special counsel and McCain, too, got involved. She served a suspension and got her job back."
On Wednesday, the day before Mitchell came forward, Dr. Robert Petzel told Congress there was no support for the allegations. Dr. Petzel is the Under Secretary for the Veterans Health Administration.
That same day, Phoenix VA heads Sharon Helman and Dr. Darren Deering also denied the allegations. More on these denials below.
Now that Mitchell confirmed that evidence does exist and that VA likely tried to destroy it, hopefully we will start to get justice. Perhaps the Dept of Justice would be better suited to investigate this scandal in light of the severity of the allegations.
Read More: https://www.ibtimes.com/phoenix-va-scandal-new-charges-second-whistleblower-1579839
How Veterans Affairs spins scandals
What I am about to say is very important to know in any VA scandal, but especially the current Phoenix VA scandal in light of VA's clear avoidance of giving America and its veterans truthful answers.
VA officials have denied allegations related to the Phoenix VA last Wednesday, as stated above. We need to pay special attention to exactly what VA officials is saying when they make their denials. Always remember VA has an extensive team of lawyers and publicists working hard to keep a positive spin on all issues. It is likely that the statements I highlight below were well rehearsed and sculpted for their legal and psychological impact.
Let's take a look at examples within the denials of:
Dr. Sharon Helman, Phoenix VAMC Director
Dr. Robert Petzel, Under Secretary of Veterans Health Administration
As we work through these examples, let's agree on the following assumptions:
To "lie" means making claims that are knowingly false, reasonably known to be false, or to make a collection of statements that intentionally mislead when taken as a whole.
On the meta-level, the overall spirit of the allegations is that veterans were wrongly denied access to health care to the benefit of certain VA employees at the Phoenix VA – a potential conspiracy to commit fraud, wrongful death, etc.
This bad act was facilitated through some kind of scheduling policy and procedure that eluded traditional VA inspectors.
Veterans' data was passed back and forth between different data systems that kept people waiting for health care and resulted in some deaths.
Finally, any denial should address this on the meta-level to clearly deny wrongdoing.
Now let's take a look at Dr. Sharon Helman's denial.
Director Sharon Helman spinning the Phoenix VA scandal
Example 1: Phoenix VA director Sharon Helman and her chief of staff, Dr. Darren Deering, denied the allegations last Wednesday during a CNN interview.
"We have never instructed our staff to create a secret list, to maintain a secret list, to shred a secret list — that has never come from our office as far as instruction to our staff," said Deering.

"It's never come from me," added Helman.

Cited from International Business Times
Taken as a whole by a quick reader, this looks like straight denial.
We know this is likely a lie based on earlier statements from Helman. However, ignoring that, let's focus on exactly what these two Phoenix VA officials claim in this excerpt of the CNN interview. Let's break this down into parts to see what they are really saying.
Dr. Deering and Helman claim: 1) The duo never instructed VA staff to create a secret list; 2) They gave no instruction to maintain a secret list; 3) They gave no instruction to shred a secret list.
These are flat denials. However, these officials go on to qualify the statements, which usually indicates lying since the first three claims are either true or not true.
They then claimed: 4) That such instructions for 1-3 did not come "from our office as far as instruction to our staff," (underline added for emphasis); 5) That any such instruction in 1-3 did not come directly from Sharon Helman.
Notice they do not say that no Phoenix VA manager implemented the policy that resulted in the delays and deaths.
Statements 1 to 3 indicate Phoenix VA did not get instruction to create a "secret list." This seems plausible since I would find it surprising if Director Helman stated, "Hey everyone, create a secret list where veterans will die while waiting for untimely health care."
What is more likely is a Phoenix VA policy was created, either informally or formally. That policy changed how they managed VA appointments within their computer systems. It was probably rather formalized since it likely involved collaboration between numerous staffers to pull off.
Statements 4 and 5 imply that Phoenix VA staff did receive some kind of information from someone at some time. Dr. Deering specifically states there was no "instruction" that directed the creation of a secret list or destruction of it.
Instructions are very real publications within VA that are used to instruct staff. By their very nature, they are not secret inside the agency.
Director Helman narrows this further by stating the policy did not come from her. However, she does not say that she stopped the policy and practice after becoming aware of it. When you watch the full interview, she uses doublespeak to avoid the obvious conclusion that she was well aware of the practice long ago.
Taken as a whole, this is a carefully crafted lie. A casual reader would be misled by the duo and possibly conclude that there was no foul play. In the full interview, they were mainly focusing on a notion that the policy in place was not secret at all, but then that they were unaware of what it was doing to veterans beyond normal deaths while waiting reasonable amounts of time.
It is important to note that Sharon Helman was placed on leave "until further notice" following her interview with CNN.
Now let's take a look at Dr. Petzel's denial.
Dr. Robert Petzel spinning the Phoenix VA scandal
Example 2: Dr. Robert Petzel, the soon to retire head of Veterans Health Administration (VHA), made a denial last Wednesday to the Senate. Dr. Petzel said VHA sent investigators to Phoenix to look into the claims of whistleblower Dr. Sam Foote.
Dr. Petzel claimed that the investigators found no evidence to support those claims, "To date, we have found no evidence of a secret list, and we have found no patients who have died because they have been on a wait list."
As a reminder, the claims referenced here are likely Dr. Sam Foote's claims – Dr. Mitchell had not come forward yet.
Dr. Foote essentially claimed VA had maintained a separate, secret list that covered up health care appointment delays. It makes sense that VA investigators would find no such list because Phoenix VA officials allegedly destroyed the records related to any such list weeks ago.  Or, according to Mitchell, they thought they destroyed the evidence.
Now, I underlined "those" because it summarizes the specifically limiting scope of the statement Dr. Petzel made. His statement focused exclusively on the claims from Dr. Foote and did not deviate into more broad terms on the meta-level. The broader terms would allow a denial on the spirit of the issue – that VA did not commit a wrong.
A great answer would have been, "We have found no evidence of wrongdoing." Or, more specifically, "No veterans died as a result of inappropriate behavior by VA employees in Phoenix VAMC."
It is highly likely VA did find evidence supporting related claims of wrongdoing and that veterans were harmed as a result of inappropriate behavior of VA staff.
If VA did find such other evidence, this limiter ("those" – ie sticking to the specific verbiage of the claim) does two things. First, it allows Dr. Petzel to make a true claim regardless of what comes out later in further investigations. Second, it allows Dr. Petzel to grab a sound byte and headlines ("No evidence supporting claim") that makes VA not sound as terrible without really saying anything at all.
Dr. Petzel's claims raise a warning flag that VA is playing a definition game, similar to Dr. Deering's earlier claims. This would call into question the definition of the specific words as VA is interpreting them versus what Dr. Foote believed the words to mean.
How often do politicians evade trouble by using this maneuver? "It depends on the definition of 'is' is." I think VA is using that tool to deceive, here.
Regarding definitions, it is clear that the list in question was not secret by VA standards because, as Dr. Foote stated, the list he refers to was merely a common practice and procedure in Phoenix that killed veterans.
In addition, the names were within a computer system as of summer 2013 according to Foote, so a more accurate term to describe this is "database" or "scheduling system" rather than "list." So, if Dr. Foote said "VA had a database that was known only to VA employees that killed veterans," that kind of claim may fit VA's spin machine.
By focusing on specific definitions rather than the spirit or meta-level of what the matter is all about, liars are able to evade pointed questions and seem like there is "no evidence of allegations."
I would call Dr. Petzel's statement a half lie. It is technically true but by finely restricting the scope of his answer, he paints the impression no evidence was found of foul play.
VA likely proceeds to manipulate the public through its contacts in various press rooms that float the potentially misleading statement, as I explain below.
How VA uses media to spin American public
Recall my second point above, that Dr. Petzel was able to grab headlines by making the statements he made to the Senate last Wednesday.
Here is the result of this game as it works in the media via grabbing headlines of major press agencies and outlets:
The Associated Press piece is broadcast across thousands of news media platforms across the internet – ABC, Washington Post, Boston Herald, Yahoo, Fox, etc. To give you an idea of scope regarding that specific headline, Google shows 8,650 results for "VA: We found no evidence of allegations in Phoenix" when you press search.
Millions of Americans read and believe the news they read from those sources. Since most American's never read more than the headline, they will at least subconsciously dismiss the scandal. After all, there was "no evidence."
It is vital here to note that VA did not expand its scope to include veterans seeking follow up medical appointments. Further, VA was unaware that Dr. Mitchell saved evidence despite alleged attempts from VA employees to destroy it.
As an aside, Associated Press used an odd choice of words since the headline should read, "VA: No evidence supporting allegations in Phoenix found yet." Instead the headline specifically tells us there was no evidence of allegations.
This is clearly not true since Senator John McCain's office received over 2,000 allegations about Phoenix VA problems in the past 18 months before McCain's people took action.
VA finally punishes employees in Legionnaires' Outbreak scandal
Some of you may recall the Legionnaires' Outbreak scandal that surfaced in Pittsburgh from February 2011 to November 2012. Six veterans died and sixteen veterans became ill. No one was penalized for the scandal until now.
"VHA leadership has initiated actions with careful consideration of the statutory protections and rights of employees, including due process," VA spokeswoman Ramona Joyce said.

"While we are focused on completing this process in a timely manner, VHA's priority is to complete these actions objectively and consistent with applicable administrative guidelines and due process. When this process is complete, VA will update Congress, consistent with appropriate privacy protections for the individuals involved," Joyce said in a statement.

She declined to say what actions were being taken or how many employees were involved.
Congress has been very critical of VA for not taking any administrative action against these employees. The recent actions could be seen as a response caused by the additional pressure created vis a vis the Phoenix scandal.
Read More: https://www.military.com/daily-news/2014/05/02/va-pursues-discipline-in-legionnaires-outbreak.html?comp=700001075741&rank=5
Congressional Hearings on Veterans Affairs
Upcoming Hearings
Recent Hearings