Police Taser & Beanbag Flipped-Out Phoenix VA Medical Chief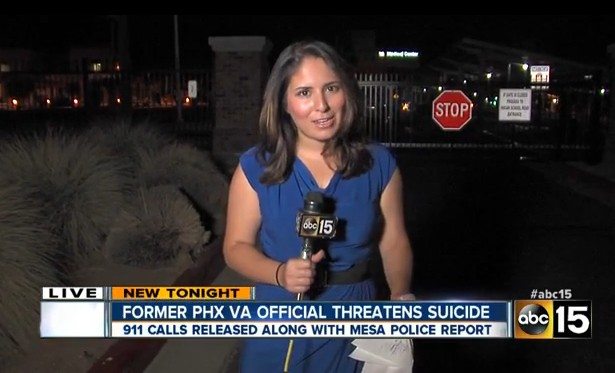 Former Phoenix VA chief of health care threatened suicide yesterday and was tasered by local police in his home following his recent termination for management over corruption and fraud linked to veteran deaths in the VA wait list scandal.
Brad Curry, former Chief of Health Administration at Phoenix VA, was terminated last month following the explosive national scandal that VA employees had inflicted manslaughter by killing veterans by manipulating wait times for urgently needed health care – and even collected 5-figure bonuses for their criminal scheme. VA chiefs like Brad Curry benefited financially and professionally as a result of their fraudulent scheme that made hospital performance numbers look great when they were actually horrifying.
Curry and three other employees were fired as a direct result of their involvement in the VA scandal to this point. We have to wonder what is going on in the heads of his fellow Phoenix VA staffers since their chances of finding non-VA and non-federal employment are next to impossible. Will they commit suicide like so many veterans who see their chances of having a normal life grow dimmer by the weeks and months as this national scandal and healthcare horror story grows larger? And should we, as veterans, really care?
Curry's family called 911 after they found the former VA chief in a fit of rage. Curry was reported by his own family members running around his home with a gun claiming he was going to commit suicide or hurt himself. How many veterans did he cause to suffer the same trauma and fate who actually pulled the trigger?
While engulfed in his fit, Mesa police reportedly fired three beanbag rounds into Curry. When he failed to clam down, they reportedly tased the former VA chief. That's a pretty strong indication of how "wigged-out" he had become. Perhaps one option for him is to apply for Social Security disability benefits and blame his condition on other corrupt Phoenix VAMC officials who coerced him to do evil deeds.
Veterans making social media posts were rather delighted to hear that reality was finally settling in for Curry — and likely other many other VA employees who will be unable to find work after being connected to such outrageous, horrendous scandals.
Should we pause to imagine the extreme emotional trauma that many veterans also suffered under Mr. Curry's watch at the Phoenix VA medical center? And just how many veterans hoping to get care at the Phoenix VAMC that didn't die from medical complications but committed suicide instead?
We haven't heard a peep from Congress, the major news media or the new VA Secretary about any facts along those lines. And just how many veterans are still now suffering serious medical complications due to the actions of those Brad Curry, Chief of Health Administration at the Phoenix VAMC? These are questions that we should all examine to gain a proper perspective and keep such incidents in context of this evolving scandal within the VA leadership ranks. I believe the numbers are going to increase to shocking levels.
One veteran commented, "Let them wait for their last paycheck, sweating bullets. When you get fired for misconduct you are not going to roll into another sweet gig." To be sure, Brad Curry's best hope for future employment may be mopping floors at a federal prison or at a local fast food outlet if he is not arrested and imprisoned.
How long will it take for the day of criminal indictment, trial and judgment of sentence and punishment to come? How many veterans are there in Phoenix who will suffer for the rest of their lives due to the corrupt actions of VA administrators like Brad Curry and Sharon Helman? We need to keep asking ourselves these questions – since failing to do so will allow misplaced empathy and compassion for the VA criminals who are guilty of killing our fellow veterans. They all lied, and got rich, while veterans died.
What kind of punishment should any VA official have imposed if they are responsible for the untimely deaths of innocent veterans? We think the answers are obvious. But will the U.S. government have the same standard of criminal accountability for those who kill with pens instead of pistols?
Let us know your thoughts and feelings – especially if your quality of life has been seriously or permanently harmed by the denial of care and treatment that has infected every VA facility across this land.
Read More: https://www.abc15.com/news/region-southeast-valley/mesa/former-phoenix-va-official-brad-curry-threatens-suicide