QTC Wins $6.8 Billion VA Contract, Or, Did VA Just Award Itself A Contract?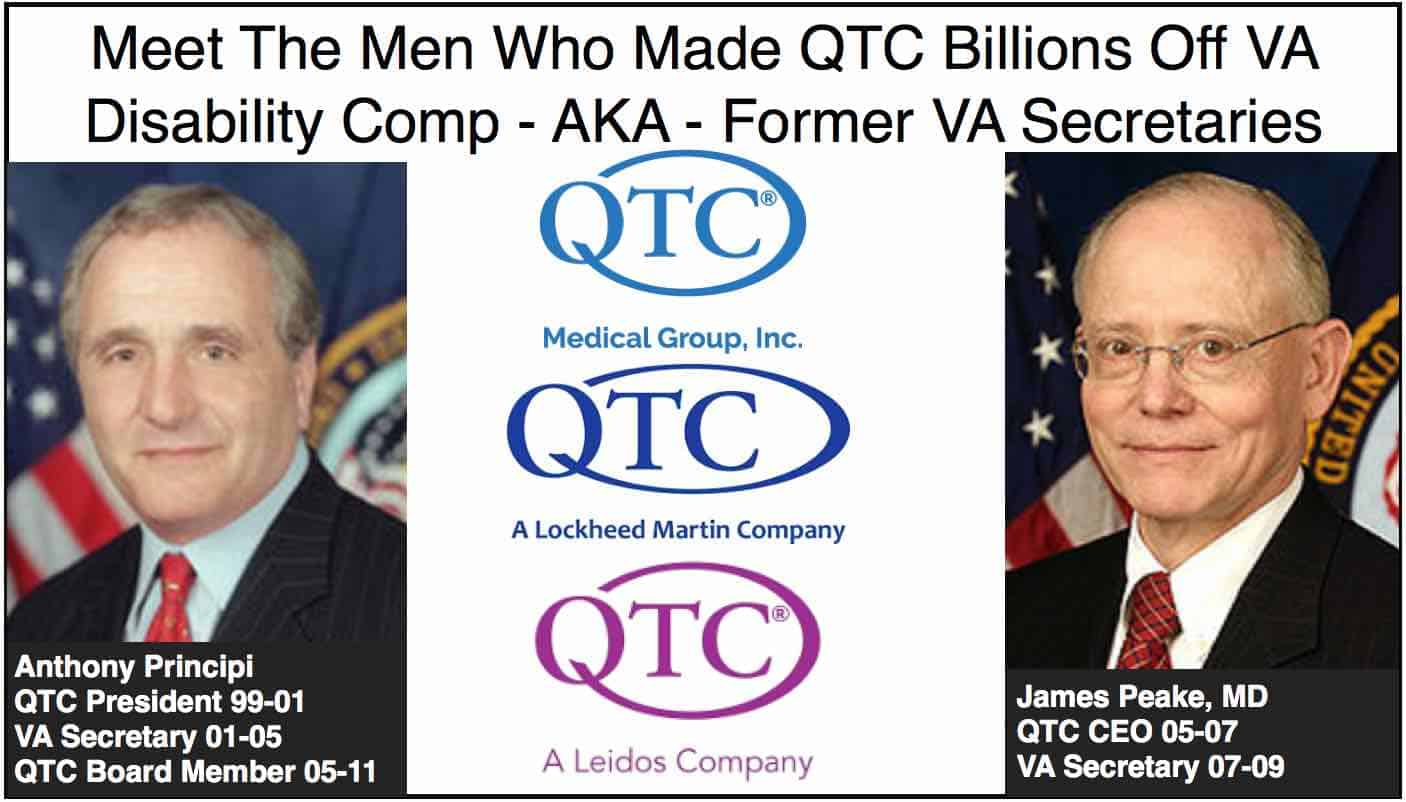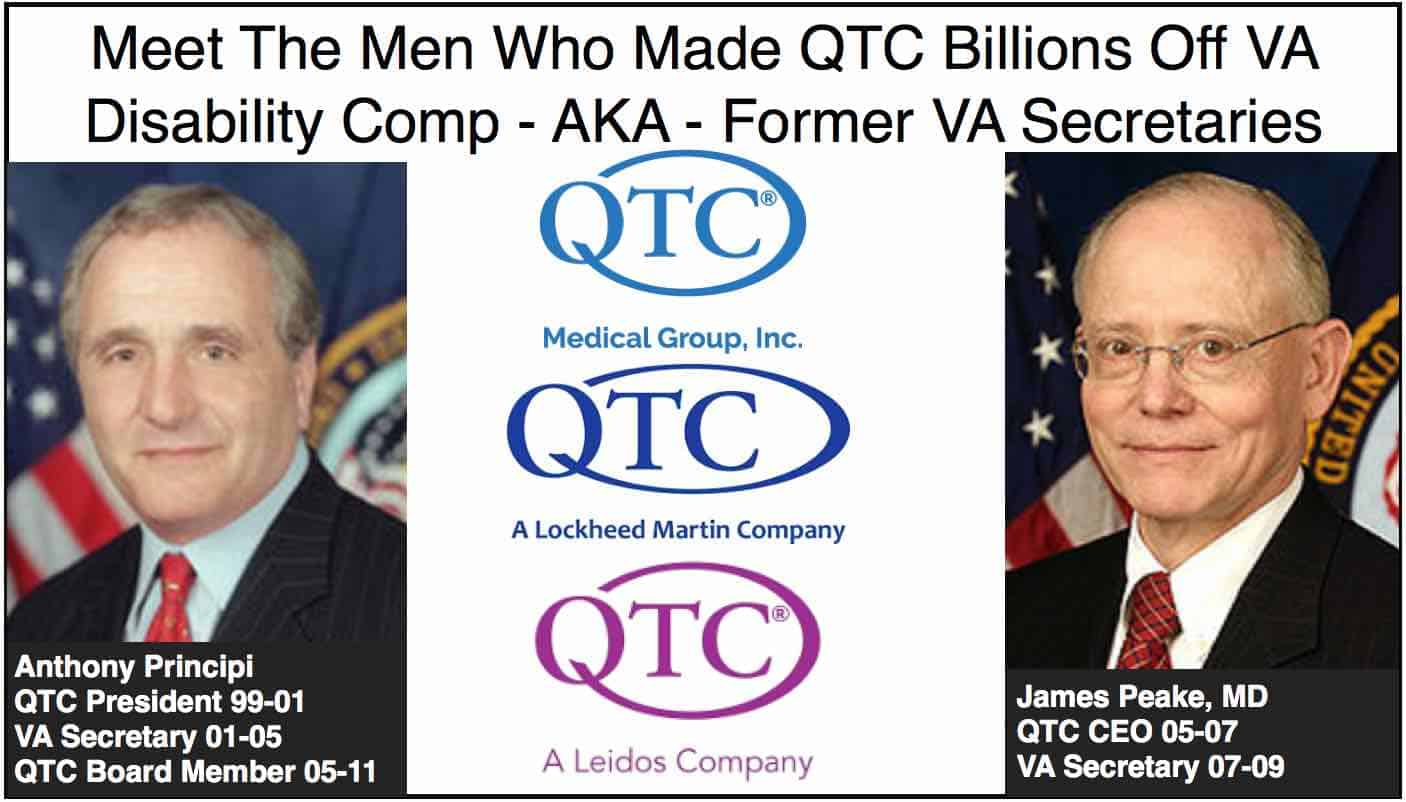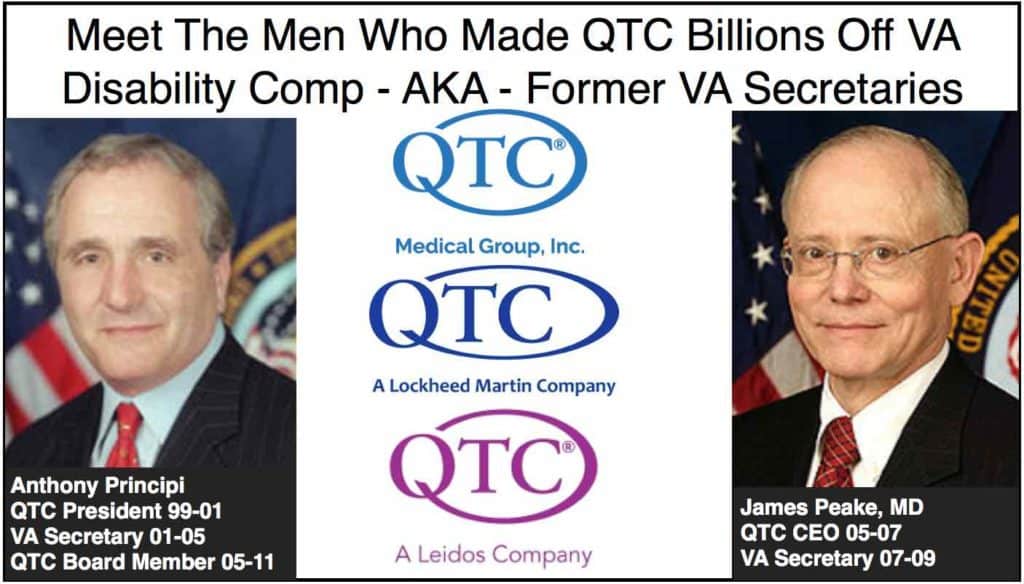 QTC Medical Services was just awarded the prime contract to perform disability compensation examinations for VA with a ceiling of $6.8 billion, again.
QTC, a Leidos company, announced winning the contract Monday following a recommendation from the Government Accountability Office last year. Several prejudicial errors in the bid process resulted in the recommendation.
Compounding problems, the company was recently involved in a whistleblower lawsuit where the company allegedly failed to properly conduct examinations of Vietnam veterans claiming to suffer from side effects of Agent Orange exposure.
The company has been the go to for VA disability compensation examinations outsourced by the agency starting in the late 90's and increasing substantially over the past 20 years.
Today, VA is doing fewer and fewer exams and likely will outsource all exams in the near future. But how did this process of outsourcing exams start? Was anyone behind the changes?
What I am about to describe is the short story of VA outsourcing spearheaded by at least two former Secretaries of Veterans Affairs leading me to wonder if, by awarding contracts to QTC, is the agency really awarding contracts to itself?
While presiding over VA, problems persisted related to scheduling exams and exam quality. Somehow, after working at VA, the American public came to entrust these VA secretaries, and their private QTC teams, to fix VA's problems, at a substantial profit.
But if they were unable to fix the agency while running it, why would we trust them to fix it later? Were their contracts above board? Did the company perform as advertised? What back room dealings existed to allow such an outsourcing scheme?
Over the past 20 years, policies implemented and deals struck by at least two VA secretaries have resulted in outsourcing of the vast majority of disability compensation exams.
Are veterans better off?
QTC Medical Services Bid Redo
During the bid process, according to GAO:
"VA made several prejudicial errors in evaluating the proposals for these contracts," the GAO said in a summary of its decision. "The VA misled two of the (competing firms) during the conduct of discussions or negotiations. These errors led the VA to make source selection decisions that GAO found were unreasonable because they were based on erroneous conclusions in support of the contracts awarded."
Why would VA mislead contracting companies competing with QTC?
QTC And Former VA Sec Anthony Principi
QTC, a company using lobbyist and former VA Secretary Anthony Principi, is the largest provider of medical evaluation services to the US government. That company used to be run by Principi before he served as Sec VA as its president and after as chairman of its Board of Directors.
RELATED: VA Contracts Go To Ex-Chief's Company
Principi was leading QTC's Board during its 2011 sale to Lockheed Martin, a company Principi used to work for in the 90's as its Chief Operations Officer.
In 2014, Principi's firm, The Principi Group, registered as a lobbyist for Lockheed Martin, with the listed lobbying mission "Determine the benefits and medical affairs requirements of the Department of Veterans Affairs."
It certainly sounds like he was lobbying for Lockheed's company known as QTC based on that description. But, Principi claimed he was not involved the bid process for the $6.8 billion contract.
He told Tribune-Review in writing, "I never read any of the [bid] documents." He continued, "I'm confident that the process will lead to a result that serves the best interests of veterans. The integrity of the government's procurement process should be above reproach and free of outside influences."
Well, if that is true, then what good are lobbyists? Do you really believe him?
VA Awarded Contract To Itself?
One insider familiar with the matter found the contract acquisition comical, "It is basically like VA awarded the contract to itself. Didn't VA develop huge delays and problems obtaining medical examinations while Principi ran the agency?"
If I did not know any better, it would almost seem like Principi coincidentally presided over VA during the creation of the perfect storm that justified outsourcing billions in medical evaluation contracts.
Before Principi become Sec VA, he ran the company receiving many VA contracts for outsourced medical examinations. While Sec VA, QTC grew its business line but VA maintained problems with its medical exams justifying further outsourcing.
And, one year after being Sec VA, Principi returned to run the Board of that same company that went on to receive ever more billions in fees for medical exams to VA due to exacerbated programs.
Yup, seems legit.
Apparently, no laws exist that would preclude involvement with your own company immediately after you resign from a government position while the contracts are being signed, right?
Here is an interesting fact. GW Bush later selected retired Lt Gen James Peake, MD to as Secretary of Veterans Affairs two years after Principi departed.
Prior to his nomination, guess where Peake worked?
According to Wikipedia, "Just prior to his nomination as Secretary of Veterans Affairs, Peake served as Chief Medical Officer and Chief Executive Officer for QTC".
Secretary of Veterans Affairs James Peake, MD, ran the agency during that transition to expanded use of government contractors for medical exams. Of course, as you can imagine, Principi was sure to send a brilliant letter of recommendation for his QTC colleague.
By the time Peake took over, the press was fixated more on the poor care veterans received from VA versus the cost of any outsourced medical examinations. But maybe it is time the Principi coincidence is revisited by historians.
What led to the outsourcing, or at least the increased outsourcing?
Did Principi's own leadership decisions while running VA precipitate the need to outsource the examinations to his former company? And what about Lockheed Martin's later acquisition of QTC?
Who owns all the data from the exams? Where is it stored? Does the data just move between companies once acquired? What happens if a firm is acquired by a non-American company with ownership belonging to [insert name of Doctor Evil bad guy]?
Speculation aside, there is no question that few if any people inside QTC are holdovers from the Principi / Peake era, meaning the answer to my question in the title is likey "no".
But one has to wonder about the close relationship between these ex-chiefs and their lobbying efforts to outsource agency functions previously done at a fraction of the cost. And more importantly, if they were unable to fix the problem while running VA, why do we trust them to fix it later, and for massive profits.
It closely resembles the Hegelian Dialectic where the controllers set up the crisis to then implement their pre-designed solution that otherwise would not be palatable but for the crisis.
Academy Graduates And VA Leadership
One thing is for sure, until current Secretary of Veterans Affairs David Shulkin, MD, the good ole boys clubs at our nation's military academies have enjoyed advantages while in the military and well after the leave their uniforms behind.
Every nominated Secretary of Veterans Affairs has been a graduate of one of America's fine military academies since 2001. (Principi is a product of the Naval Academy. Peake is a product of West Point.)
While in service, they enjoy the caste system good life afforded to all top officers who make the most of their academy rings.
Out of the military, they seem to do the same.
And in certain select examples, such as running VA, they again enjoy the fruits of that caste system, as leaders of a new army of union workers whose sole existence is supposed to care for wounded soldiers, their widows and children.
However, when looking at the above example, these same good ole boys from the academies have found yet another way… earning big bucks on the backs of taxpayers while maintaining the need for more and more funding and more and more outsourcing.
So long as VA remains in a state of crisis with deficient care and deficient benefits adjudication, Congress maintains an open purse.
RELATED: Obama Appointees Still Running Show At VA
I think it's worth looking at exactly what companies hire former heads of the agency, and not just secretaries but the respective under secretaries as well.
QTC Award Press Release From Leidos
Here is the full press release from Leidos about the QTC contract:
DIAMOND BAR, Calif., Aug. 7, 2017 /PRNewswire/ — QTC Medical Services, Inc. (QTC), a Leidos (NYSE: LDOS) company, was awarded its second prime contract by the U.S. Department of Veterans Affairs (VA) to continue to provide medical disability examinations for the Veterans Benefits Administration (VBA). The contract has a one-year base period of performance, four one-year options, and a total contract ceiling of $6.8 billion, if all options are exercised.  This second award follows the initial award of VBA's only nationwide contract supporting disability examinations for separating and retiring Department of Defense servicemembers.   
The series of contract awards is part of a VA initiative to improve disability examination experiences for Veterans through an efficient and streamlined process. The new program management and delivery process will also continue to ensure broad national and international coverage of medical examination requirements to meet Veterans' needs worldwide. Under the contract, QTC will apply its 30-year expertise in providing high-quality, technology-driven exam solutions to continue to provide the VBA with medical disability examination services.  QTC will use its customized, systematic operational workflow to administer evaluations, supported by innovative technology that will help VA achieve efficiency and accuracy goals.
"Our Veterans deserve an expedient, efficient and reliable system to provide medical disability examinations. We're proud the Department of Veterans Affairs has entrusted QTC to continue to provide these important services for our Veterans," said QTC President Grant Kim.
About QTC Medical Services
QTC Medical Services, Inc., acquired by Leidos in 2016, partners with each customer to identify existing and forecasted program needs and delivers a full complement of disability-focused medical examination and diagnostic testing services. Since 2000, QTC has provided more than 4.5 million physical examinations and diagnostic tests.
About Leidos
Leidos is a FORTUNE 500® science and technology solutions and services leader working to solve the world's toughest challenges in the defense, intelligence, homeland security, civil, and health markets. The company's 32,000 employees support vital missions for government and commercial customers. Headquartered in Reston, Virginia, Leidos reported annual revenues of approximately $7.04 billion for the fiscal year ended December 30, 2016. For more information, visit www.Leidos.com.