Third Time's A Charm? Toby Cosgrove Floated As Veterans Affairs Secretary, Again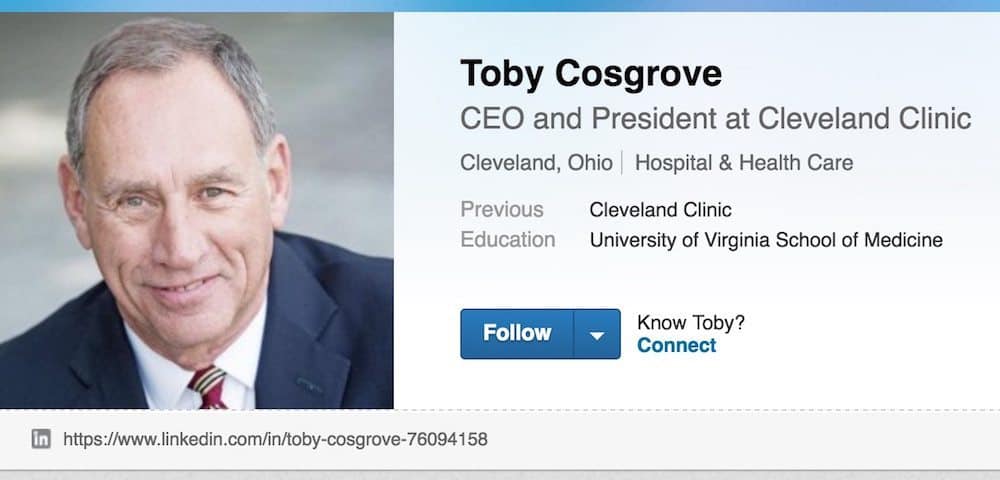 The former CEO of Cleveland Clinic Dr. Toby Cosgrove is being again floated as a possible head of the Department of Veterans Affairs to replace Secretary Shulkin.
Cosgrove, whose real first name is Delos, stepped down from his role of running the Cleveland Clinic in 2017 after 13 years at the helm and seems well positions for the position if selected. He was previously offered the role twice and has turned it down twice, once by President Obama and by President Trump in 2017.
"Dr. Cosgrove was honored to be considered for the role, but withdrew his name because of commitments he has yet to fulfill here at Cleveland Clinic," Clinic spokeswoman Eileen Sheil said after Cosgrove stepped out of the running in 2017. "It was a difficult decision that he did not take lightly. As a Vietnam Veteran, he understands the importance of this role."
The key question is if selected, will Cosgrove accept the role?
At this time, Cosgrove has not been in discussions with the White House about the position and a spokeswoman provided no comment as to whether he was interested in the job.
FLASHBACK: Obama White House Vetting Cosgrove
Would you want to take on the most dysfunctional agency in the Cabinet at 77 years old?
Cosgrove earned the Bronze Star as a US Air Force surgeon in the Vietnam War. He recently served on the Commission on Care evaluating outsourcing VA care using Veterans Choice.
FLASHBACK: Why Cosgrove Withdrew 2014 Bid For Sec VA Role
Other than being one year older, the primary difference between January 2017 and March 2018 appears to be that Cosgrove is no longer at the helm of Cleveland Clinic.
Perhaps he withdrew his name in 2017 to wrap up involvement at Cleveland Clinic with the long-range goal of taking over VA at a later date. As of January 1, 2018, Cosgrove was no longer in charge, which may also explain the timing of Shulkin's damning IG reports.
FLASHBACK: Trump Vetting Cosgrove For Top VA Job
Cosgrove, a dyslexic who went on to become one of the most powerful cardiac surgeons in the nation, certainly stands to bring with him some useful perspectives if selected.
Other Potential VA Secretary Options
Over the weekend, an AP report listed a half dozen other names in the running for the top slot at VA that include:
Pete Hegseth, Fox News personality and former CEO of CVA
Jeff Miller, retired chairman of House Committee on Veterans Affairs
Keith Kellogg, retired Army Lt. Gen.
Michael Kussman, MD, former VA Under Secretary Of Health, retired Army Brig. Gen.
Leo Mackay Jr, former VA deputy secretary, Lockheed Martin executive
Delos "Toby" Cosgrove, MD, retired Cleveland Clinic CEO
Regardless of who is picked from this list, what seems obvious is an expansion of certain privatization initiatives while drawing down on parts of the agency that may not be optimally functioning.