VA Benefits Chief To Veterans: "Stop Paying For Free Benefits Advice"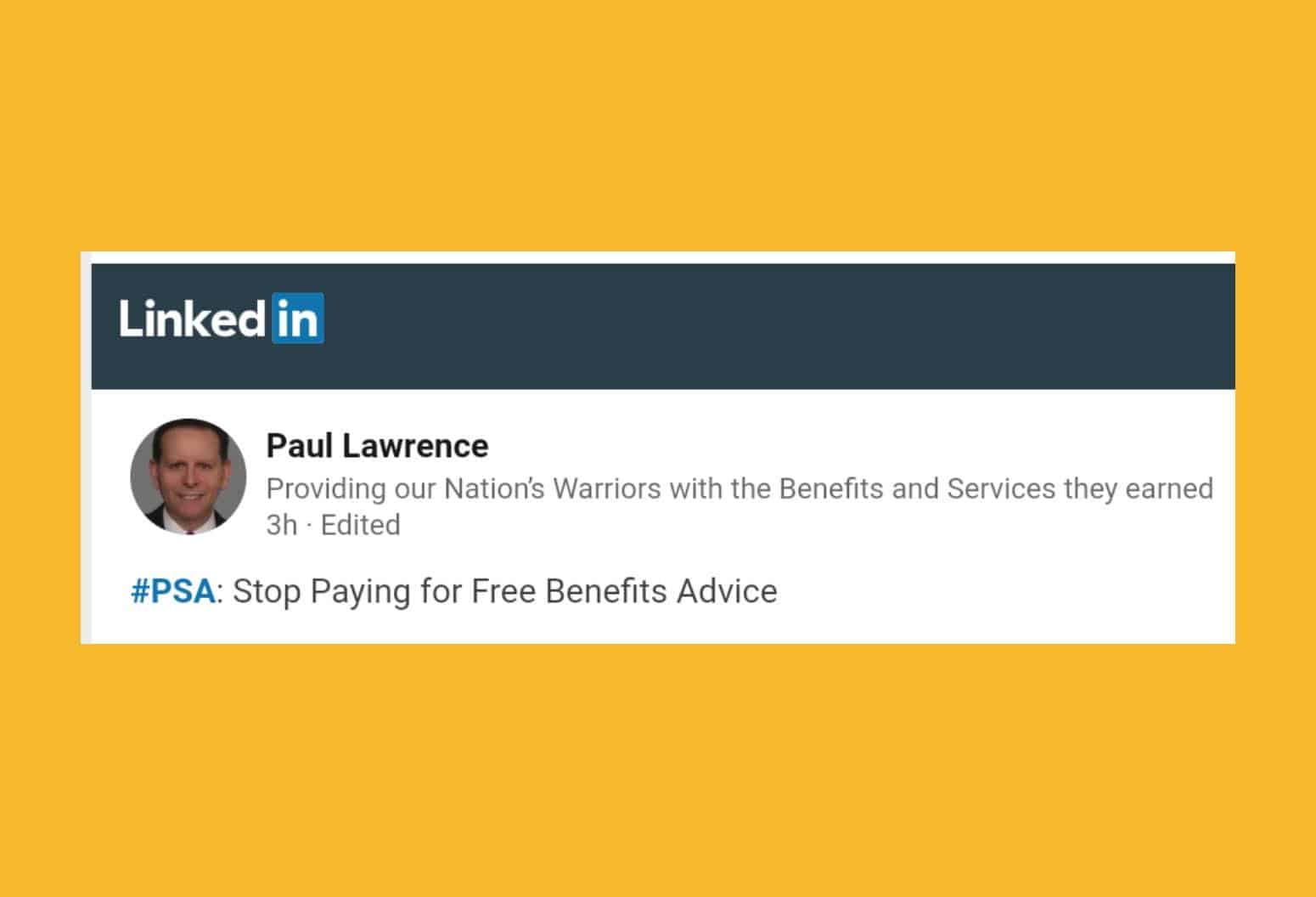 It apparently took a PhD for VA to finally advise veterans to not pay for free benefits advice to veterans the LinkedIn social media platform.
Wednesday, Undersecretary for Benefits Paul Lawrence, PhD, advised veterans to "Stop Paying for Free Benefits Advise." Apparently, veterans were paying money for benefits advice they received for free, and Dr. Lawrence created a #PSA to stop the practice.
I stared at his LinkedIn post for a while to understand exactly what he was talking about. (An image of it is posted at the bottom of this article.)
Was he serious? Are veterans literally paying for the same advice they get for free? Or, did he mean veterans should stop paying for the same advice they can get for free from a VSO?
I understand from one of my colleagues that the original unedited post did not reference VA accredited attorneys but instead highlighted only 4 VSOs and the CVSO community – – a very well placed endorsement at the exclusion of everyone else by the second most influential person in the federal government when it comes to your benefits adjudications.
Amerian Legion
Veterans of Foreign Wars
Disabled American Veterans
Vietnam Veterans of America
County Veteran Service Officers
Why not also mention AMVETS? How about Military Order of the Purple Heart or Paralyzed Veterans of America?
In the middle of COVID and the food supply crash, is this the most important thing to focus on?
Historically, VA has always bristled against the inclusion of attorneys in the mix of veterans advocacy.
Instead, the agency tends to propagandize veterans to rely on non-attorney VSOs. Most of those VSOs get free rent in Regional Offices while using VA.gov emails, government phone lines, and other communications platforms.
Does anyone ever wonder how the use of government communications systems may impact any expectation of privacy in those communications when seeking advice or feedback on their claim?
So Much Paternalism Amidst COVID-19
The timing of this post is rich. Dr. Lawrence recently ordered his team to remove Disability Benefits Questionnaires (DBQs) from its website.
These DBQs were frequently used by veterans to secure independent medical opinions that lacked the same anti-veteran bias that seems to sneak into so many of the opinions VA provides.
VA instead wants veterans to rely on the agency to provide government-contracted exams the agency pays for. Now, many veterans report many of the examiners are not only unfriendly but biased in what they write.
Regional Offices are apparently also instructed to no longer accept the DBQ evidence from veterans for submission into the file. What law allows this type of evidentiary preference? There is no law, only the M21 manual – an internal policy and agency instruction over which we have no control.
And, if a veteran attends a contracted appointment and later seeks a copy of the medical report, VA alleges they have the right to redact the identity of the examiner, which in turn makes it very difficult to verify the qualifications and competency of the examiner if an overt mistake is noted.
So, VA no longer wants veterans to see the disability criteria the examiner will consider prior to their examination. And, if you want to challenge the credentials or competency of the examiners, VA also does not want you to have access to the examiner's identity to accomplish this. Oh, and if you submit supportive evidence using the old DBQs, VA may not accept the evidence from you.
Seem veteran-friendly to you? Why is VA rolling out this strategy in the middle of the COVID-19 shutdown of the country affecting litigation in many courts?
Yes, folks, welcome to the United Soviet States of Amerika.
Are Veterans Incompetent After Exiting Service?
Let's remember.
Veterans served in the US Armed Forces. We were entrusted with many of the most sensitive secrets of our nation and expected to operate under extremely stressful situations to protect our country, the president, and our way of life.
Now, VA thinks we are, after taking off the uniform, too dumb or crippled to know to not pay for advice we receive for free?
Did we suddenly become invalids?
If we were invalids, how would we read the advice on LinkedIn that Dr. Lawrence posted, a social media platform for business professionals?
Or was the post geared more as a way of virtue signaling to VSO's, his subordinates, or other stakeholders?
I'll be curious to FOIA the examples in VBA's possession where veterans paid for advice they received for free about their benefits. I appreciate the concern, but I also resent the notion that veterans are incapable of figuring out how to make decisions as veterans.
As a VA accredited attorney, I can tell you we are precluded from charging fees from veterans for legal representation related services unless the veteran hires us to represent them after receiving a formal administrative decision.
I provide free consultations for veterans once they've been denied benefits. Most of my colleagues also do the same.
My Disclaimer
Full disclaimer. I am a capitalist.
I sell a course that includes an ebook that I created that educates disabled veterans about VA Vocational Rehabilitation & Employment that I sell for less than $20.
I also earn a living representing veterans who are wrongly denied benefits as an attorney. Some of that money pays for me to fly to Washington DC to fight for the expansion of veterans' rights and access to the benefits we were promised that were not delivered. No one else pays for that work other than from the proceeds of my successful cases.
Instead of setting out my shingle as a veterans rights attorney, I could have worked as a business attorney making more or be a government attorney also making more.
But, I chose to not be shackled with golden handcuffs, sell out, or otherwise become a shill for the fed. I am sure there are a lot of good attorneys out there who work in government, but I chose to maintain my independence.
I set out my own shingle to stand on my own two feet, and I started to fight for what I believe in on the plaintiff's side of the law. The VA does not provide my firm with a free office. I do not use a VA email. I do not use a VA phone. My clients are entitled to the attorney-client privilege.
Veterans pay my law firm for help. Veterans also pay my publishing company for access to the course. Thousands of veterans have received millions in benefits they were wrongly denied.
These veterans go on to become leaders in this country as lawyers, doctors, and professors who otherwise would have been forced into lesser careers. They also go on to pay higher taxes statistically proven to pay back to the government the amount the government paid in training.
This seems good to me.
My Rant On This Point
I personally believe veterans should be allowed to pay whoever they want whenever they want for whatever they want. That is the libertarian in me. I do not like the hyper-paternalistic approach VA has taken.
I could not hire an attorney before I become one to help me with my claim because of the way the laws were written by VA in coordination with the Big Six VSOs.
Did you know veterans cannot hire an attorney whenever they want when it comes to benefits claims? They can hire an attorney for a divorce or to get a defense to criminal prosecution or buy a business. They cannot hire an attorney unless the VA was first allowed to issue an adverse decision against the veteran's potential property rights.
A person accused of a crime can hire an attorney when first accused of a crime.
An illegal alien can hire an attorney to fight to stay in the US of A.
A veteran wanting benefits cannot hire an attorney to help win their claim for benefits prior to an adverse decision.
Paul Lawrence PhD Advice To Veterans
Yesterday, Dr. Lawrence issued three steps to battle the scourge of paying for free benefits advice. You can read his actual edited post at the bottom.
Again, I am not sure if he simply meant that veterans are paying for advice they can get for free from a VSO or attorney, or if he literally meant that some veterans receive free advice and then pay for the free advice, anyway.
Paraphrased, Dr. Lawrence gave this advice:
Step 1: Identify an accredited Veteran Service Organization and/or accredited Attorney.
Step 2: Connected to your local Veteran Service Organization. These organizations can serve as your advocate and provide benefits advice free of charge. (Lawrence endorsed Legion, VFW, DAV, and VVA)
Step 3: Connect to your local State Department of Military and Veterans Affairs to speak with a County Veteran Service Officer for free benefits advice or free advocacy.
Is This The Most Important Thing Right Now?
Meanwhile, our nation's food supply is about to collapse while our government tells ranchers to euthanize their flock as importers flood our shores with meat. You better stock up on food, folks, if you haven't already.
We moved to a family farm for the COVID shutdown once it became obvious the food supply was in serious jeopardy on account of the "social distancing" shutdown. Minnesota issued a shutdown order, and I had to physically move my office.
I wish Lawrence would instead focus on helping veterans take the money they have and use it to become self-sufficient during the coming economic collapse. Instead, he is virtue signaling to his VSO base.
My Addition To Lawrence's Advice
I usually recommend the following steps for veterans who are seeking benefits for the first time. There are many others, but this is a 30,000-foot view.
Step Zero: Realize no one will care more about your claim than you. Never fully rely on anyone else to care more than you about your claim. Always take some degree of ownership over your claims benefits process.
Step 1: Never, ever, not ever, take advice from your opponent.
Despite what VA wants you to believe, the Department of Veterans Affairs is your opponent when seeking benefits. Do not trust or take advice from a VA employee without conducting due diligence first.
Do not forget, VA functions as an insurance company similar to Workmen's Comp for the Department of Defense. If you don't believe me, please note the agency's former name was literally the Bureau of War Risk Insurance.
Step 2: Read everything you can find.
You should always evaluate both free and paid options for information. When it comes to disability compensation, as an example, there are a ton of free forums and groups on Facebook. When it comes to paid resources, I like the Veterans Benefits Manual published by LexisNexis and the resources on Chris Attig's website Veterans Law Blog.
Free does not mean better. You get what you pay for.
Like Chris's platform, you may pay for educational courses or continuing legal education courses like most attorneys do each year. I pay well over $1,000 each year to stay current on VA benefits law, which is just a part of my legal practice.
Disclaimer: Chris is a friend of mine. I do not receive any compensation from his operation.
Personally, on DisabledVeterans.org, I published a ton of free resources on my website as well as paid resources for veterans seeking information on VA Vocational Rehabilitation & Employment.
Step 3: Read each decision very carefully.
Never accept the first offer (e.g. decision) from VA without first fully evaluating each and every statement of fact or law within each and every issue.
My Background
I was a broke joke after getting out of the military with numerous disabilities that VA failed to properly evaluate and rate. Over a decade later, I became a national authority on VA policy advising lawmakers and national press on how VA actually works while exposing major scandals on a regular basis.
What happened?
VA started me at 10% and thought I'd go away.
For ten years, I fought with VA Vocational Rehabilitation & Employment for the maximum benefits to which I was entitled. This included an undergraduate degree from a high-cost university and later law school to become an attorney.
As my education level increased, so too did my ability to advocate for myself and win claim after claim. I eventually won 100% PT in 2014 after becoming a licensed attorney.
Yes, it took becoming an attorney to finally win my claims after more than a decade.
So why didn't VA just provide the award I was entitled to from the onset?
Great question. I would guess it's because of incompetence or they thought I would go away, as do most veterans.
What is the overall benefit to the agency of veterans taking the lowball? The agency then makes the economic impact of each war cheaper so taxpayers can afford more wars.
For me, it took over $300,000 in education and more than 10 years to finally win.
If I only relied on free help from VSOs without getting a high-cost legal education I never would have won what I won.
Food for thought. Free help would have cost me my current career and my 100% PT rating.
I likely would not own this website, and I probably would not be self-employed with my own law firm.
Next Steps
Anyway, get out there. Fight back. Evaluate free help. Evaluate paid help. Get educated about your situation.
And remember. You get what you pay for. Free help sometimes costs more in the long run. And other times, it does the trick.
No one situation is the same. Be prudent. Do your due diligence.
As a side note, Lawrence's post was edited. I am told it previously excluded any reference to seeking free benefits advice from accredited attorneys instead focusing veterans on getting advice from non-attorney VSOs.