Veteran Smokes Pot For PTSD, May See Cut To Caregiver Stipend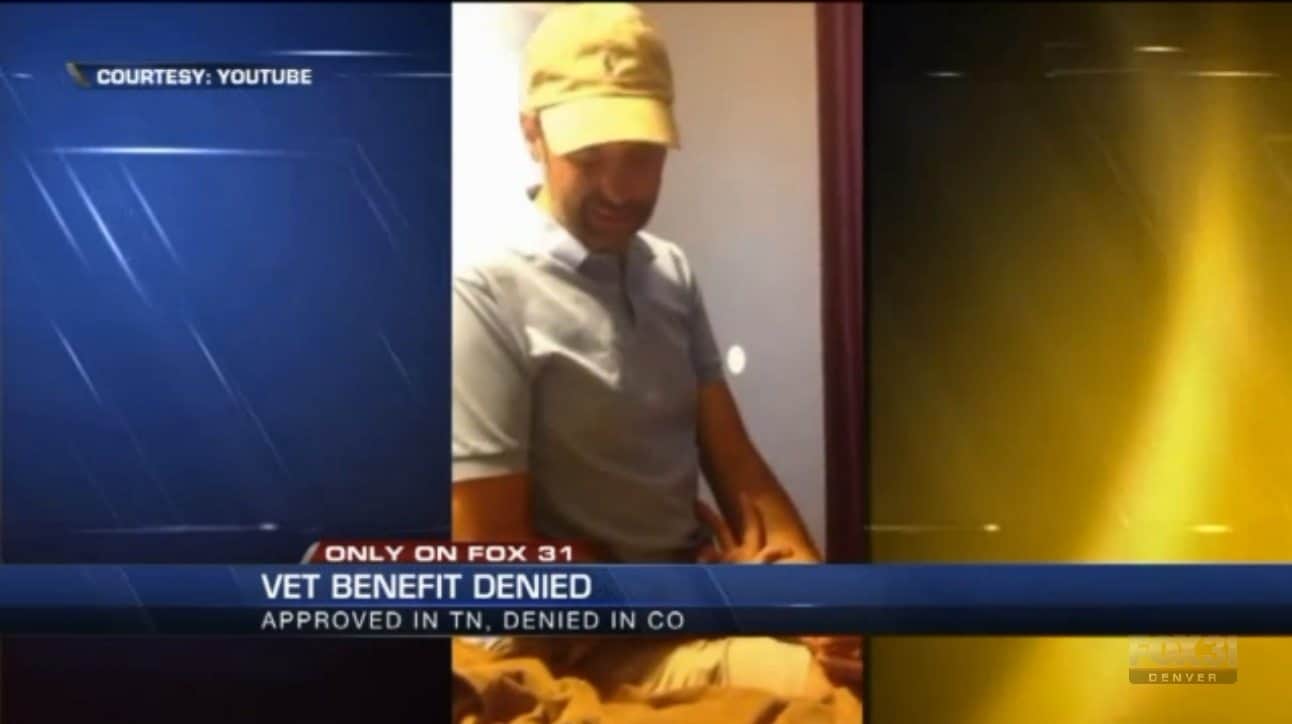 Army veteran Jerry Hamilton moved to Colorado from Tennessee to smoke pot for PTSD treatment of his numerous daily seizures. While his seizures are down to 4 per day from 20, his condition no doubt requires ongoing support from the Caregiver Support Program.
This program provides additional compensation to pay for an in-home caregiver to provide constant care to severely injured veterans of the current wars. Many times, severely injured veterans need around the clock care, and this program compensates people to leave their jobs to provide care – usually for a loved one like a spouse or offspring.
Unfortunately, seizures may not be the only thing that is down following the health care induced move. Now that Hamilton moved to Colorado, thus changing VA health care facilities, his new VA in Colorado wants a crack at lowering his disability payments by up to $3,500.
The Department of Veterans Affairs claims Hamilton's seizures may be caused by another condition for which he does not have a disability rating from the agency. As a result of this "guilty before proven innocent scheme", Veterans Health Administration in Denver wants to reevaluate him under the premise that the twitching is not caused by PTSD.
They have no proof yet, but they did deny his existing claim hoping to find proof later. They believe it is connected to something else, and for that reason, the agency may be off the hook for paying Hamilton's wife to take care of her husband. The big problem for Hamilton here is that he now has to rely on Veterans Benefits Administration (VBA) to service connect whatever it may be, other than PTSD, that could be causing the seizures. Or, VBA will confirm PTSD is the primary cause of the seizures.
Basically, VA in Colorado denied his claim for the Caregiver Program on the basis that they do not believe the other VA in Tennessee had it right. But isn't this agency federal? How is it that one location can override another to the detriment of the veteran without proof?
According to Fox 31 Denver:
Documents from the V.A. show the Hamilton's had been receiving the benefit for nearly two years in Tennessee based on "a mental health condition."

But in September, the Hamilton's received a veteran denial letter stating they no longer "meet the clinical eligibility criteria."

"They`re stating that the PTSD is not seizures. It`s not ticks. It`s not movement. They`re stating that that`s a separate diagnosis than the PTSD," said Cissie Hamilton.

The Caregiver Support Program is for Veterans who suffered a serious injury in the line of duty, according to Daniel Warvi, Public Affairs Officer for the Department of Veterans Affairs.

The V.A. admits Hamilton has been diagnosed with PTSD but in a statement it claims a "comprehensive review determined that while Mr. Hamilton's care needs that were communicated to VA were for 'brain injury,' this veteran does not have a service connected disability rating for a brain injury awarded by the Veteran Benefits Administration (VBA). The Hamilton's have since stated that they believe his need for a Caregiver is related to a Seizure Disorder and a Movement Disorder, but those are also not conditions that VBA has determined to be service-connected."
Talk about penalizing a guy for trying to get better.
Read More: https://kdvr.com/2014/11/16/veteran-runs-into-problems-with-va-after-moving-to-colorado/