VSOs Support John McCain Reforms Aimed To Advance VA Privatization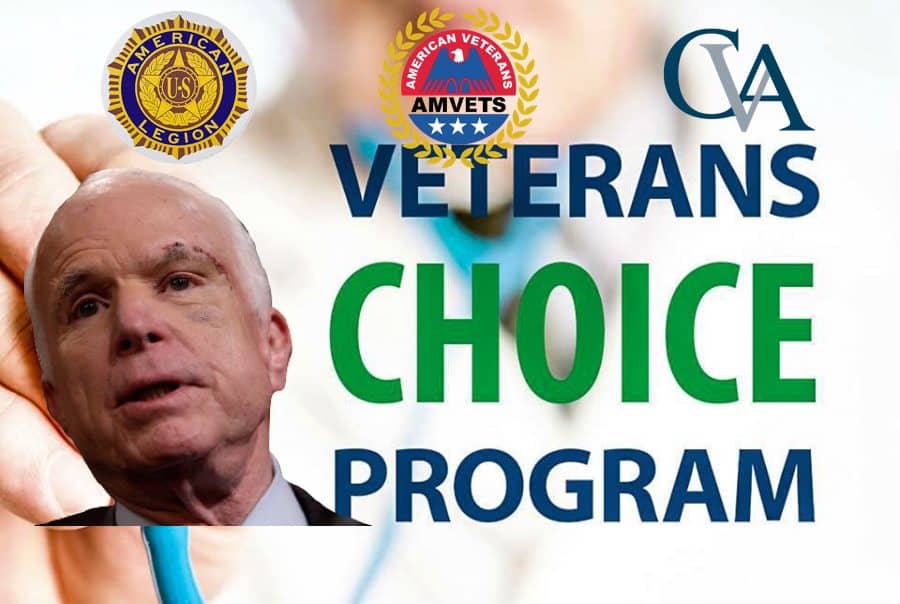 Some VSOs support a proposed law from Senator John McCain (R-AZ) to create new reforms that advance VA privatization for community care.
In partnership with Senator Jerry Moran (R-KS), Senator McCain has proposed new legislation to reform VA Health Administration (VHA) into a "21st century health care system." The new law "would better integrate VA services and existing VA community care programs, such as the Veterans Choice Program, into an efficient and high-performing health care system."
According to the senators' press release yesterday, the newly introduced legislation, S.2184, the Veterans Community Care and Access Act of 2017, will reportedly transform VHA into a "modern, efficient and easy-to-use system that will increase veterans' access to quality care."
VSO support for advanced privatization of VA health services has been slow moving but some organizations, specifically American Legion and AMVETS, support modernization reforms toward enhanced non-VA care.
Many disenfranchised veterans, including me, support forcing VA to compete against private sector providers without disbanding VHA altogether. Others support VA being fully privatized using a Medicare / Social Security model, entirely.
Background Of Current VA Privatization Push
The advancing push for privatization is the result of unresolved healthcare scandals committed by fraudulent and criminal VA employees who were not held accountable or properly investigated by VA OIG and President Obama's FBI.
CNN first exposed the scandal at Phoenix VA, which lead to exposure of a nationwide fraud ring involving numerous VA medical centers.
According to whistleblowers, hundreds of veterans died while VA employees cooked the books to make their performance numbers look better. As result, many veterans were illegally forced to wait for health care whose deaths were linked to the delays.
RELATED: VA OIG Spins Phoenix VA Wait Times Investigation Results
Despite these problems, and the current failure of the agency to hold its criminal employees accountable as recently as this month with continued wait time schemes being perpetrated, many veterans want to avoid full VA privatization.
RELATED: VA Staffers Create Secret Clinic To Cover-up Wait Time Manipulation
The unions oppose further VA privatization because it erodes their voter base in support of Democrats as well as their lobbying coffers from member dues. However, they also refuse to reign in employees who engage in the criminal behavior.
RELATED: VA Hires Known Criminals As VA Doctors
Many private sector medical research and genomic research firms oppose moves like this because it dilutes datasets within the Million Veteran Program and other sources of research over which VA maintained a full monopoly until Veterans Choice disrupted that system.
RELATED: VA Pimps Out Million Veteran Program Genomic Data To Contractor
Meanwhile, government contractors like TriWest Healthcare Alliance and Health Net, support advancement of VA privatization that would increase the value and size of their government contracts. As will be discussed below, the founder of TriWest, David McIntyre, was a staffer for Senator John McCain before being awarded a $2.5 billion contract to administer part of the Tricare program in 1996 under President Bill Clinton.
Koch Brothers also reportedly support greater privatization of the federal government as a whole, and reportedly benefited handsomely from ramped-up opioid prescriptions leading up to the Candyman fiasco at Tomah VA.
RELATED: Arizona's TriWest Under Grand Jury Investigation
Veterans Affairs Secretary David Shulkin, MD, was recently reported as moving toward unifying DOD and VA healthcare through an extension of Tricare to veterans. Some veterans organizations support the move while others oppose it citing Tricare does not know how to help veterans with healthcare.
RELATED: VA Caught In Cover-up Of 90% Of Bad Medical Providers
Such a position is ignorant of the longstanding history of government contracting in Tricare and the Veterans Choice Program. TriWest and Health Net jointly provided Tricare administration since at least 1996 if not earlier.
Even though TriWest no longer administers Tricare, they lost the contract in 2012, the duo both administer Veterans Choice, so the move to unify Tricare under one umbrella is more a question of how quickly bureaucrats can shift around the same chairs on the deck of the Titanic.
VA Privatization Pros, Cons And President Trump
The takeaway here is that many pro's and con's exist concerning further VA privatization. A deeper review of contractors will help identify the players and where VA is going.
Any current attention or misdirection aimed at hanging this albatross around the neck of current President Donald Trump is somewhat misguided given VA privatization greatly accelerated under President Obama including the use of McCain favorite TriWest to administer Veterans Choice.
I have no dought he will continue the accelerating trend of privatization, but it in no way originated with his administration just ten months ago given all major players within the organization are all Obama holdovers with few exceptions.
Anyone who says otherwise is peddling anti-Trump hysteria devoid of a historical appreciation of government contracting within the Department of Veterans Affairs.
Practically all the contract officers were in place under President Obama, and many of the contracts being approved now were under negotiation for some time. By keeping President Obama's staff largely intact, we are watching the evolution of President Obama's initiatives and unfortunate whitewash cover-ups including the Rob Nabors cover-up of the Phoenix VA wait times scandal. Nabors was considered Obama's cleaner who would fix problems from the White House, and he was deployed to Phoenix VA after the scandal broke in 2014.
Many of those initiatives, and the bad policies going with them, have largely been underway since President Clinton initiated his reinvention of federal government initiatives starting in 1993 with former presidential candidate Hillary Clinton. In 1993, she chaired the committee responsible for initiating healthcare reforms in the federal government and VA with the support of the big five VSOs. Additionally, President Clinton approved outsourcing of retired military care using Tricare to TriWest.
RELATED: Did Clintons Create VA Policies Leading To Wait List Scandal?
These reforms include tying quota systems to performance numbers and cutting government employees, even in vital positions, in favor of greater public-private partnerships with government contractors like IBM, Leodis, Booz Allen Hamilton, and more.
The quote system tied to bonuses and an ability to manipulate wait times led to the wait list scandal and was noted by VA as being a major problem left unaddressed back in 2001. Now, the quota system is forcing a variety of problems that still plague the agency today.
Most certainly, if President Trump fails to address these problems, now that he has an opportunity to truly reform the agency, he will be no less guilty than the complicit presidents of the past who traded veterans lives for campaign contributions and political favors from government contractors.
There is enough shame for both Democrats and Republicans to go around. I supported President Obama to clean up the mess. He did not. I now support President Trump to clean up the mess, which makes sense since he is the president with the ability to make a difference.
RELATED: VA Uses Clinton Executive Order To Reduce VA Care Quality Standards
Senators On Reform Legislation
Senator John McCain On VA Privatization
"In the wake of the scandal in care at VA hospitals in Phoenix and around the country, we vowed to guarantee our veterans timely access to quality treatment," said Senator McCain. "The Veterans Choice Program was the first step in delivering on that promise, but much more needs to be done to provide all veterans a choice in when and where they receive care. Our bill would strengthen and improve the core elements of Choice by consolidating and streamlining the VA's community care program. Moreover, the bill would deliver long overdue, critical reforms to the VA, including commonsense reporting standards that ensure cost-efficient care to our nation's veterans. It's time we transform the VA into a 21st century health care system, one that respects the dignity of our men and women in uniform and provides all veterans the quality health care they deserve."
Senator Jerry Moran On VA Privatization Reform
"Since the creation of the Veterans Choice Program, Congress has repeatedly pushed the VA to make much-needed changes to its healthcare system," said Senator Moran. "Far too many Kansas veterans have experienced unnecessary difficulties accessing the care they've earned from the VA, and I appreciate that they have shared their stories and empowered us to work on their behalf. Demand has demonstrated that veterans want and need healthcare options in their communities, but there must be reform at the VA to create a system that works for them. I'm proud to be introducing this transformative legislation with Senator McCain, whose advocacy for our veterans is unparalleled. This joint effort to reform the VA will offer veterans an integrated healthcare system within their community that reduces red tape, enhances their quality of life and provides care that is worthy of their service and sacrifice."
Who Are Winners With More VA Privatization
Disenfranchised Veterans Win
Many disenfranchised veterans reluctant to receive their medical care from VA employees, and all other veterans not reasonably able to receive care from VA in a timely manner, stand to benefit from advanced privatization and greater access to community care. These veterans, according to the senators, would be allowed more control over doctor selections.
This advancement of VA privatization comes just after VA administrators loosened requirements on primary care providers due to shortages and cost benefits. Now, clinical pharmacists and advanced practice nurses, referred to as mid-level providers, can provide direct medical care to veterans without oversight of a medical doctor.
Veterans who want to receive medical care from bone fide doctors might now be able to receive that care from non-VA providers while veterans content with receiving care from lesser-qualified and trained mid-level providers can advance their careers in states that preclude such arrangements in non-VA facilities.
Other VSOs have opposed advanced veterans choice due to fears that outsourcing of some elements of VA healthcare would result in outstripping so many services that VA could not survive. This argument is overblown and more of a chicken little opposing argument, but some still argue this position.
Contractors TriWest Healthcare Alliance And Health Net Win
The newly proposed legislation stands to benefit Veterans Choice Program administrators TriWest and Health Net, the two primary government contractors who operate the program. Both contractors have ample experience providing insurance services and administration of the Department of Defense Tricare system, a program created by TriWest in 1996.
RELATED: Health Net Has Sanctions History
TriWest, an Arizona company, is the also the administrator of the VA Patient-Centered Community Care (PC3) program.
RELATED: VA Revokes TriWest Appointment Scheduling Duties
All is not necessarily rosy for TriWest. A recent investigation into the company's practices revealed it overcharged VA for services it billed to the tune of tens of millions of dollars. The company is also in the middle of a grand jury investigation.
RELATED: Veterans Choice Overbilled, Grand Jury Investigates
Given these problems, I would normally expect VA to fire TriWest, but that seems unlikely since its founder, David McIntyre, was a staffer for Senator McCain before creating TriWest to take over the duties of the military's old CHAMPUS health care system for retirees and their families under President Bill Clinton, in 1996.
Health Net, formerly known as Foundation Health, was awarded the first outsourcing of CHAMPUS as a pilot program in 1988. In 1996, DOD adopted Tricare as a solution. TriWest and Health Net administered that program for many years since then. TriWest lost its contract after 17 years after it was caught overbilling DOD in 2012.
VSOs Supporting VA Privatization Reform
American Legion Letter Of Support Excerpt
"On behalf of the 2 million members of The American Legion, I write to support your bill titled, Veterans Community Care and Access Act of 2017," said American Legion National Commander Denise H. Rohan. "The bill, as currently written, would modify the already existing Choice program, providing veterans with the 21st Century medical system they rightfully deserve."
READ: American Legion Full Letter
AMVETS Letter Of Support Excerpt
"AMVETS is pleased to support the Veterans Community Care and Access Act of 2017. Veterans need health care, both inside and outside of the VA system of care," said AMVETS National Executive Director Joe Chenelly. "This measure addresses funding, implements ongoing patient surveying in conjunction with community care teams, and devises re-evaluation of both VA and private sector care. Both need oversight. All veterans have a right to receive the quality health care they have earned, and we applaud the hard work and insight that has taken place for this type of measure to be created. We urge its swift passage and will assist however we can."
READ: AMVETS Full Letter
Veteran Organization Supporting Advanced Choice
I wanted to delineate between Congressionally chartered veteran service organizations like American Legion and AMVETS because the legal responsibilities, fiduciary responsibility, and general support for veterans is different when compared to Concerned Veterans for America (CVA).
CVA has remained controversial because it is not considered a "real" VSO by many insiders due to its lack of hands-on support for veterans benefits claims and its Koch Brother funding early on. The Koch Brothers reportedly want VA Health Administration privatized.
It is important to note that the source of money and lack of veteran service officers does not mean an organization's position is not worth paying attention to, but it may be relevant to consider.
Personally, I support the advancement of VA privatization to allow an opportunity for veterans to choose where to get their health care in part because I am a disenfranchised veteran who does not want VA employees to provide me with health care. It is not safe, and I do not want to receive medical care from a nurse or medical student.
Concerned Veterans For America Letter Of Support Excerpt
"Despite tens of billions of dollars in budget increases for the VA over the past three years, there are still far too many veterans waiting long periods of time for critical appointments and still too frequent reports of veterans suffering as the result of substandard care at the VA," said Concerned Veterans for America Executive Director Dan Caldwell. "The Veterans Community Care and Access Act of 2017 would change that by reforming how the VA delivers health care to our veterans. The legislation would give veterans more options in their healthcare and change how it is delivered. Additionally, the legislation creates a plan to combine multiple outside care programs at the VA that will reduce bureaucracy and streamline reimbursements to community providers… Concerned Veterans for America strongly supports this legislation and we thank you for leading on this important issue."
READ: CVA Full Letter
The following is the full highlight document from Senator McCain's press release on this new legislation that provides a summary. The italicized paragraphs below were taken directly from Senator McCain's document:
Highlights – The Veterans Community Care and Access Act of 2017
The Veterans Community Care and Access Act of 2017 – authored by U.S. Senators John McCain (R-AZ), Chairman of the Senate Armed Services Committee, and Jerry Moran (R-KS), Chairman of the Senate Appropriations Subcommittee on Military Construction, Veterans Affairs, and Related Agencies – would transform Department of Veterans Affairs (VA) health care into a modern, efficient and easy-to-use system that will increase veterans' access to quality care. Key components included in the legislation are below.
ESTABLISHING VETERANS COMMUNITY CARE PROGRAM
The bill would establish the Veterans Community Care Program, which would consolidate all community care authorities into a single cohesive program to deliver hospital care, medical services and extended care services to veterans in their communities. The bill would require each VA medical facility to coordinate the care of veterans participating in the community care program.
STRATEGY FOR HIGH-PERFORMING INTEGRATED HEALTHCARE NETWORK
The bill would require the VA to assess, develop and implement a reoccurring strategic plan to create a high-performing integrated healthcare network at the VA. This would be informed by periodic market assessments that examine the total demand for care on the VA system, identify gaps in care, and balance improvements to the VA and capacity in the community. Finally, the bill would standardize access and quality measurements to assure a consistent experience for veterans.
ADDRESSING ACCESS & QUALITY STANDARDS
The bill would implement data-driven access standards to inform veterans about their eligibility for community care. The VA Secretary would be responsible for determining standards of access for the following types of care: Primary, specialty, behavioral health, urgent, home health, dental or any others determined by the Secretary.
These standards would improve veterans' ability to compare care at the VA and other federal facilities with care at community hospitals. They would also inform the public about the state of VA healthcare.
The VA quality standards would also align with Department of Defense, Centers for Medicare and Medicaid Services and industry quality standards, and would establish a remediation protocol if the VA fails to meet those standards. Access and quality standards would not interfere with the discretion of VA clinicians, but would guarantee a common standard if the VA is unable to provide safe and timely care.
IMPROVING ACCESS TO WALK-IN CARE AND VA TELEMEDICINE
The bill would grant veterans access to care at walk-in clinics that are part of VA's community care network. It would also expand authority for VA health care professionals to practice telemedicine in other states, regardless of their location or that of the veteran. The VA would be required to submit a report to Congress within one year of enactment on the VA's telemedicine program, including information about provider and patient satisfaction, the effect of telemedicine on wait-times and utilization, and other measures.
ENSURING SAFE OPIOID PRESCRIBING PRACTICES
The bill would ensure that contracted providers review evidence-based guidelines and make certain the VA shares with community care providers the relevant medical history of veteran patients to guide the prescription of opioids through the community care program. It would also make the VA responsible for coordinating the prescription of opioids, which would be directed to VA pharmacies for dispensing, except in the case of a prior authorization or when the provider determines there is an immediate medical need for the prescription.
PROMPT PAYMENT TO PROVIDERS
The bill would establish and require publication of regulations for a prompt payment process that would obligate the VA to pay for, or deny payment for, community providers' services within a set timeframe after receipt of a claim – 30 or 45 calendar days depending on the type of claim.
These provisions would include a specific requirement for prompt payment to Critical Access Hospitals at the designated Medicare cost-based rate.
PROTECTING VETERANS FROM UNSAFE & UNFIT PROVIDERS
The bill would protect veterans seeking care in the community from being treated by a provider who was fired, suspended, or had his or her license revoked by the VA or violated the requirements of his or her medical license.
GRADUATE MEDICAL EDUCATION & RESIDENCY PROGRAM
The bill would authorize the VA to increase the number of graduate medical education residency positions at covered facilities by no less than 1,500 positions in the 10-year period following enactment of the legislation.
IMPROVING COLLECTION OF HEALTH INSURANCE INFORMATION
The bill would require anyone seeking VA medical care and services to provide his or her health plan contract information to the VA. This section would also clarify that the VA could seek collections in the event the VA pays for care, rather than just delivers it.
IMPROVING INFORMATION SHARING WITH COMMUNITY PROVIDERS
The bill would clarify that the VA could share records with non-Department providers for the purpose of delivering care and enhancing the VA's ability to recover funds from other responsible third parties.
PILOT PROGRAM ESTABLISHING GRADUATE MEDICAL RESIDENCY PROGRAMS WITH INDIAN HEALTH SERVICE
The bill would direct the VA Secretary to consult with the Director of the Indian Health Service to develop a pilot program or affiliate with a graduate medical education residency training program, specific to rural or remote areas. The pilot would begin in no more than four locations and would extend eight years beyond the bill's enactment.
Source: https://www.mccain.senate.gov/public/index.cfm/2017/12/senators-mccain-moran-introduce-legislation-to-reform-va-into-21st-century-health-care-system