DAV, VSOs Snub White House, Honor Fired VA Secretary Shulkin With Private Ceremony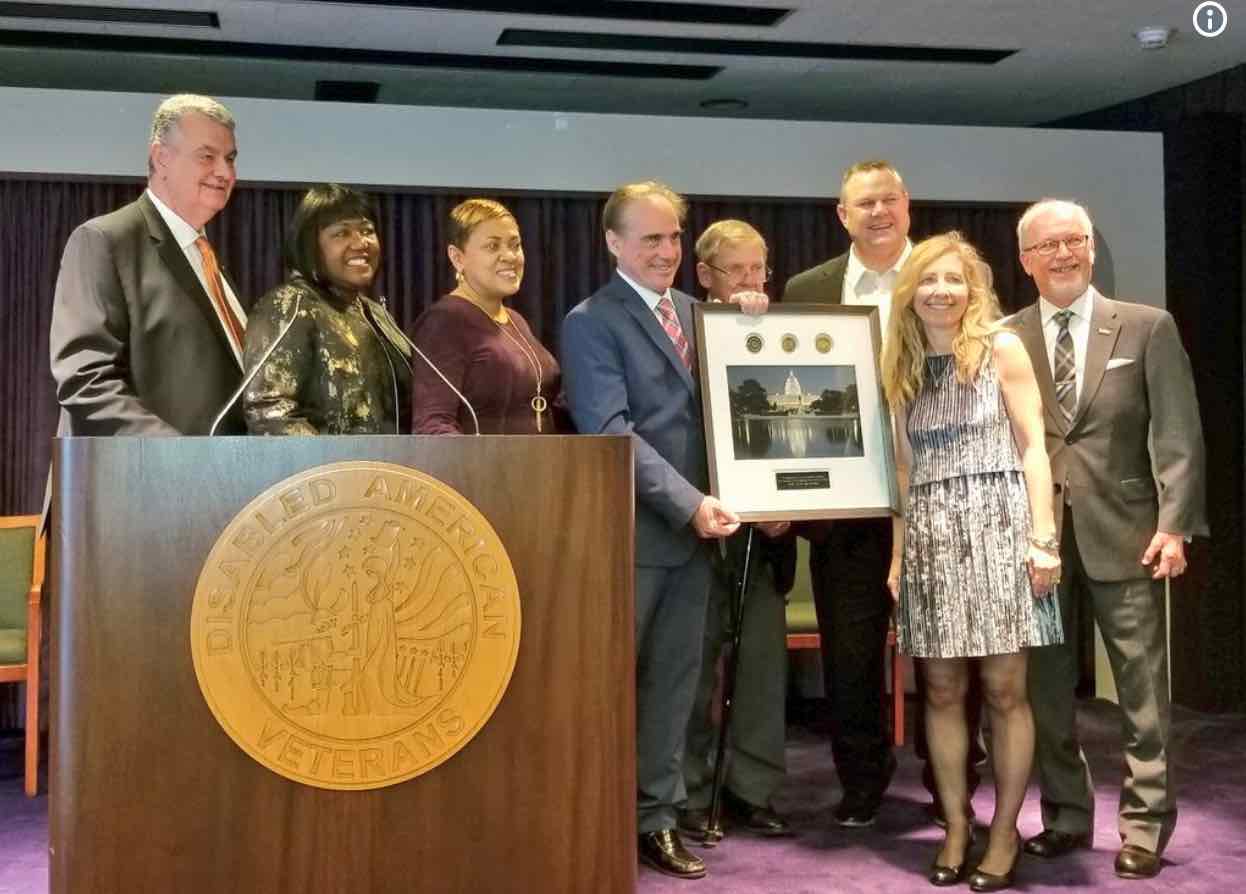 Disabled American Veterans (DAV), the largest organization of disabled veterans, held a private award ceremony to honor fired VA secretary David Shulkin and his staff along with the other "big six" dinosaur veterans groups – American Legion, AMVETS, Paralyzed Veterans of America, Veterans of Foreign Wars, and Vietnam Veterans of America.
DAV held the event at its facility in Washington DC to honor Shulkin for his 13 months of work as the agency's chief administrator to thank him for a job well done. The ceremony is believed to be evidence of a growing rift between veteran organizations and the White House following the twitter termination a couple weeks ago.
Vivieca Wright Simpson was also in attendance and honored for her 32 years of working at VA and helping veteran organizations maintain their advocacy monopoly that squeezes out most other groups seeking a seat at the table.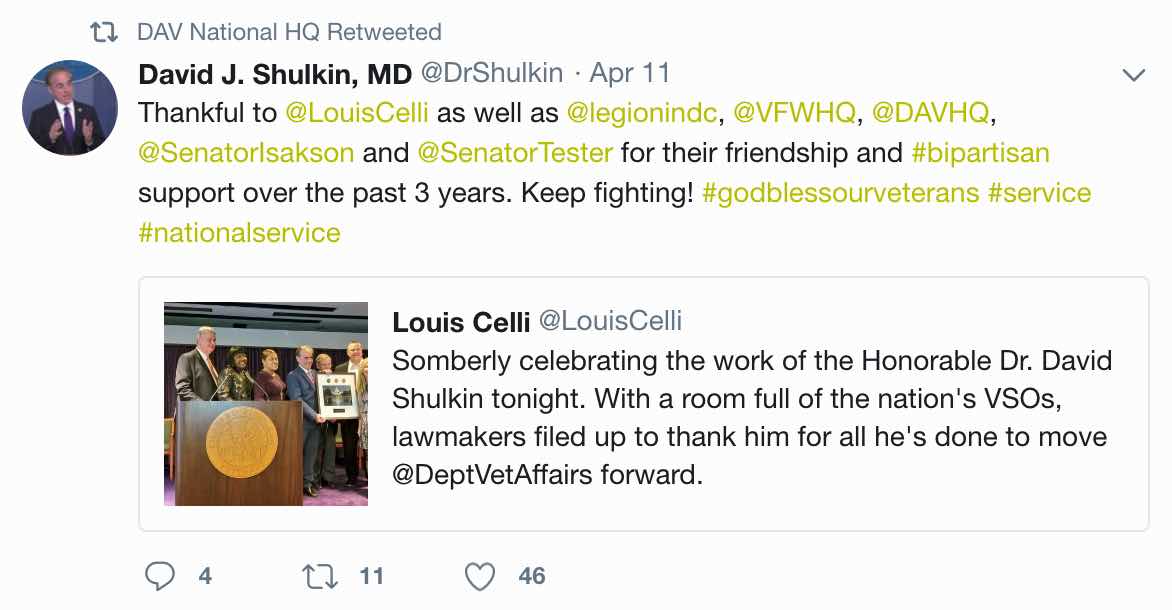 The dinosaur VSOs have largely decried the termination of Shulkin following confirmed allegations that he took his wife on vacation to Europe using taxpayer funds and resources.
Now, these VSOs are concerned the new team sent to VA from the White House will privatize VA. But what does that mean given that VA has largely been privatized, already?
VA sent out a press release a little over a week ago with the aim of "debunking the VA Privatization Myth" but it did little more than insult the thinking Americans reading it.
RELATED: Tone-Deaf DAV Gives Top Advocacy Award To Agent Orange Denier Tom Murphy
VA Propaganda On Privatization Myth
To debunk the myth, VA points out it has more facilities, more employees, and a bigger budget than two years ago, and therefore, privatization fears are a red herring:
In 1998, VA's budget was $42.38 billion.
VA's 2018 enacted budget is more than four times that figure at $188.65 billion.
In 1998, VA had 240,846 employees.
As of March 29, 2018, VA had 385,233 employees, a nearly 60 percent increase in 20 years.
VA has increased its end strength by nearly 15,000 since the beginning of the Trump administration, from roughly 370,000 to 385,233 as of March 29, 2018.
In 2000 VA had 1,110 medical facilities.
Today, VA has 130 more medical facilities, for a total of 1,240.
Now, the dinosaur VSOs say the argument is false and makes use of inflation numbers.
But neither position is being truthful.
Privatization Reality
The reality is our Federal Government, including Veterans Affairs, have undergone a massive privatization endeavor in the past 20 years that started under the Clintons' initiative to Reinvent Government.
The gutting of agency functions is behind why VA cannot maintain its VistA healthcare records system and is instead looking to pay Cerner $10 billion.
RELATED: $10 Billion Cerner Deal Has 6% Odds Of Success
DAV pushed hard for Leidos company QTC to receive a $6.8 billion contract to perform contracted disability compensation examinations linked to the new Decision Ready Claims system being rolled out nationwide.
RELATED: Did Former VA Secretaries Help QTC Win Massive Contract?
The agency is also rolling out a $20 billion IT updating campaign spearheaded by longtime contractors since it can no longer maintain its own systems.
Many of the clinics around the country are managed, not by VA executives, but by companies like Sterling Medical.
Veterans benefits administration tasks are largely performed by VA vendors who handle scanning and mailing out of Janesville, Wisconsin.
Minneapolis VA, Cincinnati VA, and many other VA medical centers nationwide, all make use of area universities who provide contract surgical services.
VA also has a huge propaganda machine costing taxpayers tens of millions each year performed by public relations firms and advertising firms inspiring the minds of veterans and the American public.
RELATED: VA Wasted $1.1 Billion On Unsuccessful IT Projects
While it is true that more facilities were added, the budget is higher, and more employees were added to the payroll, still more facilities are managed by non-VA executives, an enormous portion of the budget goes to for-profit corporations, and many hundreds of thousands government contractor employees work on VA projects likely well outnumbering actual employees of the agency.
RELATED: Lockheed Martin Wins GI Bill Contract
DAV, VSOs Against White House
Some view the ceremony as a sign the two camps will not be playing nicely together in coming months as the new VA secretary, whoever is confirmed, will restart the reform process.
Personally, I see this as a sign DAV and VSOs are out of touch with the veteran base given that the majority of veterans saw Shulkin's ethical foibles as a major problem justifying termination.