DUH: Biden Finally Links Burn Pit Brain Cancer To Son's Death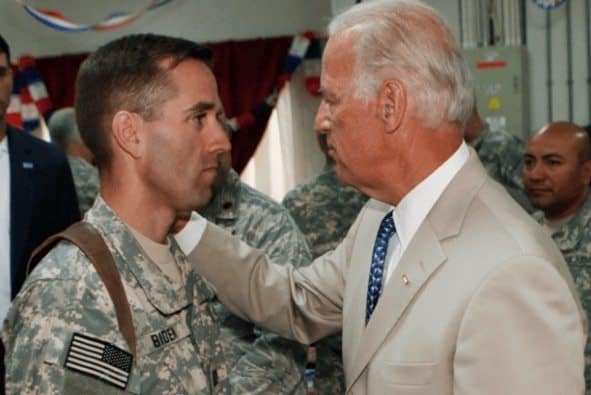 Former Vice President Joe Biden finally linked burn pits and brain cancer to his son's death in 2015 following burn pit exposure at Camp Victory, near Baghdad, Iraq.
Biden's son, Beau Biden, served in Kosov and Iraq as a JAG lawyer in the Army prior to his death. The former vice president now believes exposures to toxic chemicals burned in burn pits may have caused the cancer that later claimed Beau's life.
"Science has recognized there are certain carcinogens when people are exposed to them. Depending on the quantities and the amount in the water and the air, [they] can have a carcinogenic impact on the body," Biden said in a PBS interview this month.
RELATED: Vietnam Vets At Risk Of Rare Liver Cancer
Book On Burn Pits Covers Beau Biden Death
After reading a book called "The Burn Pits: The Poisoning of America's Soldiers," Biden finally learned how his son's cancer was linked to the broader issue. "There's a whole chapter on my son Beau in there, and that stunned me. I didn't know that."
While the media seems to limit discussion of burn pit use to only the most recent wars in Afghanistan or Iraq, use of burn pits to dispose of practically everything is a longstanding practice of our US military branches in forward deployments. The practice is well documented since at least Vietnam but was not considered newsworthy until illness from exposure to burn pits became more widely accepted.
RELATED: 36-Year-Old Mother Most Recent Burn Pit Victim
VA Burn Pit Registry
In 2014, VA created a joke of a registry providing false hope to veterans that their inclusion in the database might help lead toward correlative data being used to bolster arguments in support of greater service-connection for resultant disabilities.
Those assumptions were blown apart by a report from the former Institute of Medicine, now known as the Health and Medicine Division (HMD) of the National Academies of Sciences, Engineering, and Medicine.
In the well-anticipated report, the HMD disclosed that voluntary registries are a poor way of developing evidence for service connection. Instead, they are useful for determining merely which people in a population are interested in getting information about burn pits.
Sad, really, for the 120,000 veterans who have volunteered their data to the program with high hopes of getting help or at least helping other veterans get help after they die.
RELATED: Veteran Wins $2.5 Mil Prostate Cancer Malpractice Case
Joe Biden Missed Opportunity
As for Biden, he missed a real opportunity to light a fire under the HMD and VA to more closely evaluate the exposures he now believes might be linked to his son's early death in 2015.
My only question is, 'What planet was Joe Biden on after his son died?'
We all suspected his burn pit exposure was linked to his brain cancer. Why it took Biden so long to connect the dots is anyone's guess.
Source: https://www.military.com/daily-news/2018/01/11/biden-links-burn-pits-national-guard-sons-cancer-death.html